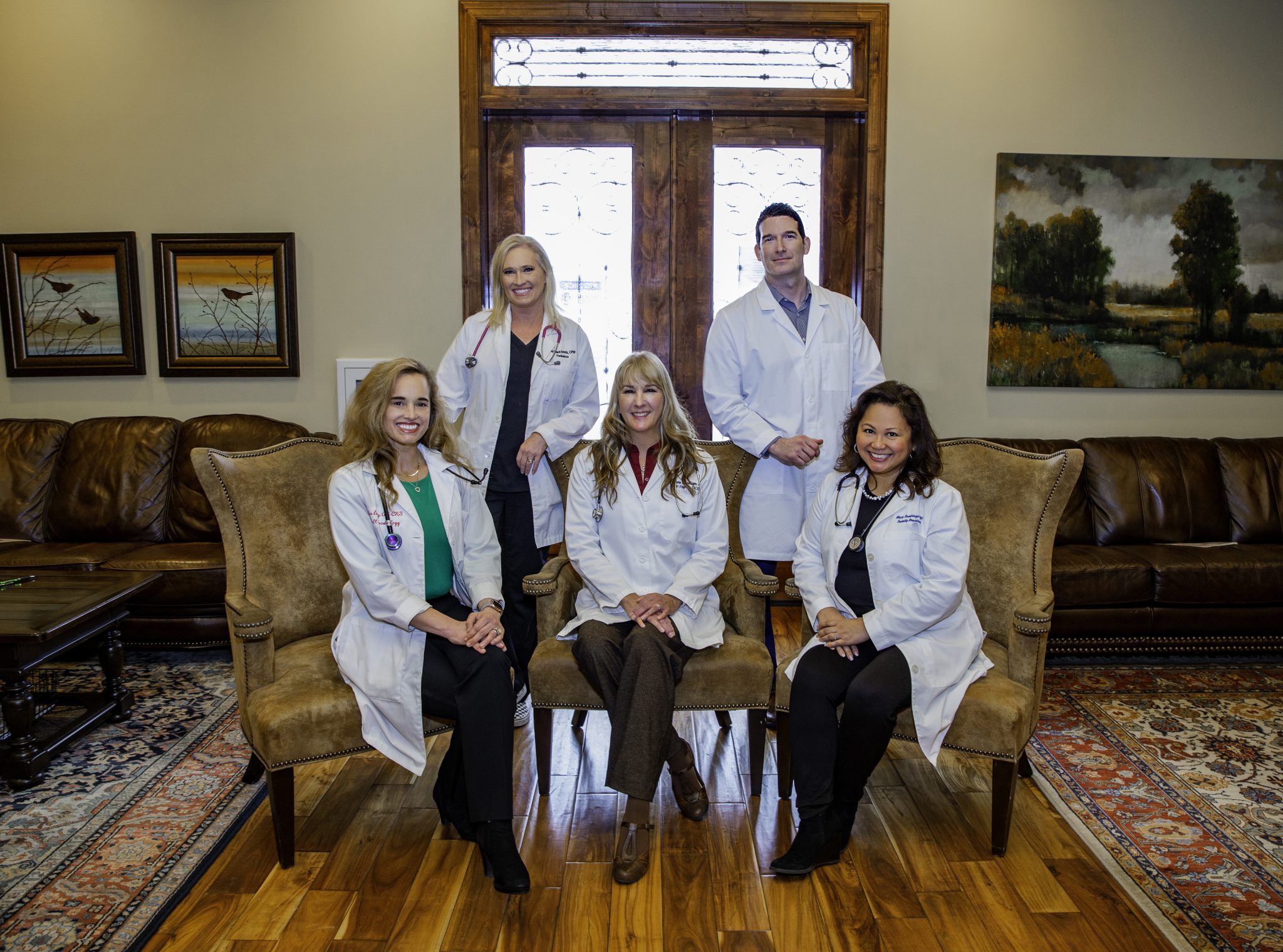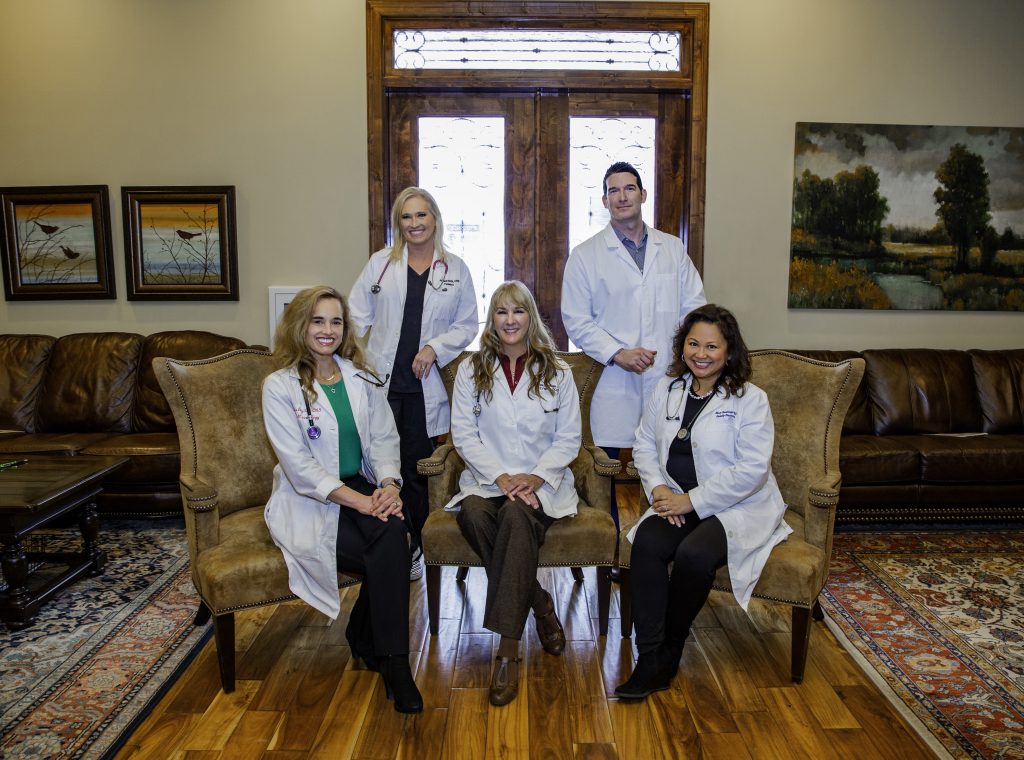 BY ANNETTE BROOKS | PHOTO BY KELLEY SWEET PHOTOGRAPHY
Fulshear Family Medicine has proudly provided high-quality medical care and grown with the Greater Fulshear-Katy community for years. But there's more to this award-wining practice than meets the eye. Leaders in the ever-changing healthcare field continually assess new requirements and models to best serve patients and anticipate their future needs.
Benefits of Value-based Care
Healthcare delivery models are constantly evolving, and primary care providers must keep pace. This can be difficult to accomplish, especially for private practices, but Fulshear Family Medicine stays ahead of the curve.
Instead of moving toward a subscription or membership-based model where patients pay extra to access care, Fulshear Family Medicine is evolving toward value-based care, which aims to improve clinical outcomes and reduce costs versus increase them. This is an important step that especially benefits Medicare recipients, particularly those at a higher risk for developing new or accelerating existing chronic conditions.
"The goals of value-based care dovetail with our philosophy of care at Fulshear Family Medicine," says Fulshear Family Medicine Chief Executive Officer Swati Nath. "Providing proactive, preventive care and educating our patients helps stop disease from occurring in the first place or keep it from progressing."
Accessibility, Communication, and Convenience Through Technology
Fulshear Family Medicine combines patient-centered, value-based care with technology to streamline and enhance the patient experience.
"We're continuously evolving and growing, from adding the right providers to updating the technology we use," Swati comments.
You can schedule in-office and telemedicine appointments through the practice's website and typically receive a response within around 15 minutes. Through their secure patient portal, you can communicate with your provider, request prescription refills, view lab results, access your health records, and make payments. Healthcare and appointment reminders and lab result alerts are sent via the portal and through text messaging, giving patients timely, convenient access to their medical information.
Welcoming Don Schiller, PA-C, to the Practice
Constantly growing and changing to meet the needs of its patients and the community, Fulshear Family Medicine is excited to have physician assistant Don Schiller join the medical team. Experienced in family medicine and urgent care, he recently relocated to the Lone Star State from California. He earned a bachelor's degree in biology from California State University Channel Islands, followed by a Master of Physician Assistant degree from Loma Linda University.
"Don is a great addition to the team who shares our patient-focused philosophy of care," says Nath. "We're thrilled to welcome him to South Texas and Fulshear Family Medicine."
"I'm excited to become part of Fulshear Family Medicine and look forward to helping patients of all ages achieve and maintain optimal health," says Schiller.
Proactive, Preventive Care for Your Entire Family
Fulshear Family Medicine caters to patients of all ages, from infancy through the senior years. They enjoy seeing generations of family members stay healthy and enjoy an optimal quality of life. At its core, their philosophy of care promotes a proactive approach to overall health and wellness. This is a deliberate departure from old-school reactive medicine primarily geared toward treating illness when it crops up.
"Our goal is to not only treat patients when they are sick and catch problems early before they progress but also to help them maintain good health," says Mary Santiago, MD. Dr. Santiago, a board-certified family medicine physician, is known for providing warm, compassionate care. She joined Fulshear Family Medicine in 2019 and has more than 20 years of experience.
In addition to helping patients understand how to stay healthy and prevent disease, Fulshear Family Medicine treats patients who suffer from chronic conditions such as type 2 diabetes, high blood pressure, and elevated blood cholesterol with the goal of improving outcomes. Patients receive more than a prescription and a quick pat on the back, sending them on their way. Instead, they are educated and counseled on actions they can take to reach for wellness and to stop, or when possible, reverse the disease cycle.
Meet the Rest of the Medical Team
The team is rounded out with experienced, talented providers who play a crucial role in Fulshear Family Medicine's ability to offer high-quality care with a personal touch. Their focus areas include internal medicine, family medicine, pediatrics, and gerontology.
MaryKate Armitage, FNP-C, received a Doctor of Nursing Practice from the University of South Alabama and has lived in the Greater Houston area since 2000. Her skills include teaching, and she enjoys providing presentations for diabetes education classes.
Holly Black, Pediatric NP, earned a Bachelor of Nursing from the University of Texas Medical Branch at Galveston and became a registered nurse in 1997. In 2001, she became a board-certified pediatric nurse practitioner while providing care at Texas Children's Hospital.
Abigail Laney, AG-CNS, earned a bachelor's degree from the University at Texas at Austin. As an advanced practice registered nurse and adult-gerontology clinical nurse specialist, she enjoys helping patients age healthfully and gracefully.
Accepting New Patients
Whether you're a long-time Katy/Fulshear resident or new to the community, experience family medical care as it should be at Fulshear Family Medicine. New and existing patients alike are warmly welcomed and cared for as friends and family. Call to schedule an appointment today. Virtual visits and in-person appointments are available. Medicare, most Medicare Advantage, and most major medical insurance plans are accepted.
What We Offer:
Comprehensive services
Preventive care
Medicare services
Medicare annual wellness exam
Well-woman exam/Pap tests
Newborn and well-child exams
Sick visits
Immunizations
Chronic disease management
Physicals, sports physicals
Same-day sick patient appointments usually available
Secure, online patient portal
Convenient, EKG, blood draws, urine collection
COVID-19 testing – antigen and saliva-based PCR tests
Contact
7629 Tiki Drive at 1093
Fulshear, Texas 77441
(281) 346-0018
FulshearFamilyMedicine.com