From Our Table to Yours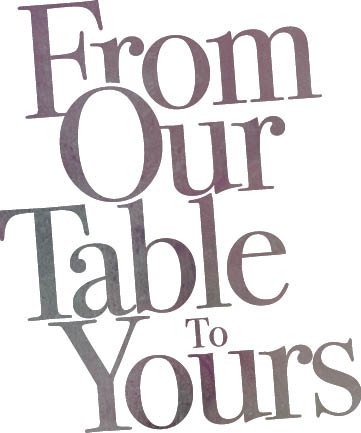 Each year we try to round up a handful of holiday favorite recipes from some of our corporate family members—recipes that remind us of our own traditions. We're happy to share a few of them with you this month. Maybe there are a few like them in your own family's recipe books?
Aunt Bettie's Sausage Squares
---
Michelle Paradise, senior account executive
"My family loves these little treats to munch on during the holidays—especially during Christmas morning when we're opening presents. Simple, delicious, and perfect for preparing ahead and freezing. Pop them in the oven, turn on the Christmas music, and let the festivities begin! The recipe came from Aunt Bettie Layfield, hence the name."
1 loaf cocktail rye bread

2 pounds ground sausage

1 pound Velveeta
Preheat oven to 350°F. Line a medium baking sheet with aluminum foil. Place ground sausage in a deep skillet and cook over medium high heat until evenly brown. Drain, then mix together with Velveeta. Place about 2 tablespoons of mix on each slice of bread, then arrange on the baking sheet on a single layer. Bake for 10 to 15 minutes or until lightly browned. (Back to top)
---
Erica Lyle, senior account executive
"The first of your holiday crepes should always be the tester, and must be eaten immediately by the cook(s)! Make sure to serve them with fruit, nuts, nut butter, yogurt, honey, syrup, or whatever makes you smile… and a great cup of coffee!"
2 eggs

1 cup of your favorite milk

1 tablespoon olive oil

1/4 teaspoon salt

1/2 teaspoon vanilla

1/4 cup oat flour (or blended whole oats)

1/4 cup almond flour
Whisk eggs, oil, and vanilla, then add dry ingredients and beat until combined. Ladle onto medium-high skillet and spread into a thin circle with the back of the ladle. Cook until the top starts to look dry, then flip and brown on the other side. (Back to top)
---
Denise Miller, account executive
"This is a traditional German soup that while growing up, would always warm the soul. I make this today, however add a little of my own flair as a foodie! Knoephla (pronounce nip-fla) soup is still a warm and comforting meal for a cold winter day."
For the soup:
1/2 cup butter or margarine                 

3 medium potatoes, peeled and diced       

1 small onion, grated                            

3 cups milk                                        

1 and 1/2 quarts water

6 teaspoons chicken bouillon granules
For the knoephla:
1 and 1/2 cups all-purpose flour          

1 egg, beaten

5 to 6 tablespoons milk

1/2 teaspoon salt
In a large skillet, melt butter; cook potatoes and onion for 20-25 minutes or until tender. Add milk; heat through but do not boil. Set aside. In a soup kettle or Dutch oven, bring water and bouillon to a boil. Combine knoephla ingredients to form a stiff dough. Roll into a 1/2" rope. Cut into 1/4" pieces and drop into boiling broth. Reduce heat; cover and simmer for 10 minutes. Add the potato mixture; heat through. Substitute heavy cream, real broth, special potatoes, or other enhancement as desired to punch up the recipe. Enjoy! (Back to top)
---
Patty Lankford, senior account executive
"Put this in the slow cooker to simmer and enjoy the nice smell through the house all day!"
64 ounces apple juice

8 ounces of red hot candies

A pinch of cinnamon

1 or 2 cinnamon sticks

12 ounces frozen orange juice

12 ounces water
Put all ingredients except the red hot candies in the slow cooker to simmer for most of the day on low. Help yourself to a little warm Christmas cheer, and add the cinnamon candies for a more potent flavor per cup. (Back to top)
---
Christmas Morning Cinnamon Rolls
Keri Hampton, marketing and print coordinator
"I've been making homemade cinnamon rolls on Christmas morning for the past three years, making it a new tradition I'm excited to start for our family. You can make these the night before, cover and refrigerate the uncooked rolls overnight, and pop them in the oven in the morning. My three boys go nuts over these, and, honestly, so do the adults!"
For the dough:
2½ teaspoons yeast (1 package)

1 cup milk, warmed

cup sugar

½ cup butter 

1 teaspoon salt

2 eggs

4 cups flour
For the filling:
1 cup butter, melted

1 cup brown sugar

2 tablespoons cinnamon
For the frosting:
3 ounces cream cheese

1¾ cup powdered sugar

¾ tsp vanilla

1 tablespoon milk
In a large bowl, dissolve the yeast in the warm milk. Add sugar, butter, salt, eggs, and flour to the bowl and mix well. Once the dough starts to come away from the edges, knead for about 5 minutes (if you are using your hands, dust them lightly with flour to avoid sticking) until a large ball is formed. Cover the bowl with a towel and allow to rise in a warm spot for 45 minutes to 1 hour, until dough has doubled in size. Lightly flour your counter top and roll the dough out until it is approximately 16"x21" inches, and ¼" thick. Preheat your oven to 400°F. Spread melted butter over the surface of your dough.
Combine brown sugar and cinnamon in a small bowl. Sprinkle the cinnamon sugar mixture generously over the surface of the buttered dough. Carefully roll the dough from the long top edge to the bottom edge.
Using thread or a knife, cut dough into 1" slices. Lightly grease a baking pan. Place rolls in baking pan and bake for about 12-14 minutes until they turn a light golden color. While the rolls are baking, combine frosting ingredients. Remove rolls from oven and allow them to cool for about 5 minutes before frosting. Apply frosting generously to rolls. (Back to top)
---
Mimi Filbin, senior account executive
"These quick and easy lemon bars have been a Christmas family favorite and add a nice variety to the traditional cookie tray."
For the crust:
2 cups flour

1 cup butter, softened

1/2 cup powdered sugar
For the lemon filling:
4 eggs

2 cups and 2 tablespoons sugar

7 tablespoons lemon juice

4 tablespoons flour

1/4 teaspoon salt
Cream together the ingredients for the crust and press into the bottom of a 13"x9" pan, making a slight edge all around. Bake for 20 minutes at 350 degrees. While crust is baking, blend together the lemon mixture ingredients. Remove crust from oven, pour lemon mixture over crust, and return to oven to bake for 25 more minutes. Let cool before cutting into squares. (Back to top)
---
Jennifer Langley, senior account executive
"There's nothing quite like a big helping of baked mac and cheese for some winter warmth through comfort food."
1 tablespoon canola oil

1 pound macaroni

8 tablespoons + 1 tablespoon butter

3/4 cup Muenster cheese, shredded

3/4 cup mild cheddar cheese, shredded

3/4 cup sharp cheddar cheese, shredded

3/4 cup Monterey jack cheese, shredded

2 cups half and half

8 ounces Velveeta cheese, cubed

2 eggs, lightly beaten

1/2 teaspoon seasoning salt

1/4 teaspoon ground black pepper
Preheat oven to 350 degrees. Lightly butter a 2.5 quart baking dish. Fill a large pot with water and bring to a rapid boil, then cook macaroni with 1 tablespoon canola oil according to package directions. Drain and return to the pot. In a small saucepan, melt 8 tablespoons butter, stir in macaroni. Mix together the shredded cheeses, then add 2 1/4 cups of the cheese mix to the macaroni in the pot along with the half and half, the cubed Velveeta, the two eggs, and the seasonings. Transfer to the prepared baking dish, top with the remaining 3/4 cups of shredded cheese, and dot with the remaining 1 tablespoon of butter. Bake for 30 to 35 minutes until the edges are golden brown and bubbly. Serve hot. (Back to top)
---
Linda Jost, senior account executive
"While I was enjoying my first Thanksgiving with the Jost family in St. Louis, I saw that they had a table of desserts, but no pecan pie! I was so distraught that the next year I started bringing pies. When my dad developed diabetes, I stopped with the pies so as not to tempt him… but these sweet pecans still bring that holiday taste."
4 cups pecan halves

1 egg white

1 cup sugar

1½ teaspoons ground cinnamon

½ teaspoon salt
In a large bowl, beat the egg white and a tablespoon of water until frothy. Stir in the pecans, sugar, cinnamon, and salt, and mix until nuts are evenly coated. Spread onto a lightly greased baking sheet, and bake at 300°F for 30 to 45 minutes, stirring every 15 minutes, until golden. Cool and store in a tightly covered container. (Back to top)
Did you like this post? Here are more posts you may like!