Unlike Any Other
A local church making social waves
By Bob Weir
One of the many things I admire about living in Texas is the abundance of churches, synagogues, mosques, and other places of worship that decorate the landscape with towering steeples and spires that seem to reach longingly toward a heavenly reward. Those magnificent houses of worship provide meeting places for those who regularly renew their commitment to their savior by joining in prayer with other community members. In addition, they offer sanctuary and redemption for the many lost souls that exist in an imperfect world. Having faith in something greater than oneself has created a sense of purpose and everlasting life in the otherwise moribund existences of those who subscribe to a secular philosophy.
Although we have numerous large religious edifices in the Flower Mound area, some with congregations in the thousands, this month I want to highlight a more modest establishment that sits almost unnoticed along the at FM1171 (also known as Cross Timbers Road) and Glenwick Boulevard. The Reverend Dr. Bruce E. Pratt is the Pastor at Flower Mound Community Church (FMCC). Formerly known as Mayflower Congregational Church, FMCC has had six pastors in the past 44 years. In 2003, in order to make the church seem more approachable, the name was changed to FMCC. With approximately 32 devoted members, the church continues to welcome others into their close knit family.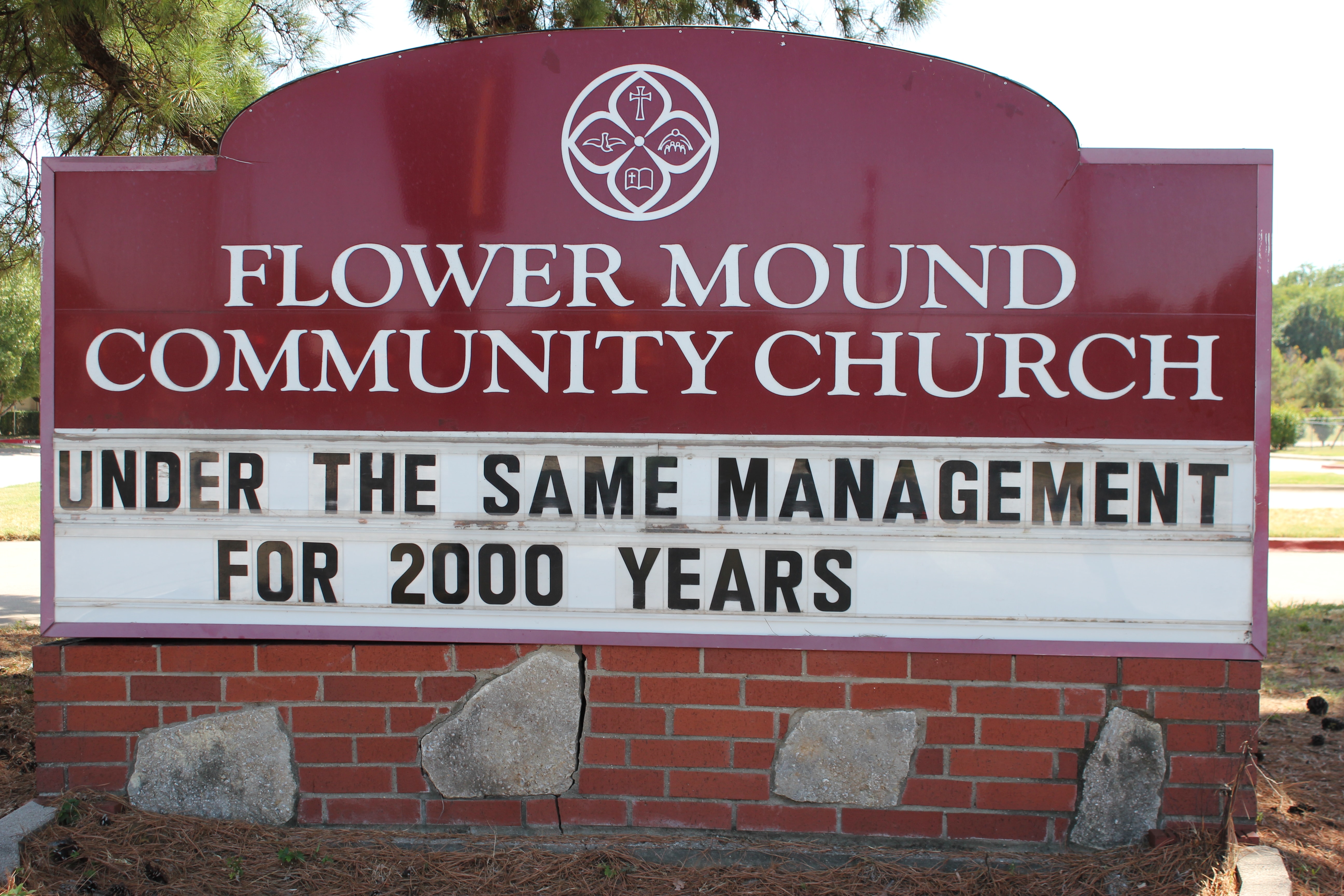 If you've driven through the area you've undoubtedly caught sight of some interesting and clever witticisms on the church's front signage. Some of those include "I want full custody, not weekend visitation – God," and "U R invited to a party in Heaven, please RSVP – God." Pastor Pratt explains the significance of the constantly changing comments: "The reasoning for the messages on the sign is that our society has become overly serious and emotionally reactive. We are stuck in a fight or flight way of being. The only way out of the rut is through playful humor. My hope is that someone will read the sign and it will cause them to pause, or give them a laugh and lighten their day." Annette and I can attest to the fact that we have had many chuckles when pulling up to the light across from the church and pausing to enjoy the latest humorous aphorism.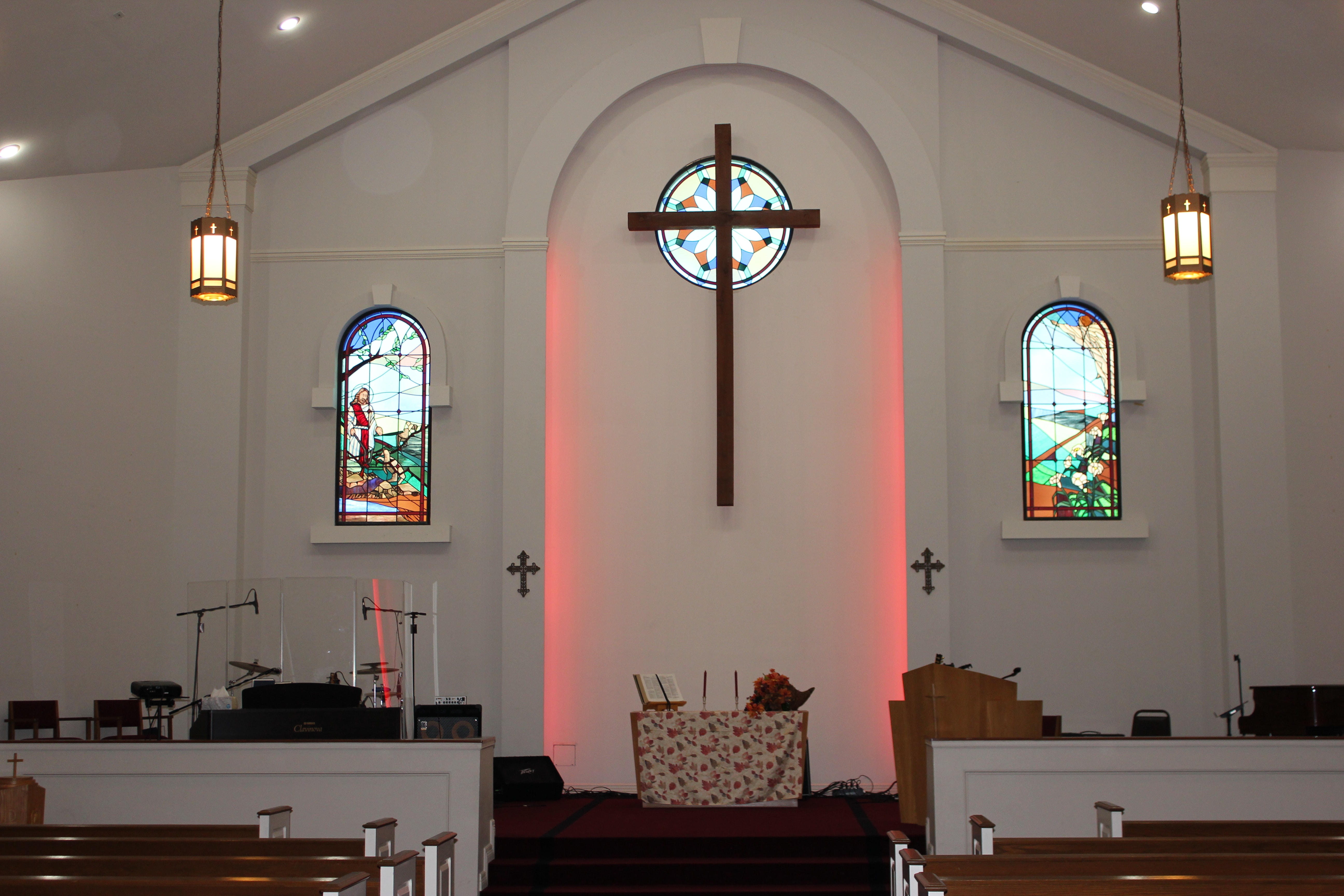 "Flower Mound Community Church is a church unlike any other," the Reverend says in a statement on the FMCC website (FMCCOnline.org). "At FMCC you will find a collage of attributes uniquely fit together. We believe in doctrinal integrity, but we know we must leave room for sincere Scriptural differences. Therefore a guest will find Christians from Methodist, Catholic, Presbyterian, Baptist, and Pentecostal backgrounds. We believe that the church is an intergenerational organism, so you find all of our activities, including worship, are geared toward including the senior saints, as well as the young who are growing up in the faith."
Rev. Pratt and his wife Robyn were born in Colorado, but didn't meet until they attended the same college. Their first pastorate was in Kewanee, Wisconsin. They moved to Flower Mound in 2002 when Dr. Pratt became the pastor at FMCC.
"We believe that Christian life is meant to be done in community, so we orient ourselves toward activities that enhance our relationships. We believe that the ministry of the Holy Spirit is essential to the Christian. Scripture tells us that God is Love. If God is love, then his people need to be loving. As a guest you will not find a more loving group of people than right here at FMCC."