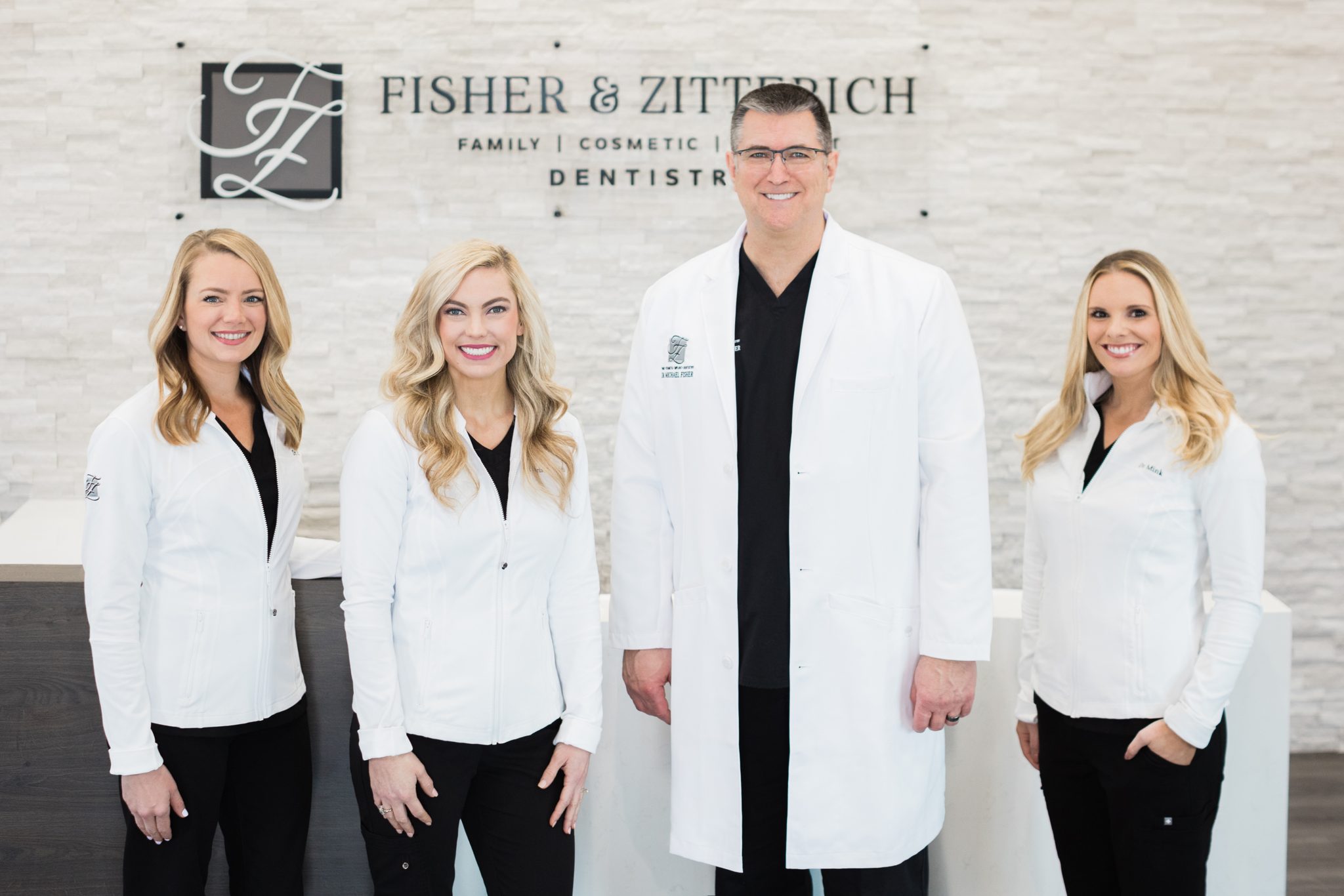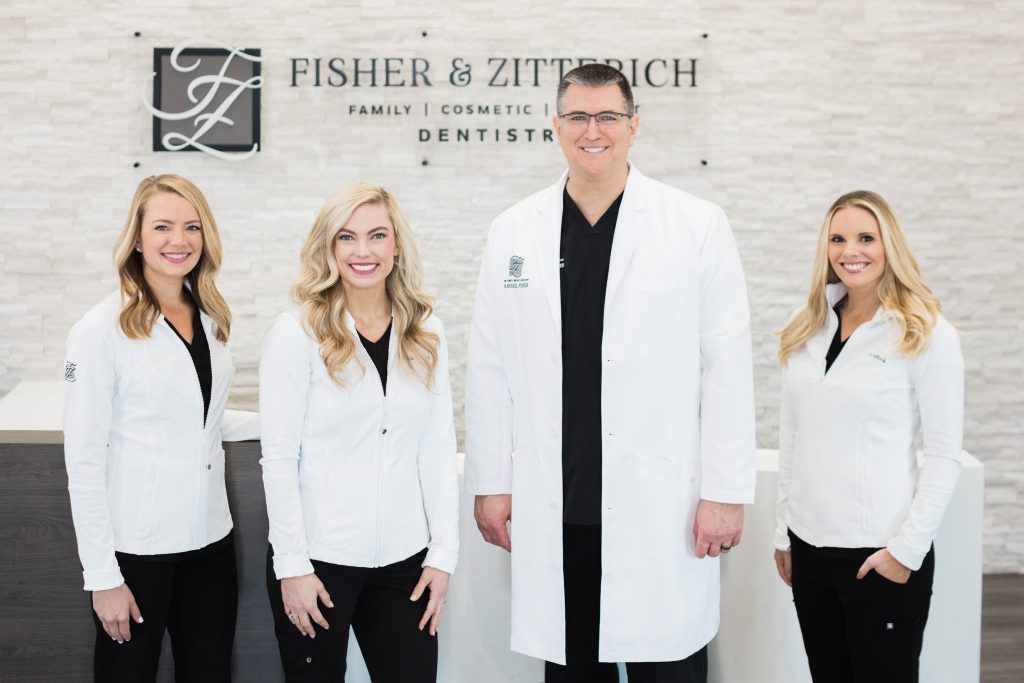 Can changing your smile really change your life? Just ask Karen Robbins! Karen has spent her life in the arts and education, and loves beautiful things and beautiful people. But she was always embarrassed about her own smile, and never really felt beautiful herself. She had always taken care of others, but never took the time to take care of… Karen. After she became widowed last year a dear friend suggested she see Dr. Michael Fisher and Dr. Marisa Zitterich, and their team at Fisher & Zitterich Dentistry.
Karen was a professional dancer, and much like choreography that doesn't match the music, she always felt her smile on the outside did not match how she felt on the inside. She knew it was time to do something for herself. And now she was ready… "It's what my late husband always wanted for me." Karen said. "But I was always afraid it would hurt too much or cost too dearly." She actually giggled out loud at her complimentary cosmetic consultation when she learned what was possible, and how comfortable and affordable it could be. "I should have done this twenty years ago!" Karen said at the end of her first visit.
With the help of Dr. Fisher and Dr. Zitterich, Karen helped design her new smile. Using full mouth implants to replace her old teeth, together they chose the color of her new teeth; their shape and length, and even the very small gap Karen wanted between her front teeth; a space that was there when she first met her husband all those years ago. "It's sentimental!" she said… "It's me!"
Karen was able to see her new smile in her mouth before her final teeth were completed, so she could direct any final cosmetic changes she might want. This part of the process is never rushed because Dr. Fisher and Dr. Zitterich take the time to study each face individually. Where Karen's lips rest against her teeth when she's relaxed… and how much teeth she reveals when she smiles big… All these things are as individual as Karen is, and are sculpted for her, individually.
Karen loves that Fisher & Zitterich Dentistry is a privately-owned practice with doctors that live locally and are deeply engaged in their community. Dr F. and Dr. Z. love where they live and they love who they serve. They are there for her, and all of their patients, every step of the way. She knew that if she ever needed anything, they were just a phone call away. By the end of her treatment, Dr. Fisher and Dr. Zitterich were more than just her dentists – they were friends and family.
Karen couldn't wait to show off her new smile, and take her first photo in front of the mural on the side of FZ Dentistry's building, with the now famous FZ Wings! She ran outside in front of the wings and threw her arms in the air in celebration! Karen's new smile is so much more than just pretty, white, straight teeth. It's a new-found confidence that has changed her life! Now she loves to be in pictures (instead of just taking them for others). She isn't embarrassed to smile ear to ear in front of her friends, and she has a new energy and charisma that radiates in every area of her life!
Dr. Michael Fisher, a graduate of Texas A&M University and Baylor College of Dentistry, is a long-time member of Lake Pointe Church, where he co-teaches a Life Group and serves on the Elder Board. He enjoys supporting ministries and dental mission work both locally, and as far away as South Africa, Mexico, Russia and Haiti. Married for 34 years to his high school sweetheart Carla, they have two children – Monica and Landon, a daughter-in-law Cayley, and two grandchildren, Charlotte and James. Dr. F's interests include cycling, photography, hunting, restoring a 1959 Austin-Healey with his Dad, riding Harley-Davidsons, and most of all, spending time with his family.
Dr. Marisa Zitterich, originally from Forney, graduated from UT School of Dentistry in Houston. She received her Bachelor's degree from Baylor University where she graduated Magna Cum Laude, majoring in Biology and minoring in Chemistry. Married to her high school sweetheart Kyle for almost 8 years, they have two boxers Bruno and Lily and they are very excited to welcome their first son in April! She has a passion for service and has performed missionary dentistry here in Texas, and farther away in Mexico, Nicaragua and Costa Rica. Dr. Z. enjoys outdoor activities like CrossFit and spending time with family and friends on the lake.
Along with Dr. Laura Rabe, Dr. Jennifer Mink, Pam, Cayley, Patti, LaBria, Kristeen, Theresa, Vanita, Ashley, Danielle, Clayce, Michael, Stevi, Bridgette, Linda and Carla, the FZ Team offers all aspects of dentistry, including cleanings and check-ups, cosmetic dentistry and smile makeovers, implant and reconstructive dentistry, root canal treatment and treatment for sleep apnea and snoring. Knowing affordability is important, all traditional dental insurances are accepted, and in-house membership and financing plans are available.
Contact
1306 Summer Lee Drive
Rockwall, Texas 75032
(972) 771-4000
FZDentistry.com