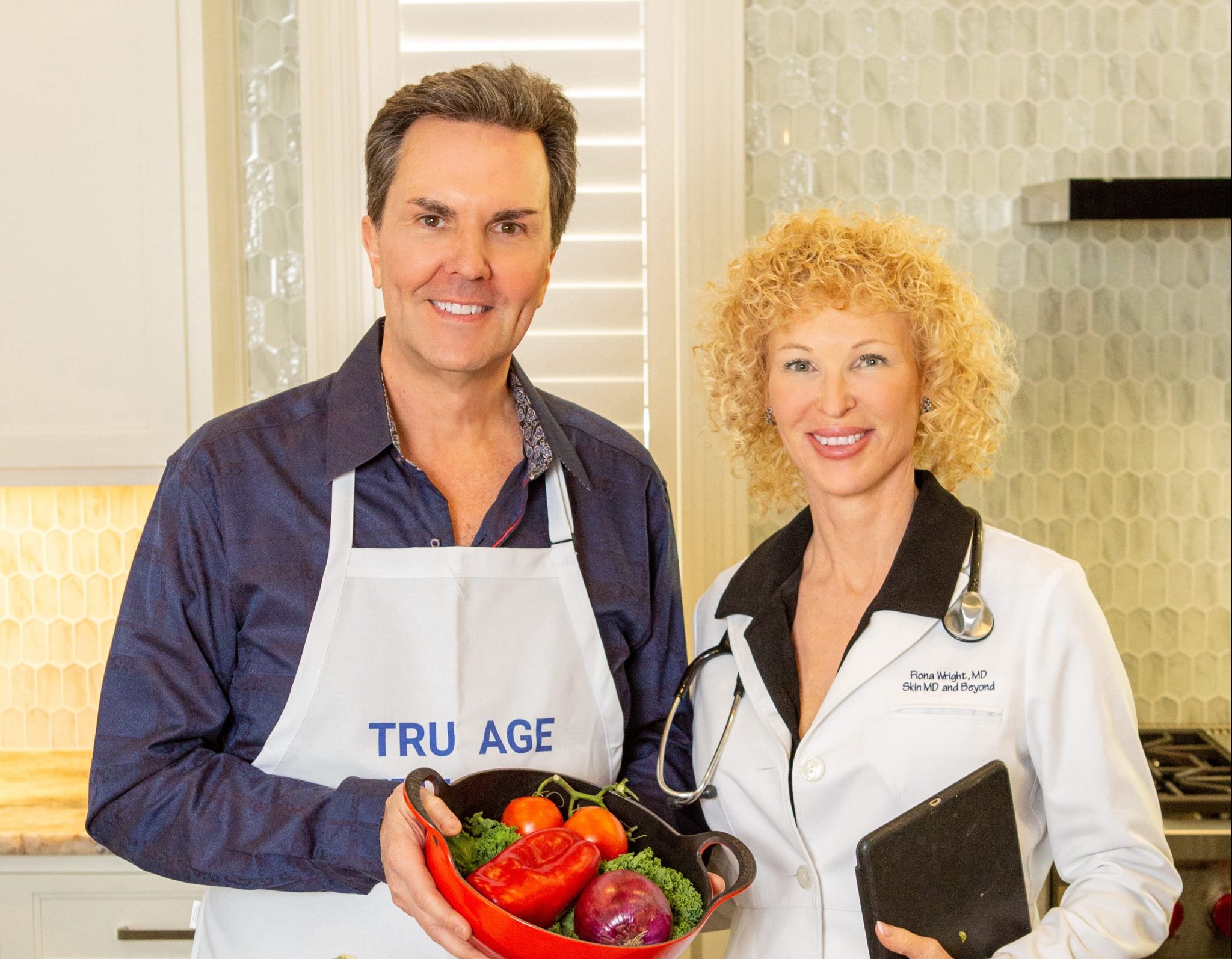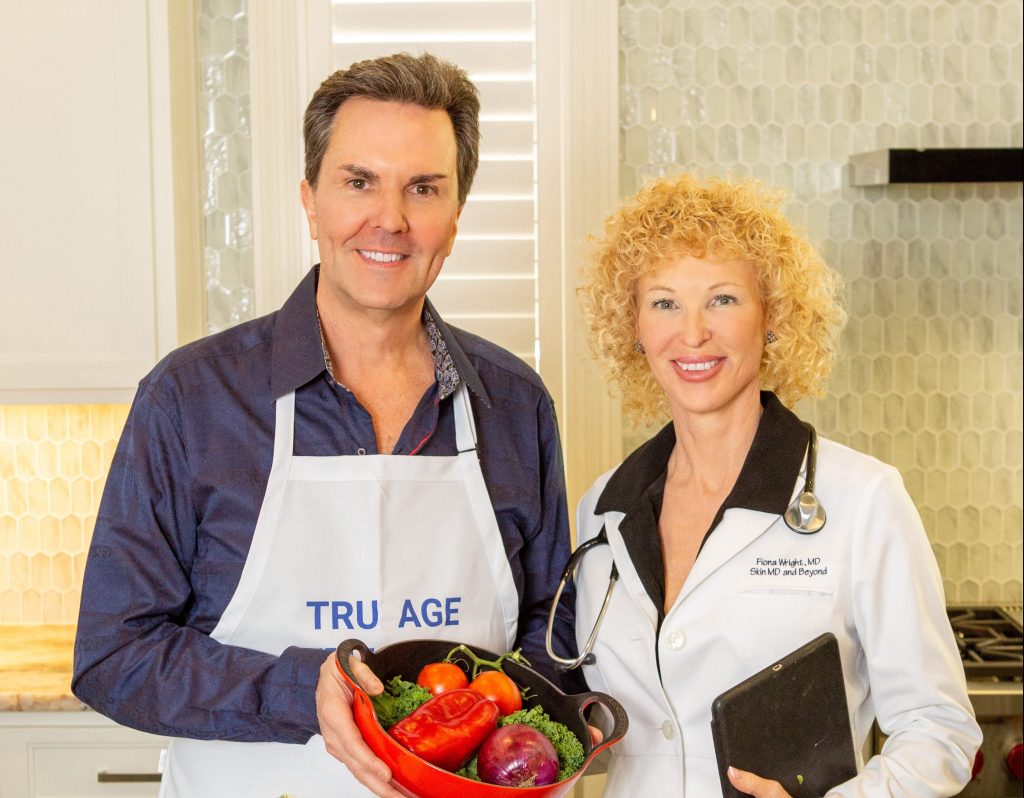 Fiona Wright, MD has built two bustling practices, Skin MD and Beyond and TruAge Wellness Center. Both are located in a clinic of tranquility and beauty in conveniently located Plano, Texas. Patients appreciate her focus on delivering youthful and natural-looking cosmetic results as well as offering integrative wellness to keep them youthful on the inside too!
But, the Power of Two doesn't just stop there! Tim Wright, OD, also shares his wife's mutual passion and complementary skill set. Both founders love helping patients understand what's going on inside their body as well as addressing their outside appearance. "Blending specialties in medicine where we get to be very intellectual and very artistic at the same time is extremely rewarding. I love the visual nature of dermatology and the ability to grow with a patient throughout their life. Patients enjoy a great experience at our clinic with cosmetic services on one side and health and wellness on the other," remarks Dr. Fiona.
With an innovative mindset and community spirit, this Dynamic Duo offer state-of-the-art non-invasive services, outstanding medical aesthetic care and individualized functional wellness protocols to help patients look and feel their best from the inside out!
Double Duty
Dr. Fiona Wright, a board-certified family physician, continued her academic studies and completed a second degree in dermatology in Cardiff, Wales. With her vision to create a boutique aesthetic clinic, she focused solely on non-surgical cosmetic procedures. Known for her meticulous attention to detail, Dr. Wright has been able to target exactly what technologies are most beneficial to her patients' aesthetic needs.
Looking outside the bounds of dermatology and aesthetics, Dr. Wright decided to deepen her interest in Functional Medicine. "Many of my patients became frustrated and overwhelmed with seeing multiple specialists for chronic health symptoms and not getting any better. In today's society, both patients and physicians are fed up with the 15-minute appointment. My goal was to create a patient-centered approach to their health concerns and to work together to solve the root cause, rather than just the symptoms," she remarks. With a vision of offering her patients a fresh and innovative alternative to conventional medicine, Dr Wright set out with a steely determination to build a clinic renowned for providing highly personalized services with the most effective proven treatments, and utilizing leading-edge diagnostic tools that are science-based and patient centered.
We See You
Drs. Wright built their cosmetic success on the premise that "no one fits into a mold of aesthetic beauty". "This industry is very active in setting "standards and protocols" on the ratios and geometry of the face, without taking into account the nuances of beauty. The uniqueness of an individual's facial appearance is a highly personal experience. I want to respect that. Aesthetic beauty requires two people…the artistic skill of the doctor and what the patient desires as beauty. This team approach, honoring my patient's wishes rather than the typical "standards of beauty" allows me to provide the best possible appearance for them," comments Dr. Tim. Skin MD and Beyond serves patients across the spectrum of ethnicities. In celebrating these differences and approaching everyone as unique individuals has allowed them to enjoy a 5-star reputation in the Dallas/Fort Worth community.
"Take Two"
The term "Take Two" used in the Safety Industry means taking an extra two minutes to think through a job before it starts, to ensure you are being as effective and as safe as you can be. For Dr. Wright her phrase is "Take Twenty". "I oversee all treatments and design all patient treatment plans myself. Before being treated with any laser and light devices, I require all patients to see me first along with our aesthetician." This personal oversight by Dr. Wright creates a welcoming environment so patients feel at ease, comfortable and confident.
Dynamic Duo
"With great advances in the cosmetic world, we now offer over 22 services in aesthetic devices and injectables so patients can restore the youthful appearance of their face and natural body curves and turn back the clock more than a decade – and that I find exciting!" smiles Dr. Fiona. "Their attitude changes, they have more confidence, and they feel more comfortable, healthier and happier!" states Dr. Tim.
Dr. Fiona remarks that when she started practicing 24 years ago, only Botox and 2 fillers were available. She had two treatment rooms and only 3 lasers to treat a small range of skin concerns. Now, patients enjoy the amenities of a 6000 sq ft facility, with 13 treatment rooms, a surgical suite and 20 various lasers and machines to address all concerns of facial and body rejuvenation. That, in combination with offering a multitude of facial fillers, Botox and Dysport, has kept both Drs. Fiona and Tim Wright in the forefront, as thousands of patients have been successfully treated across the nation using their latest skills in aesthetic technology.
Optimal Health, A Mutual Passion
As long as both doctors can remember, they have had a holistic approach to health care and a strong belief that many of the chronic illnesses we see today could be avoided with proper nutrition, the correct supplementation and lifestyle modification. Nutrition, optimal health and weight control have been of central importance in their life road together. For this reason, they founded TruAge Wellness Center to offer Functional Medicine and help patients find answers to the cause of their illness and the nutritional and biochemical imbalances that may be making them feel ill. Functional medicine is personalized medicine that deals with the root cause of disease instead of just treating symptoms.
Dr. Fiona will search for underlying triggers that may be contributing to your illness through cutting edge lab testing then tailor the intervention to your specific needs as an individual. She has a personal interest in Hormonal Health which includes Thyroid and Menopausal Optimization, Autoimmune Inflammation and Carbohydrate / Pre-Diabetic Management.
An emerging field called Culinary Medicine is taking the knowledge of science-based nutrition and equipping clinicians with the skills to combine the joy of food and cooking with the science of medicine. More than just providing nutritional advice, the goal of this evidence-based medicine is to empower people to make beneficial decisions about what they eat – in some cases, focusing on treating existing conditions and, in others, preventing disease from happening in the first place. Dr. Tim, with certifications in Dietary Management, Food Sensitivities and Gut Health, combines his nutritional medical education with practical implementation in the kitchen to help patients improve their eating habits and learn to cook healthier meals at home.
For those who are considering the move to make a better you on the inside and out, you can now take the "wRight" step towards your personal journey back to health and beauty!
To learn more, call 972-608-0808 today or visit us online! www.SkinMDandBeyond.com | www.TruAgeMD.com | Facebook & Instagram: #SkinMDandBeyond