Texas Icon Stirs Things Up With Kentucky Master Distiller
By Heather Witherspoon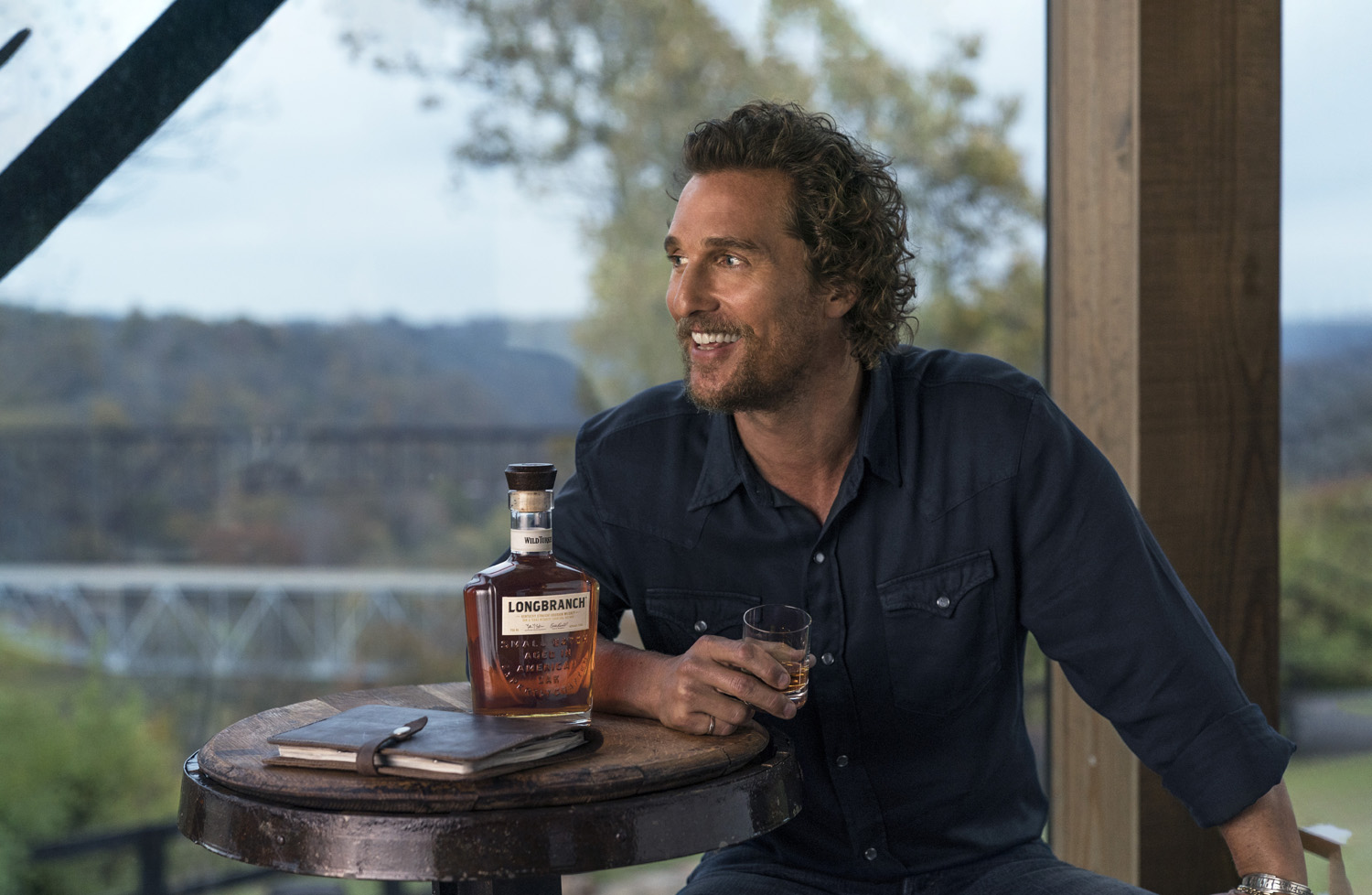 I'll admit it. I have never been a bourbon drinker. The once a year mint julip or hot toddy in the winter, sure, but as my go to cocktail not so much. When I think of bourbon, it usually conjures up images of men. Whether it's cowboys knocking one back in the wild west, detectives in the corner of a dark bar, or legendary writers drinking it neat in a rocks glass, that has always been my impression of the drink. I started thinking, "Why do I think that?" "Why can't bourbon be a woman's drink too?" Enter Matthew McConaughey. He was just the right man to entice me to give it a real college try. McConaughey and the Master Distiller of Wild Turkey, Eddie Russell, recently created Wild Turkey Longbranch. The 8-year-old Kentucky Straight Bourbon is made in small batches and refined with Texas Mesquite and American Oak charcoals.
Word is Matthew likes it neat, but I decided to mix up some of the signature Longbranch recipes to ease my way onto bourbon street. Since it is summertime, I started with the Bourbon Bird. I ended up doubling the recipe to fit my glass and used fresh-squeezed pineapple juice. The first sip was so refreshing. I could taste the bourbon, but it paired so nicely with the other ingredients I could easily see myself sipping this poolside for many years to come. Second, on the menu was the Bourbon Legend. I love a coupe glass. The minute I hold it, I am transported back to a roaring party in the twenties. The cocktail more than lived up to all of my expectations. The smokey taste of the bourbon blended with the Grand Marnier, lemon, and simple syrup was the perfect marriage of sweet and tart. I loved it so much that I had a second round, and it just might be my new favorite drink. What I learned from this experiment is, don't let stereotypes or preconceived notions get in the way of exploring possibilities. Thank you, Mr. McConaughey, for making a bourbon believer out of me.
---
Toast of the Town


Bourbon Bird


---

1.5 Parts Longbranch
.5 Part Campari
1 Part Pineapple Juice
.5 Part Fresh lime juice
.5 Part Simple syrup


Method: Shake and strain
Glass: Rocks
Garnish: Pineapple leaf


Bourbon Legend


---

1.5 Parts Longbranch
.5 Part Grand Marnier
.5 Part Simple syrup
.75 Part Lemon juice

Method: Shake and strain
Glass: Coupe
Garnish: Lemon Twist


Branch Water


---

2 Parts Longbranch
Juice of half a lime
Top with soda water or sparkling mineral water*

Method: Squeeze half lime into glass filled with ice. Leave lime in the glass. Add Longbranch and top with soda or sparkling mineral water.
Glass: Highball

*If using sparkling mineral water, use the remaining bottle on the side to top off the drink until it's gone.


Longbranch Neat/Rocks


---

2 Parts Longbranch

Method: Serve neat over Ice (2×2 ice cube)
Glass: Rocks
---
Get Jiggy With It
One part is any equal part. Think of it as one measure of your jigger (or whatever you're measuring with). Essentially, one part will become your base measurement and you will adjust the other ingredients to maintain the ratio. For example, if you need 1 part, you would pour one full jigger for .75 = ¾ jigger, and .5 part = ½ jigger.