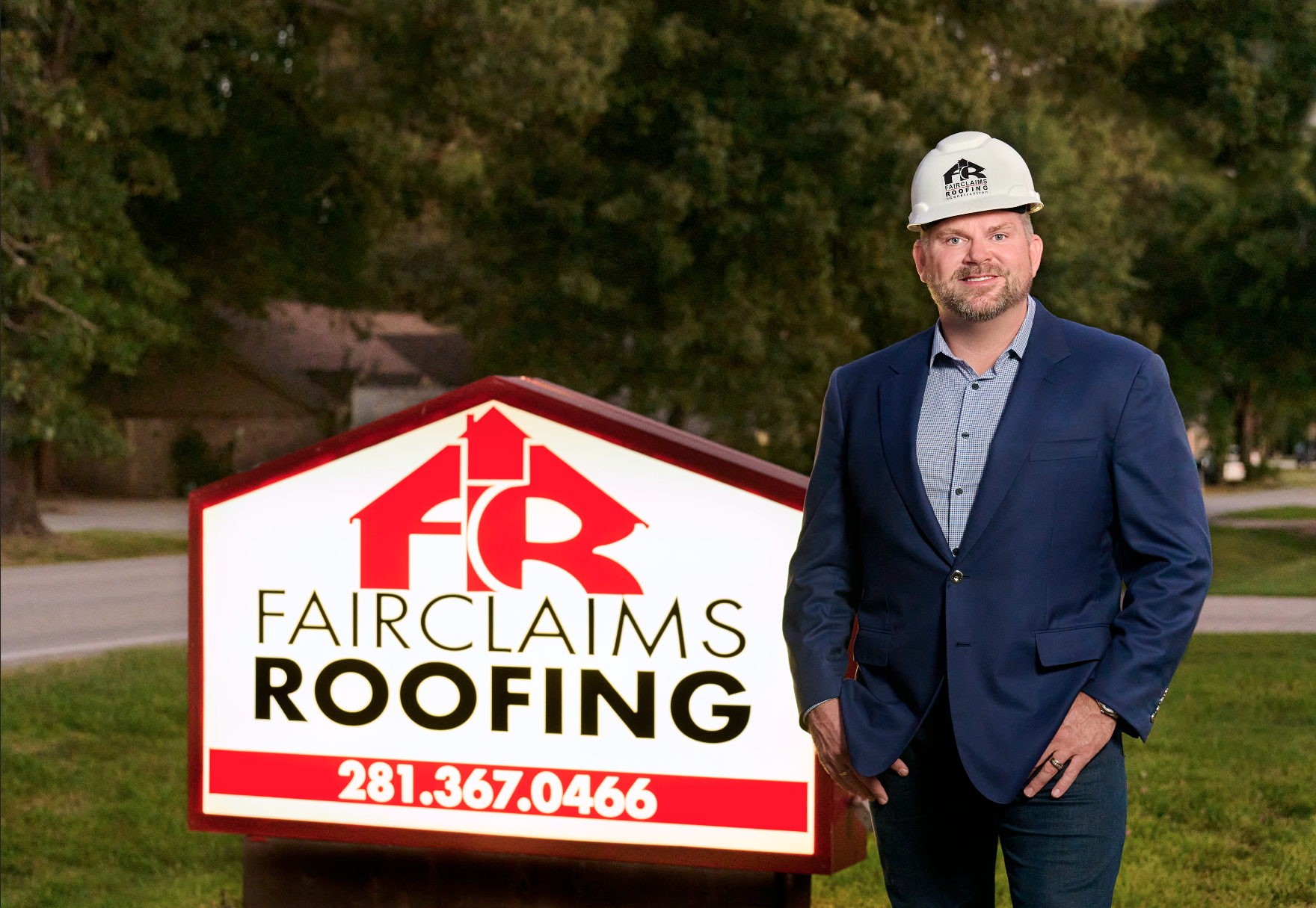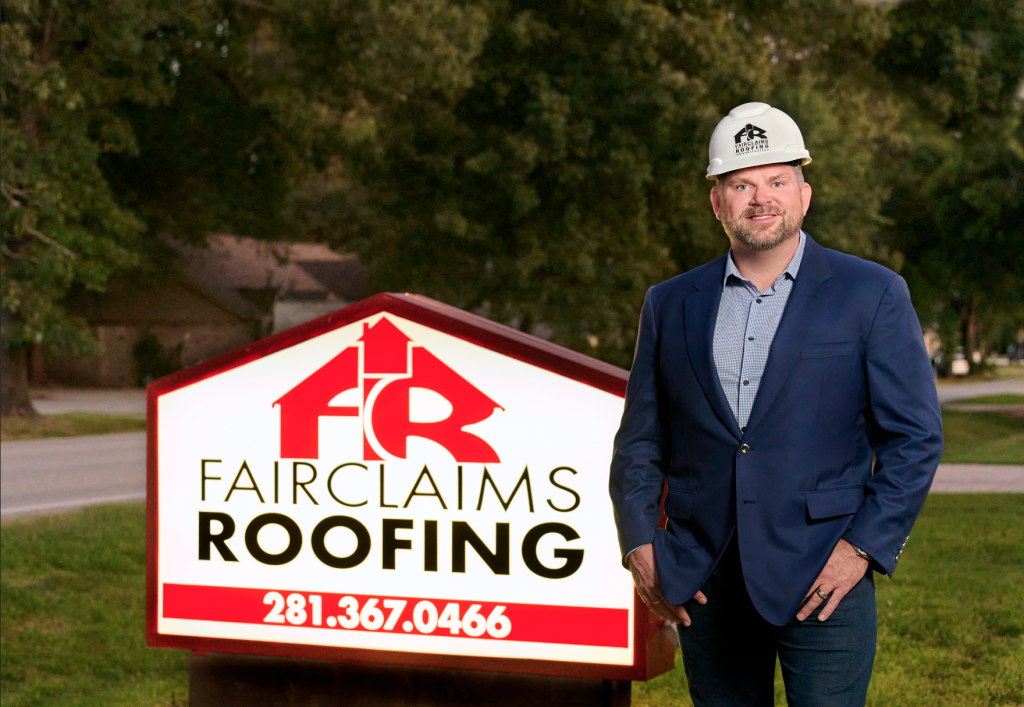 Photos by Karina Eremina of Joy of the Moment Photography
---
One of the most significant investments a homeowner can make is repairing or replacing the roof of their house. When you think about roofing, one of the more familiar faces and names that comes to mind is Justin O'Neal and his staff at FairClaims Roofing. As a local company based in The Woodlands with over 20 years of servicing our community, Justin and his team have been killing it.
You must choose a company with an excellent reputation, one that uses quality products and materials, and one that does the job effectively and correctly. Between their overall reputation and their desire to offer more for their clients, FairClaims has set the bar.
Most recently, Justin and his team again made local headlines as the first roofing contractor in Houston to install the new and innovative nailable solar shingle product, Timberline Solar.
"This product is a game-changer. It's not a solar product that goes on top of your roof — it is your roof," O'Neal said. "With constantly increasing energy costs and a recently increased and renewed 30% federal solar tax credit available, the timing is excellent."
Timberline Solar truly replaces an unattractive and undependable rack-mounted solar option that had to be secured through your roof and might not even perform as advertised. This new product looks and works like a roof and is backed by North America's largest shingle manufacturer in GAF. It has a warranty that is second to none on the roof system as well as the energy production that can be expected over the next 25 years.
"We are excited to be one of the nation's first roofers to offer this great new product," O'Neal said. "It is definitely the future of our industry and will continue to grow in demand and popularity. It will also be Texas-made, with construction underway in Georgetown that will manufacture these energy-generating shingles.
"As excited as we are about this new product and offering, we don't have any plans to lose sight of what we already do best, which is being a full-service roofing company," he added. "We're fairly diverse in the roofing realm, both commercial and residential work. We do several types of roofs, including traditional shingles, metal, concrete tile, and low slope (flat) roofs." In addition to offering a variety of roofing services, FairClaims provides several construction options.
"I've always tried to be a one-stop shop for clients," Justin remarks. "People who have roof problems typically have other issues going on when they get to the point that they have to repair or replace a roof. They've had a leak that's caused damage inside where they have sheetrock damage, ceiling damage, and sometimes even flooring damage. Being a full-service company, we can help deal with our client's insurance and fix everything for them at once, providing them with both efficiency and convenience. Because of that, we've grown into providing a few more things, like windows, replacement gutters, porch and patio additions, outdoor living spaces and/or kitchens. It helps fill a need for our clients without sending them elsewhere."
This dedication to helping their customers is part of the reason for FairClaims Roofing & Construction's longevity. Earlier this year, the company celebrated its 20th year in business — a big deal as most competitors in their industry do not last that long. For perspective, the average life of a roofing company nationally is only about three years.
"The fact that we've been in business here for 20 years in this community is something we're incredibly proud of," Justin said. "I don't know the exact statistics, but I know that we've done more work in this community than any other contractor just because we've been around so long."
Not only that, but their clients are loyal and appreciative of their work. For the last six years, Living readers have voted FairClaims as the Best Roofer of The Woodlands. The company is also a certified master league contractor for GAF, the nation's largest shingle manufacturer. Only 2% of roofing companies are at that level, including FairClaims. "We focus on protecting the property while we're there, making sure we do an excellent clean-up and focus on the details throughout the process to ensure that everything goes smoothly and as head-ache free for the client as possible."
One of the smartest things a homeowner can do regarding their roof is to be aware of how old it is and the typical lifespan of your type of roof. Sometimes the decision is more evident due to aesthetics, the durability of the roof, or storms such as hail or high winds, but that's not always the case.
"The average life of a composition shingle roof that many people have is about 15-20 years before things start becoming a problem," Justin said. "At that point, people are considering getting it replaced to sell the home or be smart with their investment. Once a roof gets into the twilight years of its life, it's more financially beneficial to replace it than spending money to repair it and then replace that same roof a few years later."
"Roof repairs and replacements are the most common service we provide," Justin added. "Usually, it's a result of the home aging out of its current roof. Although the average shingle roof may be a 30-year roof, the warranty only covers manufacturing defects for a certain time. It's a common misconception that a 30-year roof will last 30 years. What the 30-year warranty means is that if something is defective or wrong with the shingles from the manufacturer, they will give you a monetary settlement for the product not lasting as long as it was supposed to."
Justin understands there is no shortage of options when it comes to roofing contractors and companies. There are so many companies that people can get overwhelmed sifting through them all to find high-quality, reputable ones.