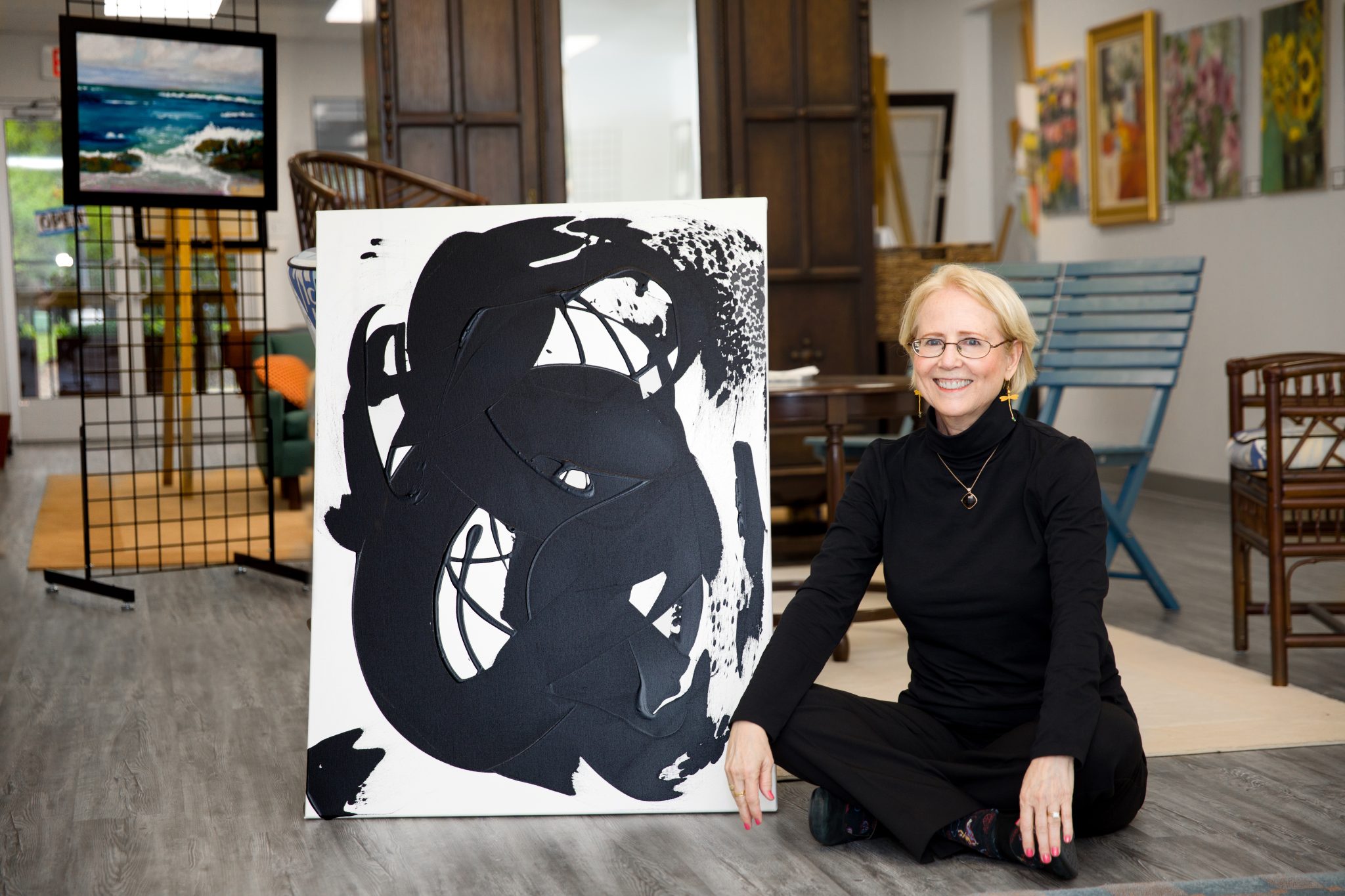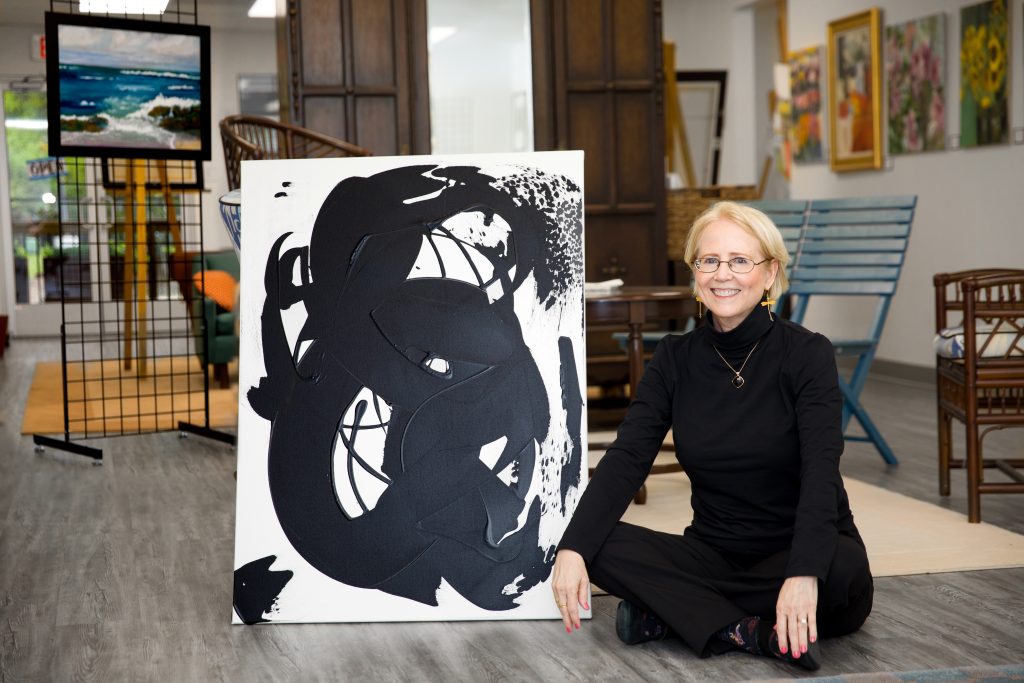 BY MEREDITH KNIGHT | PHOTO BY APRIL SANCHEZ OF TAYLOR MORGAN PHOTOGRAPHY
The Woodlands Art Gallery & Studios is no stuffy, cavernous, white-washed gallery, but an inviting — even homey — space where art is celebrated and accessible. With oriental carpets underfoot, heirloom furniture providing subtle divisions between exhibits, and ample windows proffering natural light, it welcomes the art lover to come in, slow down, and spend time absorbing the works of their fellow Texans. This intimate, friendly celebration of art is a reflection of its founder and owner, Emily Startz, who admits she came to her art vocation via a circuitous path.
Not so many years ago, after obtaining her theater degree, Emily found herself on a treadmill in corporate America and less than satisfied with her love life. All that changed when Emily transitioned into the creative field of interior decorating and married one of her clients. She was 48 years old. It was a good marriage and the two had a blessed life together. He was in the thoroughbred horse business, so Emily joined him there. Then eight years ago, Emily took her first painting workshop at the Houston Art League.
Two years after that, she purchased her first oil paints and a canvas and committed to a full nine-week landscape painting class. Emily was astounded when after class the teacher said, "Thank you for sharing your talent with me."
"After my second class, I knew I could paint for the rest of my life," she said. And Emily has done exactly that. Especially drawn to painting en plein air which is a French expression meaning "in the open air," Emily has traveled to regions that intrigue her, painting outdoor in Alaska and Maine and even in Monet's Garden in Giverny, France.
Then in 2018, after a long illness, her husband died, and she found herself alone again. At the urging of a friend, Emily went on a single date from the dating site, Match.com, where she met John. The two were married in May 2021 and are enjoying life in what Emily calls a three-generational household. "It's been an adjustment for me, since I never had kids," she said. "I was used to running my own house, sharing a kitchen with my step-son-in-law still needs some tweaking. But John and I are so compatible, and his grandkids are a delight. My four-year-old granddaughter loves to paint with me. John had lost his spouse, too, and we both loved being married."
John is extremely supportive of Emily's artwork and was 100% onboard when she decided to create a home for local artists and a studio for herself. "We really want to be a friend to regional artists," she said. "We actually have two artists creating in-house — myself and another painter. The gallery is 2,400 square feet, and I've been thrilled to invite artist friends to feature their work. We also sell art for families who've inherited or simply want to sell their collection, and we're always looking for new artists to feature."
The Woodlands Art Gallery & Studios is also home to a used bookstore and is available for small corporate events, private parties, and other catered occasions. The location is centrally located, just two blocks west of I-45 near the Rayburn/Sawdust exit. "My goal was to create a gallery for the people of The Woodlands that wouldn't feel intimidating but inviting," Emily said. "I fashioned a home-like atmosphere, so people can envision the art in their own home."
With her background in decorating, Emily loves working with customers to find that one piece they'll love. "I still remember buying my first significant painting," she said. "I found it in Santa Fe. It was $750 which was a lot of money for me at the time. But I loved the piece and I still do."
Emily says she never wants to lose sight of the fact that a piece of art can be a monumental purchase for someone, like it was for her. "Buy art that strikes a chord, and you feel almost giddy when you see it. I work with customers to learn their style and budget. We have a conversation, and I can get to know their home and lifestyle. We also know about pieces that aren't on display in the gallery but that I can access for you."
When a piece is out of reach for a customer's budget, Emily can work with them to obtain a print of the work. And if you have a favorite photograph of a vacation, loved one, or landmark, Emily is happy to create a painting for you from your photograph.
On the third Thursday of every other month, The Woodlands Art Gallery & Studios comes alive with a valet and bartenders as patrons come to discover the work of a new featured artist. This month that artist will be Jim Seigler who got his start creating works for the Ringling Brothers and Barnum & Bailey Circus. "We're excited to introduce Jim to our patrons," Emily said. "His acrylic and oil paintings celebrate circus life and his world travels.
"I hope I've created a relaxed atmosphere here," Emily said. "I want this to be everyone's gallery. I want people to buy artwork they can love for the rest of their lives. And I feel blessed to be the one to introduce it to them."
A firm believer of giving back to the community, Emily is a generous contributor to local nursing scholarships, in appreciation for the wonderful care her first husband received, throughout his long illness, and the SNAP Spay-Neuter & Animal Wellness Clinic which provides affordable spay/neuter, surgery and veterinary wellness services. Find out more about this exciting, new celebration of art and browse the artwork at WoodlandsArtAndStudios.com.
Contact
208 Nursery Road
The Woodlands, Texas 77380
(832) 668-5340
WoodlandsArtAndStudios.com