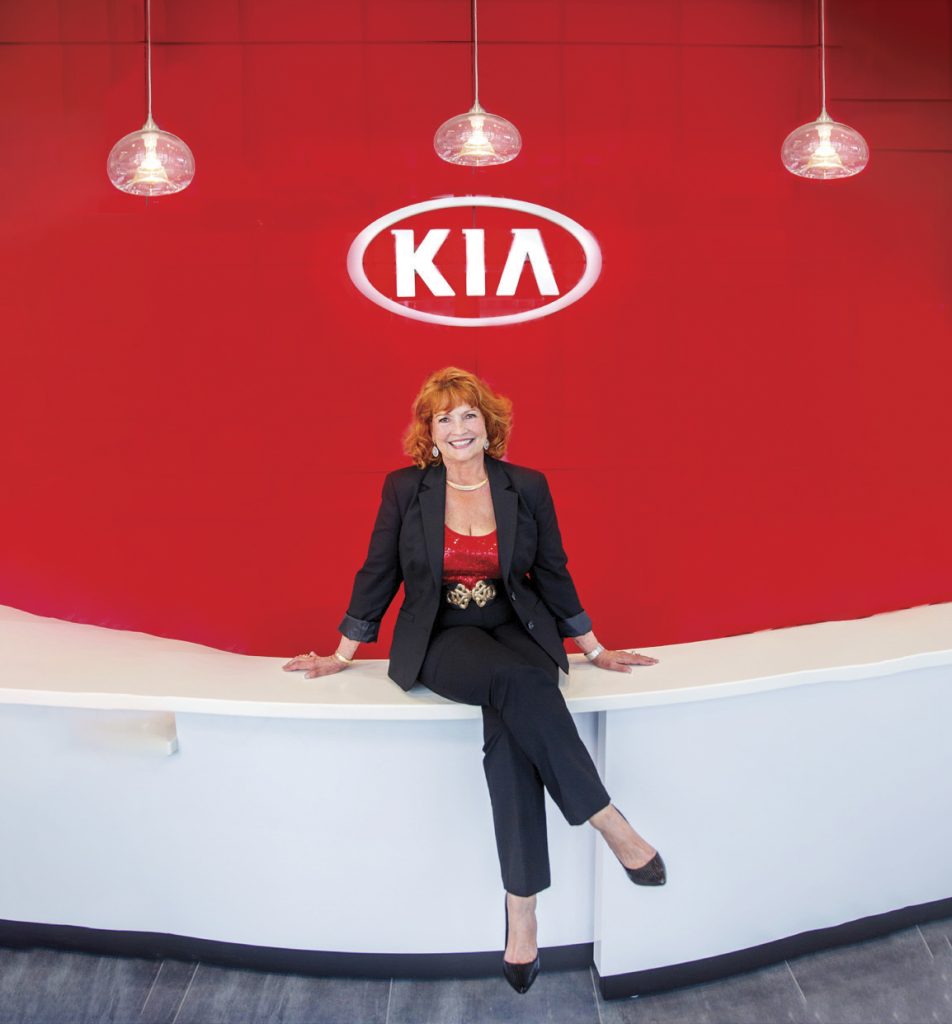 PHOTO BY NATHAN COLBERT PHOTOGRAPHY
Elizabeth Samuel, the matriarch of the Samuel family of Joe Myers Kia, is a maverick who leads by example. Smart, honest, pragmatic, strong-willed, fair, and philanthropic, she's a straight shooter with a big heart. She also has a lifelong passion for automobiles, sparked by her father.
Perhaps what's most admirable about Elizabeth is her dedication to serving others, whether its customers, employees, or the community. Her can-do attitude shines brightly, even when presented with challenges like a global pandemic, local flooding issues, and a historic winter freeze.
"We're proud of how the dealership handled everything and remained strong these last few years. We even set an all-time sales volume record and several monthly sales volume records in 2021," Elizabeth says. At the same time, Joe Myers Kia was voted by Living readers as the Best Auto Dealership in Cy-Fair three consecutive years — 2019, 2020, and 2021.
The Art of Leadership
When Joe Myers Imports was deemed an essential service during the COVID-19 shutdown, the Kia team sprang into action. Elizabeth, her husband Ralph, the dealership's general manager/managing partner, led by example and focused on employee and customer safety. Their sons, Sean (general sales manager) and Nick (pre-owned director), long-time service director Jason Proios, and tenured sales managers Masoud Zarakhsh, Joey Munoz, and Tyler Collins all did the same.
Elizabeth — a team-builder who creates an inclusive, supportive environment through fun-filled employee/family events — praises the entire team for their professionalism and dedication. "We took precautions, stayed safe, and got through it all in good shape."
She adds, "We have a great group of associates — the best in Houston. Most have been with us for years, which is uncommon in the auto dealership industry. Our veteran sales leaders, Hung Pham, Alejandra Gomez, Carlos Aviles, and Eric Tamburello average well over a decade with the dealership. Master technician Jose Rubio heads up the Joe Myers Kia maintenance and repair team."
Elizabeth and Ralph have been associated with Joe Myers since the 1980s and were heavily involved with the planning when the dealerships moved to their present locations over 30 years ago. Combining that experience with current knowledge, the beautiful new state-of-the-art Kia building was completed just 10 months ago.
As if managing through a pandemic wasn't enough, Texas' big freeze in 2021 caused massive water leaks in the buildings. "It was like Niagara Falls coming down from the ceiling and flooding different areas," Elizabeth says. Luckily, she's a practical problem solver. While Ralph and the other men were trying to stop the water to no avail, Elizabeth shut off the water, and voila, problem solved. Elizabeth's drafting and engineering background comes in handy on a regular basis.
Success in a Changing Marketplace
Elizabeth is proud of their long list of valued, repeat customers, a huge part of the dealership's legacy. They've served their customers through a booming economy, recessions, and everything in between. Today, Joe Myers Kia is managing supply chain issues affecting the automotive industry with great acumen.
With demand exceeding the supply, Elizabeth says Joe Myers Imports sells many of the new cars immediately when they're delivered and even before delivery. "The car-buying experience, for now, has changed due to supply chain issues and the chip shortage. We strive to work closely with our customers to help them get the vehicle they want," says Elizabeth, a Howard Payne University alumna. She adds, "The high demand for pre-owned cars is driving the price up. Our goal is to best serve our customers in any market dynamic."
An Award-winning Dealership, A Proud Family Legacy
Elizabeth and Ralph have overcome many monumental issues lately, a testament to their resolve and success in leading this dealership for so many years. They've been instrumental in Joe Myers Imports receiving many awards and accolades, including the Wards Auto Dealer Business "Dealer 500-Top Dealers in the USA" recognition more than once and consistent recognition for achievements in customer satisfaction.
Elizabeth and Ralph credit much of the dealership's success to its team. Every manager at Joe Myers Imports started in an entry-level position and worked their way up. This includes all three of Elizabeth and Ralph's sons, Sean, Nick, and Greg.
Another area where Elizabeth shines is marketing and advertising. Their refreshing, entertaining brand is promoted in print and on billboards, YouTube, and Facebook. Elizabeth and Ralph's son, Greg, and the Joe Myers Kia team, are well known for the Joe Myers Kia TV spots, winning multiple awards over the years. Elizabeth is well known for getting many of their team members to participate in the TV commercials, calling it a great team-building experience for all.Elizabeth's contribution to the dealership reaches beyond marketing. Soon after starting her career with Joe Myers in 1986, she earned the Salesperson of the Year award, selling more cars than anyone in her very first year in the business. Later, she was promoted to business manager. This practical experience has served her well over the years, having a true understanding of the business.
Elizabeth has toured Kia's plants and facilities in South Korea with Ralph several times. "We're always impressed with the precision and quality of the operations in South Korea and felt the same when we toured the Kia plant in Georgia," Elizabeth says. "It's easy to see why Kia has gained so much market share. And the future is bright with all the new Kia models, including the award-winning line-up that includes the 2023 Sportage, the Telluride, Seltos, K5, and more."
Giving Back, Paying it Forward
Elizabeth heads up the dealership's charitable work in the community, which includes sponsoring youth activities, athletic teams, and local events. Elizabeth and Ralph established the Greg Samuel Everyday Hero Foundation, honoring their youngest son, to facilitate the doing of good deeds in the area. "We share random acts of kindness with those less fortunate, and every winter, we organize a blanket and a jacket drive for the homeless," Elizabeth says.
Contact
16484 Northwest Freeway
Highway 290 at Beltway 8
Houston, Texas 77040
(713) 937-7800
JoeMyersKia.com