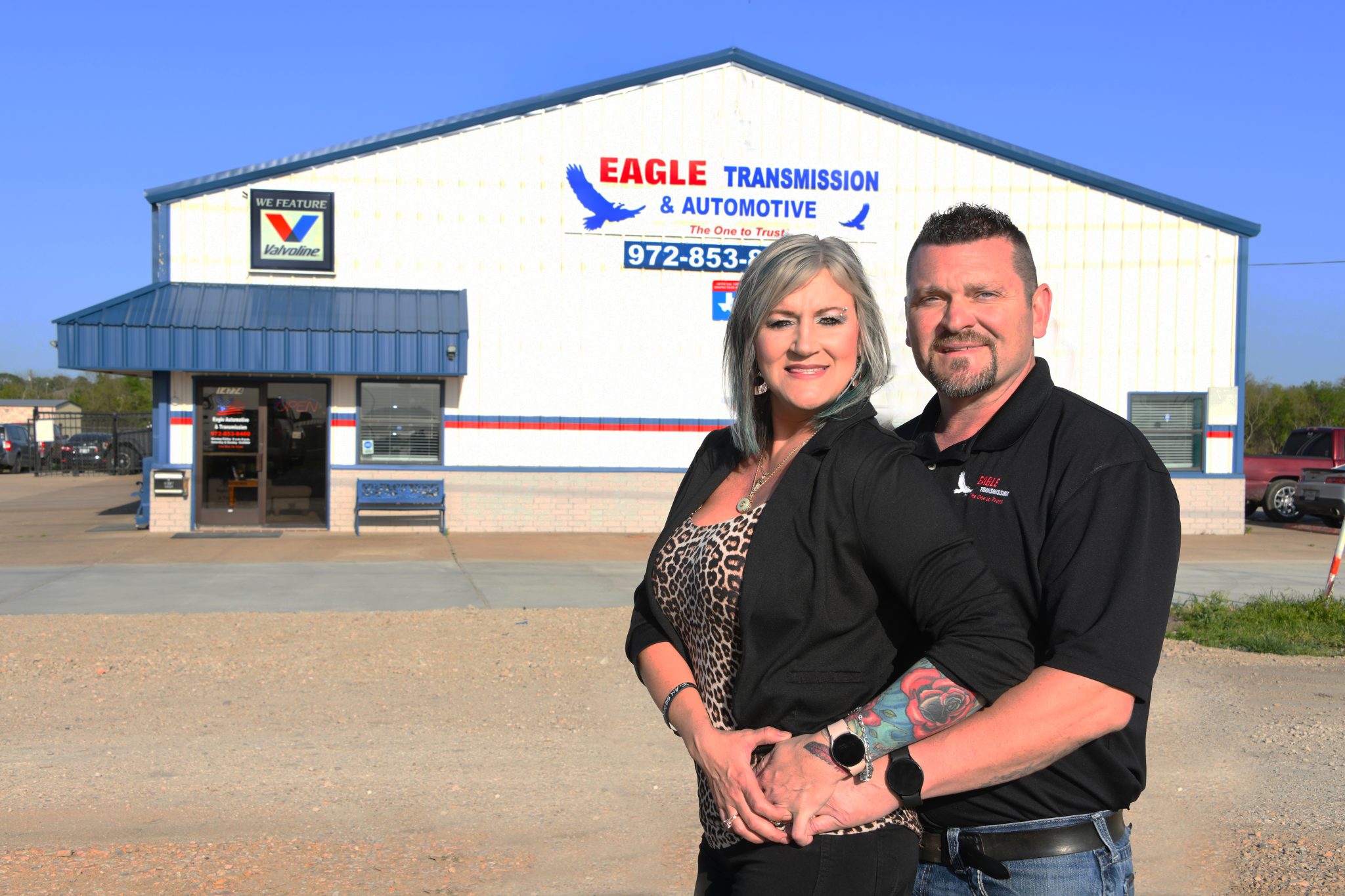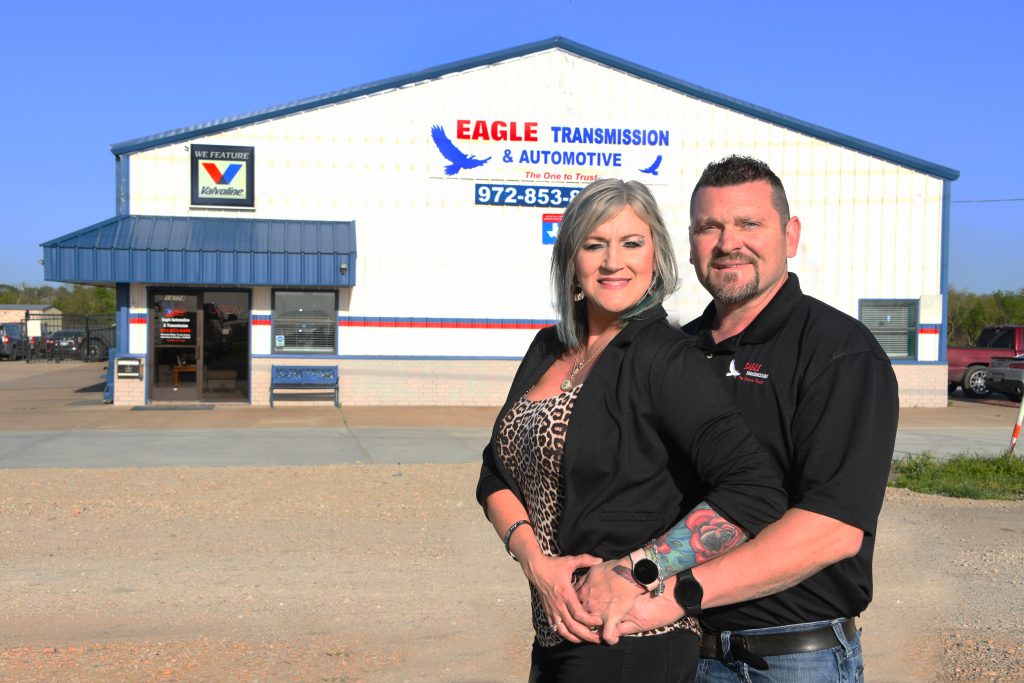 BY CLARE LYNCH | PHOTOS BY LAKE POINTE PHOTOGRAPHY
Heath Hullett, owner of Rockwall's Eagle Transmission & Automotive Repair, understands that no one wants to step foot in a transmission repair shop. Usually, repairs are inconvenient and expensive. But at Eagle Transmission, Heath, along with his staff, combines years of experience and knowledge to provide quality repair and service.
Heath's father had a passion for cars and a strong work ethic, and he passed these qualities along to Heath. Over the last three decades, Heath has repaired thousands of vehicles produced by dozens of manufacturers.
"I've always had a passion for cars," Heath said. And this passion includes working with people. "I've serviced three generations of families now. I want to believe that they come back to me because I stand behind what I do. I have always gone above and beyond to provide the best experience possible to every person who walks through the door."
The Launch of a Successful, Customer-centric Shop
Heath started his career in a dealership where he was quickly promoted to management. And, until six months ago when the opportunity arose to own his own franchise, Heath has always held some type of leadership position.
"I wasn't actively looking for this prospect when this happened," he shared. After much discernment, Heath fell back on his faith. "Within a short period of time, there were numerous signs that this was a chance that I needed to take — this is what I was meant to do."
During the short time of owning the business, Heath has added two additional technicians and one service advisor to build the right team to accommodate his clients. He also has several online customer reviews which highlight his commitment to quality repairs and friendly customer service.
"I want to be able to look my clients in the eyes and feel good that I did the right thing. Over the span of my career, including living in Rockwall for more than 15 years, I have been fortunate to have so many people support me. It's rewarding to know people seek you out and talk about you in a good way, while simultaneously supporting my own family," he said.
Typically known for repairing transmissions, Eagle Transmission & Automotive Repair is now affiliated with NAPA Auto Care at this location, allowing them to provide a 24-month, 24,000-mile warranty. "We provide all services including state inspections, check engine lights, diagnostics, air conditioning, suspension, and brakes," Heath shared. "My goal is to grow the franchise into a one-stop shop to service any foreign or domestic automobile. I want to continue to provide honest, quality service to the community in which I serve."
Based on these morals, one point he stresses is regular maintenance services to extend the life of your vehicle, as well as the importance of understanding manufacturer recommendations.
"It is important to know the specifications from the manufacturer," he said, "because vehicle maintenance schedules vary significantly."
Pretty Legit Hair Studio
Like her husband, Lauren Hullett has a strong work ethic and desire to do right for her community. With more than 20 years in the hair-styling industry, this entrepreneur recognized the unique opportunity to open her own salon when Heath took the chance on opening his own auto repair shop. "With a very large space and, with an area of it not being used, we thought, 'why not'?"
Years ago, Lauren and Heath had a vision that it would be awesome to open a hair salon next door to the automotive shop he managed. God gave them a vision and they knew one day it would come to action. Fast forward to today, and their dream has become a reality. Using open space inside Eagle Transmission, Lauren launched "Pretty Legit." The power couple has relied on their faith, family, and community to make their idea a reality.
Lauren and Lauren
Lauren Hullett has had the opportunity to work side by side with one of her best friends, Lauren Monroy. They've always been known as "Lauren and Lauren." Lauren Monroy grew up in Fate, Texas, and still lives in her childhood home. She has been a licensed hairstylist for 13 years and truly loves putting her hands to action. They're two peas in a pod. They work well with each other because their personalities are the exact opposite and teamwork makes the dream work.
Lauren Hullett is a people person, and she tends to talk with her hands. She takes her time on each client and strives for perfection. She likes bold transformations but can also keep it very subtle. She loves bold blondes, fashion colors, highlights, low lights, and soft and natural. She likes to consider herself "old school" but is always up for a good challenge. One thing in this business is that the styles are always changing, so continuing education is key. Always learning new techniques and styles as they change year to year.
Lauren's Faith
Her faith has brought her through many trials in her life — especially in the hair business. "It is my job to make sure that you are happy when you leave my salon," she said. "My work is walking around on your head, and I will always give my best. God has blessed my family with so much, and the least I can do is share the talent he blessed me with. Always put God first and He will work out the rest."
For the Hulletts, the spiritual, mental, and physical aspects of life have all come together to let them achieve success for not only their family, but also for their community. When not working, Heath and Lauren enjoy spending time with their three children. They are actively involved at Lakeshore Church and enjoy time with friends on Lake Ray Hubbard.
Contact
14774 County Road 746
Lavon, Texas 75166
(972) 853-8460
Wylie-Transmission-Shop.com