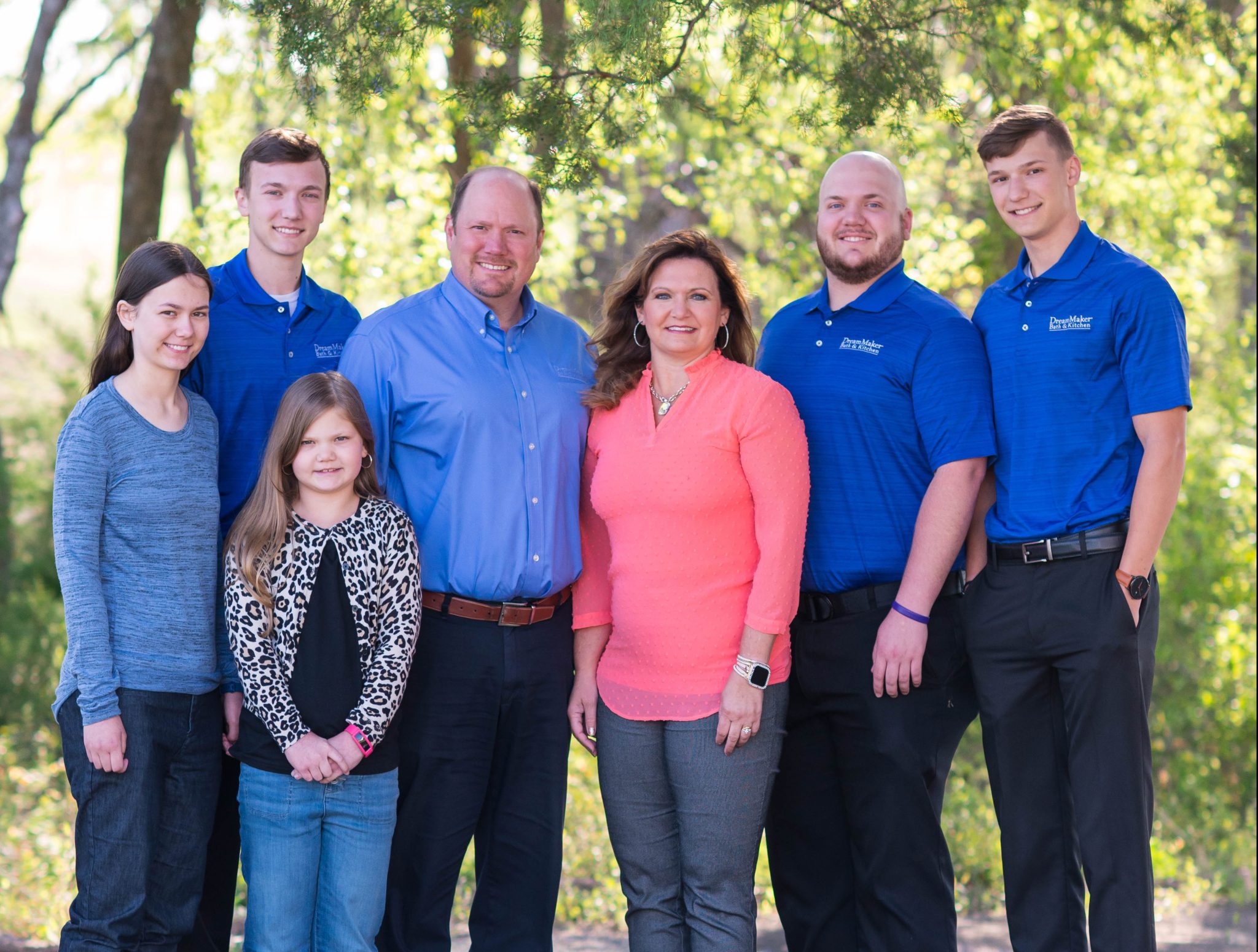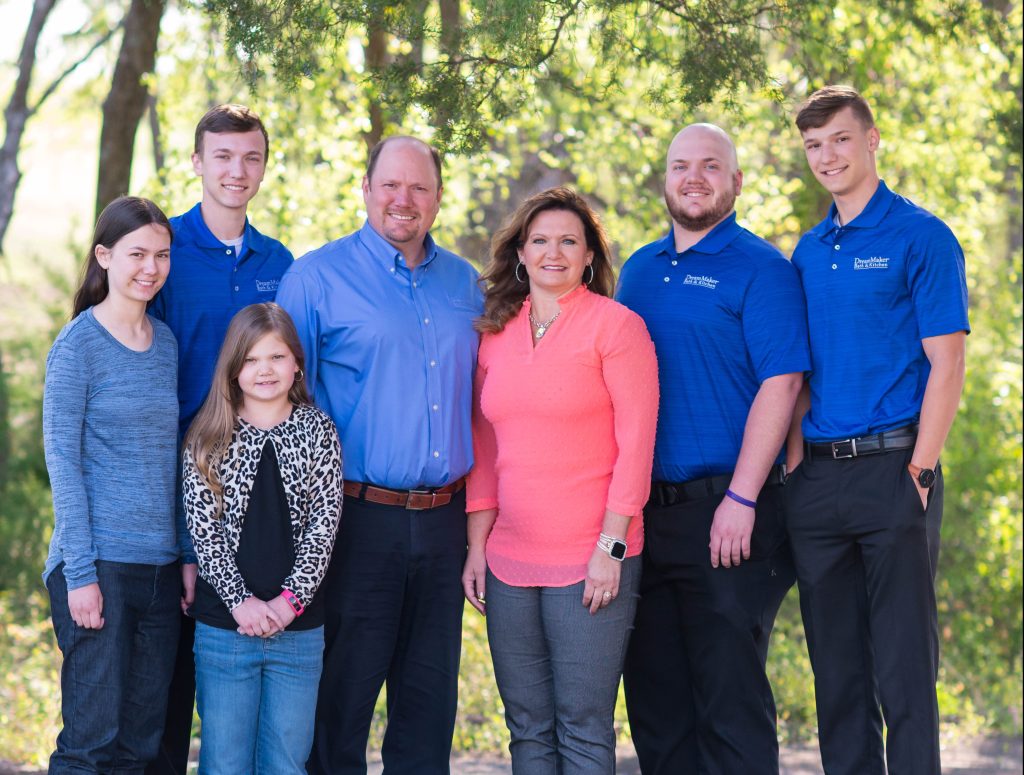 BY JORDAN KIEFER | PHOTOS BY MICHELL THURGOOD
Having been established for well over 20 years, DreamMaker Bath & Kitchen is the gold standard for high-quality, customizable renovations. The company takes a full-service approach to remodeling — from the initial design phase through to installation and final clean-up, the experts at DreamMaker are with their clients every step of the way.
While its corporate headquarters are in Waco, Texas, DreamMaker has 44 locations across the country. One of those locations is the recently opened DreamMaker Bath & Kitchen of Greater Rockwall. There is currently an office with plans to open a Design Center soon.
"Our Design Center will have gorgeous kitchen and bathroom vignettes for our clients to enjoy," Clint Chappell, owner and general manager, explains. "Our staff will assist and guide with the design, selection of the products with our clients, staging those products, lining up the skilled craftsmen, and overseeing the entire process. We schedule work once all the products have arrived at our location to minimize any inconvenience to our clients."
This focus on being a one-stop shop for their customers also means that they don't have to drive all over the place to meet with vendors, craftsmen, and tradespeople. DreamMaker already has an established relationship with these businesses, so when clients come in to meet with employees, the staff has a wide variety of options available. "This is an incredible opportunity to gift our clients with more free time, less stress, and receiving their beautiful remodel without all the hassle," Chappell declares.
While every remodeling project is unique and has varying work levels, the average timeline for a renovation is about 2-4 weeks. DreamMaker stages all the client's products at their location until they've all arrived. Because of this, the team will not start a renovation until every aspect and piece of material needed is ready to go. As a result, this helps to minimize the amount of time spent at a client's home and the potential delays and problems.
Together with his wife Julie, the Chappells operate and run DreamMaker Bath & Kitchen of Greater Rockwall. "This is something that we had always dreamed of doing, so to see it come true is amazing," Chappell states. "As my kids have grown older, our family decided that we wanted to own a family business. I absolutely love working with my family and getting to know and serve our clients, and seeing their dreams come true. Working with my wife and sons every day is such a blessing."
As their children have grown up, they have started helping and assisting their parents at DreamMaker. The two older sons are currently working through an online university to obtain their business degrees.
Chappell's background in engineering has helped him tremendously with his job at DreamMaker Bath & Kitchen of Greater Rockwall, as he is familiar with designs and schematics of houses and buildings. He's also gained experience on the corporate side of things which has helped and prepared him for estimating and working with vendors and ensuring the quality of work.
Chappell grew up in the Houston area and graduated from Lamar University with a degree in engineering. Clint and Julie have known each other since childhood, as his mom was her kindergarten teacher. Although his dad's business caused the family to move away to Germany for a few years, Chappell became reacquainted with Julie in the later years. The two married in 1997 and have five children together — three sons and two daughters — and two dogs. "We love having extended family over, hosting events with friends, church involvement, fishing, traveling, trying out restaurants, and being together as a family," Chappell states.
In addition to spending time together with friends and family, the Chappells are active in their community. Over the years, they have participated in many charity events and volunteered for organizations and causes like World Changers, disaster relief, and Junior Achievement.
"I have often worked with family, church, companies, and various organizations assisting with home repairs of those living through natural disasters or in need," observes Chappell. "It brings my family and me tremendous joy to help others. My heart is to serve those in my community, and this business has opened that opportunity. Seeing the excitement in my client's faces as they see their dream become a reality is super fulfilling."
This desire to help others eventually led to Chappell's decision to join the DreamMaker Bath & Kitchen franchise. "Their values complement our faith," he said. At the heart of the company is a code of values through which the company defines itself and how they conduct themselves every day. Some of these values include treating others as you want to be treated, loyalty, counting your blessings every day, integrity, treating your employees like family, respect, and last but certainly not least, having fun in the process.
"Driven by our code of values, our mission at DreamMaker Bath & Kitchen of Greater Rockwall is to provide unsurpassed service and quality throughout the entire remodeling process with a positive experience that makes DreamMaker the first choice for all remodeling needs," says Chappell. Whenever clients come into the Rockwall location, they will see the code of values beautifully displayed and know that the company is earnest about sticking to them.
The experience of owning a piece of the DreamMaker franchise has been gratifying to Chappell. "There is a strong support network across our organization," he explains. "The systems that have been developed over the years are proven and effective. In addition, employees are sharing and constantly learning new aspects daily."
Contact
(469) 887-6700
Dreammaker-remodel.com/greater-rockwall