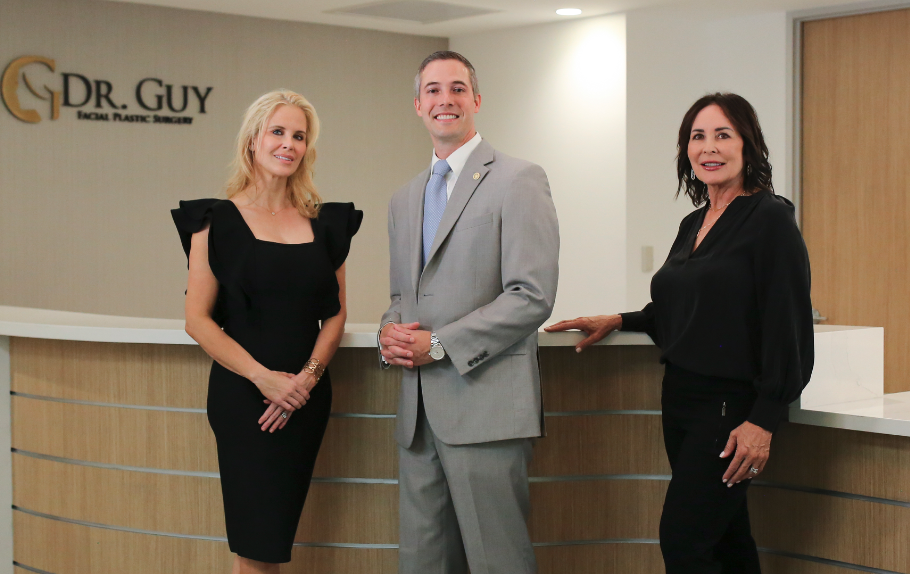 By Annette Brooks
---
The Woodlands' own double board-certified facial plastic surgeon has a lot to celebrate this year. Recently voted Best Facial Plastic Surgeon in The Woodlands and collecting another Living Magazine Best Of Readers' Choice award, Dr. W. Marshall Guy and his team are also welcoming patients in his newly expanded office.
"We went from 2,000 to 6,000 square feet, giving us room to grow and to continue to best serve our patients in a comfortable setting," says Dr. Guy. "And we thank our patients for voting us Best Of again. What's most rewarding is knowing we've helped them feel better about their appearance and experience the benefits that go with this, such as a boost in self-confidence."
Beauty Without Surgery
Dr. Guy is a meticulous and experienced facial plastic surgeon, but he also offers an impressive collection of non- and minimally invasive med spa services. They include procedures that rejuvenate the face, smooth wrinkles, tighten the skin, and boost skin tone, clarity, and radiance. His injectable services include Botox, Dysport, and most dermal fillers.
"Our dermal fillers include the exclusive RHA filler collection, which offers a remarkably natural feel and dynamic resiliency, adapting to your facial movements," explains Dr. Guy. Available only in select offices, Dr. Guy is one of the few in the area to offer RHA injectable fillers.
Jill Campbell, NP, and Becca Korte comprise the expert aesthetic services team. "Jill, our nurse practitioner, is a summa cum laude graduate and certified aesthetic specialist with more than 20 years of experience with injectable and advanced aesthetic treatments. Becca, our licensed medical aesthetician, has over 35 years of experience. They represent, in my opinion, the best of the best in their fields," Dr. Guy shares.
Jill's artistic experience with rejuvenation treatments, including thread lifts, injectables like Botox and Dysport, platelet-rich fibrin (PRF), and dermal fillers, creates incredibly natural-looking results. Or, if you're looking for the least invasive option for skin rejuvenation, Becca is an expert at skin care and skin quality improvement with treatments like Hydrafacials, dermaplaning, IPL, OxyGeneo, chemical peels, and medical-grade skincare.
Expertly Customized Treatment Plans
Dr. Guy and his team will work with you to achieve your beauty goals. By offering both cutting-edge medspa services and facial plastic surgery under one roof, he and his team can combine services for breathtaking results.
"We custom-design packages that include medspa services after surgery to help you best maintain your results. Combining services can also enhance your outcome. For example, a facelift addresses sagging, lax skin, while IPL helps erase sun damage and improves radiance. Together, surgical and nonsurgical treatments can deliver remarkably beautiful, fresh, youthful-looking results."
Longer-lasting Results
Nonsurgical aesthetic services are great, but there's no substitute for surgery if you seek longer-lasting, more dramatic results for an aging face and neck.
"A surgical facelift remains the gold standard in facial rejuvenation as well as improving the neck," Dr. Guy explains. "There are several types ranging from mini to full face and neck lifts. The extent of your facelift depends on your goals and unique situation, from how you age to skin laxity after significant weight loss. The average age is 50 to 55 for a facelifting procedure, but age is just a number. My youngest lift was on a 38-year-old after massive weight loss. There's really no upper limit either if you're healthy and a good candidate."
Dr. Guy says the results from nonsurgical treatments just can't compete with eyelid surgery (blepharoplasty). Nonsurgical skin tightening doesn't do quite enough compared to upper eyelid surgery. The lower eyelids are a bit different. Peels, fillers, and laser treatments can improve the appearance, although they still don't deliver the results of lower eyelid surgery."
Nose surgery (rhinoplasty), which is designed to last a lifetime, continues to be popular, and Dr. Guy's rhinoplasties highlight his blend of precision, artistry, and expertise. "Most rhinoplasties require about a week of downtime. Once the splint is removed, the swelling and bruising are usually minimal, and you can typically go out without anyone noticing you've had your nose done."
Dr. Guy also performs temporary "liquid nose jobs" with dermal fillers, which are getting a lot of attention in the media these days. "Dermal fillers can't make a big nose smaller, but in certain situations, they can create the illusion of a smaller nose. I think the best applications for injecting fillers in the nose are camouflaging a hump or improving the tip projection." He adds, "The nose is a complex, sensitive area, and the results must look good in 3D from all angles. It's not as straightforward as filler injections to add volume to your cheeks. Anyone considering liquid rhinoplasty should have a highly experienced injector, with those who actually perform rhinoplasty surgery being the most qualified."
Facelift, browlift, neck lift

Eyelid surgery

Nose surgery

Ears, chin, cheeks

Reconstructive facial plastic surgery

Embrace RF skin tightening

Botox, Dysport, dermal fillers, Kybella

IPL

Laser skin resurfacing

Platelet-rich Fibrin (PRF)

And much more
Dr. Guy performs many of his surgical procedures in-office, including facelifts, under local anesthesia if you want to avoid going to sleep in an operating room. Of course, being completely asleep is also an option if you prefer.
More About W. Marshall Guy, MD
After graduating number one in his high school, college, and medical school class, Dr. Guy was accepted into a highly competitive head and neck surgery residency program at Houston's Baylor College of Medicine. He then completed a facial plastic and reconstructive surgery cosmetic fellowship at the McCollough Plastic Surgery Institute, receiving extensive surgical and nonsurgical facial rejuvenation training from renowned experts.
Trust your face to a facial plastic surgeon. After all, there's never a better time to look your best, and Dr. Guy's personalized treatment plans cater to each patient's needs and budget. Schedule a consultation with Dr. Guy today.
---
Contact:
128 Vision Park Boulevard, Suite 150
Shenandoah, Texas 77384