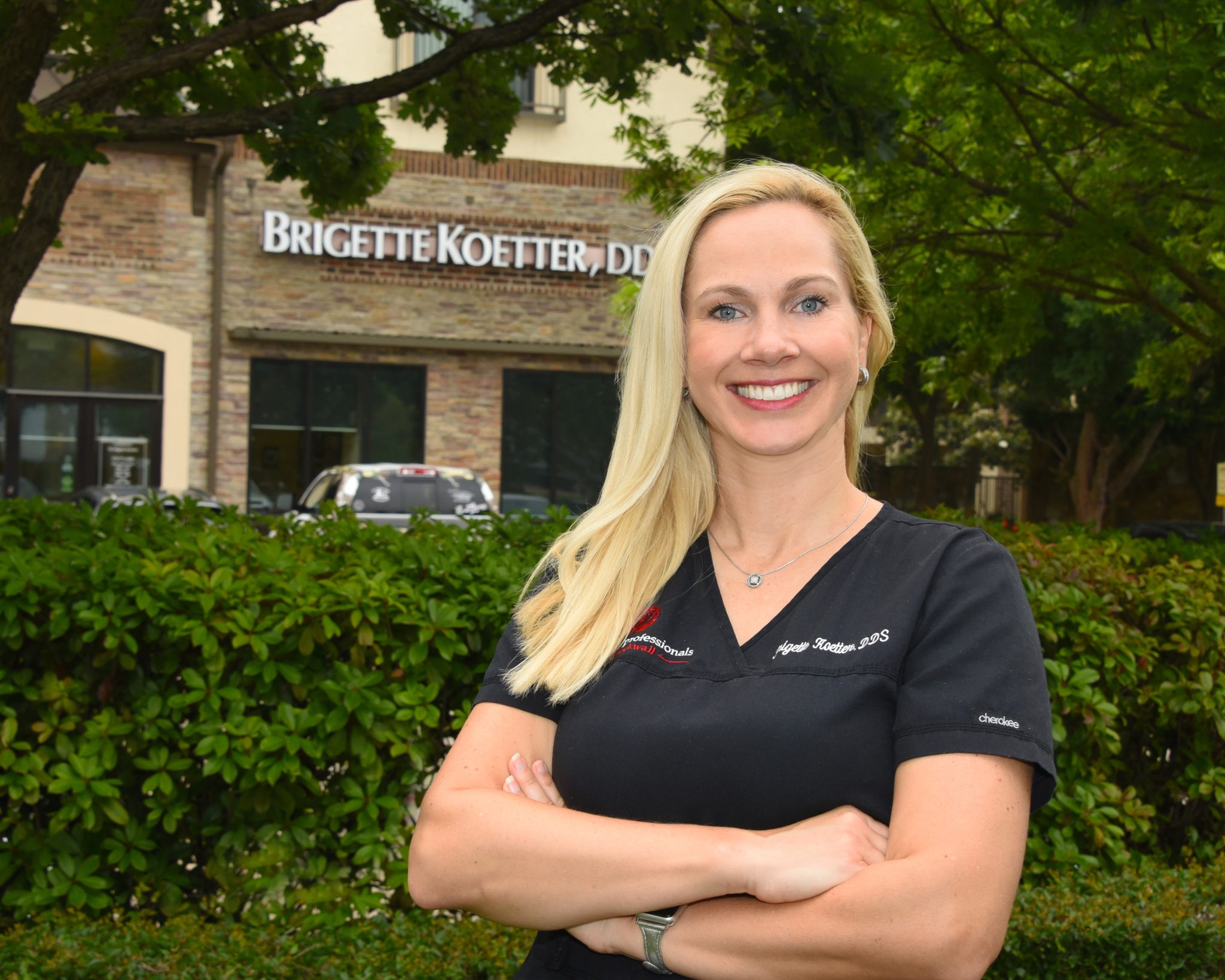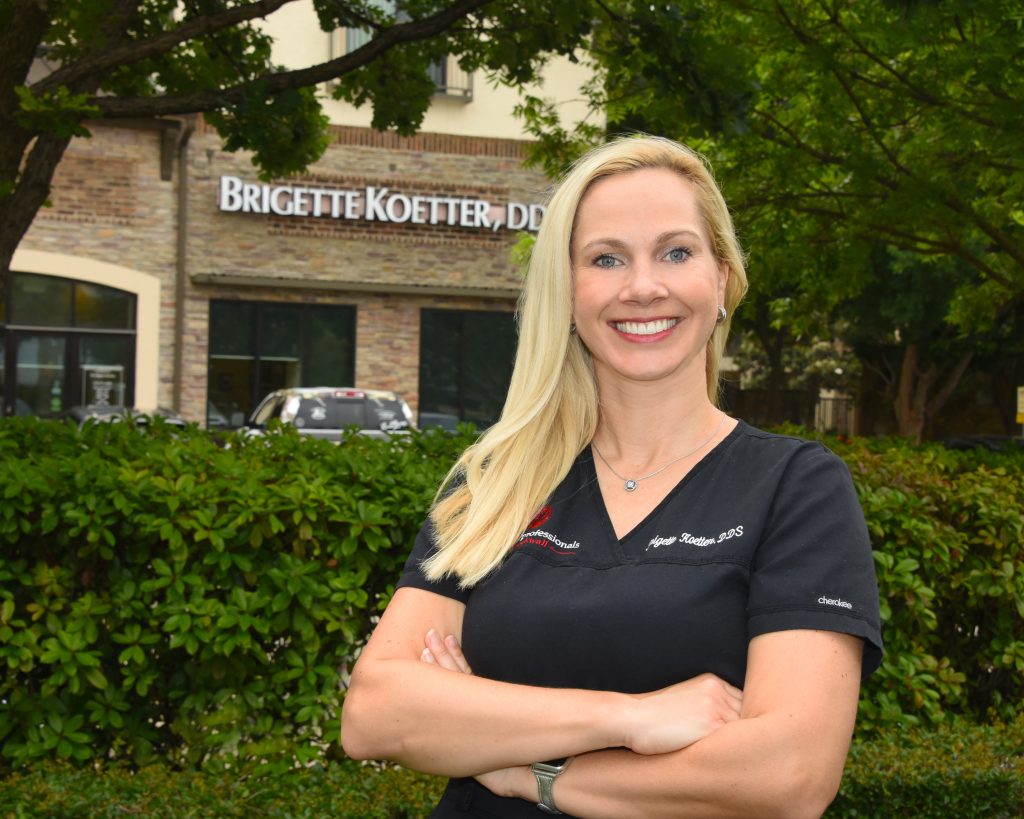 BY STEVE GAMEL
When Dr. Brigette Koetter opened Dental Professionals of Rockwall in 2008, she knew she wanted to be an essential part of this community. She grew up in a suburb of Dallas and spent her summers on Lake Ray Hubbard. Meanwhile, her husband, Paul, grew up in a very small town. Rockwall-Heath has a unique small-town feel with great local activities and excellent schools, so they decided this was the perfect place to grow their family.
Dental Professionals of Rockwall has since become an anchor practice in the community. Patients choose Dr. Koetter because of her experience, honesty, knowledge, family feel, ever-evolving technology, and solutions for many dental needs. She has endearing relationships with her patients that happen organically when their family is treated to a lifetime of healthy smiles.
"I joke with my kids that I need to go help a neighbor with a tooth. My patients are my neighbors because we live in such a close-knit community. I run into friends and patients at the grocery store and kids' activities," Dr. Koetter said with a laugh. She and her husband have three children and have lived here since 2007.
We've been in the same location since 2008. I have been blessed to be surrounded by coworkers who love what they do."
The office continues to grow, just like the area they live in. She has been working with one hygienist for 14 years and others for 11 and 10 years. She has worked chair-side for 10 years with her assistant.
"We are like dance partners; we predict each other's movements," she said. "It makes for an easy appointment because we are familiar with our procedures together. As the office grows, we've added more experience to our dental family. Our new assistants and hygienists are not new to dentistry, and they have brought their 25 accumulative years of experience to make Dental Professionals of Rockwall an even better place."
Treating Each Patient Like Family
Dr. Koetter earned her bachelor's degree from the University of Oklahoma in 2002. She went on to earn a Doctor of Dental Surgery degree from the University of Missouri-Kansas City School of Dentistry in 2007. Before dental school, she worked in an orthodontic office for six years. She is a member of the American Dental Association, the Academy of General Dentistry, and the American Academy of Cosmetic Dentistry. All the while, she has maintained a simple philosophy.
"I just think, 'If I put my mom in the chair, what would we do? That's what we do for everyone," she said.
Nothing was overlooked in the balanced blend of comfort, innovative technology, and family-focused care that you will find at Dental Professionals of Rockwall. When making decisions, they keep in mind that every situation is different, and every patient's goals and needs are different.
"Sometimes, the best option is too expensive for a patient. But we present all options and discuss why the second option is still a great option," Dr. Koetter said.
It's the idea that not everything is cookie-cutter. I am very conservative, and I have informed patients of areas in their mouths that are breaking down. My team gives tools and advice on how to preserve the area. With education and focus, patients can prevent expensive work from being needed."
Patients appreciate the concern, and they trust Dr. Koetter. They have patients who needed anxiety medication when they first started coming. After building a relationship and trust, many quit requiring the medicine because the fear is gone. "That happens because we treat them like family," said Dr. Koetter.
Services to Meet Every Need
Dr. Koetter prides herself on providing preventive care for the whole family. She has spent years attending continuing education courses to offer a wide array of services. Cosmetics and orthodontics go hand-in-hand and are a fun part of dentistry. She is thankful she can provide traditional therapy for her patients with convenience. The office has a digital scanner, so no gooey impressions have to be taken. There is a state-of-the-art mill in the office to create a same-day crown.
The office is also equipped with the latest technology to provide comfort and convenience. "We have a great relationship between the staff and patients," Dr. Koetter said. "We use the latest technology with intraoral cameras and full-mouth imaging to provide visuals for treatment plans. This allows patients to see what we see, and it builds trust through understanding."
Safety Is a Top Priority
There is always a concern for patient safety. The standard of care for a sterile field and clean atmosphere is of utmost importance to Dr. Koetter and the Dental Professionals of Rockwall staff. Dental practices are inherently the most hygienic environments a patient can visit — even during a pandemic.
"With the low infection rates within our profession, dentistry has proven to mitigate risk while providing essential healthcare," said American Dental Association President Dr. Cesar Sabates. "Our dental team continues to implement enhanced infection control for COVID-19 and other serious illnesses."
Dr. Koetter agreed that health and safety are at the forefront. "The dental field remains incredibly safe, so we want to inform patients to try to keep their regular exams and cleanings to prevent more extensive work," she said.
Dental Professionals of Rockwall is always looking to expand its dental family to include you as their patient. Dr. Koetter takes care of all age groups while keeping your family healthy. Do not hesitate to bring the whole family.
"As a growing practice, we are thankful that we can maintain the family-feel with our patients," Dr. Koetter said.
Services Provided
Oral hygiene care
Dental cleaning
Tooth extractions
Sealants, bonding, and fillings
Crowns and bridges
Root canal treatment
Dentures
Same-day crowns
Tooth whitening
Non-surgical gum treatments
Nightguards and mouthguards
Invisalign
Digital X-rays
Digital imaging
Contact
1375 Ridge Road
Rockwall, Texas 75087
(972) 771-4100
RockwallDentalPros.com