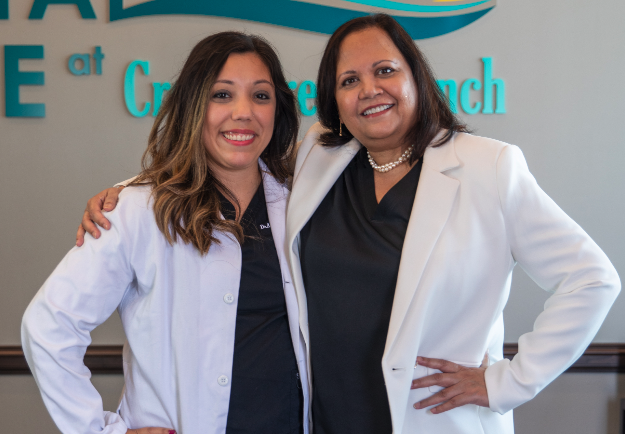 By Meredith Knight
---
It's a typical weekday at Dental Care at Cross Creek Ranch, and inside this state-of-the-art dental practice, smiles and laughter abound. Patients are greeted by name and pampered with spa-like amenities such as aromatherapy, neck pillows, eye masks, and warm towels infused with lavender. The dental team is relaxed and friendly yet highly trained and professional, and the dental care is top-of-the-line. Heading up this dynamic team are two experienced dentists, Ariana J. Moreno, DDS, and Fowzia Hakym, DDS, DMD. Their goal? To make the world a better place one smile at a time.
Soothing Spa-Like Environment
"Our goal is to make dentistry both gentle and empathetic," Dr. Hakym said. "We both love caring for people, and dentistry allows us to do this in a way that really impacts our patients' lives for the better."
"Our practice is very laid back," Dr. Moreno said. "We want patients to feel like this is their dental practice. We want it to be a relaxed, soothing environment for them. We want them to walk in and feel cared for. Yet, we also want to provide them with the most advanced dentistry available."
Patient-Centric Care
The Dental Care at Cross Creek Ranch team understands that time in the dental chair can be an anxious time for many people. They'd like to change that. "Some people come to us with anxiety — even fear — caused by past dental experiences," Dr. Hakym said. "The head and neck are very intimate parts of the body. It's very personal to let someone into that zone. We're aware of that. It's why we take time explaining each thing before we do it. We want the patient to understand what we're about to do and why."
"Sometimes the best thing we can do for our patients is just listen," Dr. Moreno said. "When someone is nervous or fearful, we give them time to talk to us about what's worrying them. Often, just removing the unknown from the process comforts their fears and taking time to build a relationship of trust really helps. We have educational videos to show them what we're going to be doing. We also offer a comfort menu including medication and nitrous oxide to help calm them."
Latest Technology
Another way Dental Care at Cross Creek Ranch makes dentistry a relaxing experience is by investing in the latest technology. That includes the latest digital X-rays that not only allow the doctors to see and diagnose problems in your mouth when they're much smaller, requiring less-invasive treatment, but allow them to project X-rays on a screen so you see exactly what they see. Digital scanners allow them to take advanced crown impressions without those awful, gooey molds, and the latest computer software lets them show you the outcome of cosmetic dentistry before the work even begins.
"If you have teeth that are stained, chipped, gapped, crooked, or missing, we can show you exactly how you'd look with a brand-new smile," Dr. Hakym said. "Then, we can proceed, as you're ready to make the changes."
Lastly, the latest diode laser offers treatment of gingivectomy, frenectomy, cuspid exposure, molar exposure, and ulcers. "It eliminates bacteria from the gums, decrease sensitivity on teeth, and so much more," Dr. Moreno said. "Multiple wavelengths in one system offers faster, cleaner cutting with more comfort to the patient, less bleeding or risk of infection, faster healing, and fantastic results." The Dental Care at Cross Creek Ranch team is passionate about investigating all dental technology breakthroughs and investing in those that will make their patients' care more comfortable and much more precise.
All Under One Roof
Once you're a patient of Dental Care at Cross Creek Ranch, they work hard to provide all the dentistry you need under one roof including:
Bonding

Composite white fillings

Cosmetic contouring

Dental bridges

Porcelain veneers

Smile makeovers

Crowns and crown lengthening

Implant-supported crowns

Dentures and partial dentures

Emergency dental care

Endodontics

Invisalign tooth aligners

Root canal therapy
"We rarely refer anyone outside of the practice for care," Dr. Hakym said. "But when we feel it's in their best interest, we refer them to hand-picked specialists we know well and trust."
Community Support
The Dental Care at Cross Creek Ranch team lives right here in the Katy area, and they love providing top-of-the-line dental care to their friends and neighbors. They also support local charities and school booster clubs and pay it forward with annual Give Back a Smile events where they provide free dental services at their office for underserved or underinsured families.
Meet Dr. Hakym
Fowzia Hakym practiced in San Jose, California, for over 15 years. Her practice focused on comprehensive cosmetic cases. She has extensive experience in designing beautiful rejuvenating smiles. She has placed hundreds of veneers and has hundreds of happy and very satisfied patients. Her technique has been perfected to require only two comfortable visits for a fabulous smile. She is also proficient in full mouth rehabilitations that can restore a mouth to bring back the clock 10-15 years. Dr. Hakym does Invisalign, root canal treatments, bridges, and fillings as well. Her focus is mainly on adults.
Meet Dr. Moreno
Ariana Moreno loves all aspects of dentistry, serving both the younger population and adults. Dr. Moreno also has experience with patients of special needs. She believes that everyone deserves a beautiful and healthy smile, no matter the age. A comfortable patient experience is what she strives for and provides nitrous sedation for anxious patients. Dr. Moreno also treats a broad scope of dental procedures such as Invisalign, laser therapy, root canal treatments, pediatric dentistry, bridges, and fillings.
Find out more about this dynamic dental team at DentalCareatCrossCreekRanch.com.