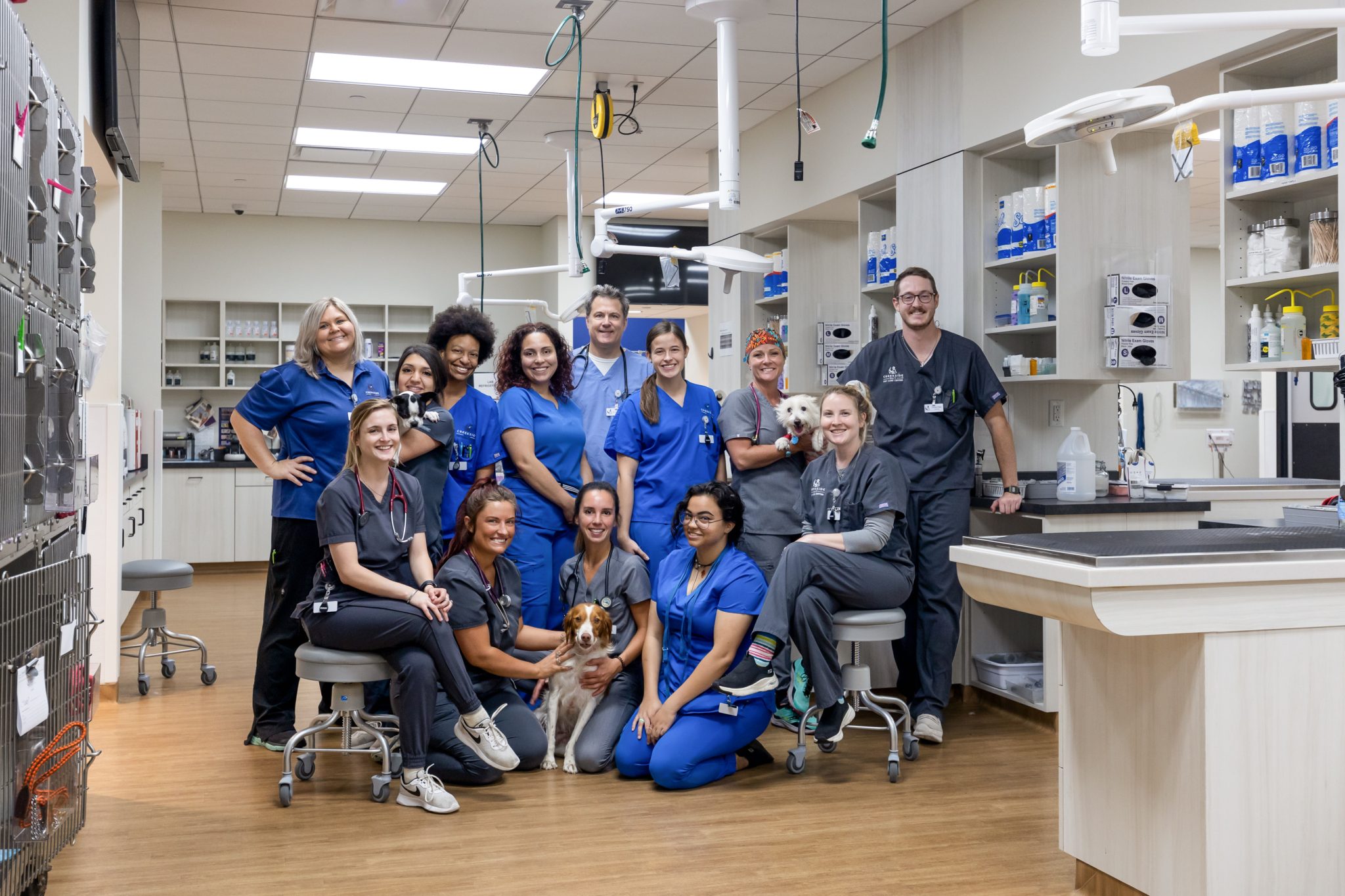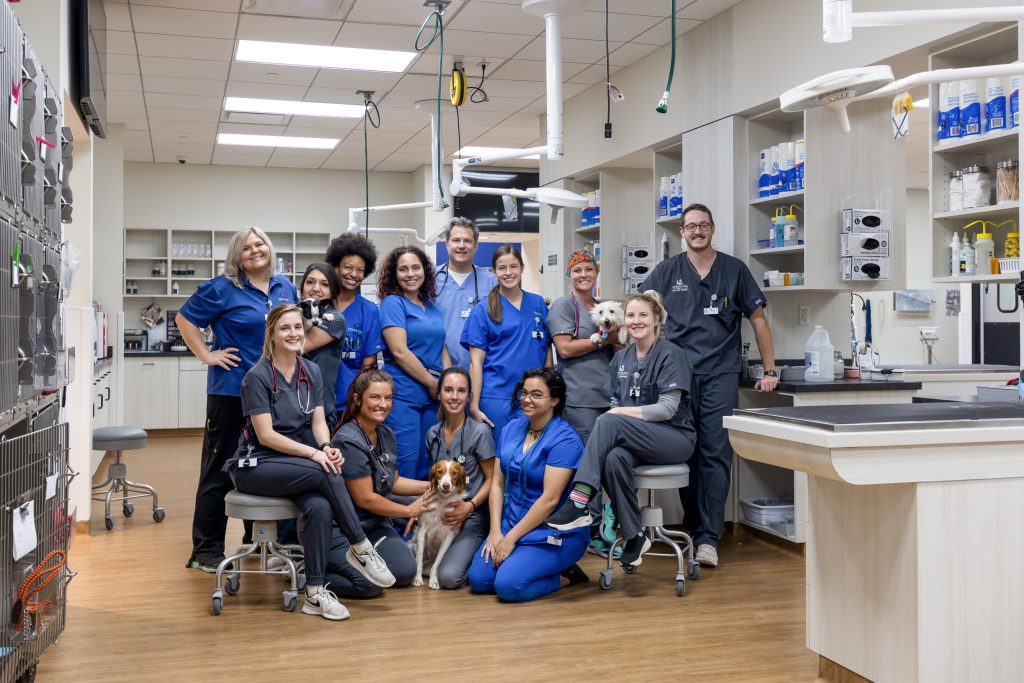 by Meredith Knight Photos By Kenny Richard Photography
---
Nobody expects a veterinary emergency. Noreen and her family certainly didn't expect one on Christmas night. Yet, when their 18-year-old dog fell into the pool nearly drowning, they realized he needed immediate attention. She related the story in an online review.
"We rushed him to Creekside because our regular vet was closed. Remy was in bad shape, and we didn't think he'd make it because of the amount of water in his lungs. [The doctor] and all the staff we dealt with were truly amazing! The ICU tech and vet techs who took care of him gave him the best care and kept us updated practically every two hours over the two nights he was there, and even let us come visit him a few times. They cared for him around the clock as if he was their only patient. We could not be more thankful for the doctors and techs who took care of Remy. They turned our Christmas nightmare into a Christmas miracle, and we're very grateful."
Above and Beyond
Noreen's is just one of many five-star reviews for this veterinary practice that has some patients driving from Dallas to Keller even for routine care and grooming. Christina K. had this to say, "Absolutely wonderful staff. They took care of my elderly cat who ended up passing away. They were caring and compassionate. At every turn, they give you all the options to make an informed decision. When my baby had to be euthanized, I was out of town and they were very accommodating and let my friends come in to be with him and video called me so I could be present as well. When I came back, I was delayed quite a few times, but they held onto him until I was able to make a decision. They also sent some flowers as a condolence after he passed."
Expanded Facility and Services
Clients like Christina and Noreen — and so many others — have even more to love about Creekside Pet Care as they've recently expanded to offer more exam rooms plus space for consultation, surgery, and comfortable waiting areas for pets and their families. Boarding, grooming, and daycare services have been expanded, too. And with 11 veterinarians on the Creekside team and 24/7 care, it's truly a one-stop-shop for local pet lovers.
Everything Your Pet Needs
When pet owners have an emergency with their fur baby, they can rest easier knowing the same Creekside team who keep their dog or cat healthy year-round already has their records on hand to spring into action. And when they need boarding or daycare, they can go to their home-away-from-home where the Creekside team also offers:
Urgent care
Pet vaccinations
Spay/neuter
Dental care
Parasite prevention
Surgery
End-of-life services
Boarding and Daycare
You can't always have your pet with you. If only there was someone who'd love them like you do, when you can't be there. Kaylee H. found just that for her beloved rottweiler, Spike. "Spike has been attending daycare at Creekside for over a year and the staff go the extra mile to remember his name as they always say 'hi' to him which gets his nub jiggling. They also take pictures and videos of the dogs to share with their owners which is so exciting to see."
Carrie P. added, "Our pup, Eddie, loves it here. He perks right up in the backseat, once I hit the stop sign, and can't get inside fast enough. The staff is awesome, and you can tell they all really love all the pups under their care and enjoy being there almost as much as the dogs do. And I love that they have some many great outside spaces to run."
Whether you need to board your pet while you're away, or you want them to be active and loved while you're at work, Creekside has everything your pet needs to know they're loved when you can't be there to do the loving.
Proactive Wellness Care
As the U.S. medical system is moving away from reactive care and encouraging patients to become active in their own wellness care, Creekside Pet Care Center is doing the same for your pets, inviting pet owners to take an active role in optimizing the health of their fur babies, for a long and vibrant life. It all begins with client education. Each Creekside appointment is scheduled for 30 minutes or longer and is looked upon as a "team meeting" where veterinarian and pet owner partner for the health and happiness of each pet.
Find out more or schedule an appointment at CreeksidePetCare.com.
Top Pet Names in 2022
It's always fun to come up with a name for your new pet. Here were the top choices for puppies for 2022.
Luna

Bella

Charlie

Cooper

Lucy

Max

Daisy

Bailey

Milo

Sadie
Top cat names looked similar with a few exceptions.
Luna

Bella

Oliver

Charlie

Lucy

Leo

Max

Milo

Lily

Simba
TV Pets We've Loved
Depending on your age, you likely grew up watching — and loving — Lassie, Scooby Doo, Tiger on The Brady Bunch, Astro on The Jetsons, Eddie on Frasier, and Stella on Modern Family. Other TV pets who've stolen our hearts include:
Duke from "The Beverly Hillbillies"

Ghost from "Game of Thrones"

Kitty Kat from "Addams Family"

Marcel from "Friends"

Santa's Little Helper from "The Simpsons"

Spot from "The Munsters"

K-9 from "Doctor Who"

Dino from "The Flintstones"

Comet from "Full House"

Champion from "Parks and Recreation"
---
Contact
8830 Davis Boulevard
Keller, Texas 76248
(817) 421-5850
(800) MY-PET-CARE
CreeksidePetCare.com