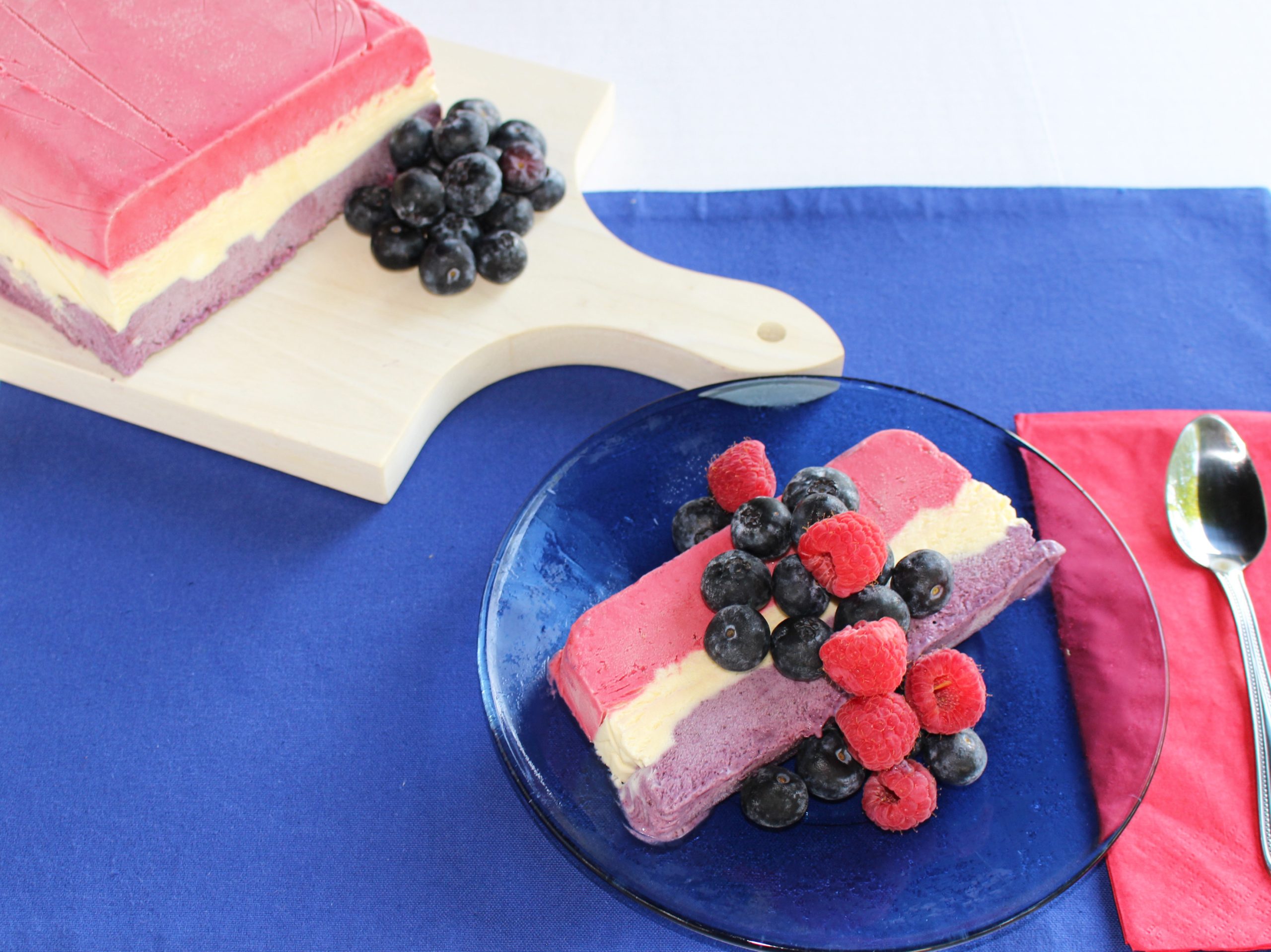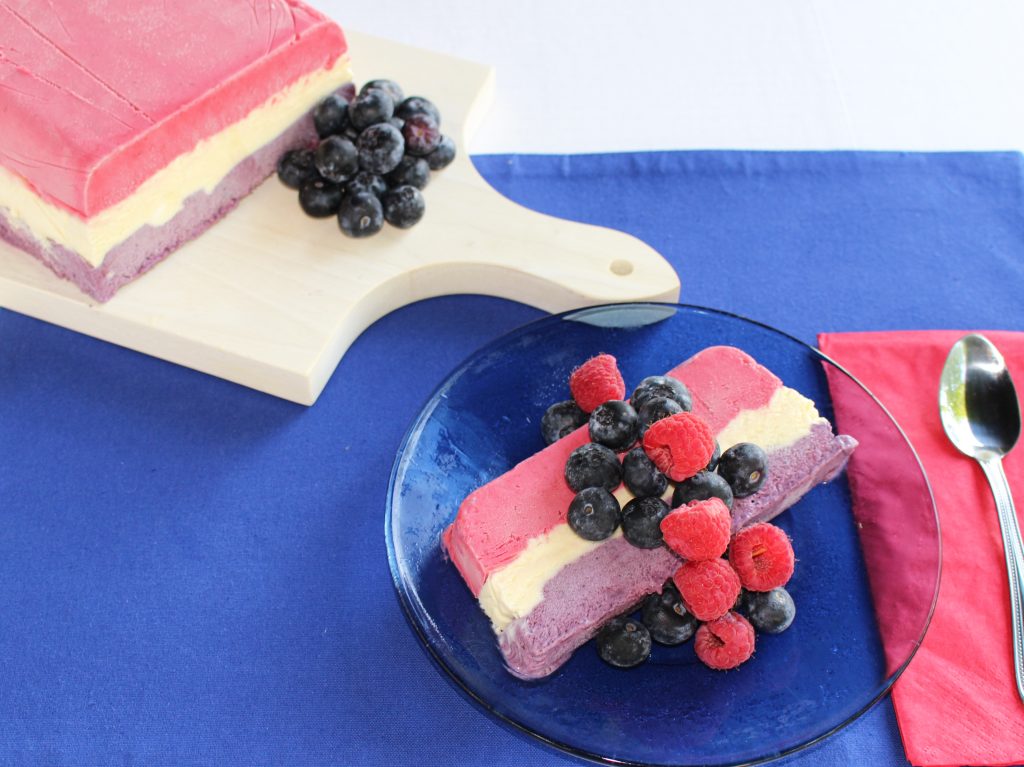 By
Jennifer Bajsel
---
Red, White, and Blue Semifreddo

Serves: 12 | Prep: 30 min. | Cook: 7 hrs. | Total: 8 hrs.
Ingredients: 4 cups heavy cream | 2 ½ cup sugar, divided | 8 egg yolks | 2 tsp. vanilla | Pinch salt | 1 pkg frozen raspberries | 1 pkg frozen blueberries
Directions: Whip heavy cream until medium peaks are formed using a hand mixer, set aside. Using a double boiler, place water in bottom pot and bring to a simmer. Combine sugar and egg yolks in the top pot and place over the bottom pot. Beat eggs and sugar until double in size. Add vanilla and salt. Remove from heat and fold in whipping cream. Divide the egg mixture equally into three bowls. Dissolve ¼ cup sugar in a separate pot with the frozen raspberries and cook until softened. Blend raspberries into a puree using a blender. Repeat with blueberries. Add raspberry puree to one of the egg mixtures. Add the blueberry puree to a different egg mixture. Reserve the third egg mixture for the white layer. Wrap a loaf pan with plastic wrap. Pour in the raspberry layer. Freeze for 30 minutes. Remove from freezer and add white layer, freeze again for 30 minutes. Remove once more and add the blueberry layer. Cover and freeze until ready to serve.
Tips & Tricks: You can change the layers with different fruit or flavors. Place serving bowls in freezer before serving to keep semifreddo from melting so quickly in hot months.
---

Ginger Lime Icebox Cake

Serves: 12 | Prep: 10 min. |
Cook: 2 hrs. | Total: 2 hrs. 10 min.
Ingredients: 8 oz. cream cheese softened | 3 cups whipping cream | 1 cup powdered sugar | 1 pkg lime Jell-O, not prepared | 2 Tbsp. lime juice | 1 lime, zested | 1 tsp. vanilla | 1 pkg gingersnap cookies
Directions: Combine the softened cream cheese and whipping cream in the bowl of a stand mixer. Using the whisk attachment, blend until smooth and cream begins to stiffen. Add powdered sugar, lime Jell-O, lime juice, and vanilla. Lightly coat the bottom of a 9" springform pan with the cream filling. Layer with gingersnaps and another layer of cream filling. Continue layering, ending with the top layer of cream. Zest the top with lime. Refrigerate for at least 2 hours or overnight.
Tips & Tricks: For solid cookie layers crush cookies. Use parchment on the bottom of the pan for easy removal onto a serving plate.
---

Frozen Chocolate Peanut Butter Pie

Serves: 4 | Prep:
20 min. | Cook: 8 hrs. | Total: 8 hrs. 20 min.
Ingredients: Salad: 1 pkg Oreo cookies, crushed | 5 Tbsp. butter melted | 8 oz. cream cheese, softened | 1 ½ cup peanut butter | ½ cup powdered sugar | 1 cup milk | 16 oz. whipped topping | Mini peanut butter chocolate cups, divided | Chocolate syrup (optional)
Directions: Preheat oven to 350°. Place cookies in a food processor and pulse until you have fine crumbs. Combine chocolate crumbs and melted butter in a mixing bowl. Press crumb mixture into a 9" pie plate and bake for 10 to 12 minutes. Let cool. Blend cream cheese and peanut butter in the bowl of a stand mixer using a paddle attachment.
Add powdered sugar and milk. Continue blending until smooth. Fold in whipped topping. Chop ¼ cup of peanut butter cups. Sprinkle onto crust. Top with filling. Cover and place in freezer for 2 hours. Remove pie from freezer and decorate with chocolate syrup and peanut butter cups. Cover and continue to freeze another 6 hours or overnight. Transfer to refrigerator 30 minutes before serving.
Tips & Tricks: Reserve 1 cup of filling in the refrigerator in a piping bag to use for decorating. I found peanut butter-filled Oreo cookies to use, which added to the peanut butter flavor. Any chocolate cookie will work.
---
About Our Chef