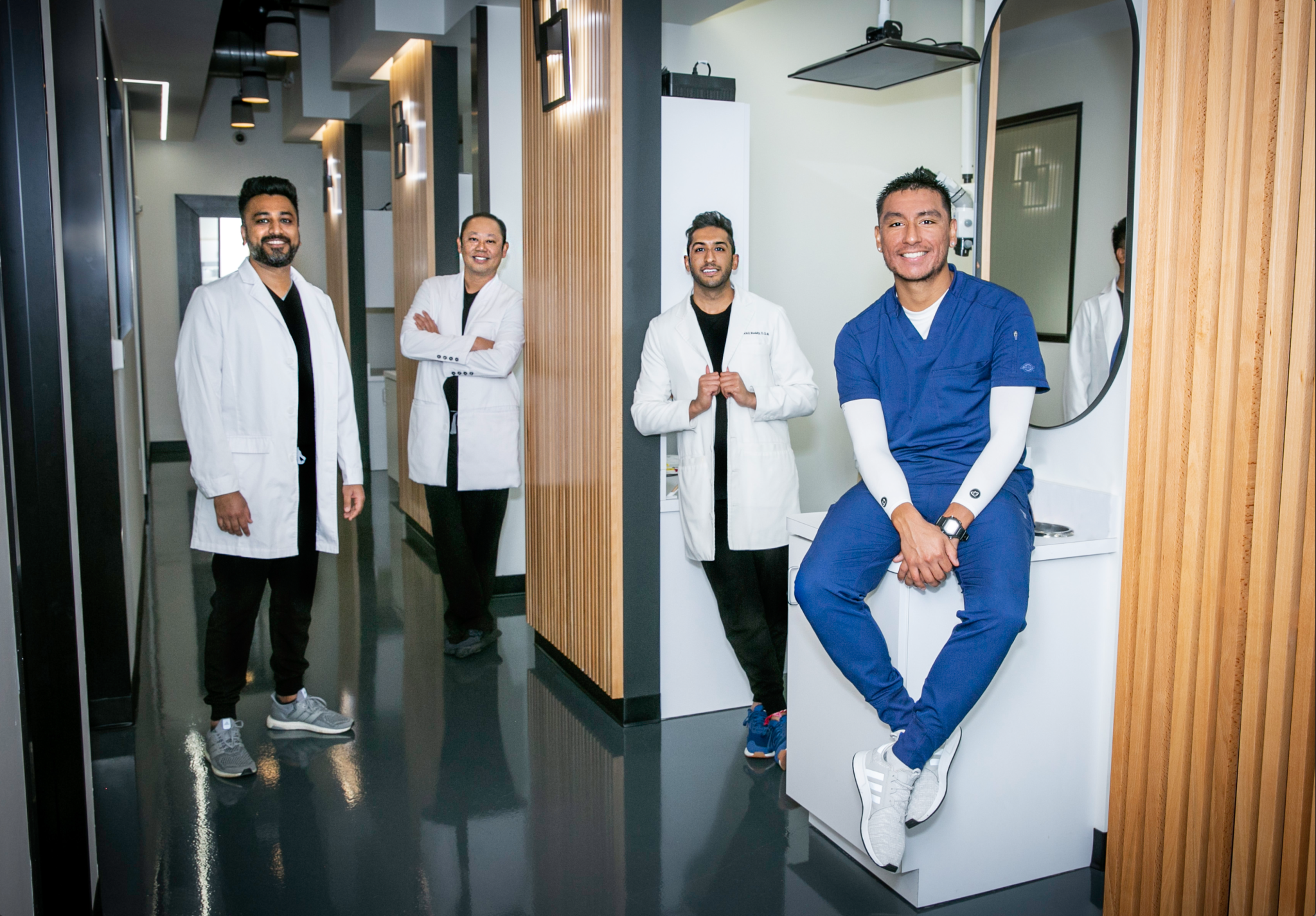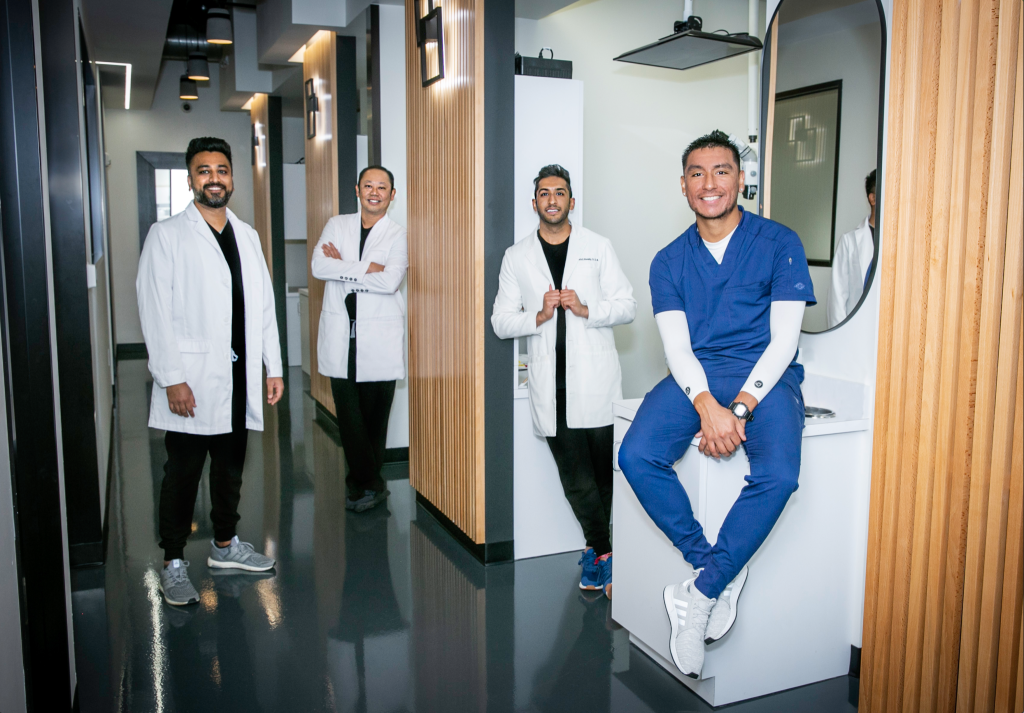 BY MELISSA GAUTIER
David S. Wan, DDS, MS | Nikhil Reddy, DDS | Dave Patel, DMD, MDS
The simple mention of the words "root canal" stir up fear and panic in many people, but Dr. David Wan and his specialized team of experienced endodontists are constantly striving to change that notion. Dr. Wan and his partners, Drs. Nikhil Reddy and Dave Patel, understand patients' hesitation and anxiety associated with root canal therapy and aim to alleviate any preconceived fears.
"Your parents' root canals are not the root canals of today," Dr. Wan says, indicating how far technology has come with innovative advancements that eliminate pain and conserve time without sacrificing positive outcomes. "As an extension of general dental practices, we're changing the perception of root canals," he explains. What used to be weeks of multiple trips to the endodontist has now been put to rest since the introduction of state-of-the-art tools and techniques.
Dr. Wan has performed more than 13,000 root canal procedures and surgeries to date, with extensive specialty training in diagnosis, root canal treatment, and microsurgery. He started Contemporary Endodontics in 2010, practicing mainly at his Galleria location in Houston. Meticulous precision and an abundance of experience allows Contemporary Endodontics to be a practice of excellence, focusing solely on root canal therapy since 2010. Today, the growing practice offers four convenient office locations, with another in the works. The newest practice will open later this year, and will serve Humble, Atascocita, and Summerwood areas.
Meet Dr. Dave Patel
Originally from South Florida, Dr. Patel graduated from The University of Florida with a Bachelor of Science degree in biology. He earned his Doctor of Dental Medicine degree from Tufts University School of Dental Medicine in Boston, and completed his residency in Providence, Rhode Island, at St. Joseph's Hospital. He received specialty training in endodontics at The University of Tennessee Health Science Center, graduating with a certificate of endodontics and a master's degree in dental science. He is a full-time endodontist at the Pearland location and is excited to meet new and prospective patients.
"I've learned so much from Dr. Wan and Dr. Reddy," says Dr. Patel. "The practice's reputation is tremendous, with positive patient experiences being paramount. Our private practice promotes a family environment. I love the upbeat energy our doctors bring each day. You can even watch a movie on Netflix while having treatment."
He adds, "You have to love this specialty because you'll be doing it all day every day. It's very gratifying to see patients get immediate pain relief after I've completed treatment, and to know you've made a positive impact on their lives."
Dr. Patel enjoys spending time with family and friends, traveling, watching the Florida Gators, and trying new restaurants.
Modern Advancements
The doctors and compassionate staff at Contemporary Endodontics Pearland adhere to a standard of excellence in modern-day dental technologies. They use cutting-edge expertise and progressive techniques in root canal therapy, including the surgical microscope, rotary instrumentation, ultrasonics, thermoplastic root closure, and Cone-beam CT scans. These sophisticated additions cut procedure time almost in half.
Dr Reddy believes in the highest-quality care for his patients, in a conservative approach. "I strive for a minimally invasive approach, combining technology and precision to prevent tooth fracture in the future and a better long-term prognosis," he says. "Besides developing warm relationships with patients, we continue to evolve, and strive to be better by focusing on technique and the technological aspect of root canal therapy."
Sedation and Pain Control
Dr. Wan has ensured a tranquil, spa-like environment greets patients in the four Contemporary Endodontics' practice locations throughout the Houston area. "Our patients' comfort and relaxation is our number one goal."
His broad range of training in conscious sedation helps provide a comfortable, pain-free experience. Contemporary Endodontics offers three types of sedation to control pain, tailored to each patient's needs: nitrous oxide, IV sedation, and oral conscious sedation. Sedation helps to mitigate anxiety, allowing for a pleasant experience for both patient and dentist.
Dental Injuries and Emergencies
Dental emergencies are never planned and may happen when you least expect it. The success and prognosis for your specific injury is often time-sensitive. When any dental injury occurs, the most important thing is to see your dentist or endodontist immediately. Treatment depends on the type, location, and severity of each injury. Whether you've chipped or fractured teeth, dislodged a tooth, or even knocked out a tooth, the team of nine specialized endodontists are uniquely qualified and available to take care of you. All practice locations are open on Saturdays to accommodate emergencies.
Comprehensive Insurance Accommodation
The team looks forward to meeting and greeting new and prospective patients. Drs. Wan, Reddy, and Patel invite you to call for more information or to schedule a consultation at any of their locations. All Contemporary Endodontics practice locations are in network with almost all PPO, as well as some DHMO insurances, to accommodate most patients.
A Complete Range of Endodontic Services
Root canal therapy
Endodontic treatment
Microscopic surgery
Apicoectomy
Pulpotomy
Internal tooth bleaching
Sedation dentistry
Cracked teeth
Injuries
Contact
Pearland
11161 Shadow Creek Parkway, Suite 225
Pearland, Texas 77548
(281) 529-5580
Galleria
1990 Post Oak Boulevard, Suite H
Houston, Texas 77056
(832) 659-0977
Katy
19235 Katy Freeway, Suite 300B
Houston, Texas 77094
(281) 647-6687
Cypress
11510 Barker Cypress Road, Suite 200
Cypress, Texas 77433
(281) 417-8885
Humble
9240 North Sam Houston Parkway E, Suite 205
Humble, Texas 77396