Surprise someone with a light and lovely breakfast-in-bed, featuring these flavorful waffles. For an added treat, heat the syrup in the microwave with a little melted butter.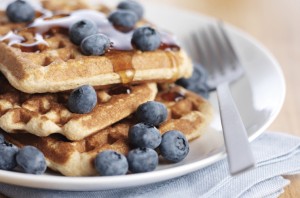 Ingredients
1 1/2 cups white whole wheat flour
2 tablespoons sugar
1 1/2 teaspoons baking powder
3/4 teaspoon baking soda
1 1/2 teaspoons ground cinnamon
1/2 teaspoon salt
1 1/4 cups buttermilk
3 tablespoons canola oil
2 large eggs
2 cups Driscoll's blueberries
Maple syrup
Preheat a lightly greased waffle iron until hot.
Mix flour, sugar, baking powder, baking soda, cinnamon and salt in a medium bowl until combined. Whisk together buttermilk, oil and eggs until smooth. Whisk flour mixture into egg mixture just until combined.
Cook waffles according to manufacturer's instructions. Serve topped with blueberries and drizzled with maple syrup.
Prep Time: 10 minutes
Cook Time: 4 to 5 minutes per batch
Servings: 4