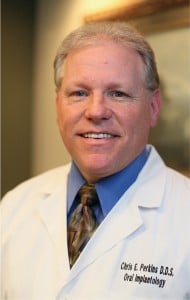 CONTACT:
611 Rockmead, Suite 400
Kingwood, Texas 77339
281-358-3384
dentalimplantcenterofhouston.com
Over 20 million Americans, including 42 percent of those over 60, have lost all or most of their teeth. Many people who have lost all their teeth or have missing teeth are self-conscious about their smiles and often find it difficult to chew and speak. Over time, the bone in the jaw diminishes and facial features appear sunken and withdrawn without teeth to hold the bone in place.
Implants are the perfect restorative choice for patients missing one or multiple teeth. An implant can maintain the bone in the jaw and provides the patient with a tooth or teeth that look beautiful and function like natural teeth. Many patients say their implant teeth are more beautiful than their original teeth. With proper care, implants can last a lifetime.
Dr. Perkins especially enjoys helping patients who, due to either trauma or periodontal disease, have no teeth at all. "It is highly rewarding to see a patient come into my office as a dental cripple, unable to speak or chew normally, and provide them with a full set of functioning teeth," said Dr. Perkins. He does this by using a Prettau Bridge, a full-mouth implant bridge made out of zirconia, which is harder than porcelain; therefore it will not break. Zirconia is also not porous like plastic so there is no odor. It is permanently implanted in the patient's mouth. It looks, feels and functions like natural teeth.
Specialties:

Dental Implants
Oral Reconstruction
Sedation Dentistry for fears and anxiety (nitrous oxide, oral sedation, IV sedation)
Biolase's soft tissue treatment (gum treatment) and restorative dentistry
Laser Periodontal Surgery (LANAP)
Laser teeth whitening
Oral Cancer Screening
Dr. Perkins also offers laser dentistry, which allows him to provide fillings without anesthesia and laser whitening, which provides better results with less sensitivity and a shorter appointment time. Laser periodontal surgery is also offered as an alternative to traditional periodontal surgery. When the laser is used for this procedure, there is less down time, minimal discomfort and no sutures for the patient.
Dr. Perkins understands that for some patients even working up the courage to make an appointment is a challenge. He wants to assure you that you are not alone, and he offers sedation dentistry for anxious patients—everything from nitrous oxide and oral sedation to IV sedation is offered to keep patients relaxed and comfortable. Dr. Perkins will make recommendations according to the needs of the patient. He works with a doctor who is residency trained in anesthesiology for patients who need IV sedation. If you would rather not be awake for your procedure, you do not have to be.
Dr. Perkins performs all general dentistry procedures as well as cosmetic procedures from tooth colored fillings to all porcelain crowns and porcelain veneers. Dental procedures need to function well for the patient, but they need to look beautiful, as well.
Meet Dr. Perkins
Dr. Perkins graduated from Lamar University in Beaumont, Texas, with a Bachelor of Science degree in Biology and earned his Doctor of Dental Surgery degree from Baylor College of Dentistry in Dallas, Texas. He completed a post-doctorate fellowship in dental implants from Southwest Implant Institute. He is a member of the American Dental Association, Texas Dental Association and the Houston District Dental Society as well as the Academy of General Dentistry. Dr. Perkins is also a Diplomate in the International Congress of Oral Implantologists,  a fellow in the American Academy of Implant Dentistry and a member of the American College of Oral Implantologists.
Dr. Perkins is a diplomate of American Board of Oral Implantology/ Implant Dentistry for which he was further selected by his peers to be a board examiner. Being a board examiner gives him the joy of giving back to implant dentistry by credentialing other doctors for the highest level in implant dentistry.
Dr. Perkins loves to share the gospel of Jesus Christ and has volunteered on many mission trips to different countries over the years. He has been a resident of Kingwood with his wife and two children since 1991.
We encourage you set up a consultation with Dr. Perkins. This is the first step toward doing something positive for your health and confidence. Call the office and speak to Kathy, the treatment coordinator.