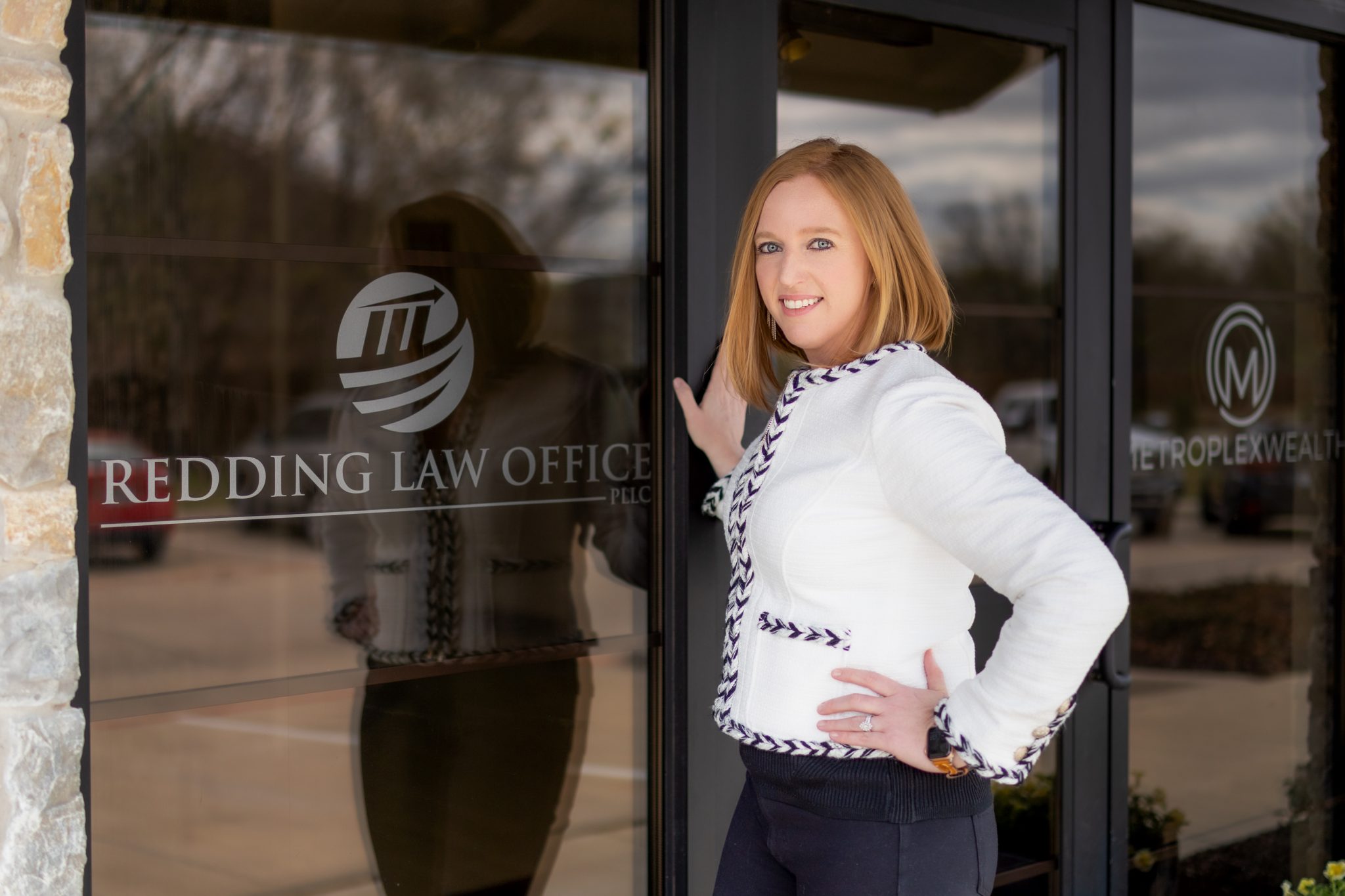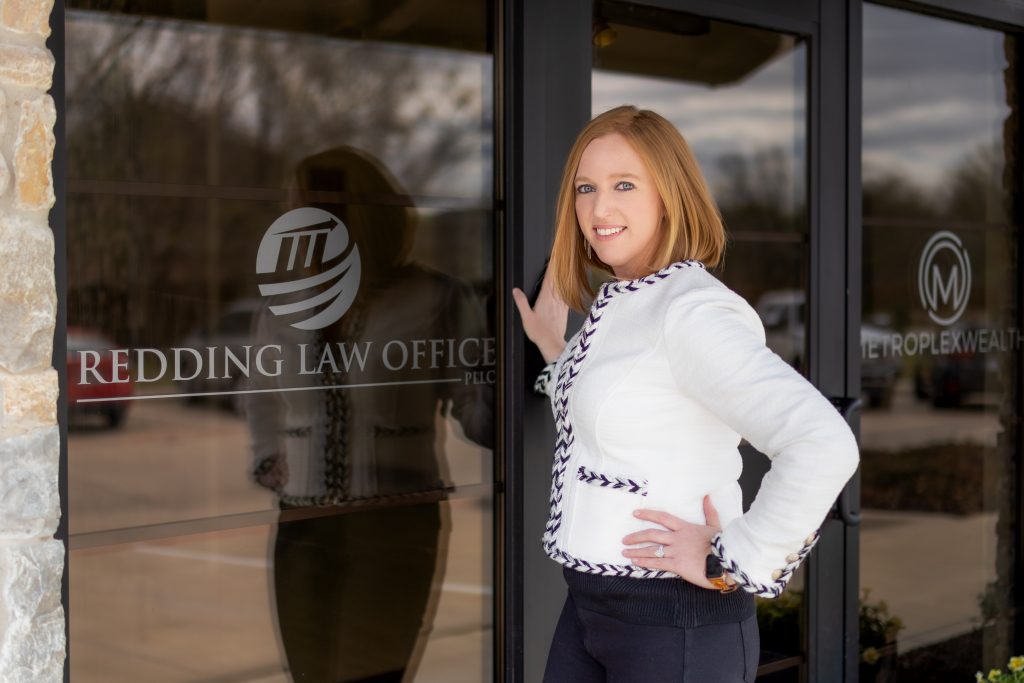 BY STEVE GAMEL | PHOTOS BY KENNY RICHARD PHOTOGRAPHY
Chelsea Redding knows many adults are tempted to postpone the all-important estate planning conversation for another day. It happens constantly, though many eventually commit themselves to make their wishes known through a will or trust. But in the same breath, Redding is quick to point out that not everyone has as much time as they think they do to make these important life decisions — and loved ones are often left with little or no guidance on how to pick up the pieces.
Redding, the proud owner of Redding Law Office PLLC in Southlake for the past seven years, can say this because she has firsthand experience. While in law school, she watched her family go through a similar situation.
"My grandparents lacked the proper estate planning documents when they passed away, and I witnessed the turmoil my family went through as they tried to distribute assets," Redding said. "They had no guidance — no roadmap to help them. That's where my passion started. I wanted to protect other families from having to go through something like that."
Protect What's Important
Any estate planning strategy aims to protect what's most important: you, your family, and your wealth. The reality, however, is that many people don't have a will in place. So, when they die, there's nothing left behind to legally spell out who inherits their money, real estate, property, belongings, etc. There aren't instructions on caring for children, planning a funeral, what to do with the family company, and no opportunities to pass on a family legacy. Instead, their loved ones are faced with difficult decisions and a potentially lengthy probate process.
There are several estate planning documents that can be tailored to your situation to ensure your wishes are honored. And at Redding Law, there's always a dedicated estate planning attorney to help explore which makes the most sense for each circumstance. Redding's services include preparing wills and trusts, probate assistance, asset protection, guardianship, trust administration, and more.
An adequate estate plan creates peace of mind now while allowing for opportunities to update them down the road as life-changing events such as marriage, divorce, death, the birth of a child, severe illness, etc., occur.
"Everyone needs an estate plan. The specific type of documents varies depending on what each client's goals and concerns are for their estate. The unnecessary difficulties and hardships families go through when their loved one didn't have the proper plan in place is sad to watch," Redding said. "What's even more devastating is that those difficulties and hardships can easily be avoided with a solid estate plan tailored for the client's situation."
Our Family Serving Yours
Redding believes the relationship you have with your estate planning and financial advisors should be lifelong and generational. That's why her family came together to provide clients with a family office atmosphere at which they can benefit from a multitude of professional services, including financial advisement offered by her husband, Matt Redding, Jr., and her father-in-law Matt Redding, Sr.
"It is not only important that my clients and I have direct access to their financial professionals to achieve cohesive legacy planning, but this is also a unique and powerful benefit for the younger generations of my clients," she said.
Redding earned her Juris Doctor from the Texas Tech University School of Law and accepted a job practicing personal injury at a larger firm. While she was recognized for her quality representation, she developed a distaste for the impersonal big-firm style and set out to focus on personalized service and lasting relationships.
"The feedback I get from clients is that they love that we are a family-owned firm," she said. "We are personable and make the client and their family feel comfortable. We develop the intimate relationships that many people say that they don't get at larger firms. In those situations, they feel like a number. Before drafting their documents, I want to truly understand their goals and who they are as a family. I invite them to share everything with me — their goals, concerns, life story, etc. The more I know, the easier it will be for me to account for everything as I craft their documents and suggest new things they may not have thought of."
Peace of Mind Starts with a Plan
A comprehensive estate plan ensures your wishes are carefully documented and can be carried out when you aren't around to make those decisions. Since you can't be sure when that time will come, it's better to have the conversation sooner rather than later. You'll have peace of mind, and your loved ones won't have to deal with the stress of trying to make decisions on your behalf.
"I remember that it was such a scary step for me to break out of the corporate world and go out on my own," Redding said. "My father-in-law said to me in the beginning of this journey: 'If it were easy, then everyone would do it.' And to be honest, it wasn't always easy. But through perseverance and dedication, I feel that I have truly created something special for my family and clients' families. I love the work that my boutique law firm offers because I've seen how we have changed my clients' lives for the better."
Contact
1100 North Kimball Avenue, Suite 100
Southlake, Texas 76092
(817) 601-1786
ReddingLawOffice.com