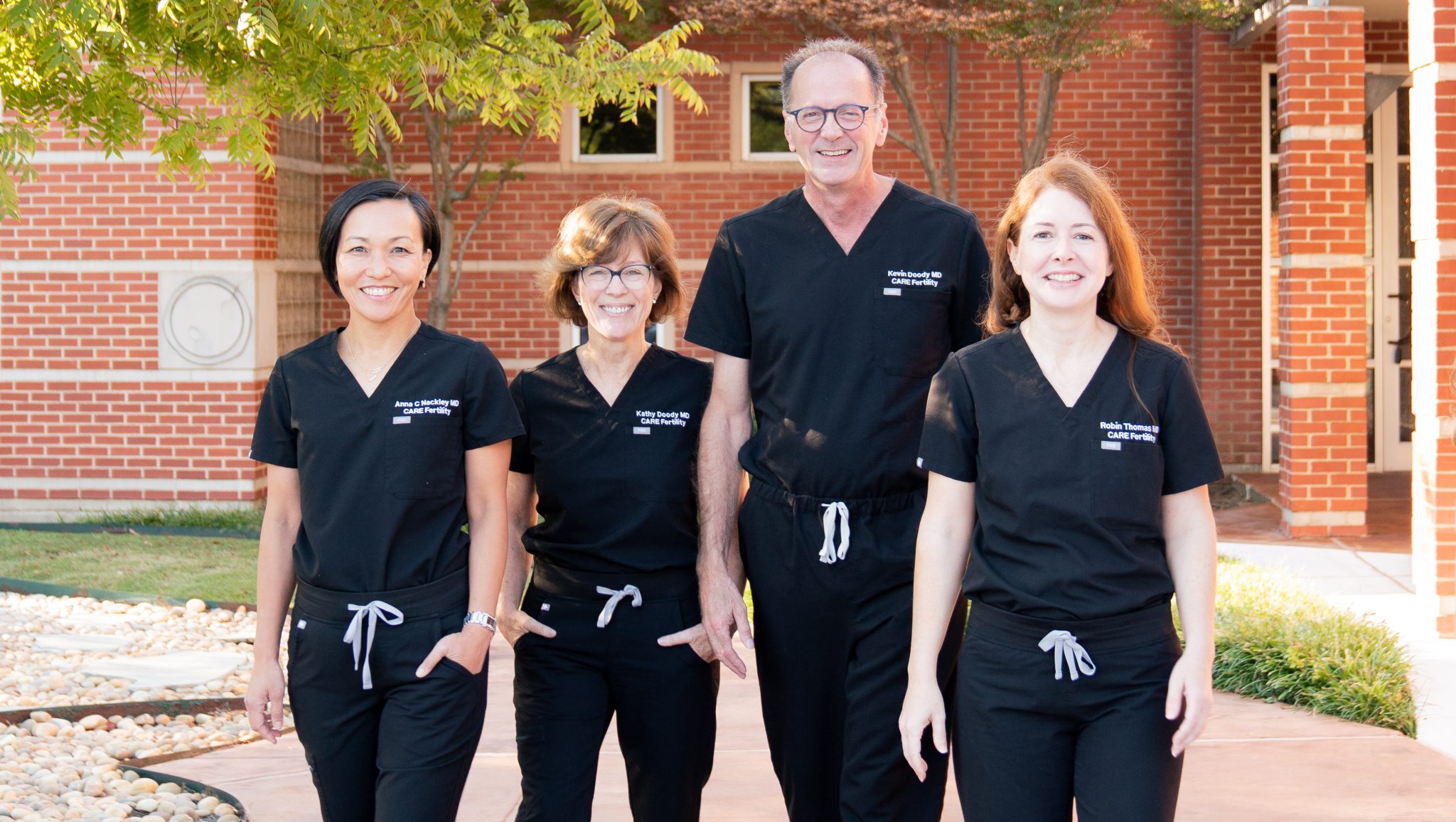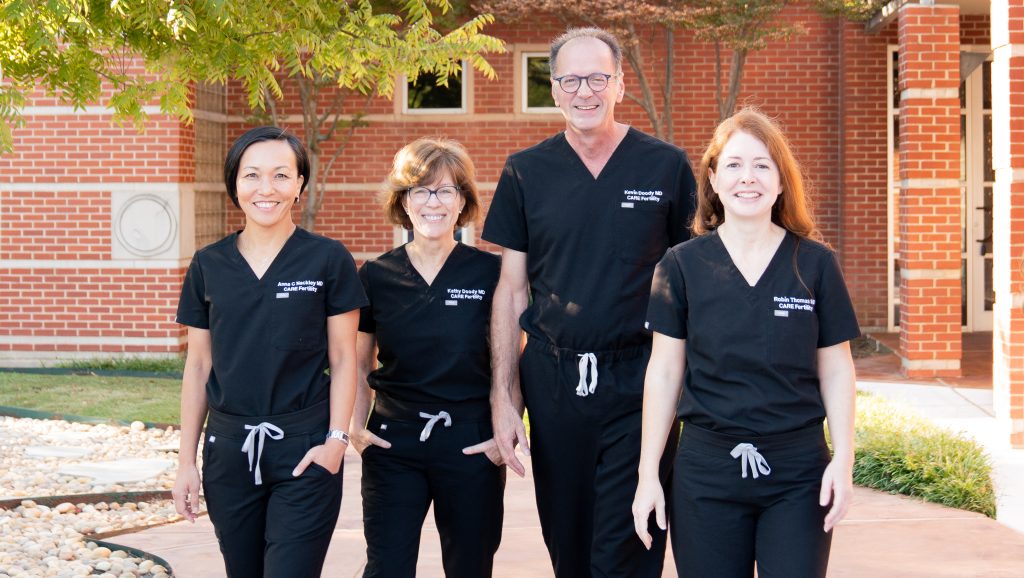 BY SYDNI ELLIS
Family building looks different for everyone. Whether you struggle with infertility, are part of the LGBTQ+ community, have concerns about health or genetic challenges, or just want to plan for the future, the most important thing is to find a provider who cares. That's where CARE Fertility comes in. Led by the husband-and-wife physician team of Kathy Doody, MD, and Kevin Doody, MD, nationally recognized leaders in their field who have always emphasized compassionate patient care, CARE Fertility has been voted by Living readers as the Best Fertility Clinic in 2020 and 2021 due to their outstanding care. The clinic has helped over 10,000 babies to be born and provides each patient with comprehensive medical care and customized treatment plans.
"No matter where you are in the family-building process, we are here to help you," said Dr. Kathy Doody. "We are passionate about access to care and work to create innovative solutions that make fertility care available to more people. Our goal at CARE Fertility is to help patients create their families."
Established in 1989, CARE Fertility uses new technologies and approaches in advanced fertility care while working hard to make fertility care more accessible to families from all backgrounds, cultures, and life stages. The clinic has two locations in Dallas-Fort Worth and four physicians, after adding Anna Nackley, MD, in 2001, and Robin Thomas, MD, in 2012.
A History of Innovation
CARE Fertility specializes in infertility offering in vitro fertilization (IVF), effortless IVF, pre-implantation genetic testing (PGT), intrauterine insemination (IUI), surgery for endometriosis and fibroids, tubal reversal, egg donation, surrogacy, LGBTQ+ family building, egg freezing for women delaying pregnancy or facing cancer, sperm count and hormone testing, and hysterosalpingogram (HSG)/hysteroscopy. The fully accredited ambulatory surgical center allows them to perform many surgical procedures onsite. CARE Fertility also has accredited endocrine, andrology, and embryology laboratories onsite.
"CARE Fertility is committed to being pioneers and innovators in advanced fertility care, and we have accomplished many firsts since becoming the first fertility clinic in North Texas," said Dr. Kathy Doody. "These include the first local egg donation program, the first locally to use intra-cytoplasmic sperm injection (ICSI) for treatment of male factor infertility, the first baby born from ICSI in North Texas, the first locally to do pre-implantation genetic testing to determine the health of embryos, the first in Texas to do blastocyst culture, the first in the U.S. to do blastocyst culture routinely, the first to have a successful embryo cryopreservation program, the first to successfully have a baby after egg freeze in North Texas, and the first in the world to successfully implement extended embryo culture with intravaginal culture."
Accessible Care Means Affordable Care
The doctors' focus at CARE Fertility is to help their patients' family-building dreams come true. They are committed to providing high-quality and affordable fertility care. This led to the development of effortless IVF using the INVOcell device. This innovative technology allows an IVF option at approximately half the cost of traditional IVF, while still maintaining comparable success rates. "IVF can seem complicated and expensive," said Dr. Kevin Doody. "Complicated in how it's executed or implemented. And so that has driven up the cost and that cost can be a financial barrier for a lot of patients."
Insurance benefits around fertility and family building have always been a challenge, but CARE Fertility is a "Center of Excellence" for most insurance plans. The doctors, clinic, facility, anesthesiologists, and labs are all in-network with nearly all insurance providers. Their ambulatory surgical center is also in-network for most insurance policies. For non-insurance patients, the cost of the anesthesiologist and facility is bundled into the fee for related treatments.
CARE Fertility actively participates and publishes cutting-edge clinical research advancing infertility care. This may allow patients to receive treatment they might not be able to afford otherwise as the pharmaceutical or device company subsidizes the treatment costs for patients. And they help train the future through mentoring medical students and resident physicians.
Empathetic Providers Make a Difference
Drs. Kevin and Kathy Doody have been working in fertility care for over 30 years and are still passionate about helping patients build their families. And because they are married themselves and have struggled with their own fertility issues, they understand the unique challenges partners face when going through this.
Dr. Nackley is a Rutledge Cancer Foundation Heart of Gold Award winner for providing fertility preservation services to women undergoing cancer treatment. "We want to help these young women understand how cancer and cancer treatments affect fertility, and to let them know that our goal is to give them hope for the future," she shared.
Dr. Thomas went through her own infertility journey to get her four kids, which gives her a unique perspective and makes her even more compassionate. "If fertility is something that you're dealing with, come in, be evaluated, and understand what your options are," said Dr. Thomas. "I think it's really important to be proactive about your own fertility."
The CARE Fertility staff are also filled with empathy and compassion, and many of them have been with the clinic for nearly 20 years. The lab clinicians, nurses, medical assistants, and front office staff "are all committed to offering our patients support and encouragement on their journey to parenthood," said Dr. Kathy Doody.
Patient Involvement is Encouraged
Family building is a deeply personal choice, which is why CARE Fertility is committed to making the patients part of the process every step of the way.
"We encourage you to ask questions and want you to know that the only right answer is the one you feel most comfortable with," said Dr. Kathy Doody. "Unlike with other medical treatments, you have a much more active role in decision-making with fertility treatment."
Take the first step toward your future by calling CARE Fertility today to schedule your consultation. Their goal is to help you make your dream come true.
Contact
1250 Eighth Avenue, Suite 365
Fort Worth, Texas 76104
(817) 924-1572
1701 Park Place Avenue
Bedford, Texas 76022
(817) 540-1157