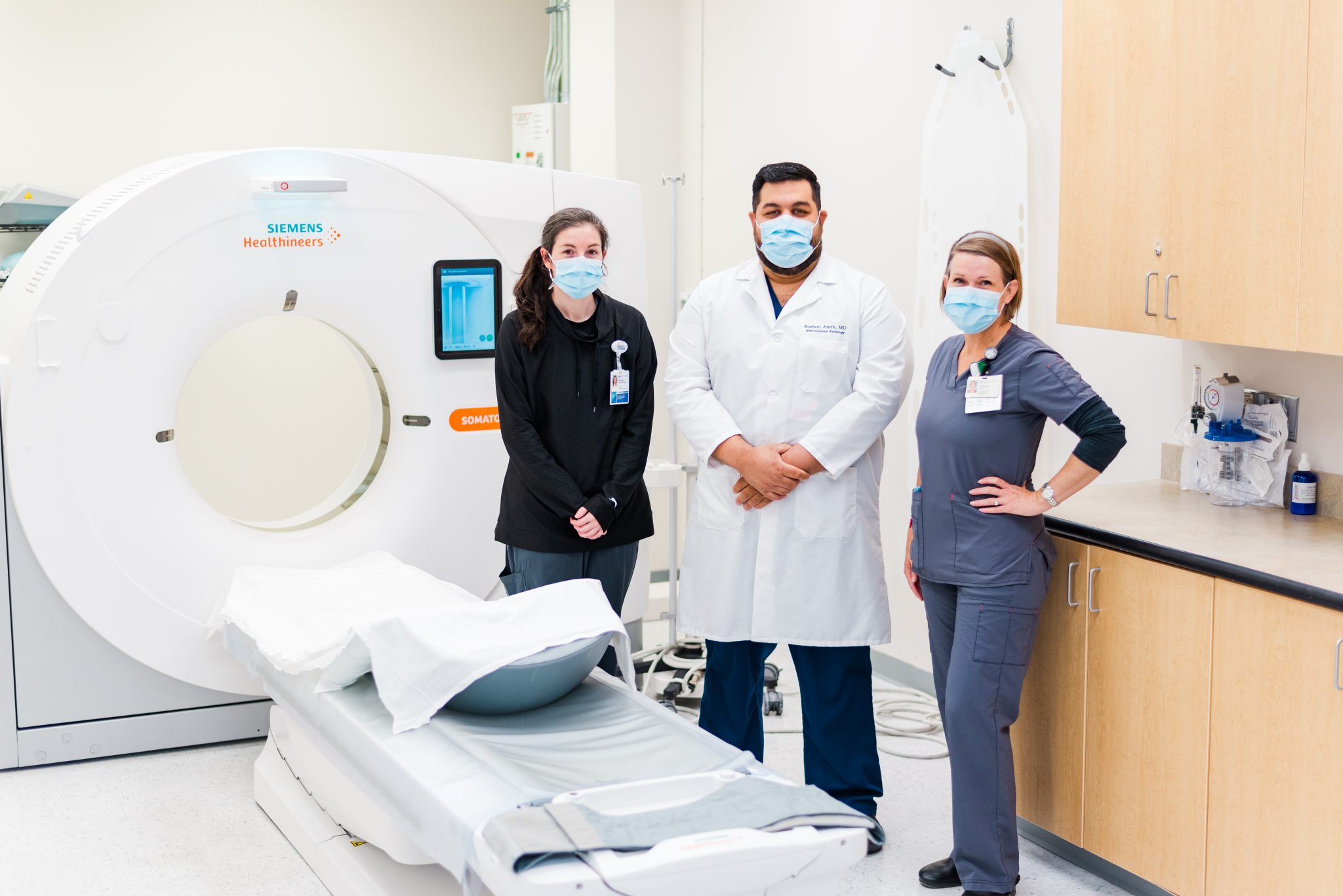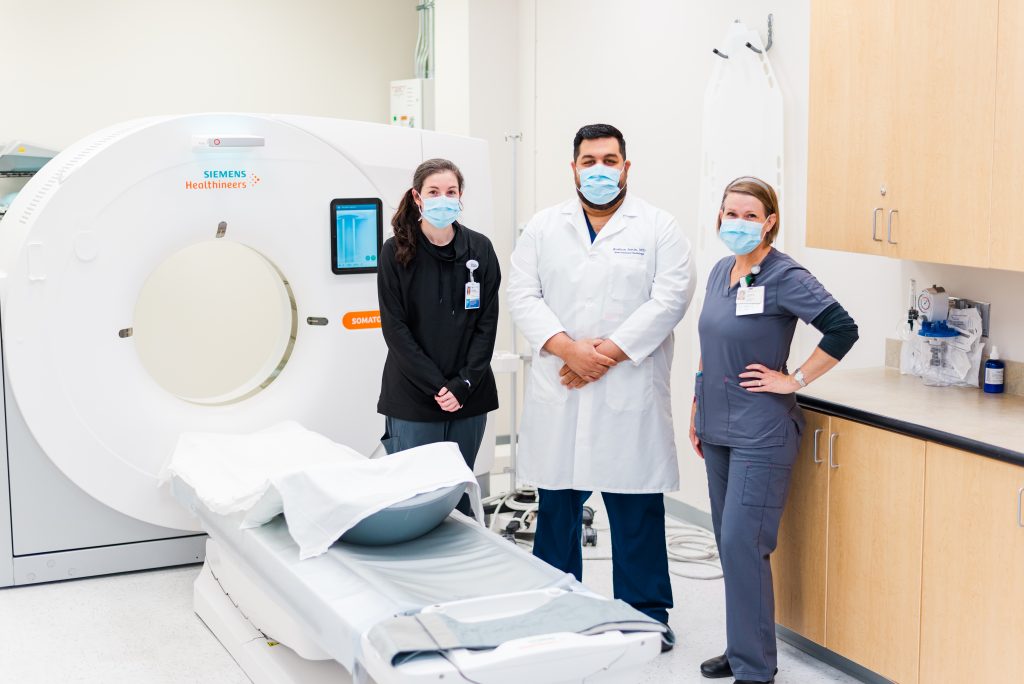 BY MELISSA GAUTIER | PHOTO BY THE TEAL ALBUM
Lung cancer is the number one cause of cancer deaths worldwide, according to the National Cancer Institute. This is startling information, considering that lung cancer could be prevented by the choices we make. A great deal of research has been conducted to seek better ways of detecting lung cancer at an earlier rate. Baylor Scott & White Health continues to be a leader in progressive studies, trials, and research to improve medical protocols and outcomes for people diagnosed with lung cancer.
Baylor Scott & White Medical Center – Lake Pointe's current lung cancer screening program offers an opportunity for people that are deemed high risk to be screened and evaluated before symptoms of lung cancer develop. High-risk individuals are those with a family history of lung cancer, those who have smoked tobacco heavily for years, and exposure to certain types of gases, chemicals, or pollutants over the years.
National Lung Screening Trial (NLST)
Dr. Roshon Amin, medical director of radiology at BS&W – Lake Pointe says that one particular trial released significant findings, changing the way radiologists and technicians perform lung scans today. The results of the trial also confirmed an earlier detection of lung cancer, and a safer modality for discovery and diagnosis.
The trial was sponsored by the National Cancer Institute and conducted by the American College of Radiology Imaging Network and the Lung Screening Study group. Their goal was to determine if low-dose computed tomography (CT) lung screenings would benefit a particular demographic, and enable doctors to identify pre-cancerous nodules and lung cancer at an earlier rate.
Early Screening Benefits, Noteworthy Statistics
Researchers found approximately 20 percent fewer lung cancer deaths among trial participants screened with low-dose CT relative to a chest X-ray. Researchers estimated that early detection and treatment of lung cancer could save more than 70,000 lives a year. The trial also proved that a lower dose of radiation was sufficient in CT lung scans for screening people with a heavy smoking history, versus the once-traditional method of using higher radiation doses. This finding was noteworthy from a statistical viewpoint, where results were not due to chance, but rather to screening with CT.
The Significance of Low-dose CT Lung Screenings
"In the past, we'd look for pre-cancerous nodules using a higher dose of radiation. We now know from the clinical trial that low-dose radiation CT screenings are just as effective, and less threatening to your health," Dr. Amin explains. "Now, we screen using a low-dose radiation scan, which is one third to one fourth the dose of conventional scans." Less radiation exposure is safer, especially for younger patients.
Interventional Radiology
Primary care physicians can order a low-dose lung scan for individuals at BS&W Lake Pointe. It's quick – on average 15 minutes – and does not require IV contrasts. This is particularly good news for people allergic to contrast dyes. If the radiologist finds a suspicious nodule, a biopsy and/or removal of the tissue can be performed at the hospital. Dr. Amin is a diagnostic and interventional radiologist specializing in lung biopsies. During a biopsy procedure, a small piece of the nodule is obtained and meticulously examined under a microscope
for diagnosis.
Lowering Risks for Lung Cancer
Lowering the risks of developing lung cancer is within your control. Statistics show tobacco smoking causes roughly nine out of 10 cases of lung cancer in men and about eight out of 10 cases in women. People who choose to smoke tobacco products – cigarettes, cigars, and pipe smoking – increase their risk of lung cancer. Smokers have about 20 times the risk of lung cancer compared to those who do not smoke. Smoking low-tar or low-nicotine cigarettes does not lower the risk of lung cancer, according to studies. Evidence from studies also shows the risk of developing lung cancer from smoking cigarettes increases with the number of cigarettes smoked per day plus the number of years smoked.
Skilled, Experienced Physicians
BS&W– Lake Pointe employs some of the area's most experienced and highly regarded physicians. Dr. Amin is highly trained and qualified to perform lung biopsies, which he considers a scope of his practice as an interventional radiologist. He graduated from The University of Texas Southwestern Medical School in 2013 and completed an internship at University of Texas Southwestern Medical School in internal medicine in 2014. He then completed a residency in diagnostic radiology at The University of Texas Health Science Center at Houston and was diagnostic radiology chief resident from 2017-2018. He completed his interventional radiology fellowship in 2019 from The University of Texas MD Anderson Cancer Center in Houston. Dr. Amin is the medical director of the radiology department at BS&W – Lake Pointe.
Baylor Scott & White Medical Center – Lake Pointe is proud to serve residents in Forney, Greenville, Rockwall, Rowlett, Wylie, and surrounding areas and is deeply rooted in the communities it serves. The facility provides quality healthcare, offers numerous educational classes and screenings, and participates in local events. Baylor Scott & White Medical Center – Lake Pointe makes getting a diagnostic imaging procedure quick and convenient with lung cancer screening locations in Forney, Greenville, Rockwall, Rowlett, and Wylie.
Services Provided
Low-dose CT lung screening
Interventional radiology
Lung biopsy
Contact
6800 Scenic Drive
Rowlett, Texas 75088
(972) 520-8000
BSWHealth.com