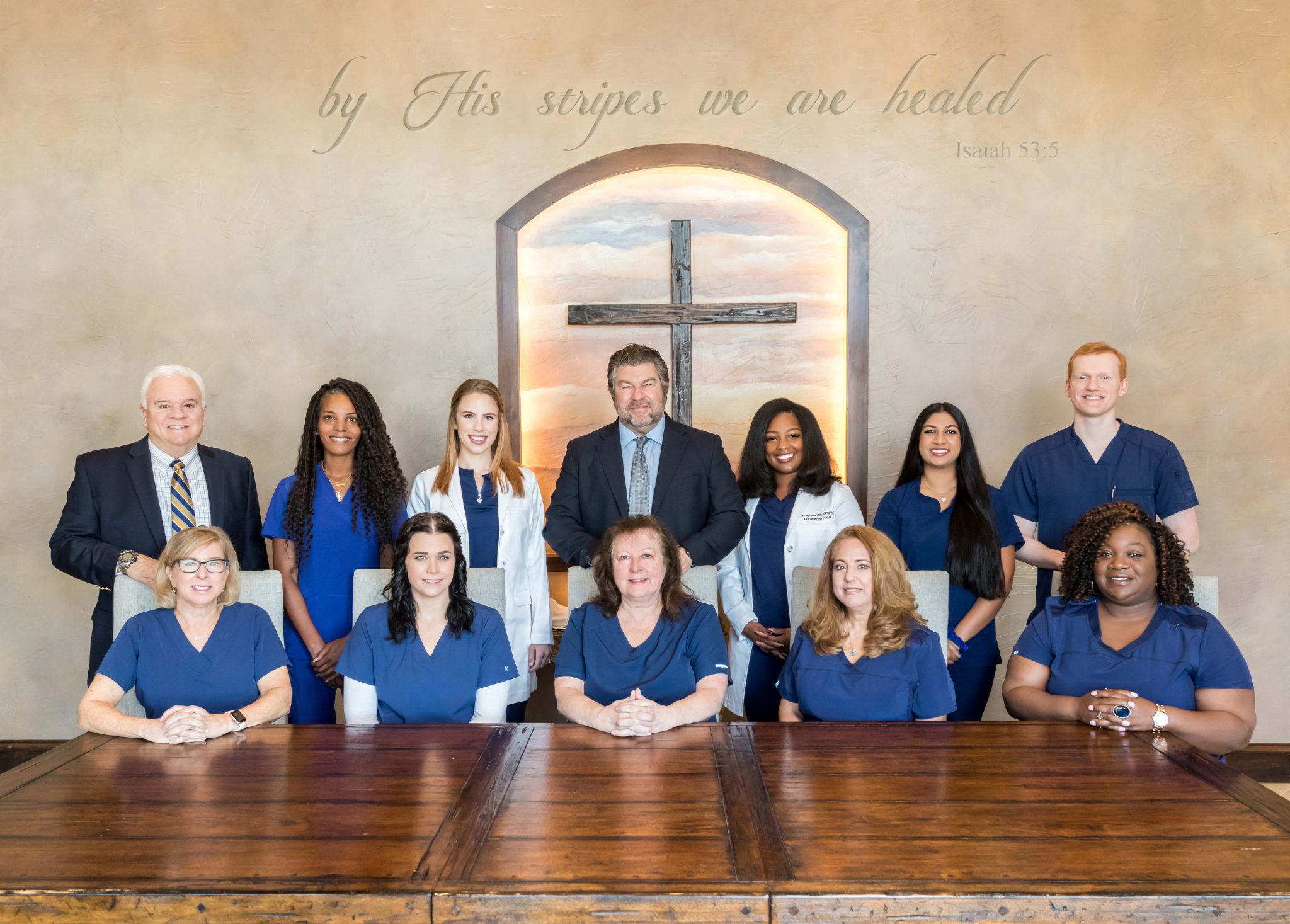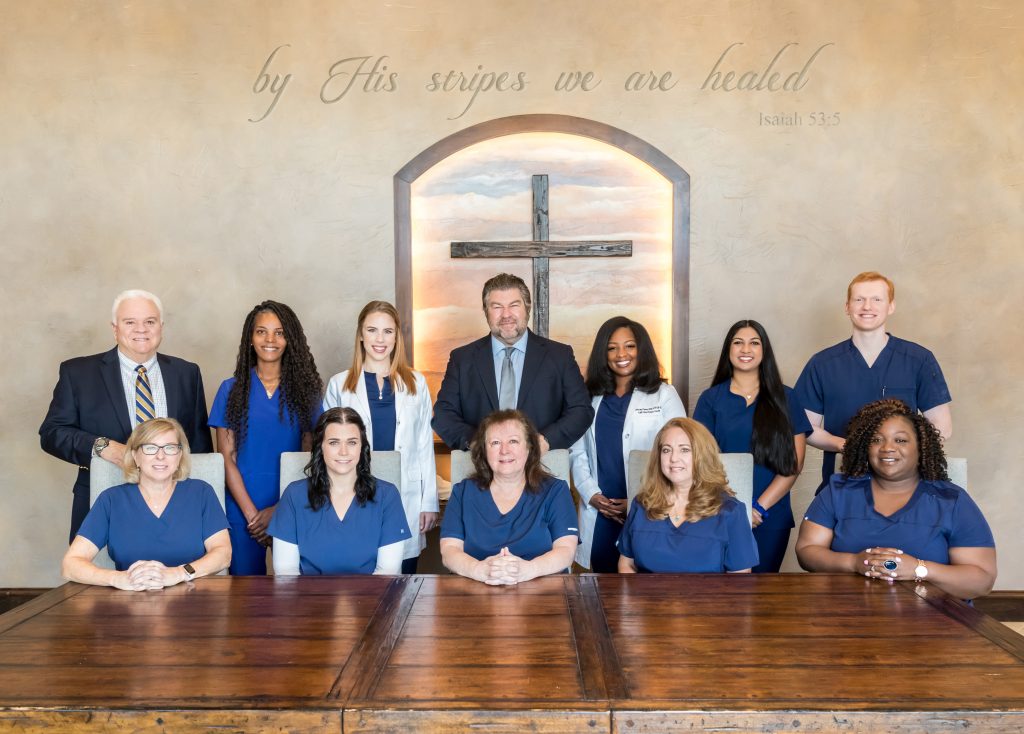 BY ANNETTE BROOKS PHOTO BY LEE ANN BAKER PHOTOGRAPHY
As one of DFW's leading pain medicine doctors, Dr. Lee Brock has accumulated numerous accolades over his 30 years in practice. They include being voted by Living readers as the Best Pain Doctor seven out of the last eight years, including 2021. He was also named Best Pain Management physician in Collin County by D Magazine in 2020 and 2021.
Yet for Dr. Brock, being the best isn't about winning awards. He approaches his calling in life with a servant's heart, fueled by his faith and his passion for helping people live their best lives.
We're a faith-oriented practice that cares for both the physical and spiritual health of our patients," says Dr. Brock, a member of the Texas Pain Society. "I pray for my patients during their appointments and keep them in my prayers after they've left. Regardless of their religion or beliefs, patients are happy knowing they're in
our prayers."
Innovative Pain Management, Multi-Modal Approach
Patients describe Dr. Brock as "a breath of fresh air," "a blessing," and "life saver." He spends time with each patient, actively listens to their stories and concerns, performs a thorough diagnosis to understand the root cause of their pain, and then creates a customized treatment plan. He's honest about what can be accomplished based on a patient's situation and diagnosis and offers options and hope without overselling or making unrealistic promises.
Dr. Brock's holistic approach includes:
Lifestyle changes – diet, nutrition, and exercise, which releases endorphins that help reduce pain
Physical and occupational therapy
Non-opioid medications – steroids, NSAIDs, muscle relaxers, low-dose antidepressants that can lower pain scores
Minimally invasive treatments using advanced technology
Injection therapy, including cervical, thoracic, and lumbar facet and epidural injections, median branch nerve blocks, selective nerve root blocks, and sympathetic blocks
Nerve blocks to reduce post-operative pain working as an anesthesiologist OR with orthopedic surgeons
Game-Changing Treatments
Dr. Brock stays current on the latest advances in his field.
Radio frequency ablation for joints and cervical and lumbar spine regions delivers targeted radio wave heat to provide long-lasting relief by turning off the nerves' ability to send pain signals. Performed under local anesthesia in about 30 minutes, recovery is fairly quick. This treatment can be a good option for patients who've had joint replacement but remain in pain, or those in their 40s or early 50s and believe they are too young for joint-replacement surgery.
Spinal cord stimulation via electrodes placed in the spinal canal deliver electric simulation generated by a device placed just under the skin. These impulses block the nerve transmission that allows you to feel pain. Enhanced programmability has made this treatment even more effective. Up to 90 percent of Dr. Brock's patients move forward with spinal cord stimulation after their trial period.
Dr. Brock often uses sympathetic nerve blocks to address complex regional pain syndrome. Also known as CRPS or RSD, this insidious pain process can set in after injuries or even some surgeries where the affected limb experiences increasing versus decreasing levels of pain over time. Dr. Brock uses lumbar and cervical sympathetic nerve blocks and even spinal cord stimulation along with physical therapy, topical creams, and oral medications to stop and reverse this potentially devastating process.
Patients Praise Dr. Brock and His Team
Brad – After several back surgeries, Brad's pain returned. Suffering from sciatica, back pain, and burning toes, doctors told him there was nothing more they can do. Then a friend referred him to Dr. Brock. "Dr. Brock truly cares compared to the other doctors I've seen. He listens, has a big heart, and takes a holistic approach to healing, touching on the spiritual, emotional, and physical aspects of health. He gave me hope when I came to him feeling down, and said, 'Don't give up.'" One time he even took me flying with him in his plane to help take my mind off things. This level of compassion and care is unheard of these days. Dr. Brock is an exceptional man and doctor. I would recommend him to anyone."
Carrie – Searching for answers, Carrie saw four different physicians. Eventually, her back pain was so excruciating she was homebound. After her first appointment with Dr. Brock, she felt "an overwhelming sense of peace." "Dr. Brock laid his hands on me and prayed for me. I put my trust in him and he gave me back my life. He helped me navigate through the healthcare system to get the care I needed and recommended a spine surgeon. His expertise, guidance, support, and genuine concern for my well-being have been life changing. He goes the extra mile and always follows up with me to see how I'm doing. Today, I'm off all pain medications except one for nerve pain. I can live my life again."
Shelby – When Shelby's 18-wheeler rolled, he broke his neck and became paralyzed. After rehab, he was prescribed Dilaudid, an opioid analgesic. "I wanted to be clear-headed and coherent, and to find a pain management physician I could open my heart to and talk with. My primary care physician referred me to Dr. Brock. I was blown away when I met him. He gives you his undivided attention and makes you feel like you're his only patient. His work is a blessing for people like me, and I've never had a doctor pray over me before. My wife and I couldn't stop smiling after we left his office. He's truly exceptional."
Jose – Jose injured his back during flight training and a practice parachute drop while serving in the United States Air Force. His condition deteriorated over time. Suffering from severe back pain after spinal fusion surgery, his neurosurgeon referred him to Dr. Brock, who placed a spinal cord stimulator to help ease his pain. "I'd seen several pain-management doctors. Dr. Brock was completely different. He's a wonderful human being — personable and caring, candid, and genuine. He takes a personal interest in his patients and prays for you. He invited me to go flying with him one weekend which, for me, after 43 years in the Air Force, was great fun. I trust him implicitly and recommend him to anyone. And, by the way, he's a great pilot too!"
Faith, Family, Community, and Service to Others
Dr. Brock, a Lubbock, Texas, native, worked in Dr. Gabor Racz's lab as an undergraduate at Texas Tech and went on to become a board-certified anesthesiologist. Dr. Racz is recognized as one of the world's foremost pain-management physicians.
Giving himself to Jesus Christ after a "supernatural encounter" in college, Dr. Brock embraced his faith and developed a servant's heart. Accompanying plastic surgeon Dr. Craig Hobar on an international medical mission sparked his passion for providing humanitarian services. Since then, he has been on 25 international missions across seven countries and counting.
Dr. Brock is active in Project Access in Collin County, a charter member of Christ Fellowship Church and 3e United in McKinney, where he's a board member, co-founder of McKinney Christian Academy (MCA), and is involved in many local and county charities. He recently hung up his coaching whistle at MCA but is serving his third three-year term as president of the board of trustees. In 2015, he won McKinney's Kim Hoffman Volunteer of the Year Award.
Dr. Brock and his wife, Sarah, have led a life group at church for more than 25 years. Their son just graduated from West Point and is training at the Ranger School in Fort Benning. Their oldest daughter is a family practice doctor serving at Healing Hands Ministries' clinic in Dallas. Their second daughter is a registered nurse working in oncology at Parkland Hospital. The couple's third daughter, a gifted editor, works for Duke University Press.
Meet the Brock Pain Medicine and Anesthesia Team
Dr. Brock nurtures his hand-picked team and encourages development within the organization. He especially loves helping youth get involved in medicine pursue careers in healthcare.
We're helping our young people aim for higher education to further their careers. We helped sponsor Amanda to go to school to become a physician assistant, and now she has returned to work for us. Brent and Nicole are college students pursuing medicine. We're teaching them and giving them experience, as we have many other young students, so they may pursue their careers in medicine," Dr. Brock shares.
"Working at Brock Pain Management is a blessing. Dr. Brock and the entire team create such a wholesome, understanding, and collaborative environment that it makes coming into work each day fun and enjoyable." – Brent, medical assistant
"I love working here in a friendly atmosphere with people who have the same vision as I do and making friends in the process." – Ashley, assistant office manager
"I enjoy the teamwork with my coworkers, love feeling that I'm helping our patients, and I do my best to create a positive work environment." – Eve, receptionist
"Working for Dr. Brock as our physician liaison is a real positive experience. Calling on other physicians who recognize him as part of their clinical team is a true blessing." – Don, marketing
"Teamwork, collaboration, camaraderie, and respect are the foundation of Dr. Brock's organization, and the commitment to the patients that we serve also helps to shape the culture of service we provide." – Brittany, nurse practitioner
"I started working for Dr. Brock as his scribe in 2019 and now as a physician assistant. Brock Pain Medicine is a place where employees feel like family who works together for a common goal." – Amanda, physician assistant
"Dr. Brock taught me the importance of genuine care and compassion for everyone who enters his office. At the end of each day in the office, I leave with the joy and satisfaction that comes from working with such a talented, hardworking, and dedicated group." – Nicole, medical assistant
"Working for Dr. Brock is amazing. It's a family environment where we support and encourage one another daily as well as our patient's health and spiritual wellbeing." – Candace, receptionist
"I'm the newbie of the crew and feel blessed to be a part of Dr. Brock's team. We all love Jesus, we laugh together, we eat together, and we love and take care of our patients together." – Tay, medical assistant
"Dr. Brock brings his faith into his work. As a Christian, I admire him for this. He prays with his staff and patients. A patient recently asked me to pray for her like Dr. Brock does, and I did." – Evelyne, nurse practitioner
"I enjoy the camaraderie, teamwork, and how everyone feels like family at Brock Pain Medicine and Anesthesia." – Dana, office manager
Don't Go Another Day In Pain
If you or a loved one suffer from chronic pain, schedule an appointment with Dr. Lee Brock today.
Contact
8000 West Eldorado Parkway, Building C, Suite A
McKinney, Texas 75070
(469) 742-9950
BrockPMA.com