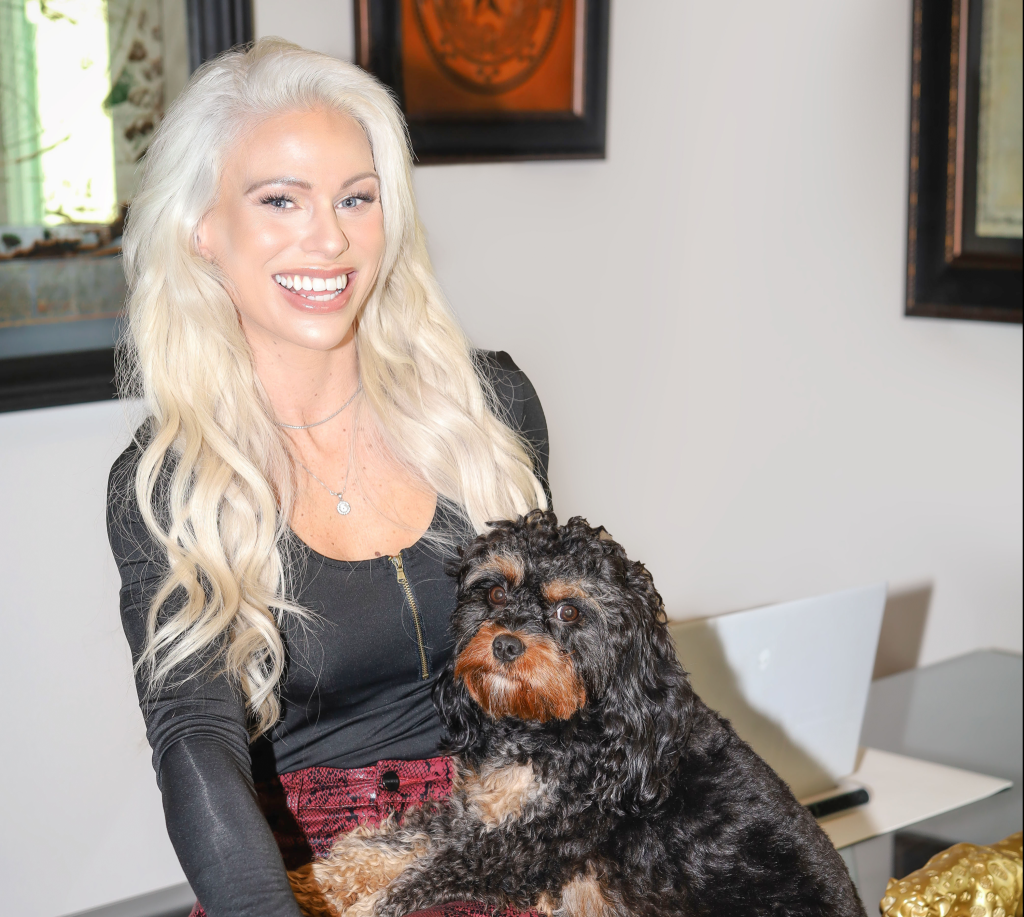 BY ANNETTE BROOKS | PHOTO BY KAITY MARTINEZ
If you're charged with a criminal offense, you want attorney Brittany (Britt) Redden on your side. In addition to being one of DFW's leading women, she's a maverick with a profound passion for the law and fighting for the underdog. A former athlete, Britt is tenacious, hard-working, and competitive. Her energy, creativity, and positivity are boundless, and she approaches every case ready to fight aggressively for her clients' rights.
"I see things in grey, not black and white, and the law is grey — it's interpretive," says Britt. "I love being a criminal justice attorney and helping people who are often experiencing a trying time in their life when the stakes are high."
A Passion is Born
When you meet Britt, it's clear that she was destined to practice law, but her journey to becoming a trial attorney didn't start with a big bang. Initially, she considered pursuing a different career. When her twin brother decided to take the LSAT and apply to law school, he planted a seed that quickly grew and blossomed in Britt's mind. "It inspired me to delve more deeply into my goals and ambitions and think about what career would be fulfilling and gratifying," she confides.
Summoning her signature can-do attitude, Britt took the LSATs, set her sights on attending SMU Dedman Law School, and was accepted. Her first inkling that she could embrace a career working in the criminal justice system occurred when she became involved in the SMU Criminal Justice Clinic. As a law student, she represented indigent clients facing criminal charges in Dallas County. Her skills didn't go unnoticed, and Britt was chosen to be Chief of the Criminal Justice Clinic. This gave her early insights and experience in client advocacy, going to battle in trial, and advising clients on their general legal needs.
An externship at Jones Day working with legal transactions helped cement Britt's decision to focus on criminal defense. "A Jones Day member suggested litigation, so I got involved with the Dedman Law School Innocence Clinic that fights wrongful convictions," Britt shares. "One case, in particular — a conviction based on a bite mark — caught my attention. Reading through the court hearing transcripts and discovery, it was obvious to me that it was a wrongful conviction."
At that moment, Britt's destiny was final. She became a trial attorney and has never looked back. After working at a prominent criminal defense law firm for three years, she founded Redden Law Firm, PLLC.
Full-service Criminal Defense Law Firm
Understanding what's at stake for clients, Redden Law Firm is committed to the highest standards of professional representation. Handling both state and federal cases, Britt represents clients facing a wide range of charges, including, but not limited to, DWI, assault, theft, and white-collar crime. Known for her innovative representation and aggressively fighting for her clients' rights, Britt's involved in every aspect of their defense, from the initial police investigation all the way through trial, and, when it occurs, sentencing.
Britt's commitment to helping clients is bolstered by her dedication to providing premium, personalized customer service. She takes pride in answering and returning calls in a timely fashion, as does her assistant, and being accessible and available to her clients. "When you choose Redden Law Firm, we're with you every step of the way to help avoid uncertainty and bring clarity to the process," she says.
Sound Advice
Britt says there's a lot of misinformation and misconceptions about criminal justice cases and trial attorneys. First and foremost, don't wait before you call a lawyer or try to represent yourself. This might play well in the movies, but not in real life.
"If you've been arrested and charged with a crime, time isn't on your side. It's imperative to retain a criminal defense lawyer as soon as possible to guide you through our criminal justice system," Britt explains. "Call us before you talk to the police and before you have been booked, when possible."
Perhaps one of the most surprising misconceptions Britt has come across is that sometimes people think women don't do criminal defense work. "There's a mindset, which surprised me, that the best criminal defense attorneys are big burly men — like a Perry Mason type. That's just untrue. Women are smart, savvy, and driven. There's a fire inside that compels me to excel and win."
More About Attorney Britt Redden
Giving back and paying it forward is part of Britt's DNA, and she has a big heart. "Even the small things you do to help others add up and matter in a significant way," she says. Active in the community, she provides support and guidance to people and is naturally drawn to helping people in need.
When she's not helping clients, Brittany is avid about physical fitness, loves trying out new restaurants, and you're sure to find her hacking around the golf course. "Golfing helps me unwind and decompress. It refills my cup and I feel refreshed." She's also a pet lover and adores her fur baby, Baxley Bingham, a tricolor Cavapoo.
Contact
3300 Oak Lawn, Suite 700
Dallas, Texas 75219
(214) 699-8429
ReddenLawTexas.com