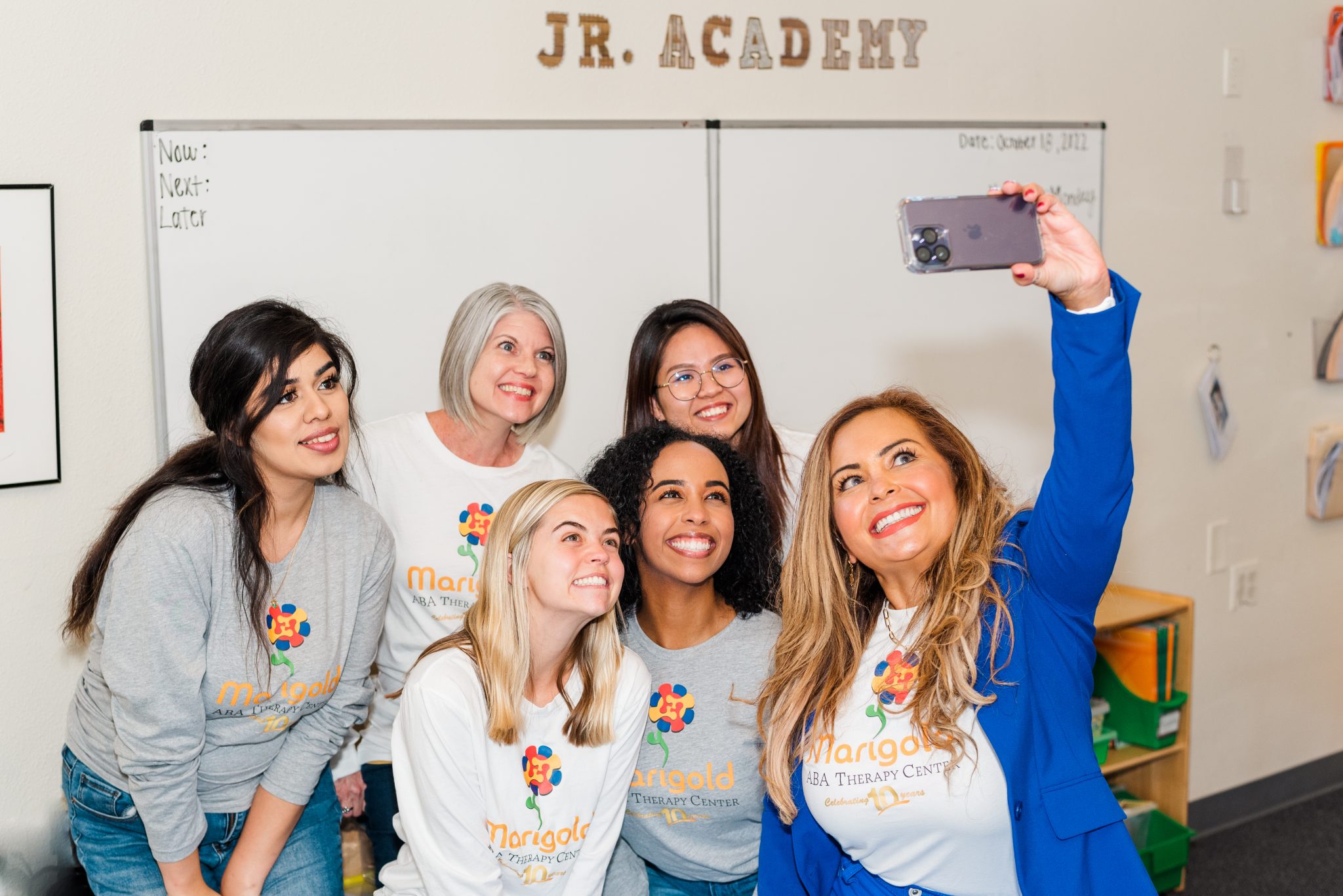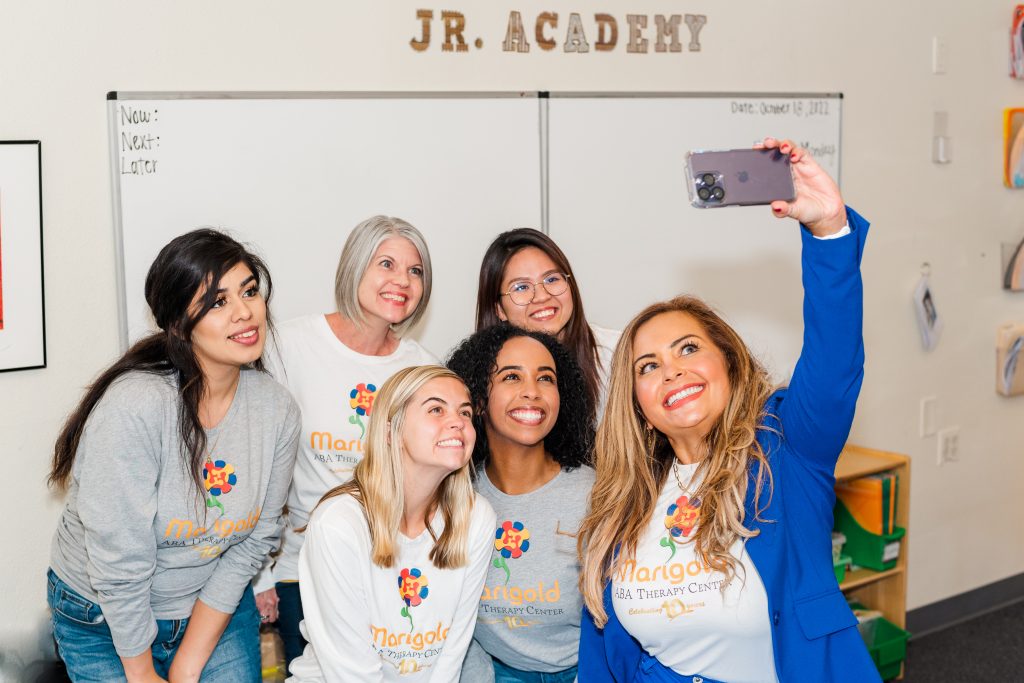 "Our program and activities allow children to play, explore, and socialize with peers in an educational environment that's relaxing, safe, and fun."
By Melissa Gautier | Photos by The Teal Album
---
Marigold ABA Therapy Center is celebrating 10 successful years in business and has been recognized in Living Magazine's 2022 Readers' Choice Best Of showcase. With four Dallas-area locations designed specifically to educate and inspire children with autism and related disabilities, it's no wonder parents have chosen the Marigold curriculum for their child's stimulation and enrichment.
"We are the first and only program of its kind specifically designed for children diagnosed with autism in the North Texas area," proclaims Karri Wilson, founder, owner, and director of the Marigold program. "The response has been overwhelmingly positive. We have parents driving great distances – even from other states – so their child can be in this unique learning environment."
Growing and expanding by leaps and bounds, Marigold ABA Therapy Center's passionate focus has remained the same throughout its 10 years in business. Their mission is to create a loving, nurturing, and stimulating environment for children with autism and related disabilities.
The Marigold family's rapid and consistent development now includes four locations in the surrounding areas of Dallas with accredited academic school programs, ABA (applied behavior analysis), speech, and occupational therapy programs. Two more locations are currently in the development phase. Using a family-based team approach, they work hand-in-hand with parents to nurture social, emotional, and cognitive development in young children.
What is ABA?
Applied Behavior Analysis is the process of studying behavior to incorporate appropriate behavioral interventions. ABA therapy is considered one of the most effective treatments for children with autism spectrum disorders and developmental disabilities. Research shows early, intensive behavioral intervention using ABA therapy is key to engaging autistic children with other people and their environment to fully develop their capabilities.
Positive reinforcement is implemented to improve a child's skills, increase desirable behaviors, and decrease unfavorable behaviors. Marigold's use of ABA therapy assists in tempering disruptive behavior, and helps children with verbal and nonverbal communication, attention, and social skills. Learning inspires by giving children a chance to succeed, encouraging them to reach their
greatest potential.
Marigold's centers provide areas for young children to focus on social communication and skills — an essential step to peer and family relationships in the learning process. Teachers and therapists engage students to learn, allowing parents' involvement in student programs and school activities.
Meet Karri Wilson
The Marigold program was started by Karri in Rockwall in 2012 and has grown to include four therapy centers in outlying areas of Dallas, with two future locations already in the works. Karri developed Marigold ABA Therapy Center with a passionate desire to create a successful setting for children with autism and cognitive disabilities.
Currently, she owns and operates four Marigold centers and two in development, located in what she believes are underserved areas. Each location provides an exclusive element to the Marigold program. Locations in Greenville, Rockwall, and Fate offer slightly different curriculums tailored to either a child's age group or levels of disability. Karri's ardent focus for each location is to encourage children's development through the centers' programs and ultimately mainstream these children back into the private school system.
Marigold's newest center in Fate serves children ages 2-7. "It's a cozy environment in a calm, comfortable home setting nestled on an acre of land, just a stone's throw from the newly designed downtown area," Karri says. A grove of beautiful pecan trees provides shade and opportunities for outdoor learning. Inside, a giant climbable treehouse is the focal point. A little town with a diner, gym, and playhouse with twinkle lights foster creative pretend play.
"Through developmentally appropriate play, a child can reach crucial milestones for physical, sensory, and social development," Karri explains. Large outdoor spaces for movement provide opportunities for building friendships through team sports, camps, and social skills programs. "Our program and activities allow children to play, explore, and socialize with peers in an educational environment that's relaxing, safe, and fun."
Activities are guided by a team of skilled professional therapists. Individual needs of each child are accommodated by using developmentally appropriate curriculum, therapies, and learning materials benefitting and supporting children's emotional and social needs and goals. Activities for self-help skills and daily living are combined with various therapy programs including art and music for a stimulating learning experience. "It helps children understand themselves and others to better navigate the social world, promote relationships, and improve their performance at school and at home," Karri explains.
On the Horizon
Karri is excited to announce a Marigold of Dallas is currently in the development stage. Located near White Rock Lake, this center will be a graduating program with a structured, ritualistic environment, preparing kids for college.
The fun and learning don't stop when summertime rolls around. Karri has recently purchased land to build a future Camp Marigold. The facility's goal is to teach water safety and employ ABA therapy with trained service animals. The plan is for each service animal to stay with each child during camp. "Water is always a gravitation for these kids," Karri says. "We aim to provide better equipment and training for parents to avoid problems inside and outside the home.
Karri's Credentials
Karri received her bachelor's degree in early education/special education from Texas Woman's University and earned her master's in principalship from Texas A&M University-Commerce. She went on to receive her BCBA certification from Texas Tech University. She is currently working toward a doctoral degree.
In addition to this year's win, Marigold ABA Therapy Centers is proud to have been voted by Living readers as Best Early Education in 2017, 2020, and 2021, and Best Therapy Services in 2020.