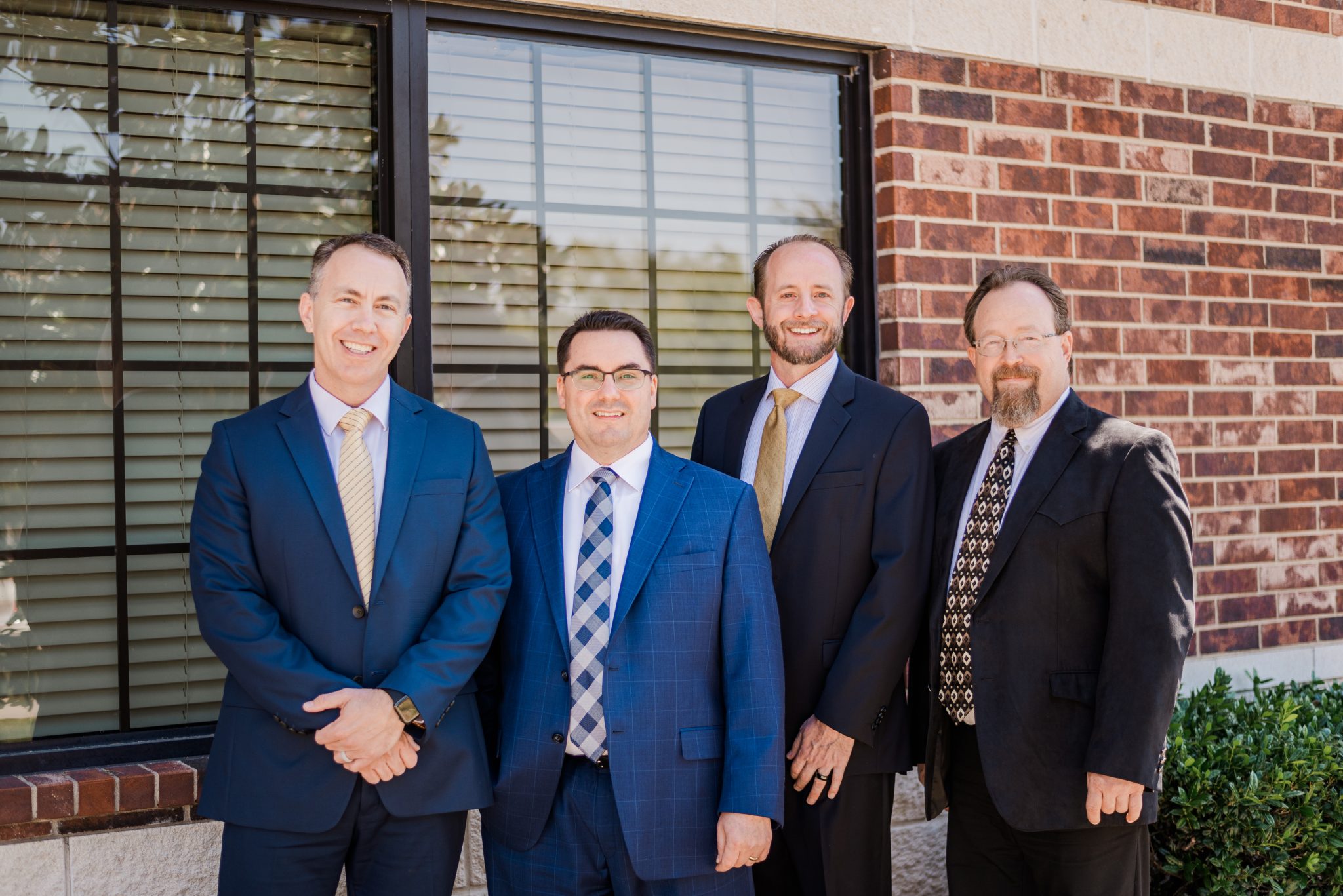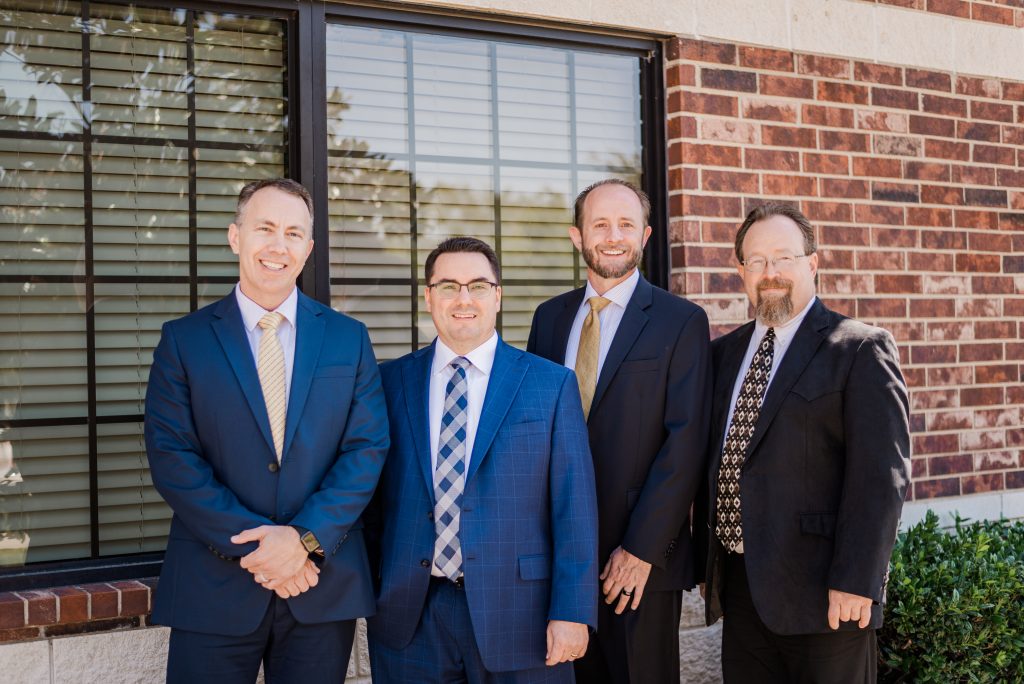 "Our collaborative and talented team of attorneys and staff are committed to supporting the Greater Rockwall community and strive to develop lasting relationships with our clients built on a foundation of trust."
By Annette Brooks | Photos by The Teal Album
---
When successful local attorneys Jeffery Butler and Christopher Ash combined forces two years ago, Greater Rockwall gained a premier boutique law firm focused on estate planning, probate administration, guardianships, and business formation. The founders rounded out their new firm — Atrium Legal Group — with Jason Smith, another well-known lawyer in the Rockwall area, and attorney Spencer Smyth, who has been practicing law since 2012. The result is a law firm with uncommon breadth and depth of knowledge in their practice areas.
Not surprisingly, Atrium Legal Group was voted by Living readers as the Best Estate and Probate Attorney in the Lakeside market in 2022. Moreover, between them, Jeff and Chris have been voted Best Attorney in Rockwall for several consecutive years.
"Our collaborative and talented team of attorneys and staff are committed to supporting the Greater Rockwall community and strive to develop lasting relationships with our clients built on a foundation of trust," says Founding Partner Jeff Butler.
"Our goal is to make things as simple and painless as possible for our clients," says Founding Partner Chris Ash.
The Entrance to Peace of Mind
Serving multiple counties in and around the DFW area, estate and retirement planning involves more than you think. In addition to a house, bank account, and personal possessions you may have, a wide-ranging investment portfolio that includes stocks, bonds, insurance, and real estate investments. Or perhaps you have a business or two that require succession planning. Maybe you own a ranch or have children or adult family members who need guardianship. Whatever you have, large or small, the goal should be to minimize court involvement in your estate and the taxation of your assets. Sometimes this takes a simple but well-drafted will or the creation of a revocable trust or one of several irrevocable trusts.
Whatever your needs, Atrium Legal Group will educate you about options that are in your best interest and help you make decisions that reflect your goals. Their client service philosophy is embodied in the practice name, Atrium Legal Group. It's a symbolic representation of the guidance the firm provides to its clients. Imagine entering an atrium. Once inside, you have a choice of doors to step through, but which one is right for you? Acting as both a concierge and trusted legal advisor, the Atrium team will gain an in-depth understanding of your situation and requirements, then walk you through the doors that best accomplishes your goals, with a straightforward approach.
Meet the Atrium Legal Group Attorneys
Jeff, Chris, Jason, and Spencer strive to develop lasting relationships with their clients, helping them as business and retirement counselors. Each attorney brings a particular area of focus to the firm, working together synergistically with the team to cover everything from basic, yet essential, planning to the complex needs of high-net-worth individuals and families with multiple layers of assets.
Attorney and Founding Partner, Jeffrey L. Butler
Jeff, an attorney and financial advisor, excels at analyzing retirement planning goals and developing legal and financial strategies to create a comprehensive estate plan.
After graduating near the top of his class from the University of Idaho College of Law, where he served as editor of the Law Journal for Critical Legal Studies, Jeff volunteered in the low-income taxpayer tax clinic and the small business clinic and was the student body sergeant at arms. He and his wife, Angel, are the proud parents of four children. When he's not helping clients or with his family, Jeff enjoys golfing and being active in his church. As an animal lover, he constantly brings home dogs who need to be rescued.
Attorney and Founding Partner, Christopher Ash
Native Texan Chris Ash has lived in Rockwall County since 2002. His expertise includes estate planning, probate, minor and adult guardianships, and business formation. His awards and accolades include being named Outstanding Young Attorney by Texas Monthly and a "Texas Super Lawyers Rising Star" by Thomson Reuters.
Chris earned his juris doctorate from the University of Texas School of Law in 2001. While there, he worked for the Texas Journal of Business Law and received the Dean's Achievement Award for the highest grade. When he's not practicing law, Chris enjoys the outdoors, spending time with his wife and their four children, and is heavily involved in his church.
Attorney Of Counsel, Jason G. Smith
A Texas native, Jason graduated from Texas Tech Law School in 1998. In 2006 he became a board certified attorney in estate planning and probate Law through the Texas Board of Legal Specialization®, (currently the only attorney with this designation in the Lakeside area). Known as one of the best probate and business lawyers in the area, he excels at handling contested probate cases, real estate transactions, complex business matters, and complicated estate plans.
When he isn't busy helping clients, you'll find Jason spending time with his three children camping, trail riding, participating in motorsports, and raising cows.
Associate Attorney, J. Spencer Smyth
Spencer earned his juris doctorate from the University of Idaho College of Law. He started a private practice in Idaho focused on estate planning, business formation, probate, and guardianships. He also taught religion as an adjunct professor at a local college. Moving to Rockwall to practice at Atrium Legal Group, he brings a wealth of experience and knowledge to the firm. Outside of work, Spencer spends most of his time with his wife and their eight children. He's also very involved with his church and enjoys cooking and woodworking.
The rest of the Atrium "dream team" includes Director of Operations Angel Butler, Paralegal Kelly-Anne Roberts, Administrative Assistants Kelly Loveless and Julia Houchin, and Scheduling Coordinator Ophelia Latt.
Peace of Mind Begins with a Consultation
Whether you want to create a will or trust, need a probate lawyer, help with a guardianship, or you are starting a new business, schedule a consultation with Atrium Legal Group today.