Boneified
Ensuring your family's food is rich in vital nutrients without losing flavor can be a challenge. Rich in minerals, nutrients, collagen, and amino acids, these vital components of bone broth make it a time-honored, nutrient-dense food that cultures all over the world have used for centuries. Today, this 1,000-year-old trend is being celebrated again. Try these paleo-friendly and gluten-free recipes incorporating bone broth and see what all the fuss is about!
---
Grain-Free Biscuits and Bone Broth Gravy
After eating these biscuits and gravy you will never go back to Mama's southern cooking. There is no need. The tapioca flour ensures these biscuits aren't too dense. Using real bone broth as opposed to canned chicken stock gives this dish delicious depth.
Serves 6 to 8
For the biscuits:
1 cup tapioca flour

2 tablespoons coconut flour

½ teaspoon sea salt (we recommend Selina Naturally Celtic)

1 teaspoon onion powder

1 teaspoon garlic powder

10 tablespoons unsalted grass-fed butter, melted

2 large eggs

¼ cup warm water
For the gravy:
1 pound Italian sausage

2 tablespoons ghee or grass-fed butter

2 large yellow onions, roughly chopped

5 garlic cloves, minced

1 tablespoon minced fresh sage

1 tablespoon minced fresh thyme

1 tablespoon minced fresh rosemary

1 teaspoon dried oregano

4 cups chicken bone broth

½ teaspoon sea salt, to taste

½ teaspoon black pepper, to taste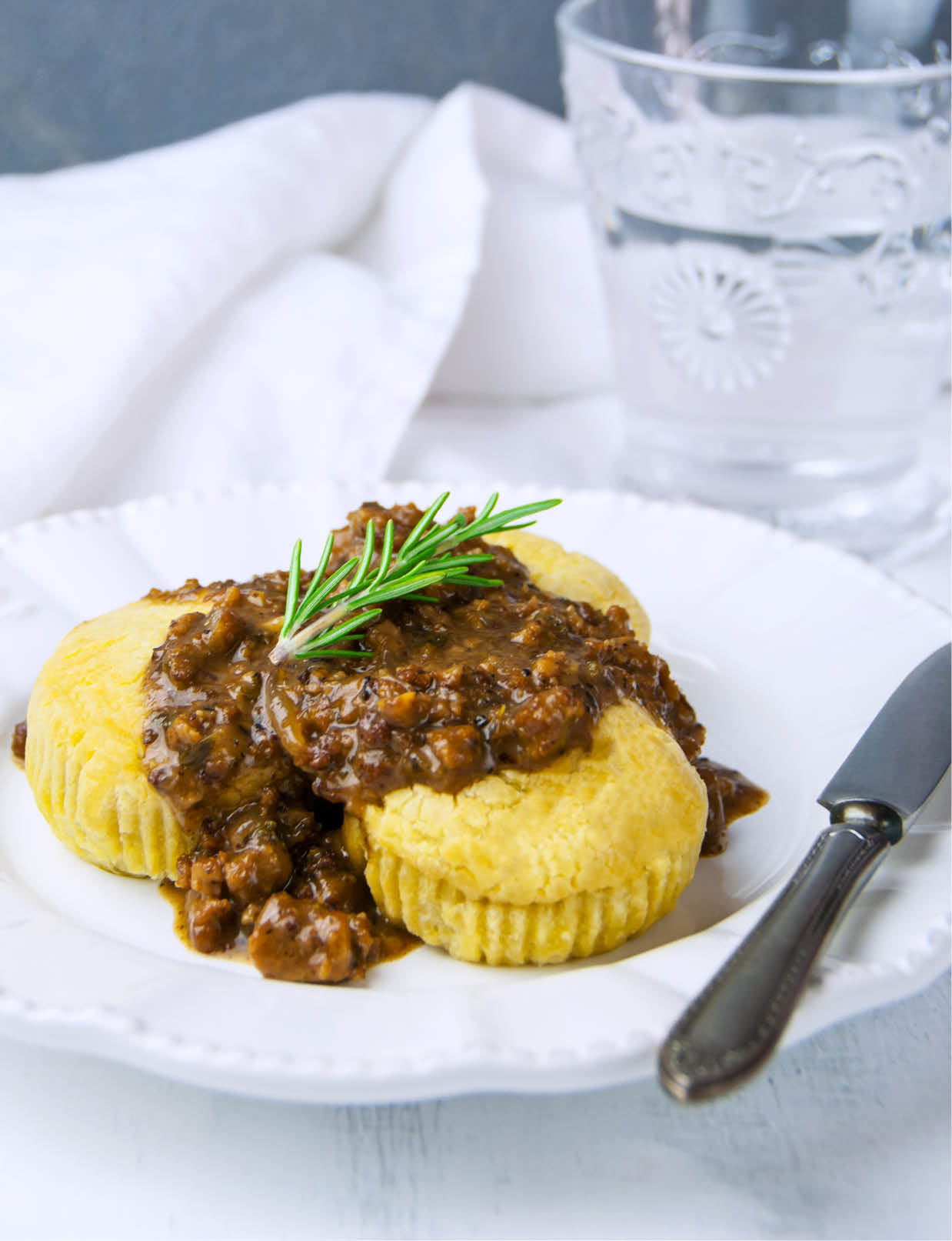 Preheat the oven to 350°F.
Place flours, salt, onion powder and garlic powder in a large bowl. Mix with your hands or a fork. Combine until the mixture is a yellowish-white color. In a small bowl whisk the melted butter and eggs to combine. Add the egg mixture to the dry ingredients and whisk until a batter is created. Add the water and stir until well combined. Line a muffin tin with parchment liners and scoop 2 tablespoons of the mixture into each cup. Transfer to the oven and bake for 30 minutes. Remove from the oven and let cool.
Remove the Italian sausage from its casing, break it apart, cook thoroughly in a cast-iron skillet and set it aside. Melt the ghee in a pot over medium heat and add the onions. Cook for 15 minutes or until the onions begin to turn golden brown. Add the garlic and herbs and sauté for a minute. Add the broth to deglaze the pan and increase the heat to high. Once the mixture comes to a boil, reduce the heat to a simmer. Cover the pot and cook for 20 to 30 minutes or until the mixture reduces by half. Add salt and pepper to taste. Place the remaining sauce into a blender. Purée until smooth. Add the cooked sausage to the pot and return the gravy to the pot, mixing well. Top the biscuits with sausage gravy to serve.
---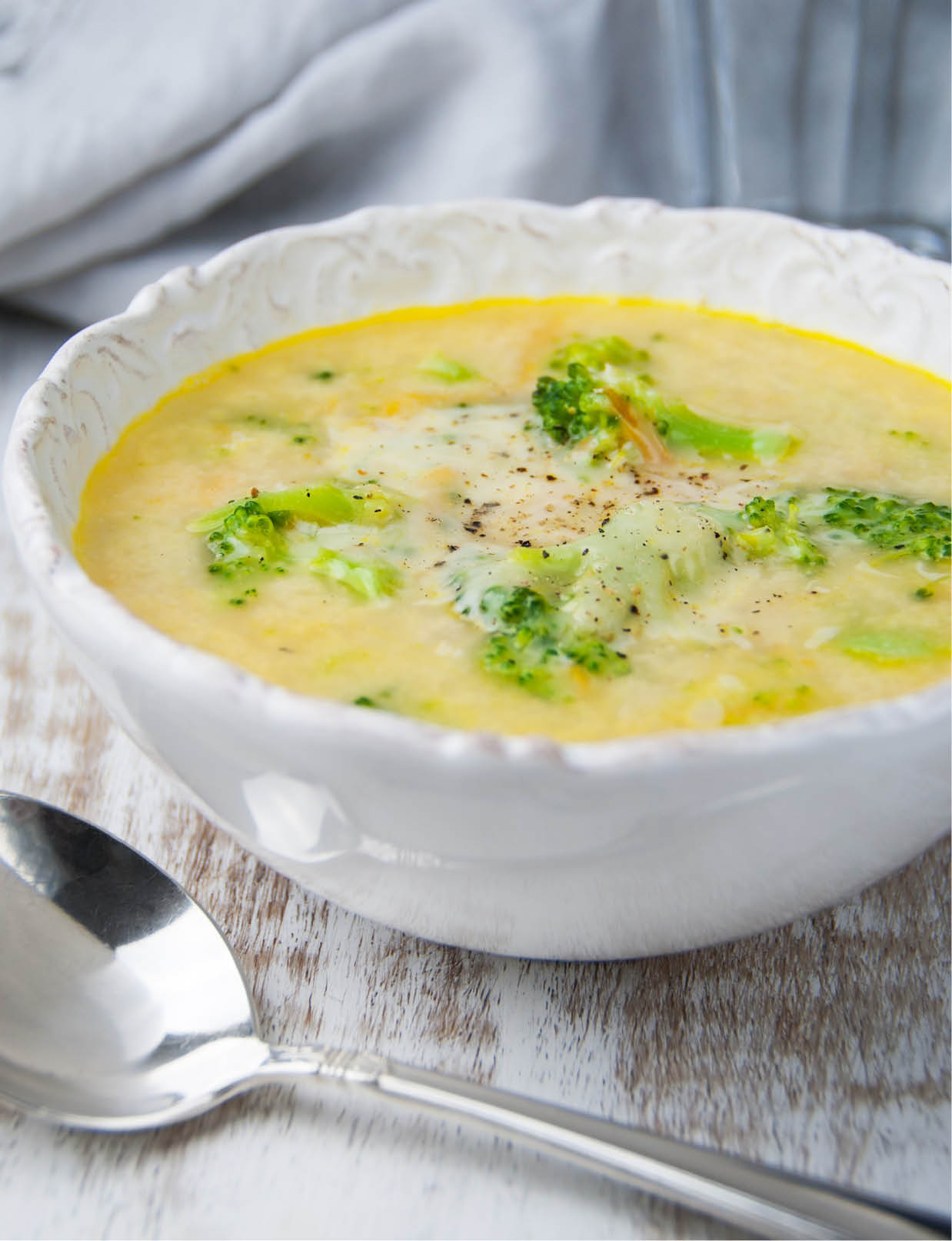 This is a really healthy version of the old classic. No guilt here when eating this soup. You can always substitute coconut milk for the raw milk if you aren't doing dairy.
Serves 6 to 8
3 tablespoons butter or ghee

1 large carrot, shredded

1 large shallot, chopped

Sea salt to taste

Freshly cracked pepper

3 cups chicken bone broth

1 cup raw milk

1 cup raw heavy cream

3 cups fresh broccoli florets, chopped small

8 ounces raw shredded sharp cheddar cheese, plus more for serving
Melt the butter in a large soup pot or Dutch oven over medium heat, then add the carrot and shallot, season with salt and pepper and sauté until the carrots are tender, about 3 to 5 minutes. Pour in the chicken broth and heat. Add the milk and cream, season with salt and pepper and increase heat to medium-high to bring the soup to a simmer. Turn the heat to medium, then simmer for 10 minutes, stirring occasionally. Add the broccoli florets to the pot and cover to simmer for 20 more minutes or until the broccoli is tender. Remove the pot from the heat, then add cheese in three batches, stirring until it's completely smooth before adding the next batch. For a thinner soup, mash broccoli with a potato masher or leave in whole pieces. Serve with fresh raw cheddar on top and fresh cracked pepper.
---
Using arrowroot instead of an old-fashioned roux is a great way to thicken sauces. Arrowroot powder is derived from the South American plant Maranta arundinacea. Keep this on hand to thicken any recipe, even desserts. I use it in my beef stroganoff. The bone broth smooths out the chalkiness of the arrowroot powder, ensuring a rich, creamy sauce.
Serves 4 to 6
For the meatballs:
½ pound grass-fed organic beef

½ pound organic, pastured ground pork

1 large organic egg

¼ cup almond flour

1 teaspoon kosher salt

¼ teaspoon black pepper, plus more

½ teaspoon garlic powder

½ teaspoon onion powder

1 teaspoon dried parsley

1 teaspoon paprika

1 teaspoon organic Worcestershire sauce
For the sauce:
2 tablespoons butter or ghee

2 cups cremini mushrooms, sliced

1 cup yellow onions, sliced

1 clove garlic, minced

1½ cups beef bone broth

¾ cup organic sour cream

¼ teaspoon arrowroot powder

Sea salt to taste

2 tablespoons fresh parsley, chopped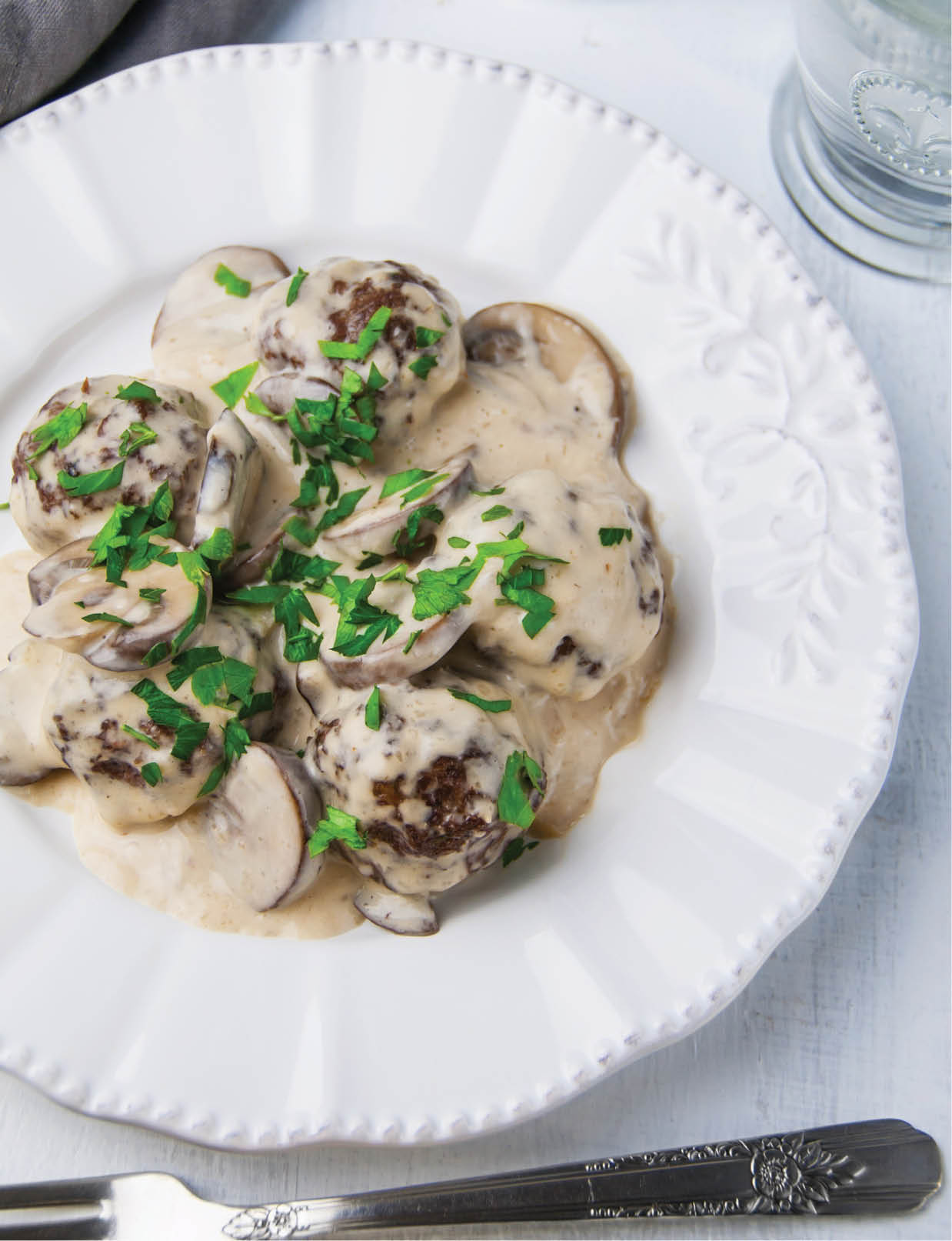 Preheat the oven to 425°F. Combine the meatball ingredients in a medium bowl and mix well. Form into 12 meatballs. Place the meatballs onto a foiled baking sheet and bake for 20 to 25 minutes.
While the meatballs are baking, place the butter and the mushrooms in a skillet. Cook until the mushrooms are golden and fragrant, about 4 to 5 minutes. Remove the mushrooms from the pan. Add the onions and garlic and cook for 3 to 4 minutes until the onions are soft and translucent. Remove the onions from the pan. Add the beef broth to the pan and scrape the bottom of the pan with a wooden spoon to remove brown bits (keep these in there, that's all the flavor!). Whisk in the sour cream and arrowroot powder until smooth. Add the mushrooms, onions and garlic back to the pan and stir. Season with salt and pepper to taste. Simmer on low for 20 minutes.
Once the meatballs are cooked, remove them from the oven and set aside to rest for 5 minutes. Using tongs, place the meatballs into the stroganoff pan and stir gently to coat well. Let sit over low heat for 2 to 3 minutes, and then serve topped with fresh parsley.

Did you like this post? Here are more posts you may like!