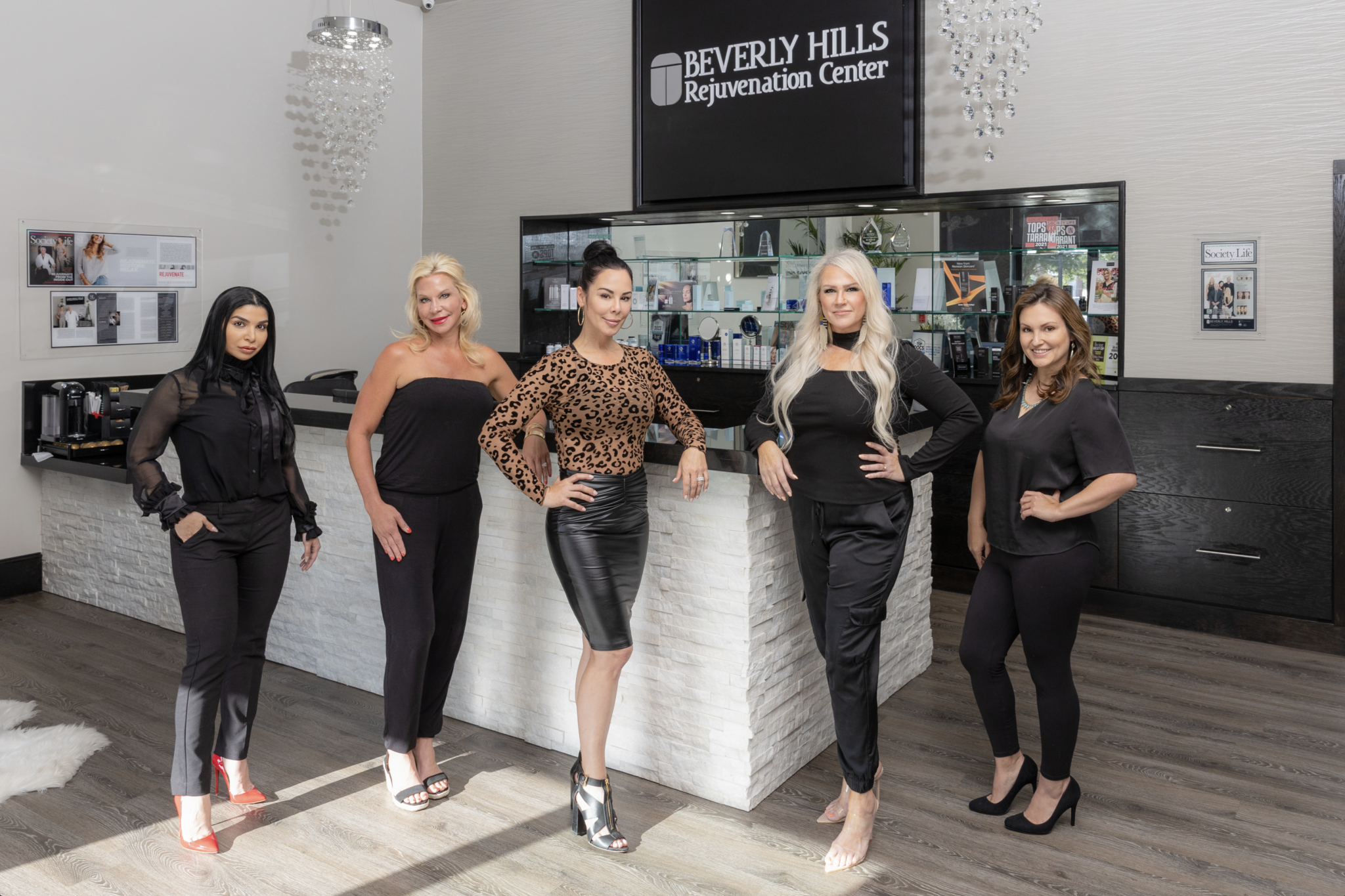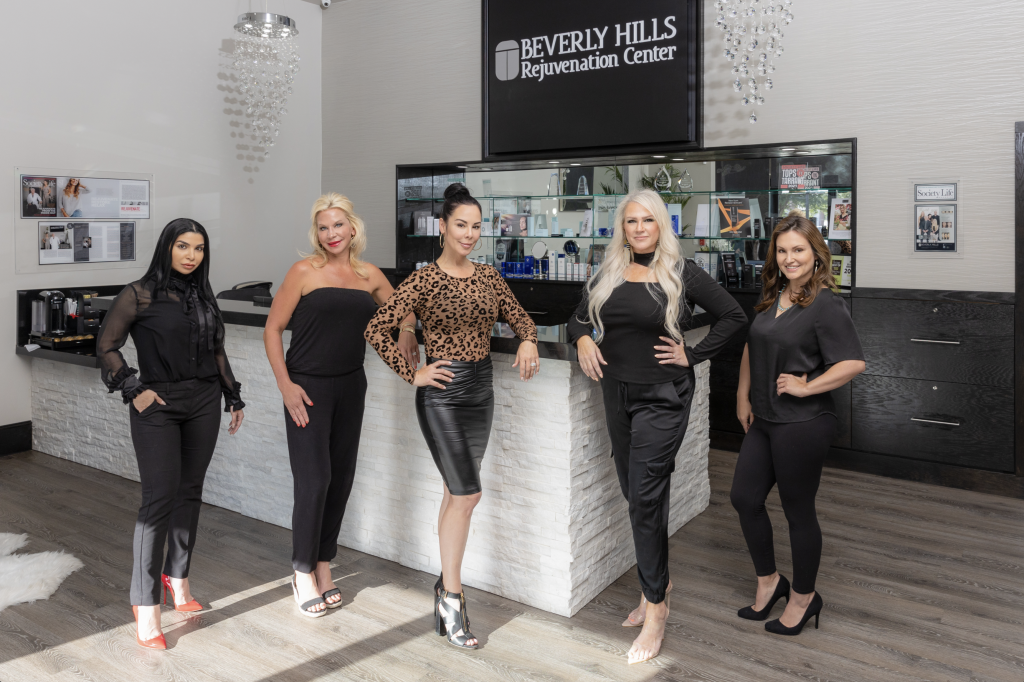 by Sandy Lowe Photos By Kenny Richard Photography
---
If the scorching Texas summer has sapped your energy and the sun has zapped your skin, maybe you need more than a cooler climate. The Beverly Hills Rejuvenation Center can help restore your vitality and give you an outward glow to match.
After a successful career in film, television, modeling, and sports broadcasting, Heather Tindell found her true calling in helping others overcome the lethargy and dullness that sometimes come with age. A co-founder of the Beverly Hills Rejuvenation Center (BHRC) in Los Angeles, California, Heather noticed many of their clients hailed from Texas. In fact, 22 percent of those seeking BHRC's groundbreaking therapies came from the Dallas/Fort Worth area. So, Heather founded six locations offering safe, holistic, client-centered, customized bio-identical hormone and aesthetic services to the Metroplex. These six will soon be joined by a seventh in the Celina area.
Dr. James Kadi works as BHRC DFW's medical director. After training at Louisiana State University, he accrued 32 years of experience in his field. A board-certified plastic surgeon, he specializes in cosmetic, plastic, and reconstructive surgery.
The experienced team at BHRC DFW also includes a nurse practitioner, registered nurse, and certified, licensed medical aestheticians who use the latest technology, nonsurgical techniques, and quality products to deliver dramatic yet natural-looking results.
Starting in 2013, BHRC DFW quickly became recognized as the top destination for health and appearance-enhancing services and continue to win local and national accolades, including recognition by Living readers as the "Best Regenerative Medicine" in Keller and "Best Bio-identical Hormone Center" in Keller and Northeast Tarrant County in 2022.
BHRC was a multiple Aesthetic Everything Crystal Diamond Award winner in 2017, awarded #1 Medical Spa West, #1 Medical Spa Middle America, and #1 Hormone Therapy Center in America. Locally, they have been voted as Society Life magazine's "Tops in Tarrant" seven consecutive years in a row. Even the Texas Medical Board has complimented BHRC.
"Our services, our credentials and our skills set us apart," says Heather. "Treatment begins with restoring internal wellness, so clients feel great. Then they want to look as great as they feel, and we are honored to partner with them in achieving those goals."
Politicians, celebrities, and athletes as well as your everyday mom and dad choose BHRC's medically qualified staff to renew their energy and enhance their appearance. BHRC specializes in safe, less-invasive, client-focused and individualized care to produce amazing results in physical health and appearance. Among the most requested services is bio-identical hormone therapy.
Bio-identical hormone therapy fills the needs of many of BHRC DFW's clients by restoring hormones to optimal levels through a natural approach. Starting with blood tests, patient visits and customized treatment plans, this therapy can result in a new balance of mood and energy levels to restore quality of life. It may assist in controlling Hashimoto's Disease, lupus, menopause, andropause, and other conditions. The treatments are naturally plant and animal based.
Research seems to show that inflammation in the body can contribute to a long list of issues including cognitive decline, chronic pain, some cancers, rheumatoid arthritis, atherosclerosis, and more. BHRC offers exosome treatment derived from stem cells to reduce systemic inflammation, regenerate collagen in aging and damaged tissue, improve skin texture, reduce scarring and oxidative stress, and improve sexual function.
A variety of IV offerings can help clients strengthen immunity, enhance antioxidants, detox the kidney and liver, increase energy, encourage hormonal balance, and even lessen reactions to seasonal allergies. Like all BHRC treatments, the IV "pushes" are carefully selected to prioritize what each client seeks from boosting overall wellness and immunity to antiaging and recovery. Time needed for IV treatments varies from 30-120 minutes, depending on the patient's overall treatment plan.
For achieving a trim, fit body without surgery, BHRC has chosen CoolSculpting. The idea for CoolSculpting started with a simple observation of children getting dimples while eating frozen treats and resulted in a safe, non-invasive procedure intended to freeze away fat cells. Harvard University scientists and the Massachusetts General Hospital developed CoolSculpting. The FDA-approved procedure using patented Cryolipolysis cooling technology is designed to eliminate fat cells beneath the skin. One session may result in a 20 percent reduction in fat.
One treatment BHRC clients continue to request is Bellafill®, the only dermal filler approved by the FDA to be both safe and effective for up to five years. This product eliminates the need to come back frequently for filler injections. It begins working instantaneously and continues adding volume over a period of time. It is intended to both correct collagen already present in the skin and encourage the production of new collagen to help maintain a youthful look and natural results without excessive volume. It has recently been offered for butt augmentation.
BHRC DFW offers the possibility of taking 10 years off your skin with EXEL02 laser treatment. This cutting-edge treatment can improve skin texture, tighten, correct pigment, improve melasma, shrink pores, and provide overall improvement of skin-promoting collagen and elastin production. Minimal discomfort and a short recovery time make this treatment a favorite of BHRC DFW clients.
Since Heather co-founded BHRC in California, the DFW locations are not franchised. They are free-standing facilities with all the certifications of the original used by the West Coast glitterati. In August and October, Heather will oversee the opening of two new medical spas in Paradise Valley and Scottsdale, Arizona, with four more to follow in that state.
If your summer plans include feeling and looking great, look no further than the experienced, certified, effective, and customized treatments at BHRC DFW.
---
Contact
1221 East State Highway 114
Southlake, Texas 76092
(817) 251-9280
5871 Long Prairie Road, Suite 200
Flower Mound, Texas 75028
(972) 355-2777
8315 Preston Road
Dallas, Texas 75225
(469) 914-6052
5355 Dallas Parkway, Suite 620
Frisco, Texas 75034
(469) 353-8821
4601 West Freeway, Suite 216
Fort Worth, Texas 76107
(817) 377-4600
4560 Heritage Trace Parkway
Fort Worth, Texas 76244
(817) 379-0566