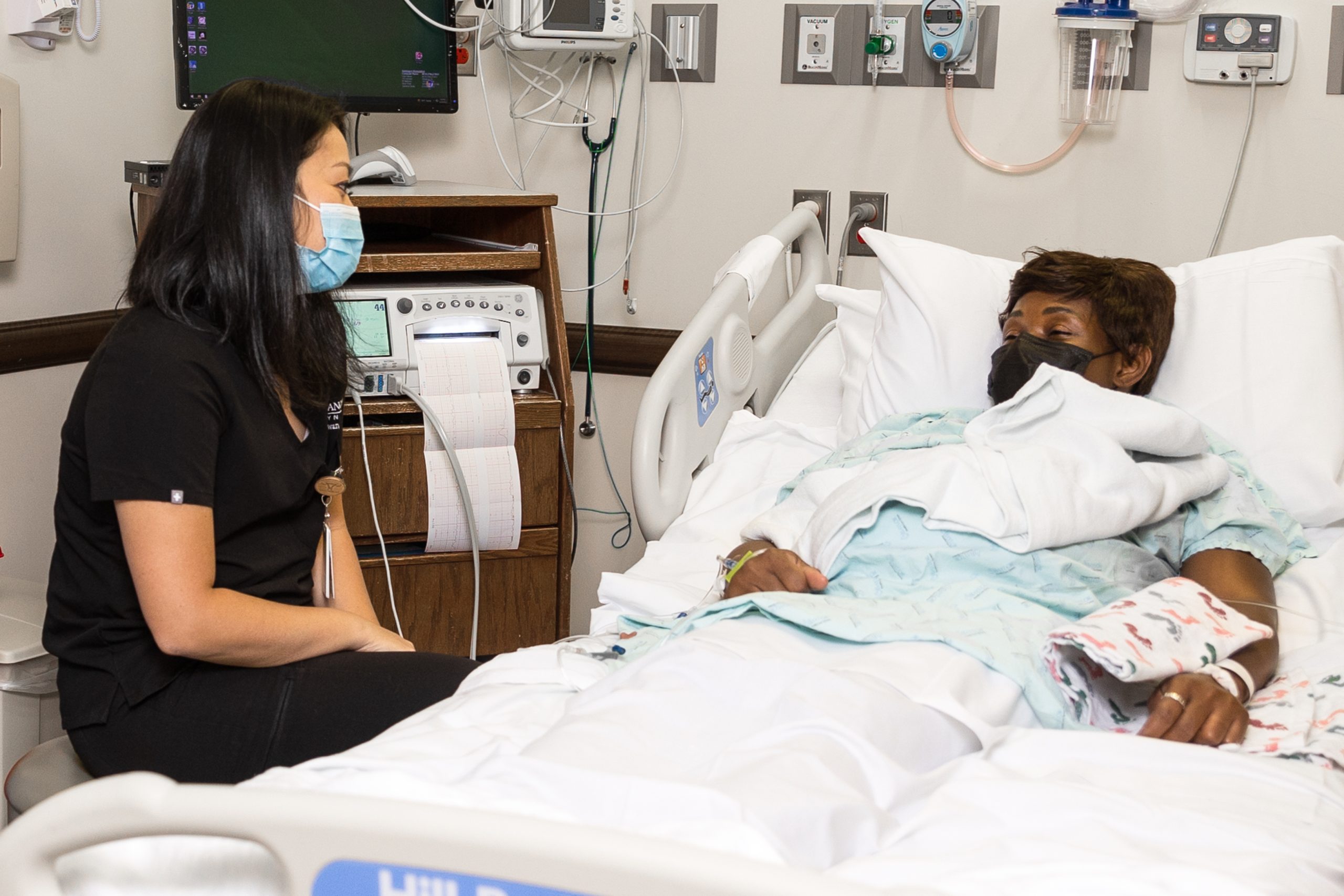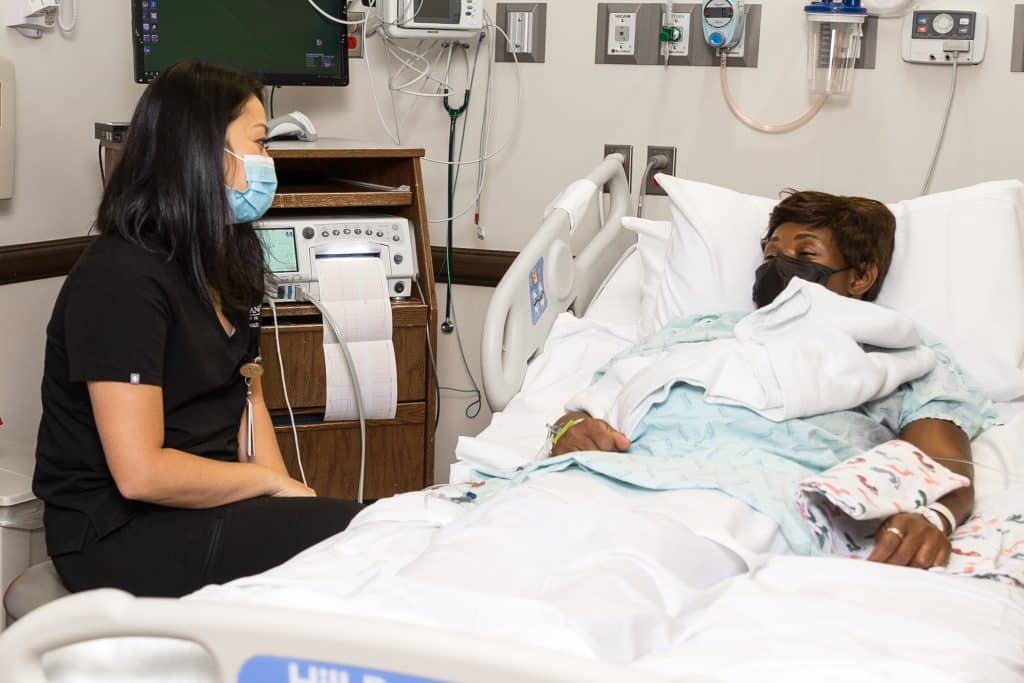 By Annette Brooks
---
Great care is no small thing. When you choose Baylor Scott & White Medical Center – McKinney, you'll deliver your baby in a supportive, family-centered environment surrounded by a team dedicated to helping you achieve safe, comfortable childbirth. Local patients, Berkeley and Stuti, decided to have their babies at BSW – McKinney, and they agree it was one of the best decisions they made during their pregnancies.
Berkely: "They made me feel like I was their only patient."
"It was my first baby and the first time I was staying in a hospital. I felt anxious going in, but my anxiety quickly melted away," Berkeley shares. "The environment was peaceful, the nurses and staff were calm, knowledgeable, and supportive, and they gave me their undivided attention. It never felt rushed or impersonal. They kept my husband and I informed and talked me through everything.'"
Berkeley enjoyed her private birthing room with décor more fitting to a hotel suite than a hospital room, and the ability to in-room with her infant. In-rooming is where postnatal mothers and healthy infants have the option to stay together in the same room. She added, "Even the food was good, which surprised us, and we appreciated the all-day, full-service menu."
Recommending BSW – McKinney, Berkeley adds, "From the overall comfort and amenities to the level of personalized care we received, I can't say enough good things about our experience there."
Stuti: "Seamless, supportive, and helpful care every step of the way."
"Our experience was excellent from beginning to end, and we felt completely cared for," says Stuti, who chose to have her daughter at BSW – McKinney. Her son was also born there. "The nurses were all so lovely and friendly as well as accessible and knowledgeable, and the delivery process was calm and easy."
Stuti enjoyed her spacious, well-equipped room and the food. "There was a sofa bed with sheets and a pillow for my husband, the room's heat setting was adjustable, we enjoyed watching our favorite shows on TV, and the food menu was great with lots of choices for both my husband and I."
Stuti recommends Baylor Scott & White – McKinney, saying, "Having had two babies at the hospital and a great experience both times, I absolutely recommend Baylor Scott & White – McKinney."
Where You Deliver Your Baby Matters
Voted Best Hospital in McKinney for 10 consecutive years, Baylor Scott & White – McKinney garnered another Living Magazine Best Of Readers' Choice award in 2022. The hospital practices a holistic approach, providing compassionate, coordinated care in a healing environment. Parents enjoy a calm and beautiful setting where they experience the miracle of childbirth.
Recently Baylor Scott & White Medical Center – McKinney was recognized by US News & World Report for its top-tier maternity care. In addition, the hospital is a state-designated Level III Maternal Care facility and handles on-site medical and surgical care surgical care for more complex maternal conditions and critically ill pregnant women and fetuses. The hospital also holds a Baby-Friendly® designation from the Baby Friendly USA organization, indicating it adheres to the highest standards for mother/baby care practices related to infant feeding, and is involved with the Texas Ten Step Program, aimed at improving maternity care practices in birthing facilities. As a state-designated Level III NICU, the hospital can care for very small or sick newborn babies. Level III NICUs have a wide variety of staff on-site, including neonatologists, neonatal nurses, and respiratory therapists.
OB/Gyn's Speak Highly of Baylor Scott & White – McKinney
Christine Baidwan, MD, Stuti's doctor, and Renee Chan, Berkeley's MD, Berkeley's doctor, are board-certified OB/Gyns who deliver at Baylor Scott & White – McKinney. Dr. Baidwan believes so deeply in the quality care at BSW McKinney, she gave birth to her own two of her own children at the hospital. She praises the hospital for providing exceptional patient care and understanding what's most important to patients in the McKinney area.
"There's genuine camaraderie among the doctors, nurses, and staff at Baylor Scott & White McKinney. This makes it a fun and rewarding place to practice, and I'm confident my patients will have a reliable, comfortable delivery there as well," says Dr. Christine Baidwan.
Dr. Chan enjoys the rapport between the nurses and the rest of the staff, explaining that the positivity spreads to patients and their families. The team creates real connections with their patients while helping them welcome a new life into the world.
"Baylor Scott & White – McKinney is a beautiful hospital that's growing with the community. Positive, uplifting energy permeates the hospital, making it easy to work with the other physicians and the staff," says Dr. Renee Chan.
Labor and Delivery Highlights
Private birthing suites with ensuite bathroom with shower
Sleep area for your support person
Soothing colors and ambient lighting
Flat screen TVs and a work area with wireless Internet
Comfortable Visiting Hours
Family Lounge
24-hour Neonatal Nurse Practitioner
Fetal Surveillance System
Highest rating for Best Hospitals for Maternity from U.S. News & World Report
Level III Maternal Care Center
Level III NICU
Member of the Texas Ten Step Program
Baby-Friendly Designated Birth Facility by Baby-Friendly USA
Easy Access to Childbirth, Baby Care, and Breastfeeding Classes
Specially Trained Lactation Consultants and Nursing Staff
Parent Education Classes
Trusted, Quality Medical Care Conveniently Close to Home
Baylor Scott & White Medical Center – McKinney is backed by the breadth, depth, and sophistication of Baylor Scott & White Health, Texas's largest not-for-profit healthcare system. Putting patients first, Baylor Scott & White Medical Center – McKinney is here for you, close to home, when you need it. Visit BSWHealth.com/YourMomentMcKinney for more information.
---
Contact
5252 West University Drive
Highway 380 at Lake Forest Drive
McKinney, Texas 75071
(469) 764-1000
BSWHealth.com/McKinney
---
Physicians provide clinical services as members of the medical staff at one of Baylor Scott & White Health's subsidiary, community or affiliated medical centers and do not provide clinical services as employees or agents of those medical centers or Baylor Scott & White Health. ©2021 Baylor Scott & White Health.