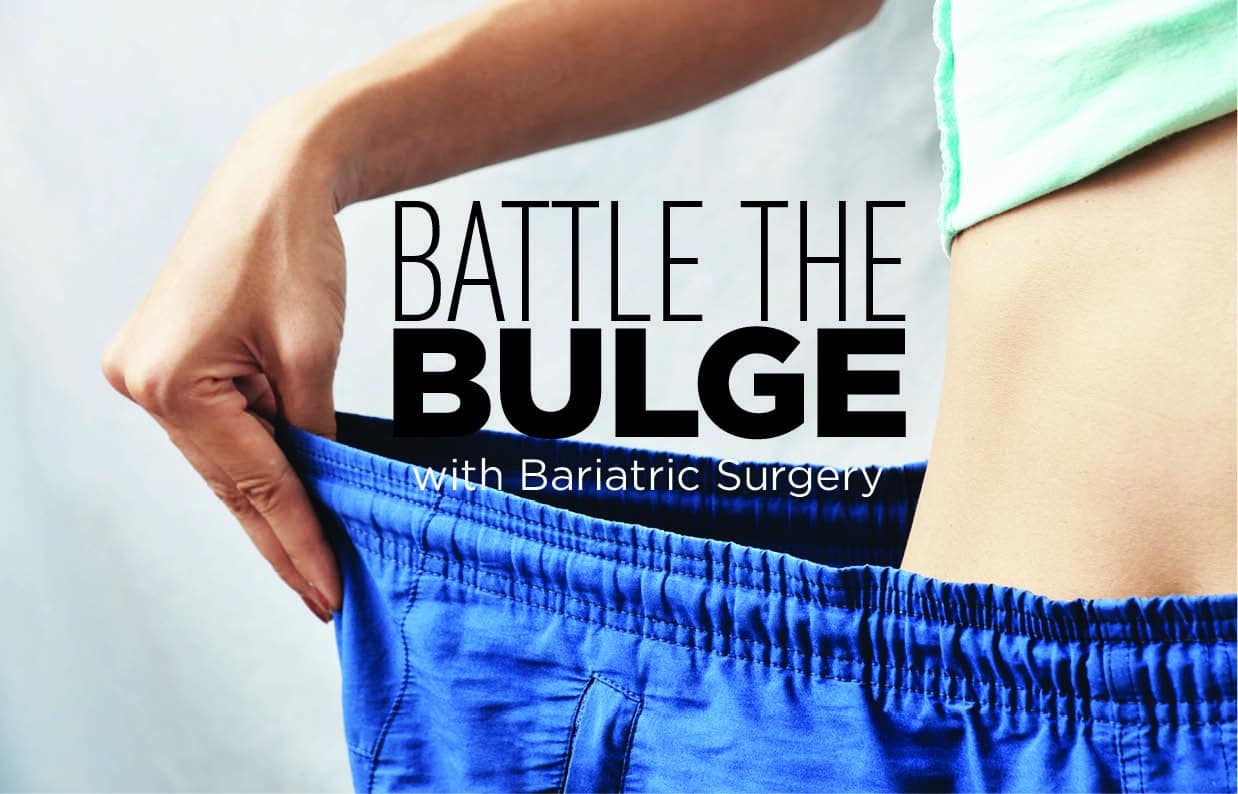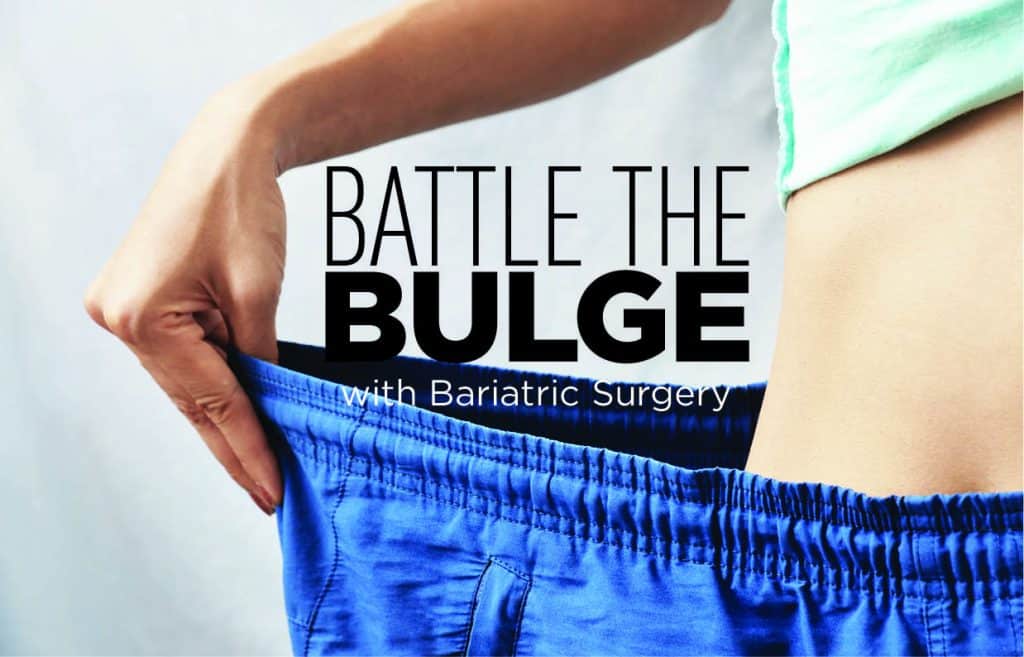 Weight loss is hard work. For the obese, it can be a losing battle. Can a body makeover really be as easy as having surgery? Will the weight stay off, permanently? Chances are you've heard of bariatric surgery, but don't know if it's right for you—or even what it really consists of. Here's your opportunity to learn how these procedures transform bodies, and if you're a good fit for the surgery.
Doctors describe bariatric surgery as a proactive way for patients to gain control of their weight as well as improve their health and quality of life. According to Dr. Robert Carpenter, one of the goals is to actually increase the life expectancy of his surgical patients. "There are many positive side effects, including self-confidence, improved mobility, and satisfaction with one's appearance that can lead to a newfound desire to experience a life that they felt was passing them by," he explains.
While this type of surgery is not right for everyone, only a few patients who suffer from obesity do not qualify for bariatric surgery. One of the qualifying factors is your body mass index (BMI), which represents body fat measurement based on height and weight. "Patients typically need to have a BMI of more than 40 or a BMI between 35 to 40 with already developed specific disease related to their obesity," Dr. Carpenter points out. He serves as the Interim Director of Metabolic and Bariatric Surgery as well as the Director of Bariatric Surgery and MIS (Minimally Invasive Surgery) Education for the Central Division of Baylor Scott & White Health in Temple.
Some of the most common weight loss surgeries include gastric bypass, sleeve gastrectomy, and the adjustable gastric band. All restrict the amount of food ingested by the patient. "That limitation leads to a feeling of fullness. Individuals are satisfied more quickly and stop eating sooner than pre-surgery," states Dr. Richard Peterson, Chief of Bariatric and Metabolic Surgery at UT Medicine San Antonio. "The gastric bypass has an added difference of malabsorption in addition to restriction, which means the food will not be entirely absorbed. Because of the decreased calories and nutrients, gastric bypass has more rapid weight loss than the other two surgeries."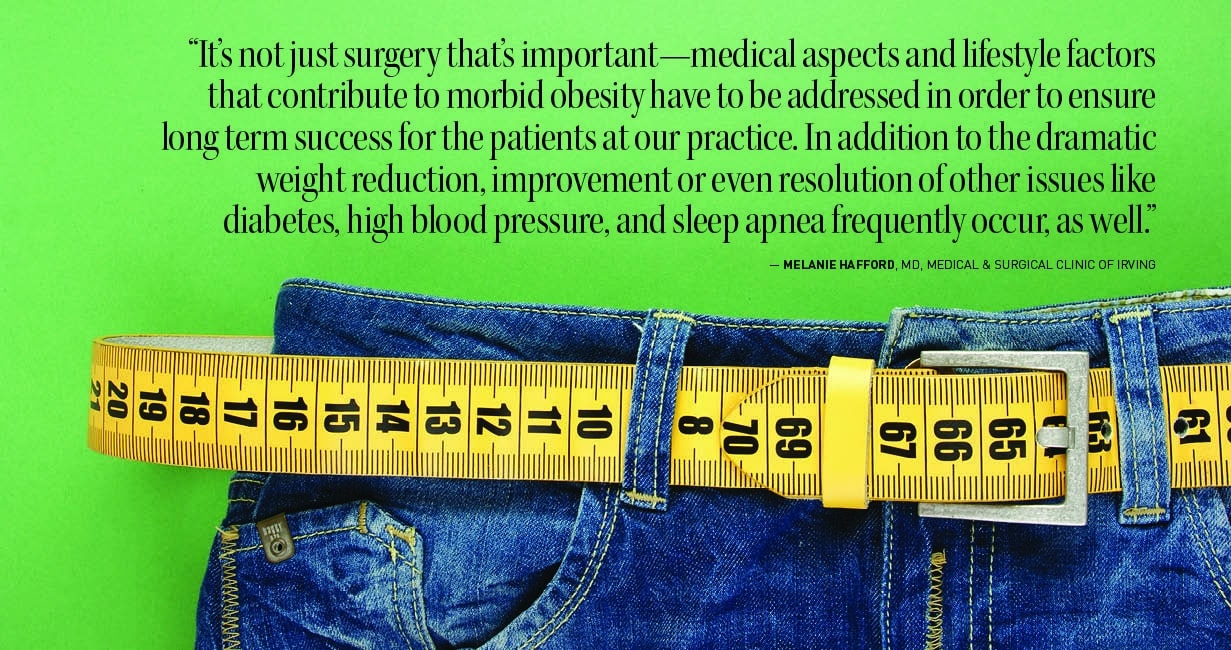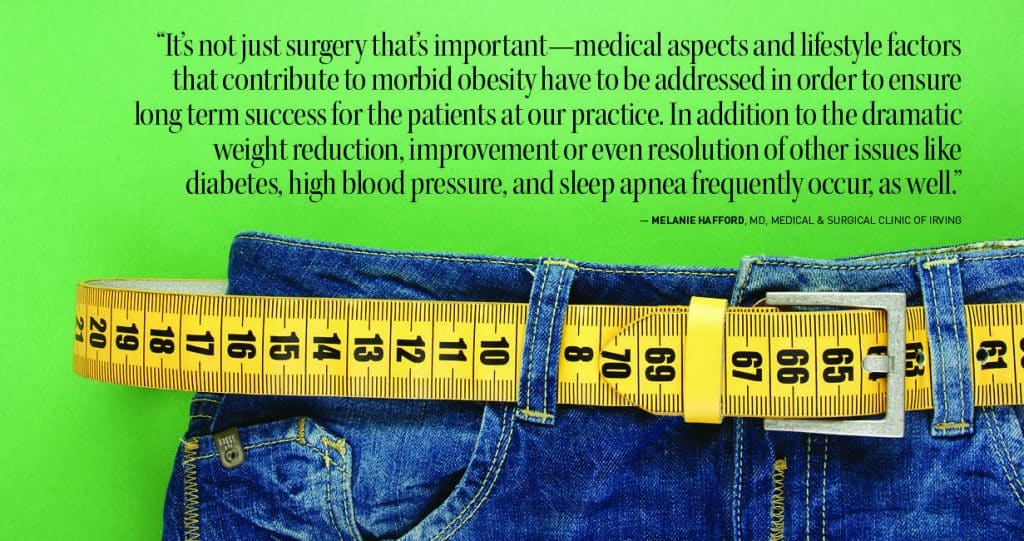 All three procedures are minimally invasive surgeries and use a video camera to transmit an image of the organs inside the abdomen onto a monitor. Since the camera allows the surgeon to see inside the patient's body, the doctor only has to make small incisions.
The most common procedure nationwide, according to Dr. Peterson, is the sleeve gastrectomy—where 80 to 85 percent of the stomach is cut out and thus restricts the amount of food intake. "A patient can expect to lose about 60 to 70 percent of their excess weight within a year," he adds.
One highly regarded operation is the gastric bypass. The stomach is cut into a small pouch and part of the small intestine is rerouted to this new small stomach. Thus, the small intestine can't absorb as well as it did previously.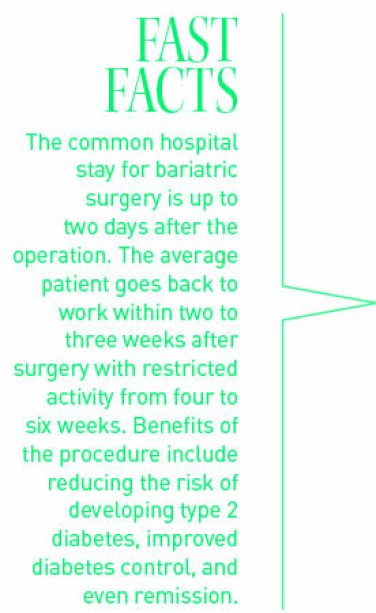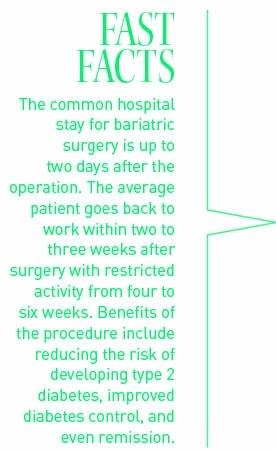 "Patients can expect to lose 70 to 80 percent of excess weight within a year using this procedure," Dr. Peterson explains.
The third procedure is the adjustable gastric band. A medical grade silicone device with an inner balloon goes around the upper stomach and attaches to a tube under the skin. The tube's port allows the doctor to access the band with a needle and put fluid in or take it out. "This ability to adjust the band helps patients find proper balance in food restriction," Dr. Peterson says.
Regardless of the method that might be selected by the patient and doctor, patients must work very hard to adopt new lifestyle changes in order to keep the weight off. "Patients undergo rigorous education regarding these surgeries, and are encouraged to adopt dietary strategies, exercise, and a solid set of lifestyle-based decision making processes before their operation so that they can achieve great success," Dr. Carpenter concludes.
With the right approach, the right advice, and under the right circumstances, bariatric surgery can transform both your body and mind dramatically—and in the case of many who have undergone the treatment, even save your life. Both Dr. Peterson and Dr. Carpenter are Fellows of the American Society for Metabolic and Bariatric Surgery, but readers should consult their own physicians with any questions or concerns.
By Perla Sarabia Johnson