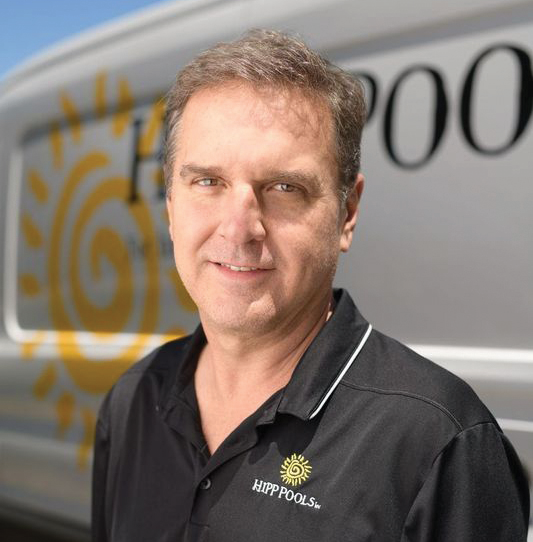 About the Expert
Hipp Pools has been The Woodlands' premier, full-service pool builder for 19 years. Michael, a hands-on owner, leverages his 21 years of swimming pool design and construction experience to help ensure a perfect balance of beauty and structural integrity with each pool installed by Hipp Pools. As a one-stop-shop for all your pool needs, Hipp Pools is committed to providing superior customer service from pool-build to pool maintenance.
---
Q&A
What qualities should I look for in a custom pool builder?
First, look for experience, longevity in the industry, and a solid reputation. Unfortunately, pop-up pool companies enter the Houston market that come and go, which adds risk for an unsuspecting homeowner. For instance, if the builder offers a warranty on the workmanship that sounds great, what good is it if the company is no longer around?
Another tip is always to check that a pool builder is tied to quality equipment manufacturers and has built a strong relationship with premier manufacturers. We see a lot of what I call Frankenstein pools, where a builder has mixed and matched all sorts of products from different manufacturers that aren't necessarily designed to work well cross-platform. At Hipp Pools, we carefully choose the manufacturers we use and build solid relationships with them. For example, we're a Jandy ProEdge contractor with a three-year warranty on professionally installed Jandy products.
Lastly, follow your instincts. You should feel comfortable and confident the pool builder you select is honest, trustworthy, and represents quality.
Will a pool fit in a small backyard?
Yes. Options for smaller backyards include a full pool, a lap pool, a spa only, or a combination. Homeowner education is key. Some pool companies shy away from small spaces because they require more expertise, misleading homeowners into thinking their backyard is too small. Building pools in smaller spaces is an area of expertise at Hipp Pools. Some of our most incredible pools are built in small backyards.
Are shortages and supply chain problems still affecting the pool industry?
Yes, and we take steps at Hipp Pools to help manage this. Our 3,000-square-foot warehouse is stocked with a wide range of inventory directly procured from the manufacturers. Not having to go to a pool parts distribution center all the time helps us be better prepared to handle supply chain problems. That's not to say we're perfect, though. Sometimes a delay will affect us, too. We believe it's essential to keep an open line of communication with our customers and be honest and forthright instead of making false promises.
How can I save energy running my pool?
LED pool lights use less energy and come in a variety of colors. Major energy savings involves using variable speed pumps which are mandatory today. The main thing, in my opinion, is educating the homeowner on how to use their variable speed pump. It's tempting to run the pump as little as possible to save on energy costs, but if you're not careful, you may end up with cloudy, dirty water and spend more on maintenance and chemicals.
What are some of the most popular features people add to their custom pools?
Outdoor kitchens and living areas, wood-burning fireplaces with chimneys, and firepits remain popular. We've been installing more pergolas with roofs that open and retract, giving homeowners the ability to use their outdoor space more often throughout the year.
If you're interested in building pool, an outdoor living space, or pool maintenance, please call us and schedule a consultation.
---