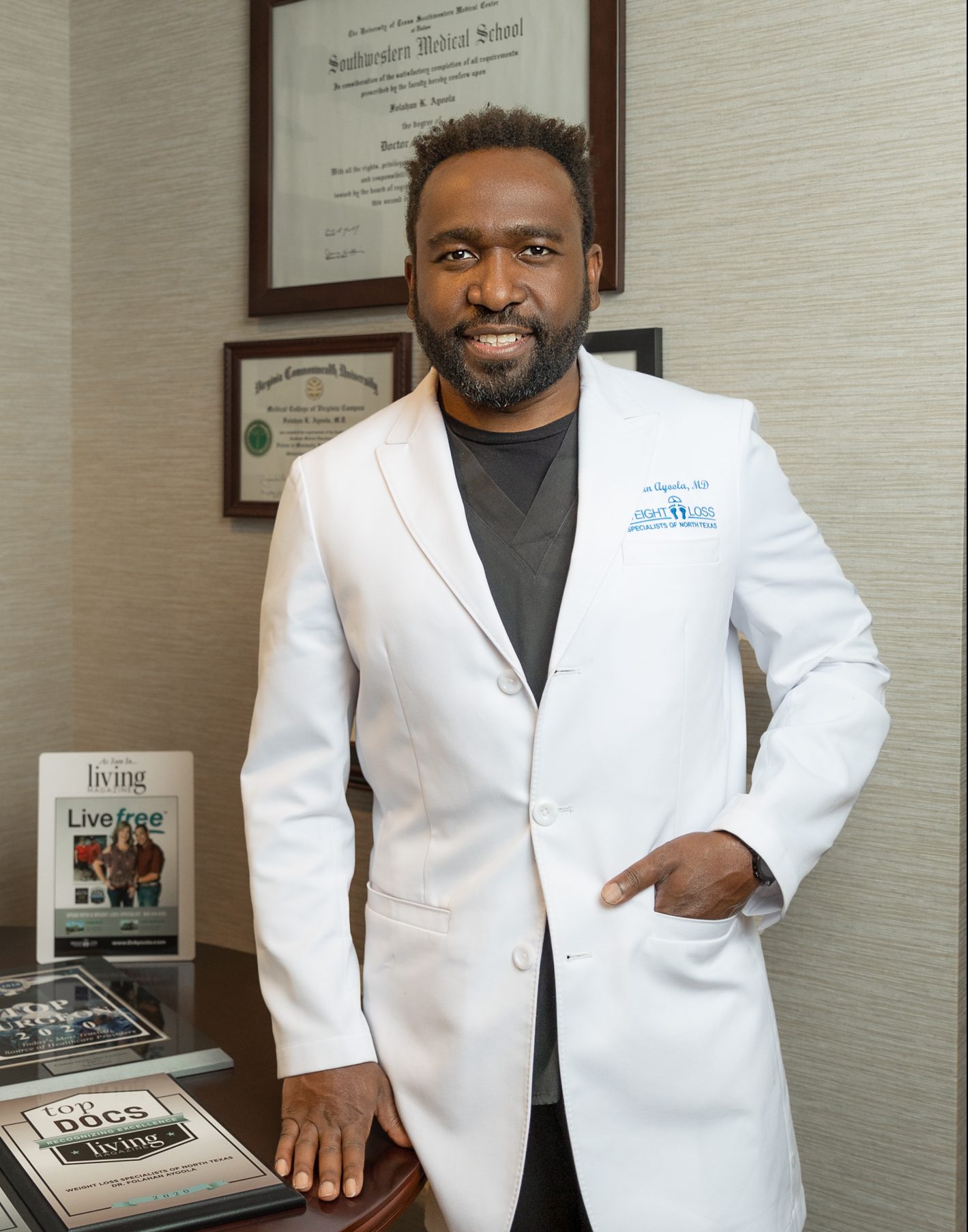 About the Expert
Dr. Ayoola completed medical school at the University of Texas Southwestern Medical Center and residency at Virginia Commonwealth University, where he received the highest award bestowed on any surgical resident in his program. He is board certified and fellowship trained and frequently trains other physicians in robotic weight-loss surgery. His patients praise him for his no blame, no shame, compassionate care and the one-on-one attention they receive.
---
Q&A
What are my different weight-loss options?
There are basically three ways to deal with any medical condition — lifestyle changes, medication, or procedures. Obesity is just another medical condition. We currently use body mass index (BMI) to determine which choice is right for which patient. If your BMI is under 27, we recommend you make lifestyle changes to obtain and maintain a healthy weight. If it's over 27, it's time to start looking at medication. But if it's over 35, it's time to consider a surgical procedure. In the end, we'll see the best, long-lasting results with a combination of surgery, medication, and lifestyle changes.
How do I know if I'm a good candidate for weight-loss surgery?
Now, it's time to consider other medical conditions you're suffering from that are made worse by obesity. The list is long from your head to your toes, and can include anything from headaches, Type 2 diabetes, high blood pressure, certain cancers, sleep apnea, heart disease — even COVID-19. If your BMI is high and obesity is contributing to other health conditions, it's time to be more aggressive about losing weight. Patients ask me, 'What are the risks of weight-loss surgery?' and that's a legitimate question. But a better question is, 'What are the risks of obesity?' and that's far worse. Strong data shows that weight-loss surgery is no more dangerous than having your gallbladder removed. If your health is at risk because of obesity, you're a good candidate for weight-loss surgery.
How has weight-loss surgery changed/advanced?
When I first began performing weight-loss procedures, we did open surgery with a large incision and long recovery periods. We progressed to laparoscopic surgery, which meant less scarring, less risk of infection, less pain, more accuracy, and quicker recovery times. Now I'm able to perform robotically, which offers my patients all the benefits of laparoscopic surgery and offers me the dexterity of open surgery, allowing me to perform very complex surgery — even better than with either of the other two options.
How can weight loss affect my health?
My patients are seeing improved overall health, reduced medication use, and increased life expectancy. But beyond that, they're experiencing improved quality of life, improved relationships, improved job performance, more confidence, and a whole new outlook on living. I wish I had a nickel for every time a patient told me, 'I should have done this years ago.' If they have children, it also improves their quality of life and life expectancy.
How much weight can I expect to lose?
The short answer is as much as you want to lose, as long we pick the right operation. Average weight loss with sleeve gastrectomy is 75-100 pounds. After a bypass, it's 100-120 and after a duodenal switch, 200 or more. Our biggest battle right now is getting the insurance companies to pay for these lifesaving surgeries. Don't be afraid to demand insurance coverage for a procedure that could save your life.
---