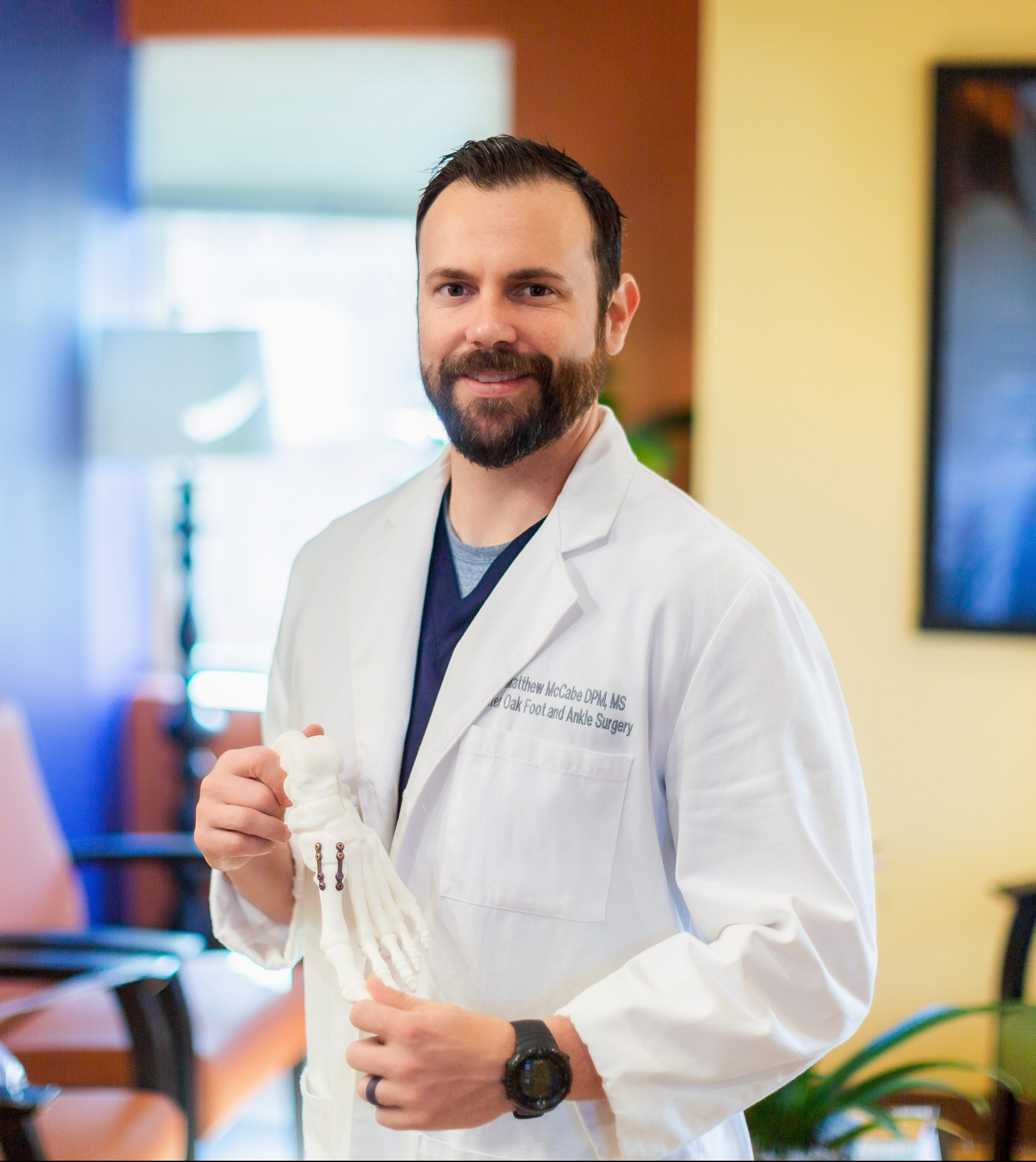 About the Expert
Dr. Matthew McCabe DPM, MS, DABPM, FACFAS completed his undergraduate work at Utah State University. He did his medical training at Rosalind Franklin University in Chicago also earning a Master's in Healthcare Administration. He completed his foot and ankle surgical residency at Christus Saint Patrick Hospital and the Center for Orthopaedics in Lake Charles, Louisiana and his fellowship training at the Midwest Foot and Ankle Fellowship in Omaha, Nebraska.
---
Q&A
What's the most common problem you see in your clinic?
Heel pain is more common than most people realize. It could be caused by several factors. Most often, it's plantar fasciitis, but it could also be a stress fracture or tarsal tunnel syndrome (TTS). TTS is like carpal tunnel syndrome but in your ankle. All are easily treatable in-clinic. Other problems include bunions, hammer toes, and Achilles pain.
Are you fellowship-trained and what does that mean?
Yes, I am fellowship-trained. Fellowship training is specialized, focused training after residency. My residency years were focused on trauma, such as ankle fractures and foot fractures, and sports medicine and surgery. My fellowship training was focused on limb salvage, including wound care and office procedures to prevent wounds and problems related to diabetes. It also included complicated reconstructive surgery such as Charcot foot and traumatic deformities.
What's a diabetic preventative exam?
People with diabetes often experience complications related to their feet. Regular preventative diabetic foot exams can help prevent wounds, infections, hospitalizations, and amputations by identifying and addressing risk factors that may lead to problems related to feet. We also employ custom-molded diabetic orthotics and diabetic shoes. If you have diabetes, your primary care doctor can refer you for a diabetic foot exam.
What's the new bunion procedure?
It's a procedure aimed at correcting the root cause of a bunion deformity. In the past, procedures were aimed at addressing the prominent bump next to the big toe. In recent years, we discovered the main problem really lies in the joint behind the big bump. This new procedure, called Lapiplasty, allows for better correction, faster return to walking, faster return to activity, and lower complication rates. I can do this if you have bunion pain. This ain't your grandma's bunion procedure. We've come a long way since then.
If I require surgery, what kind of results can I expect?
Many factors contribute to surgical outcomes. With the exceptions of trauma, I always exhaust all conservative measures first, making surgery my last option. I believe this leads to better outcomes. It's important to understand the goal of surgery. There are plenty of problems I can fix, after looking at an x-ray, but I always ask myself, "Will this help the patient or will it make the patient better?" I believe in treating patients like family. If I don't believe a procedure would be helpful, I tell the patient so. If I believe surgery is indicated, I have a collaborative discussion with the patient to discuss goals and expectations.
When do I need to see a Podiatrist?
Any ankle or foot issue can be seen by a podiatrist. Many injuries will get better with rest, ice, anti-inflammatories, and activity modification. However, if you're still experiencing pain or limitations, it's time to see a podiatrist. Podiatrists specializes in foot and ankle problems and are experienced in problems and pathologies of the ankle as well as the foot including diabetic foot exams, fractures, heel pain, foot pain, ankle sprains, and everything in between.
---