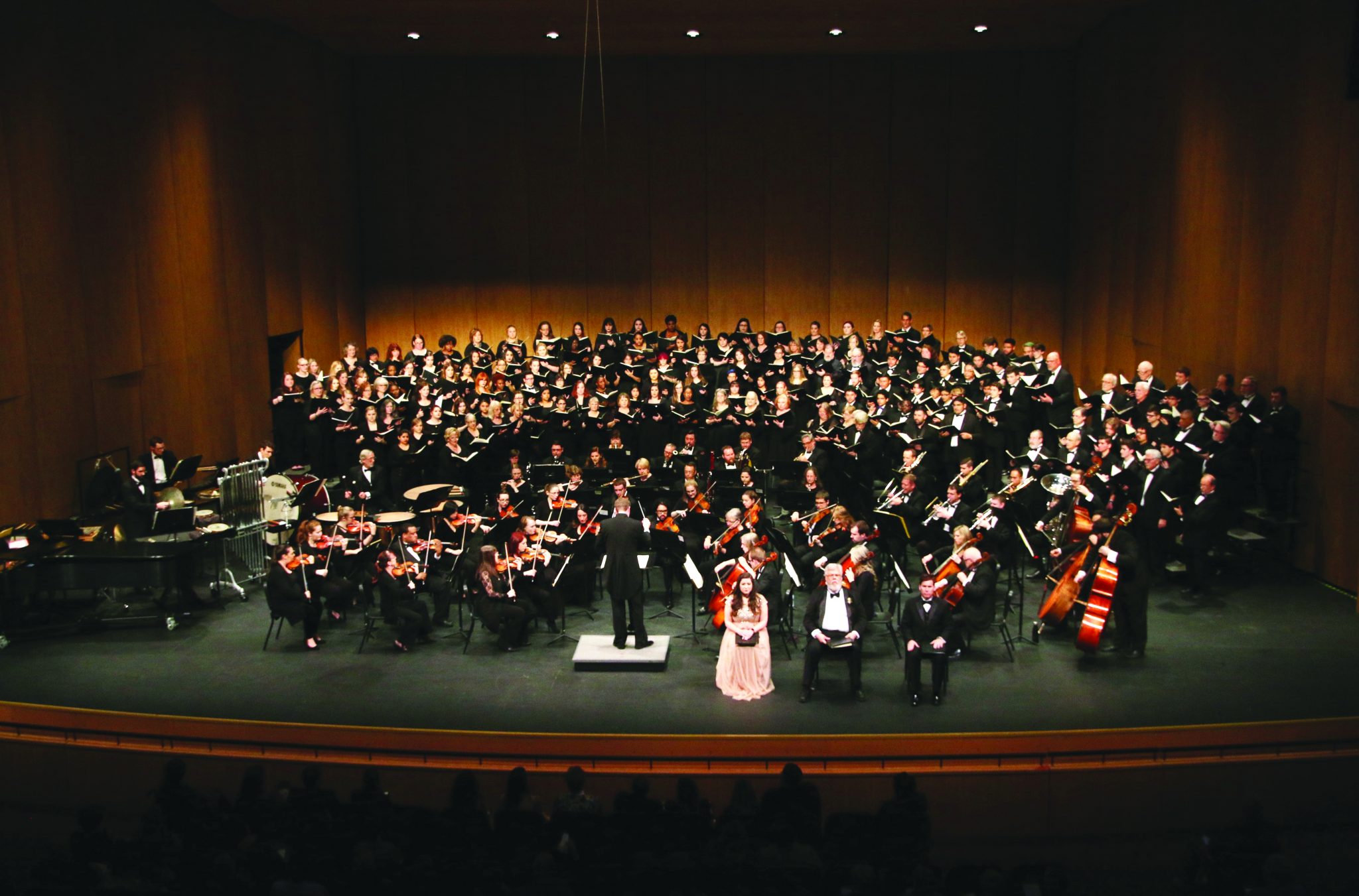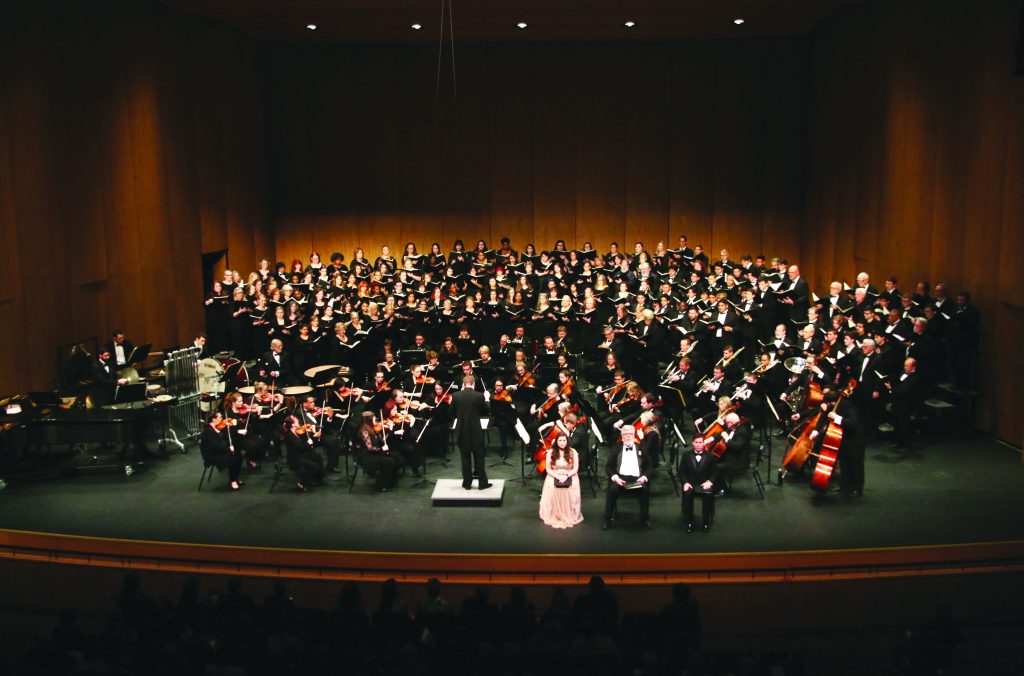 BY MICHELLE MASTRO
Founded in 1998, the Allen Philharmonic Orchestra & Symphony Chorus (Allen Philharmonic) has bloomed during the last several decades into an organization going beyond its original volunteer musicians. Today, the all-professional orchestra boasts the musical chops of any great city's standout musical group, and it might be one of Allen's most exciting hidden gems.
Conductor and Music Director Ryan Ross oversees the Allen Philharmonic and also serves as director of orchestras at Plano West Senior High School. For Ryan, getting contemporary audiences turned on to classical forms of music has prepared him, and by extension the Allen Philharmonic, for devising inventive ways to keep the music playing even through the pandemic's uncertainty.
Engaging Musical Experiences for All
"When you think about it, many professional music companies have always performed outside in the spring and summer, giving audiences a chance to enjoy picnics while listening. At the Allen Philharmonic, we've been forced to be even more inventive. I never imagined we'd hold a beer crawl, for example," Ryan says. "This past October, we collaborated with Watters Creek to present the second-annual Bach and Brews Halloween Beer Crawl, which gave music fans and beer lovers alike a chance to get out and about as the orchestra played at various spots along the crawl. And on June 4, they'll perform the music of the Rolling Stones outdoors at the new Collin College Technical Campus."
There have been many more outdoor community events. Last spring, the Allen Arts Festival hosted dozens of booths around Watters Center. Guests enjoyed a live performance by the Allen Philharmonic, including Aaron Copland's iconic work, "Appalachian Spring."
"There are many benefits to enjoying music that go beyond its entertainment value alone," explains Ryan, pointing to how music can offer a safe haven following a tough day or serve as a means for listeners to get motivated before their next workout. "Music is part of us, a fundamental part of our lives, and I know our musicians are incredibly excited to be back playing in front of audiences," he says.
Perhaps stemming from this connection between music and the unflagging human spirit, the Allen Philharmonic will present a program of American music on May 7. The repertoire draws from many of the dominant genres of American culture from the last 100 years, including film music, jazz, gospel, and R&B. Program highlights include George Gershwin's iconic "Rhapsody in Blue" with piano soloist Alex McDonald, "The Cowboys Overture" by John Williams, and William Grant-Still's "Symphony No. 1." The Grant-Still is unique in history as the first symphony composed by a black composer to be performed by a major American orchestra, and its musical roots are planted firmly in jazz and gospel music. "This is the piece of classical music for people who don't know they love classical music yet," says Ryan. Attendees will also be treated to the song "It's All Right" by Rock and Roll Hall of Fame legend Curtis Mayfield, recently featured in Disney Pixar's film "Soul."
Earlier this year, the organization's symphony chorus, led by Choir Director Rusty King and Assistant Choir Director Ben Turner, presented a program built around Mozart's "Requiem." This summer, the chorus will take their show on the road to New York City, performing the "Requiem" once again at Carnegie Hall. The symphony chorus is open to all local singers looking for a weekly choral experience, and the group is always welcoming new members.
Immerse Yourself in Music
Music's ability to provide listeners with an array of experiences and powerful feelings might be what sets music apart from other entertainment forms. "We all want less time spent in front of screens and engaging with devices," says Ryan. "The Allen Philharmonic can give those eager to take a break from remote work and remote learning a peaceful sojourn."
Those wanting a musical escape extending beyond one performance can seek out any of the Allen Philharmonic's free offerings throughout the year. For years, the orchestra has performed an outdoor program in late summer as part of the City of Allen's "Summer Sounds" series, and families from across the region regularly attend the orchestra's "Concerts for Young Audiences." These concerts, freely offered twice a year in partnership with the Allen Public Library, offer fun, family-friendly introductions to the orchestra through selections that promise to inspire music lovers of all ages. In fact, the orchestra's next library concert is on March 20, 2022. Titled "Adventures in Storybook Land," the orchestra will play music associated with everyone's favorite childhood stories, including "Sleeping Beauty," "The Wizard of Oz," "Superman," "Snow White," and "Frozen."
Inspiring future audiences has always been the goal of the organization's Fourth-Grade Youth Concert. The program was created 16 years ago as a way to get today's kids interested in performing and listening to classical music. The concert is now performed in the Performing Arts Center at Allen High School with musical selections from the annual UIL Music Memory program. Jeff Turner, Allen ISD director of fine arts, guest conducts and Allen High School band and orchestra students perform side by side with the Allen Philharmonic musicians. There is always a big cheer when a high school student's elementary school is mentioned and students from that elementary school are in the audience.
Since 1998, the overall goal of the Allen Philharmonic has been to enhance Allen's vibrant culture and support appreciation for the art of music. "We are so excited to be emerging from our Covid-induced hibernation," says Board President Kathy Litinas. "We want people to know they can find amazing music being performed right here in Allen."
Visit AllenPhilharmonic.org or follow them on Facebook to learn more about the offerings from this long-time Allen institution.
Contact
102 South Allen Drive
Allen, Texas 75013
office@allenphilharmonic.org
AllenPhilharmonic.org