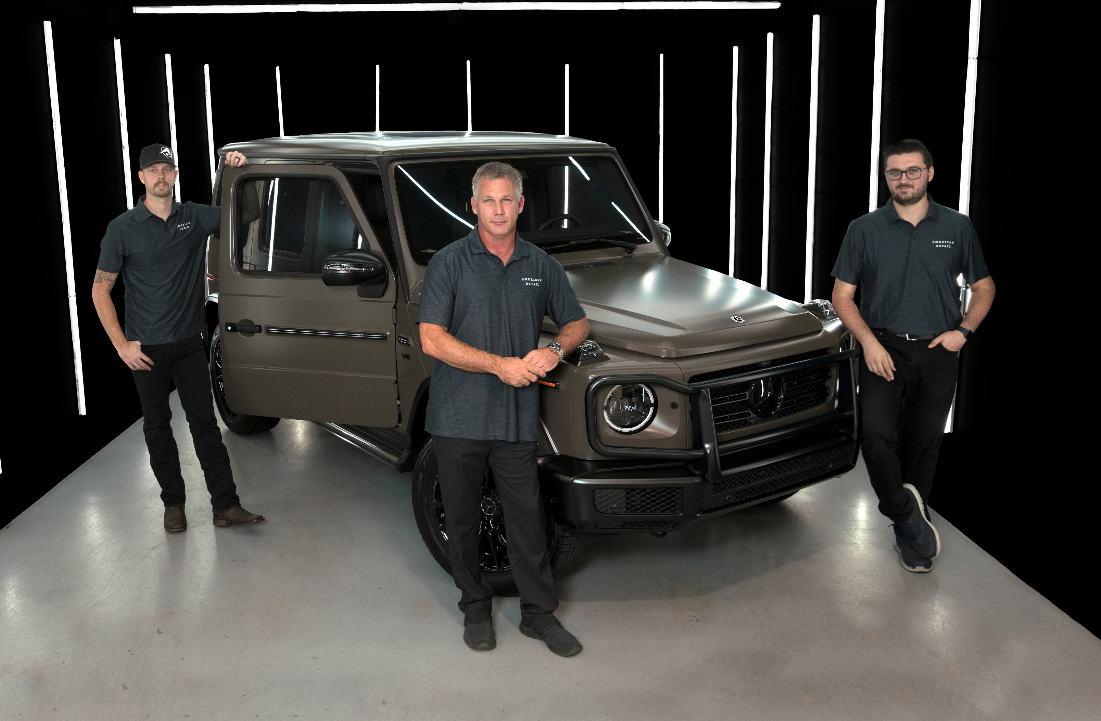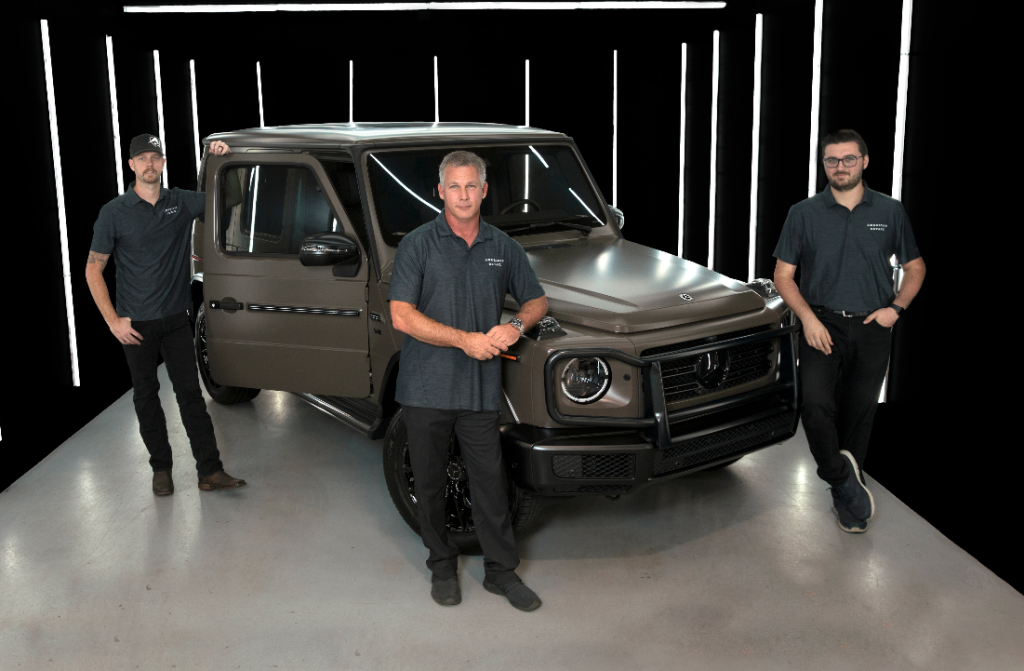 "Our motto is, 'If you can't do it right, don't do it at all.' Simply put, if it's not the best, we don't offer it and we stand by our reputation."
– Local firefighter and American Detail Co-founder Greg Channel
By Annette Brooks | Photos by April Sanchez of Taylor Morgan Photography
---
Are you a car lover like me who enjoys driving a sharp-looking car with flawless paint and a head-turning, glossy shine? Do you want to protect your investment and get top dollar for your vehicle when you sell it? Then keep reading.
American Detail offers master-certified, professional vehicle protection services, including ceramic coating, paint protection film (PPF), paint correction and window tint, using the finest, most advanced products. They also take customer care to a new level, leaving clients like Barb ecstatic with their American Detail experience.
Barb Raves About American Detail
After reading a recommendation for American Detail in a 5th wheel enthusiast Facebook group, Barb tried to find a comparable company in Dallas where she lives, without any luck.
"We drove to Houston to have American Detail apply ceramic coating and I couldn't believe my eyes when we picked it up. It practically looked like new. The results were so impressive we had our Ford F350 coated," Barb says.
Thrilled with American Detail's results and their attentive, friendly customer care, Barb drove her Caddy to Houston to have ceramic coating applied. Recently, she and her husband had ceramic coating and PPF film applied to their brand-new BMW X6 M. Having sold their 5th wheel and truck, they just bought a luxury RV they will take to American Detail when it's ready to be delivered.
"With the ceramic coating, bugs, road debris, and dirt don't stick to the paint like they used to. We don't have to wash our vehicles as often, and when we do, everything comes off effortlessly," Barb explains.
Barb and her husband, Rick, recommend American Detail to anyone who wants their vehicle to look fantastic and protect their investment. "They're a dream to work with and are perfectionists who take pride in their work. We can't speak highly enough about American Detail."
A Cut Above
Co-founders Greg and Chance set out to create an automotive detailing company that stands above the competition, and they have excelled. Alan Smith, who started as an American Detail employee, was so impressed with the company he bought into it and is now a co-owner with Greg and Chance.
"We completed extensive, hands-on training in California from the Detail Mafia and are the only master-certified automotive detailing company in the Houston area," Greg says. The Detail Mafia has serviced prominent clients such as Air Force One, McCall Events at Pebble Beach, and Mecum Auctions.
American Detail also takes the negative aspects of the environment out of the equation when detailing your vehicle. It sounds convenient to have someone with a mobile detailing service come to you, but consistent, superior results require environmental control. This means keeping tabs on temperature/humidity levels at all times to make sure the coatings bond and cure properly. At American Detail, your vehicle is serviced in a climate-controlled facility equipped with commercial-grade
dehydration systems.
"Our motto is, 'If you can't do it right, don't do it at all.' Simply put, if it's not the best, we don't offer it and we stand by our reputation," says local firefighter and American Detail Co-founder Greg Channel.
Ceramic Coating, Not Your Father's Wax Job
Ceramic coating will outlast, outperform, and outshine any automotive wax. Your car's hood and rooftop can easily reach 160 degrees Fahrenheit in the Texas heat. Old-school car wax dissipates quickly, lasting only a few months. Ceramic Coatings can withstand up to 1,400 degrees and remains glossy. Additionally, ceramic coating offers hydrophobic protection, helping repel water and dirt, making protected surfaces easier to wash and stay clean. It also protects your vehicle from acidic things like bugs and bird droppings that eat into the paint and etch the clear coat.
Paint Protection Film (PPF)
A certified XPEL film installer, American Detail offers the highest level of protection for your vehicle from paint chips and ground-in road debris. XPEL PPF, with its crystal-clear finish, can heal itself from scuffs and scratches and comes with a flexible 10-year warranty for manufacturer defects.
Similar to a screen protector for your phone, a damaged sheet of film can be peeled off and replaced, and it can save you from having to get a body
panel repainted.
This film is also offered with Matte and Gloss Black finishes. XPEL Stealth PPF was originally designed to be applied on vehicles that have a factory "Matte" or "Frozen" paint job, but you can also use it to give your car a stealthy new appearance if it doesn't have it already. If you want to add some contrast to your vehicle, it's also a popular option to use XPEL Gloss Black PPF on your hood or roof. It's practically indistinguishable from paint!
"We precision cut the PPF to your vehicle's brand, make, and model using a laser CNC machine. Our skilled installers apply film so flawlessly it's virtually impossible to detect a seam," Greg explains.
XPEL PRIME Window Tint
XPEL tint applied to your vehicle's windows and sunroof will help protect your interior from harmful UV rays and keep the inside temperature cooler and more comfortable. XPEL PRIME carries a lifetime transferable warranty and is available in both tinted and clear options. The sheets of film are precision-cut by the same machine used for PPF.
Protect Your New Car
American Detail provides new car protection services to five major auto dealerships in Houston, including Sewell Cadillac. "We transport new cars from the dealerships in an enclosed racecar trailer, so you get a new car that's never been driven on the road," Greg explains.
American Detail has earned nearly 100 perfect 5-star Google reviews. They work on everything from family sedans and SUVs to trucks, motorcycles, campers and motorhomes, high-performance luxury vehicles, exotics and supercars, and classic cars. Visit AmericanDetail.com for more information and call to schedule an appointment today. Ask about their custom packages.
---
Contact
16634 House and Hahl Road
Suite C
Cypress, Texas 77433
(832) 416-3000
AmericanDetail.com