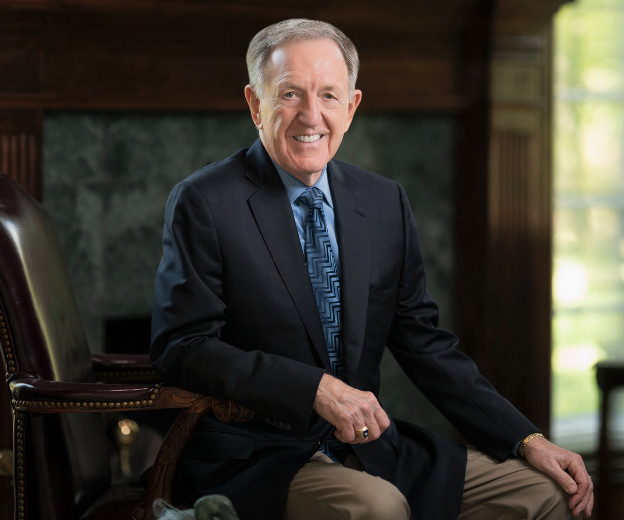 By Meredith Knight
---
Al Clark is many things. He's a devoted husband and father. He's an Arlington business leader and community volunteer. He's a national award-winning insurance agent and experienced advisor. And those who know him will attest, he's an all-around good guy. For 43 years, Al has built one of the most successful State Farm Insurance and Financial Service offices in the country mentoring many younger agents along the way.
Education is important to Al, whether he's counseling with a client on the best coverage for their home, life, and auto, guiding an up-and-coming agent in their career path, sponsoring college scholarships for area children, or lavishly supporting University at Arlington. Lovers of the theatre, Al and his wife, Shalyn, are longtime patrons of Theatre Arlington, serving on their board of directors and happily donating $100,000 to their recent remodel and revitalization. And the local YMCA, Boys and Girls Club, and Salvation Army depend on the Clark's generous support each year.
For Al, it's all about living out the State Farm motto, like a good neighbor. "We want to make the place where we live better by being that good neighbor," Al said. "This community has been good to my family and me and we're always looking for ways to give back. I love my career because I love helping people protect their families and possessions and realize their financial dreams. It's really true what they say—love what you do, and you'll never work a day in your life."
Since Al launched his Arlington State Farm Insurance agency in 1979, hard work and a firm belief in the services he provides has helped him live out that adage and have kept him consistently in the top ranking of agents around the country. "I work with clients who've been with me for years and become like family," he said. "I've been blessed to work with parents, then as their kids grow up, they become my clients, too. In fact, after 43 years, I'm now serving three generations of some families. Nothing is more encouraging to me than when a loyal client recommends me to their friends, family, and coworkers."
At an age when most of his peers are either retired or dreaming of retirement, Al has no desire to quit the work he loves. "My goal early in life was to plan my finances so I could retire comfortably by the time I was 55," he said. "Through saving, budgeting, and investing, I did achieve that goal. But the truth is, I enjoy working on my business, working with people, and making a difference in their lives. I've had a rewarding business career. The employees I've had the opportunity to work with each day have been a pleasure. Meeting clients and friends over the years, being able to offer service in time of need and provide counsel in times of grief or disaster has been extremely rewarding. And the recognition I've received within my industry has been humbling. The value of the contributions I've been able to make for scholarships and gifts to the community have fulfilled my desires to make a difference in the life of many people. So, I may never retire. But if that time does come, I'll still need something to do to make a difference."
When Al isn't working, he and his wife, Shalyn, enjoy attending local theater productions, Fort Worth symphony, ballet concerts, and traveling. If you're looking for a partner to help you achieve your short or long-term goals and protect what you value, look no further than Al Clark and his award-winning State Farm team.