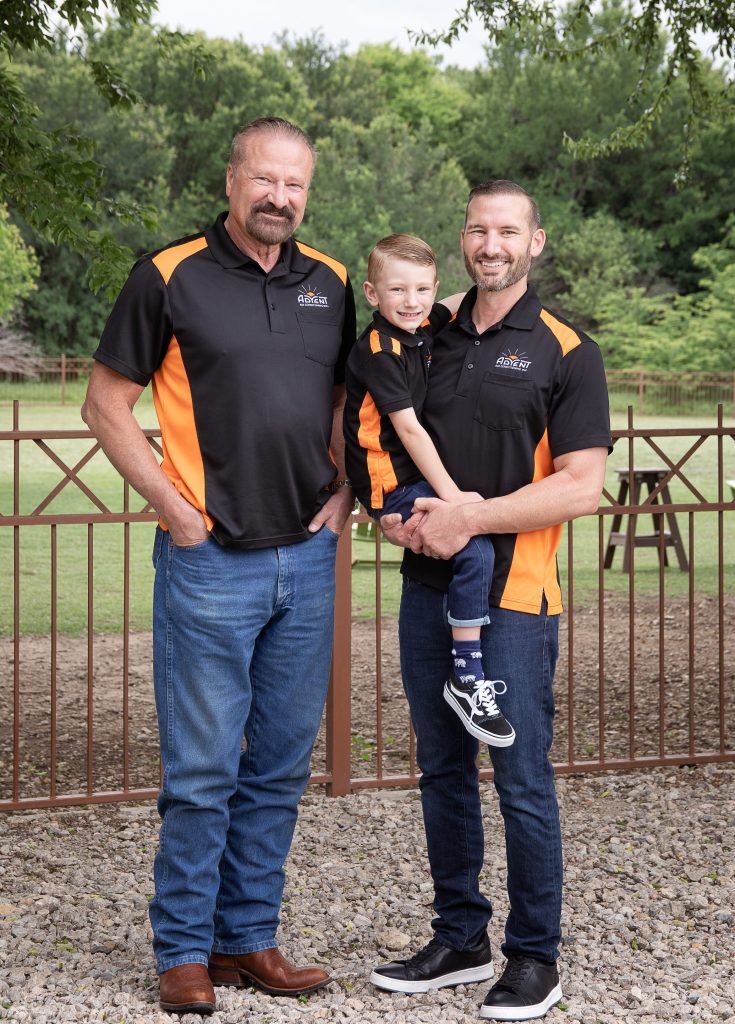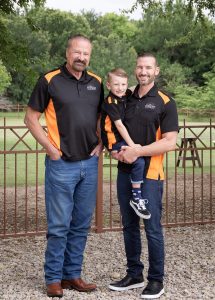 BY MEREDITH KNIGHT | PHOTOS BY PENNYWHISTLE PHOTOGRAPHY
If you've been unlucky enough to have your AC conk out in the middle of a brutal Texas summer, you know how desperately you want someone to take your problem seriously. You don't want a voice at a call center, four states away, to put you on hold while they cast about for some contractor in your area. You want a neighbor who's living through the same grueling heat you are, one with deep roots in your community, and a commitment to ethics and quality workmanship, one who'll stand behind the work they do, long after they leave your home. Let me introduce you to one such company.
A Family Legacy
The year was 1981. Mike Douglas was a family man working for a local homebuilder, running the AC side of their business. When the company decided that they didn't want to continue offering AC work, Mike saw the opportunity to realize a lifelong dream of being his own boss. He bought that side of the business, changed the name to Advent Air Conditioning, and set about building a company based on Christian values and old-fashioned ethics. His goal was simple — to provide his DFW neighbors valuable and honest services that would keep them warm in winter and comfortable in summer.
The Lord blessed his efforts, and today Advent Air Conditioning has grown into a five-star-rated company — the only one in North Texas to win the Better Business Bureau's Torch Award for Ethics — with 40 employees and generations of
loyal customers.
It was blessing-upon-blessing three years ago when Mike was able to hand management of the business over to his son, Jared. "We have customers who've been with us for 40 years," Jared said. "We have families where we work for the grown kids, their parents, and their grandparents. My dad has built up a reputation by treating all of them — and our employees — the way he would like to be treated. It's an honor for me to continue his legacy of doing all we do for the glory of God."
Customer Reviewed
Almost 1,000 online reviews attest to the hard work, honesty, professionalism, and knowledge of this family-owned and operated company. In a long line of five-star reviews, Advent employees and management are described as "prompt, thorough, friendly, courteous, clean, polite, smart as a whip," and more.
One long-time customer had this to say:
"As always over the past 15 years, they were on time, respectful, knowledgeable, and efficient with a diligent work ethic. I could go on and on. They installed my AC and furnace yesterday quickly, with great care, and left the attic workspace and everywhere they walked in the house cleaner than it was before they came. The Advent comfort specialist who has helped us update the HVAC system in our home over the past three years is super knowledgeable and professional. There's never any sales pressure and she's careful to explain the most technical components in layman's terms we can understand. Everyone at Advent — receptionists, technicians, service specialists, and installers — provides service to meet and exceed our expectations. We are customers for life."
Maintaining Core Values
As the company has grown and as Jared worked his way through every possible position, his dad faced a challenge to grow the company while maintaining the values of a small, local, family-owned business. But as Matthew 6:33 promises, when they sought God first and day after day worked in a way that brought Him glory,
success followed.
The tiny company Mike started 41 years ago now serves most of DFW, offering comfort-focused residential services including repair, maintenance, new construction, replacement, and installation of HVAC systems. They also specialize in ductless cooling systems and split heating, air purification services, 24/7 emergency services with no overtime fees and more. Advent employees live, work, play, and worship right here in Greater DFW. They love this community and are committed to making it the best it can be.
Investing in Employees
Jared says one of the core passions he learned from his dad was helping people get the most out of life. That refers to customers who rely on them to keep their homes warm in winter, cool in summer, and energy efficient all year round. But it also refers to investing in the lives of Advent employees. "Dad was all about helping our employees and their families live their best lives," he said. "I'm blessed to continue that legacy. Our employees have health insurance that's completely paid by the company, and we've recently doubled their paid days off. We're big on training, mentoring, and continuing education, so our employees can grow and develop in the field." It's no surprise that some of those employees have stayed with Advent Air Conditioning for decades.
Supporting Our Community
A firm believer in giving back to the community, Jared is not only active in his home church, but he volunteers his time mentoring through a high school entrepreneur class. "I volunteer with several high schools across North Texas developing and working with trade classes," he said. "We also offer paid internships for high school students and have been able to offer some of them employment after they graduate.
"It's important to us that we have people within this company who have a passion for life, a passion for people, and a passion for doing the right thing for our customers," Jared said. "I want to see this business grow, but as we do, I want to make sure we never forget about our core values of going beyond, curiosity, sense of urgency, and honesty, until I hand the reigns over to my own son someday."
Top Rated with HomeAdvisor
Five-Star Contractor on Houzz.com
Top-Rated HVAC Company on Angi (formerly Angie's List)

Winner Better Business Bureau Torch Award for Ethics
Mention this story during the month of June 2022 and receive a free gift when signing up for
a membership!
500 South Kealy Avenue
Lewisville, Texas 75057
(469) 240-5456
AdventAir.com
License TACLA001216C