Fruit of the Vine
A number of years ago my husband began experiencing various unexplained symptoms. Unfortunately they were symptoms common to a number of different illnesses. We visited multiple doctors who were unable to diagnose the problem.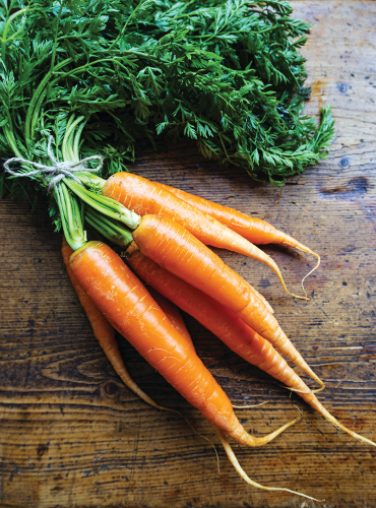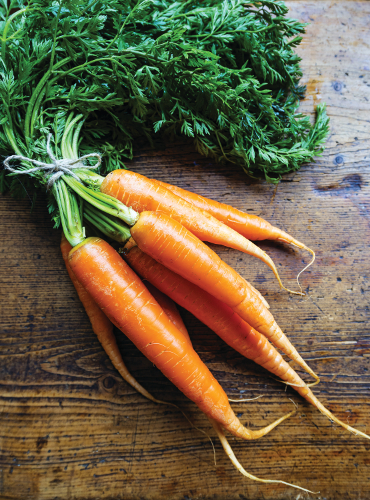 During that time I really hit my knees to hear from the Lord. A couple things came to me. Number one: that this sickness would not end in death but it would be for His glory. When I shared the news with my husband, he jokingly responded with a disheartened, "Well, great!" He felt horrible—like having the flu on steroids. The second thing I sensed the Lord say was to change our diet. This was several years ago, before the craze of eating clean had taken off. My husband and I discovered that cutting out the white stuff helped him feel a little better. The white stuff includes things like white bread, sugar, etc. We didn't become fanatical; we just tried to eliminate much of the processed and unhealthy foods from our diet.
In his new book, The Daniel Plan, Rick Warren along with top experts said, "How many of us have ever considered that food can heal? This is the biggest scientific discovery since the germ theory of disease and antibiotics: food is medicine. Food is the most powerful drug on the planet. It can improve the expression of thousands of genes, balance dozens of hormones, and optimize tens of thousand of protein networks. It can cure most chronic diseases, and it works faster, better, and cheaper than any drug––and all the side effects are good ones." They shared their simple philosophy: if it was grown on a plant, eat it. If it was made in a plant, leave it on the shelf.
The backstory behind pastor Warren's book happened as he was baptizing 827 adults in one day. "Wow! Everybody's FAT!" Warren thought. He admits it wasn't a very spiritual thought. However, based on the average weight of Americans, he'd lifted more than 145,000 pounds! Warren's next thought was more personal and pointed, "But I'm fat too! I'm as out of shape as everyone else is!"
The book addresses food along with other elements that affect health for good or for bad. The five essentials: faith, food, fitness, focus and friends.
Where the doctors were unable to give us any answers concerning my husband's health the Lord was able. Too many times we depend solely on doctors, health care systems or something else. I'm thankful that we could only depend on God because our faith grew. Warren writes: "Hebrew 11: 1 says, 'Now faith is confidence in what we hope for and assurance about what we do not see.' Faith is visualizing the future in advance. It is seeing the future in the present. Every great achievement began when somebody saw it in advance. When President John F. Kennedy issued the challenge to put a man on the moon, the technology hadn't even been invented to do it. The same is true when it comes to getting healthy. You look in the mirror and believe that, with God's help, you'll get healthy even though the person staring back at you is exhausted, stressed, out of shape, or overweight."
The journey of faith is not about willpower, it's about His power and grace. "God's power is the key to any transformational change in our lives, including our health," said Warren.
I can't tell you from the time the Lord spoke to my heart to change our diet that we've done it perfectly. As the book explains, "Failure is a part of everyone's journey. But it is your attitude toward failure that will determine your ultimate success. Focus and a healthy mind can help you have the right attitude toward failure."
Focus is another key essential as Warren writes. "Your mental health is vital for your overall health. Negative thoughts, positive thoughts, or lack of thought can consume you. Depending on which one consumes the most of your mind, you could make or break your health before you get started. Whatever gets the most of your mind's attention will direct many other areas of your life."
To repent means changing your mind: Whatever is true, whatever is noble, whatever is right, whatever is pure, whatever is lovely, whatever is admirable––think about such things. (Philippians 4:8) Part of staying focused is being able to develop mastery over the quality of your thoughts. Thoughts lie––they lie a lot. It is often your uninvestigated thoughts that drive depression, anxiety, fear, and overeating that derail progress toward better health.
"One of the most important parts of the Focus Essential is to know your motivation, or why you must get healthy," wrote Warren. For example, do you know your body is fearfully and wonderfully made by God for God? Your story is part of a much greater story and you have a unique and beautiful destiny to fulfill. You are loved beyond your wildest imagination and God desires for you to prosper and be in health even as your soul is prospering! (3 John 2)
I've mentioned food, faith and focus. Now I'm going to talk personally regarding the last two essentials in Warren's book, fitness and friends. We recently moved and I found myself in a bit of a funk. The move was stressful. We definitely weren't eating right, as our new home was being remodeled it was fast food on the fly. My husband was having a hard time adjusting to the new environment, neither one of us were sleeping well. Then, out of the blue my friend Tammy called. "Do you want to work out with Tamara and me?" They were working with a personal trainer in a local gym. I didn't want to work out. I strongly dislike working out, but I really love hanging out with my friends. Our schedules are so full that we rarely get to spend time together, so I said yes. And, that phone call turned out to be truly life changing.
I've worked out in the past, but I've always given up after a number of months. This time, the dramatic change I experienced pushed me to continue. I was able to sleep at night. My foggy brain began to clear, I had more energy and I started feeling happy again!
Here in lies what Warren calls "the secret sauce", community, support, our friends! Without that phone call I'm not sure how I would have pulled out of the pit. Warren explained, "When it comes to your health, every body needs a buddy. After all, God created the universe in such a way that we need each other. In fact, the New Testament uses the phrase one another over and over. It says love one another, encourage one another, serve one another, support one another. The word "support" literally means to increase one another's potential."
Ecclesiastes 4:9-13 tells us two people are better off than one, for they can help each other succeed. If one person falls, the other can reach out and help. But someone who falls alone is in real trouble. Likewise, two people lying close together can keep each other warm. But how can one be warm alone? A person standing alone can be attacked and defeated, but two can stand back-to-back and conquer. Three are even better, for a triple-braided cord is not easily broken. If your friends don't call you, call them! Someone you know is waiting for an invitation to a fuller life and better health.
The three of us have each other and we have a coach to cheer us on. But, you know what I love most about our workout? Not only is a triple-braided cord not easily broken, but wherever two or three are gathered in His name, He's there. He's right there in the midst of us. I wish I could tell you I turned some corner and enjoy working out now. They say there's some point where you push beyond this invisible wall and you desire to work out. It hasn't happened for me. I don't enjoy exercise and whenever I complain or say it hurts our coach corrects me. "Feel's good?" she asks. Well, if good means bad like the word bad is used to describe something good… sure.
The truth is I do feel good. The enemy of your soul comes to steal and kill and destroy you. Jesus came to give life, real and eternal life, more and better life than we ever dreamed of.