Family trekking through artsy Sedona and the magnificent Grand Canyon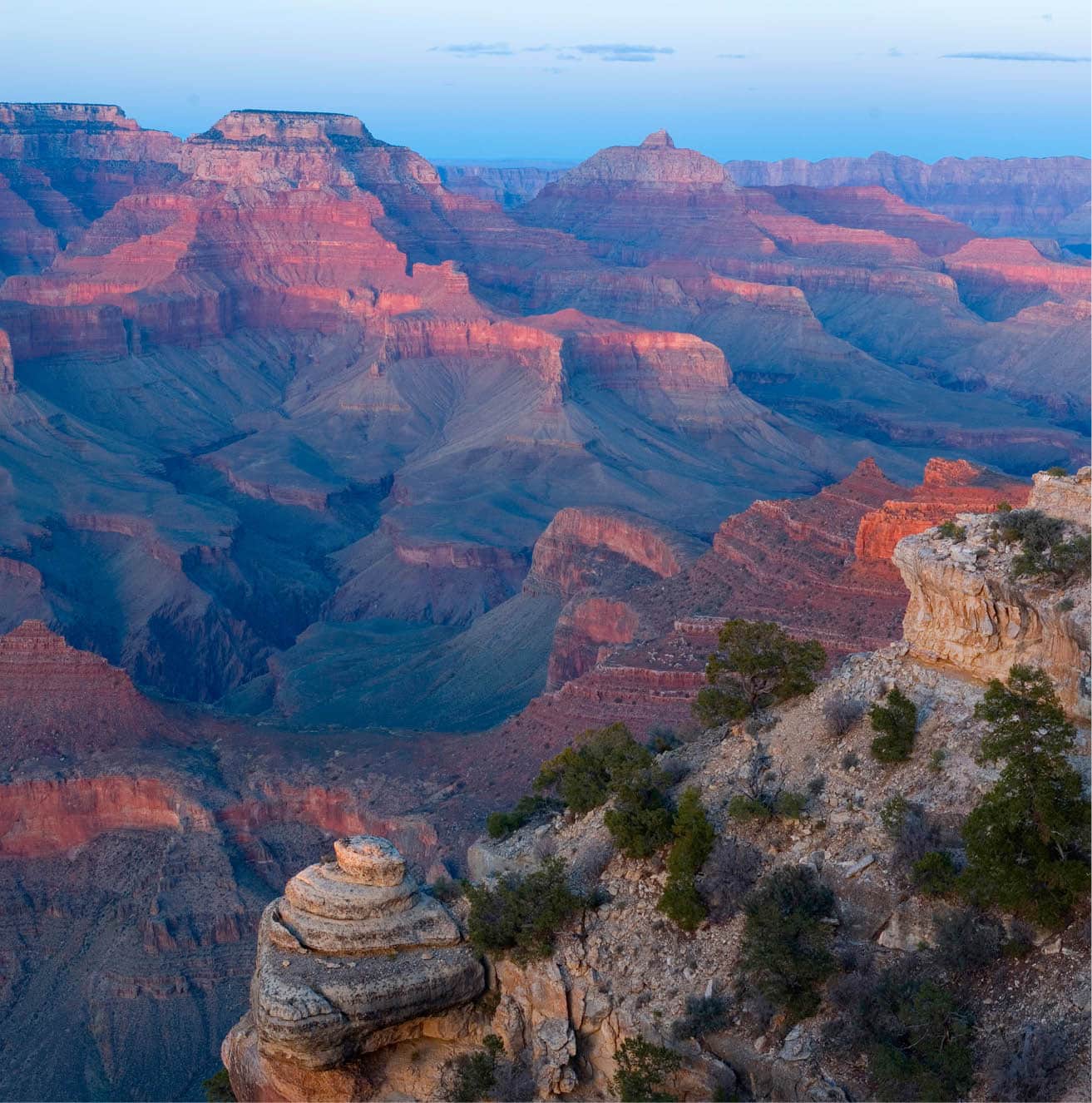 Deciding to splurge on a weeklong family vacation was easy. Choosing a destination everyone was on board with… not so much. Our children are eclectic—the adventurous, fun-loving scientist, the posh princess accountant, the artsy new age actor and playwright. (And thankfully, a couple of significant others who are generally up for anything.) After weeks of searching for potential destinations, we came up with a trip that offered something for everyone—Sedona, Arizona, with a two-night stay at the Grand Canyon. We bought airline tickets and booked an upscale condo and a hillside house with breathtaking views so everyone would have enough room. And then we went.
Blazing Sunset Among the Red Rocks
The drive from the Phoenix airport to Sedona was mostly unremarkable, winding through miles of brown desert hills dotted with cacti. Then the road curved and suddenly magnificent red rock formations appeared. The views were so breathtaking that we quickly understood why everyone raves about Sedona. With the sky ablaze at sunset and the red rock hills serving as a backdrop, nature in all its glory welcomed us to this slice of desert heaven on earth.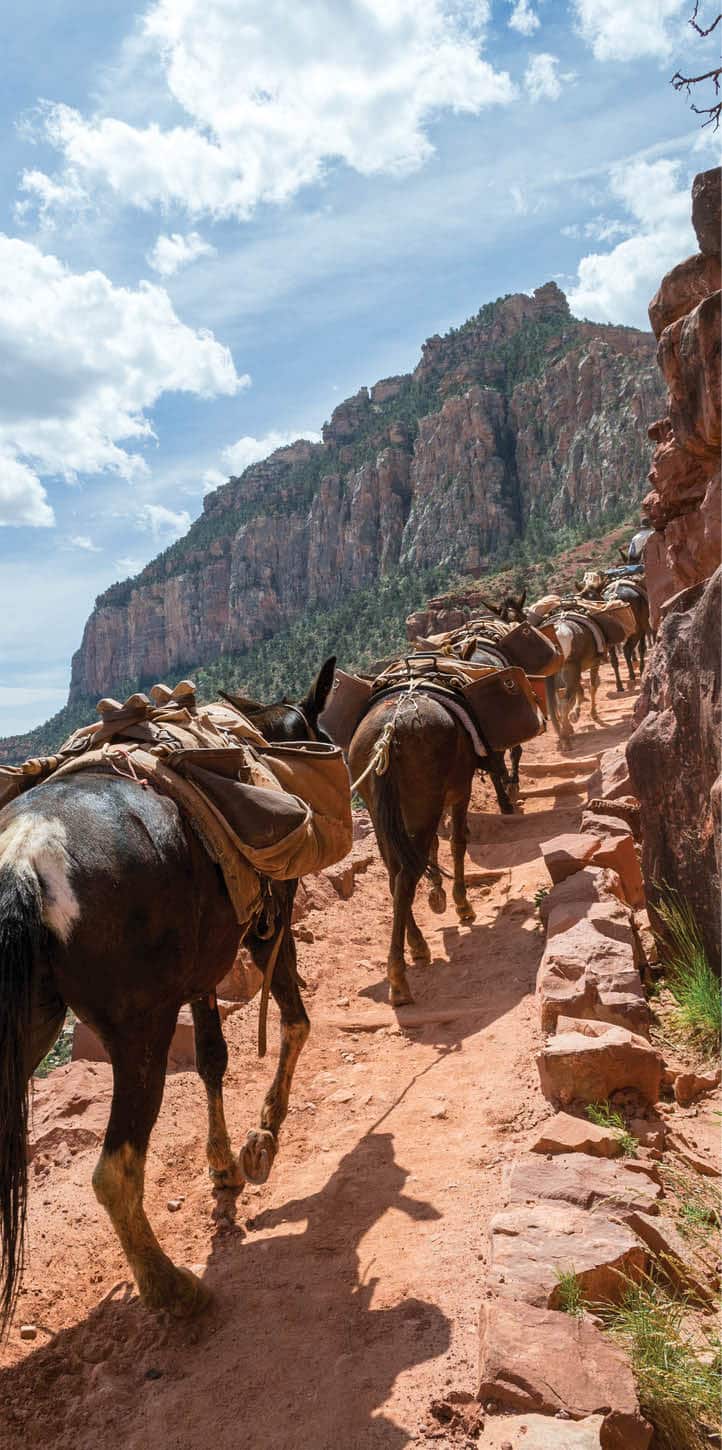 High in the Sky
My husband and I were up before daybreak to take a hot air balloon ride at sunrise. The kids opted to spend the morning hiking the two-mile round trip trail to Devil's Bridge, the largest natural stone arch in the Sedona area.
Having never ballooned before, I was a bit apprehensive, but climbing into the high basket while wearing tight fitting jeans ended up being the only real obstacle I had to overcome. Once we were in the basket, our self-professed "balloon driver" fired up the burner and we began to gently float up and away. The absolute silence and stillness between burner firings was blissfully peaceful. As we glided through the air, the thin morning light gave us a birds-eye view of the sprawling countryside beneath us. We spied jack rabbits foraging as the desert came to life.
Following a surprisingly soft landing, we enjoyed a champagne toast with others in the balloon tour group before heading back to town. It was an incredible experience, but only the first of many.
That evening we compared our adventures of the day while preparing dinner at the house, which had a fabulous deck with a grill and large open kitchen and dining area. The wine and conversation flowed as we dined on a crisp salad, sizzling steaks, perfectly grilled chicken, and veggies. The familial feast ended with light angel food cake, fresh strawberries, and whipped cream. Delicious in any setting, but moreso while surrounded by family.
Over the Boulders
The next morning my husband and I sipped coffee while admiring gorgeous vistas through huge picture windows, then did a bit of hiking on the trails behind the house to help work off dinner from the night before. Around noon our family met up at Pink Jeep Tours for a private off-road adventure. The Jeep, specially modified for climbing over boulders, crawled along the rugged terrain as majestic red rock formations loomed above us. The slopes weren't vertical, but it sure felt like it a couple of times! Once we reached our destination—Merry-Go-Round Rock—we were in awe of the jaw-dropping panorama.
Our day ended at award-winning Elote Cafe, which, hands down, has the best cuisine in Sedona. The menu highlights include entrees such as grilled adobo-seasoned wild Alaskan halibut with salsa verde and lime aioli, and pork cheeks served with cascabel chile sauce, grandma's corn cake, and buttermilk cumin drizzle. Luckily, we went hot air ballooning the day before this meal, otherwise the balloon may not have made it off the ground!
Vortexes and Portals, Alien Landings and Crystals
Sedona definitely has a quirky side. Apparently weird stuff happens there, including UFO sightings. According to local folklore, Star People were present in Sedona and there are tunnels leading from Sedona to another space-time dimension. Known for its special energies and frequencies, Sedona is said to have whirling masses of energy called vortexes that supposedly affect people who come in proximity with them. I didn't feel anything different standing right next to a vortex, but it was fun to give it a try and get some exercise.
Shopping is a major past time in Sedona. Boutiques filled with unique gifts, apparel, candles, and art are plentiful. My daughter—the artsy one—was inspired to pick up some fanciful beads and made a necklace. The rock and crystal shops are especially fun to poke around in, even if you aren't a rock hound.

Two Unforgettable Nights at the Grand Canyon
The drive from Sedona to the Grand Canyon takes a couple of hours. You can do the Grand Canyon in a long day trip, but we wanted ample time to explore so we booked rooms at the iconic Thunderbird Lodge. Built in the late 1960s, Thunderbird Lodge sits on the Rim Trail of the Grand Canyon. The comfortable lodge is conveniently within walking distance to restaurants, gift shops, Kolb Studio, Vercamps Visitor Center, and the Bright Angel Trail Head.
As for the Grand Canyon itself—how does one describe the indescribable? I can only imagine what the early explorers thought when they first laid eyes on this vast, powerful, and awe-inspiring canyon. You can't help but wonder about your place in the world when you're standing at
the edge.
We hiked along the well-maintained Rim Trail, often peering into the steep-sided canyon carved by the Colorado River. Admittedly, the kids hiked farther than my husband and I did. Instead, we drove to the Grand Canyon West Skywalk, which allows you to walk 70 feet out from the rim and peer a mile down into the canyon from the
glass floor!
After an active day, we freshened up and unwound with drinks and dinner at El Tovar Dining Room, where Old World elegance meets with contemporary cuisine and a great wine list. My thoroughly carnivorous husband enjoyed the hand-cut, locally sourced grilled New York Strip with a coffee dry rub and a 1554 lager demi-glace. I ordered the boneless chicken breasts over angel hair pasta with mushroom sherry sauce—a dish that has been on El Tovar's menu since 1947.
Up bright and early on our second day at the Grand Canyon, we rode mules 2,300 feet down precarious cliff switchback paths and dusty ledges to the bottom of the Canyon. Suffering from acrophobia a bit, I had to close my eyes a couple of times, but the unforgettable ride was well worth it.
That evening, our family headed out to Hermit's Rest Road, where we took in spectacular views of a Monet-like sunset over the craggy canyon cliffs. Indeed, some of the best things in life are free!
So-Long…for Now
Sitting at the Phoenix airport, we vowed to return someday soon for another family adventure. After all, memories made together last a lifetime. My husband and I imagine our children, long after we're gone, talking about our wonderful family trips to Arizona's red rock country. Wouldn't that be grand?
By Annette Brooks