BY MELISSA TATE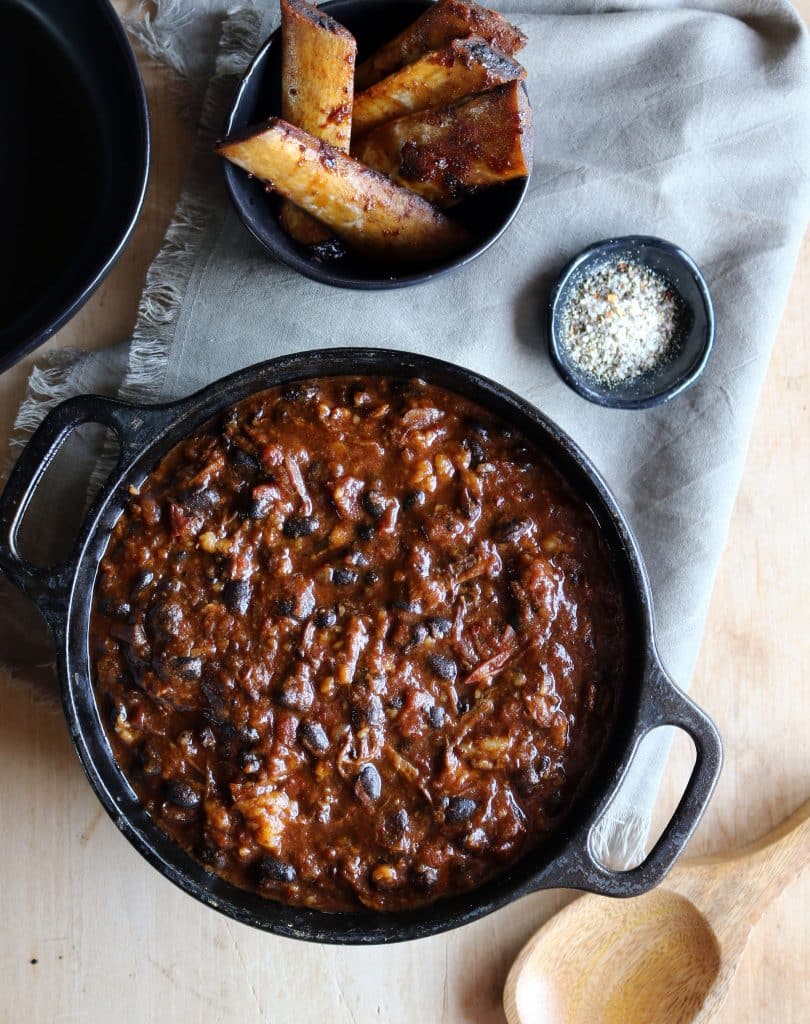 Tate Farms Short Rib & Black Bean Chili
Makes: 6 to 8 servings | Prep time: 40 min. | Cook time: 3 ½ hrs.

Ingredients
Seasoning mixture
1 ¼ Tbsp. salt
1 Tbsp. pepper
¾ Tbsp. garlic powder
½ Tbsp. onion powder
¼ tsp. red pepper flakes.
Chili
2 Tbsp. olive oil
2 ½ lbs. beef short ribs on the bone, preferably grass-fed, grass-finished beef
2 medium onions, diced
1 (6 oz.) can of tomato paste
1 tsp. onion powder
1 tsp. garlic powder
1 tsp. cumin
1 tsp. smoked paprika
3 dried ancho chilis, remove stem & seeds, diced
2 chipotle chiles in adobo, diced
12 oz. freshly brewed coffee
2 cups chicken broth
2 (14 oz.) cans black beans, drained and rinsed
1 (14 oz.) can diced tomatoes, in their juice
Garnish
Cotija cheese, lime wedges, fresh cilantro
Directions
Thaw short ribs and season all sides with seasoning mixture. Let sit at room temperature for 30 minutes. PREHEAT oven to 350°. In a large Dutch oven or cast-iron pot, heat olive oil on high heat. Add short ribs, searing on each side, until browned. About 8 minutes. Remove ribs from pan and reduce heat to medium/low. Add onions and cook about 10 minutes, stirring occasionally. While onions cook, combine coffee, tomato paste, onion powder, garlic powder, cumin, smoked paprika, dried ancho chiles, and chipotle chiles in blender and puree until smooth. Pour mixture into the pot with the onions, stir well, making sure to touch the bottom of the pot to incorporate the onions and deglaze the pan. Add chicken broth, black beans, and tomatoes. Stir to combine. Return short ribs to pot and submerge in the mixture. Cover and cook in the oven for 3 hours or until ribs are fork tender. Check periodically to make sure the chili isn't losing too much liquid. Add extra chicken broth or water if it begins to get dry. Remove from oven when ribs are fully cooked and tender. Shred beef with tongs or two forks. Remove any large pieces of fat and all bones. Stir to combine beef. Simmer on the lowest stove-top setting for 30 more minutes. Serve with a squeeze of fresh lime, Cotija cheese, and chopped fresh cilantro.
Tips and Tricks
This chili is enjoyed best with an ice-cold Topo Chico and a side of fresh tortilla chips. The squeeze of lime on top may seem out of place but do yourself a favor and try it!
---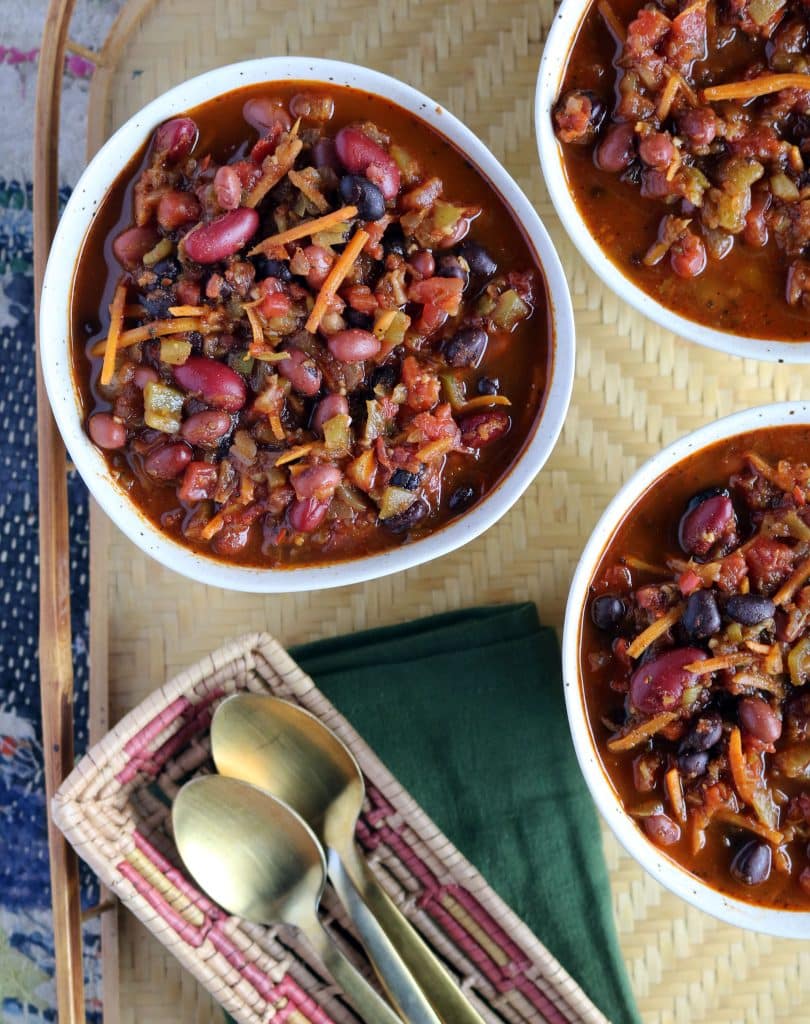 Easy Vegetarian Chili
Makes: 8 to 10 servings | Prep time: 20 min. | Cook time: 60 min.
Ingredients
2 Tbsp. olive oil
1 large onion, diced
2 large bell peppers, diced
2 cups of shredded carrots
2 celery stalks, diced
1 Tbsp. minced garlic
2 Tbsp. chili powder
1 Tbsp. ground cumin
2 tsp. dried oregano
2 tsp. salt, more to taste
½ tsp. ground black pepper
¼ tsp. cayenne pepper
1 (28 oz.) can diced tomatoes
2 (4 oz.) cans roasted green chiles, undrained
1 (15 oz.) can black beans, drained and rinsed
1 (15 oz.) can kidney beans, drained and rinsed
1 (15 oz). can pinto beans, drained and rinsed | 1 ½ cups vegetable broth
Directions
In a large pot, heat oil over medium heat. Add onion, bell peppers, carrot, celery, and garlic. Cook, occasionally stirring, until tender (8 to 10 minutes). Add chili powder, cumin, oregano, salt, black pepper, and cayenne pepper. Stir to coat veggies. Add tomatoes and their juices, green chiles, beans, and broth. Stir to combine. Bring to a boil, then simmer, uncovered, 45 minutes to one hour. Serve with toppings of your choice such as jalapeños and cheese.
Tips and Tricks
This vegetarian chili is amazing, served inside a sourdough bread bowl to create a full meal that will satisfy all.
---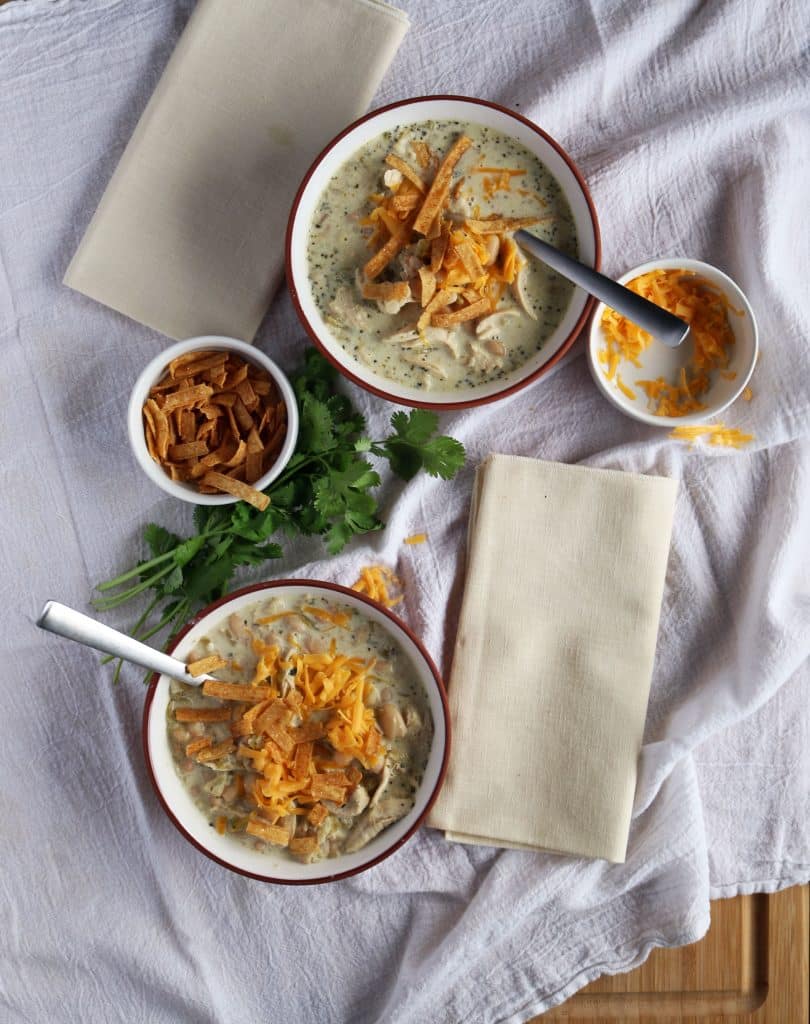 White Chicken Chili for Two
(Recipe by Christina Lane of Dessert for Two)
Makes: 2 large servINGS | Prep time: 10 min. | Cook time: 20 min.
Ingredients
½ pound boneless, skinless chicken tenders (2 to 3 tenders)
1 ¼ cups chicken stock
2 tsp. olive oil
½ small white onion, diced
2 cloves garlic, minced
½ tsp. dried oregano
1 (4 oz.) can of mild chopped green chiles
1 (15 oz.) can white beans (Great Northern Beans), drained and rinsed
½ tsp. salt
Ground black pepper, to taste
½ cup full-fat sour cream
Cilantro, tortilla strips, grated cheese, jalapeños, and more sour cream, if desired, to garnish
Directions
Add chicken tenders and chicken stock to a small soup pot. Bring to a simmer, turn off heat, cover and let cook all the way through, about 10 minutes. Check to ensure chicken is properly cooked. If it is not, continue to cook until it is done. After it is cooked, remove the chicken from the broth. Pour broth into a bowl and set aside. Shred the chicken and set aside. Wipe out the pot you used, add olive oil, and heat on medium-high. Add the diced onion to the pan and cook until softened, about 4 minutes. Sprinkle the garlic and oregano on top of onions and sauté for 30 seconds. Add the green chiles, beans, salt, and pepper. Pour the reserved chicken broth and chicken back into the pan and bring to a gentle simmer. Just before serving, turn off the heat and stir in the ½ cup of sour cream. Divide the soup between two bowls and garnish with sour cream, tortilla strips, shredded cheese, cilantro, etc.
Tips and Tricks
Oftentimes, chili recipes yield too much volume for a small family. This recipe is perfect when cooking for one or two people. It is easily frozen and will last in the freezer for up to 2 months.
---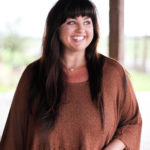 Melissa is a freelance food writer with a passion for hospitality and home cooked meals. Along with writing, she helps her husband run their working ranch and event venue in Rockwall, Texas. To follow her cooking and ranching adventures visit MelissaTateTX.com or find her on Instagram at @melissatatetx