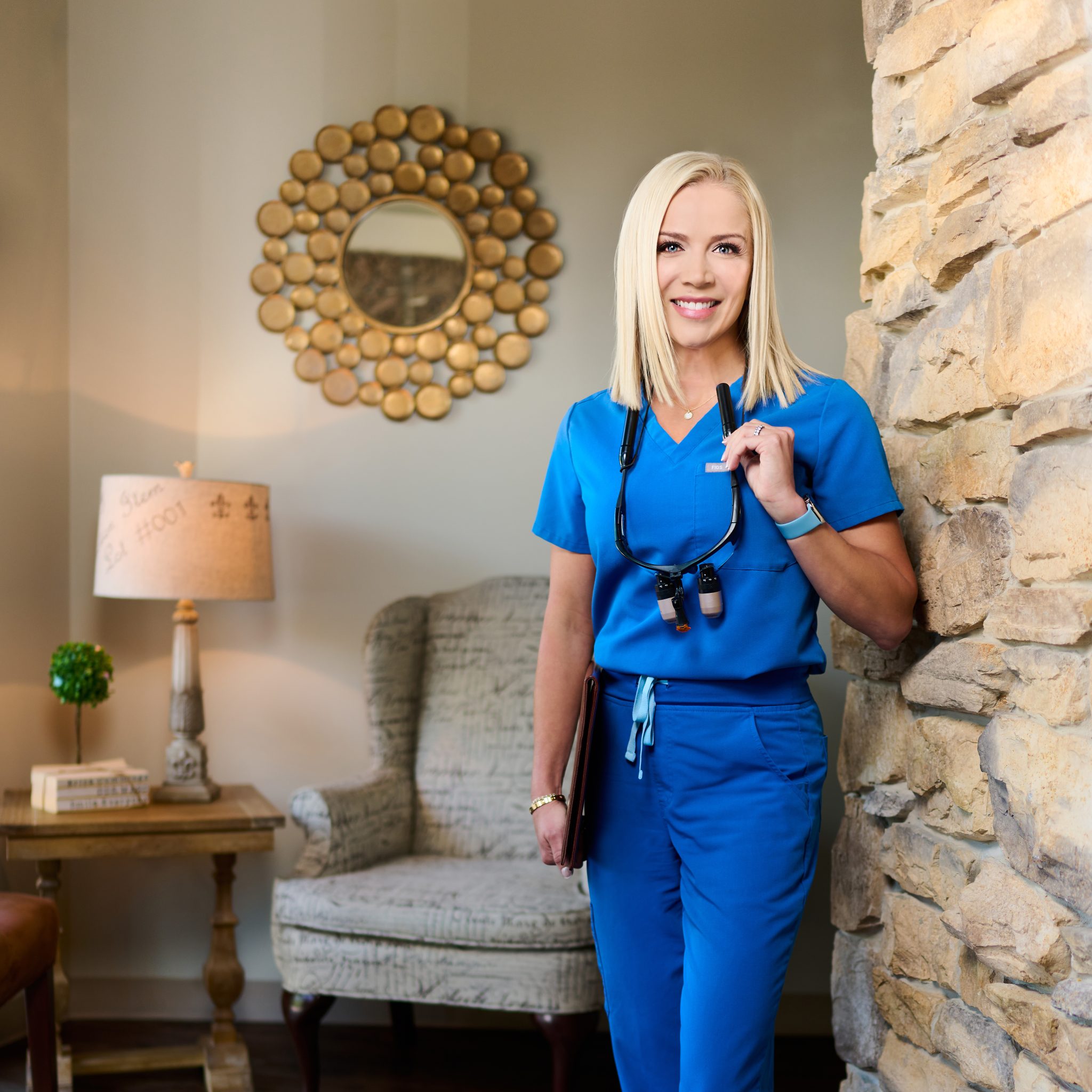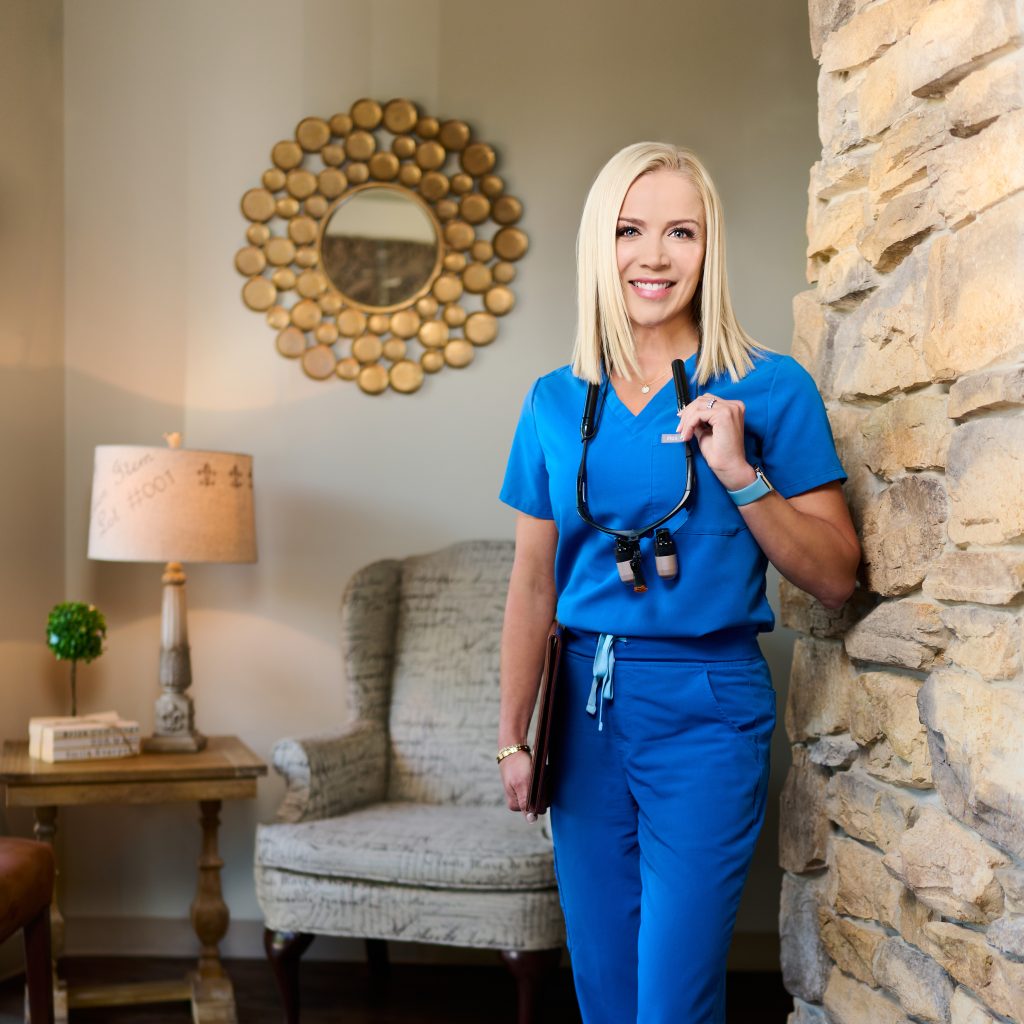 By
Melissa Gautier
| Photos by
Karina Eremina of Joy of the Moment Photography
---
Determining the origin of a patient's dental and health issues involves a multi-faceted approach. At Sterling Ridge Cosmetic and Family Dentistry, Dr. Erica Cummings leaves no stone unturned. She is dedicated to finding answers by nudging the boundaries of general dentistry. Her quest to find the true source of patients' dental issues lies in her desire to help them breathe easier, alleviate symptoms affecting their sleep, and achieve optimal health.
Even though Dr. Cummings was voted by Living readers as Best Family Dentist in The Woodlands this year, she is passionate about many aspects of dentistry. She helps patients of all ages, particularly in cosmetic dentistry and sleep dentistry. Her focus on cosmetic dentistry for aesthetic purposes as well as correcting misaligned arches for improved function goes hand-in-hand with sleep dentistry.
What is Sleep Dentistry?
Dental sleep medicine is an area of dental practice focused on examination and patient interviewing to uncover signs and symptoms of sleep-disordered breathing including snoring and obstructive sleep apnea. Doctors, sleep specialists, and dentists frequently work together to improve sleep disorders and snoring symptoms. By collaborating with physicians and specialists, Dr. Cummings can help minimize patients' sleep symptoms with custom oral appliances tailored to their needs. But before she does that, there's a discovery process to determine the cause of their symptoms and the best method for helping them.

Searching for Clues and Finding Answers
As of 2017, the American Dental Association requires all dentists to screen their patients for sleep-disordered breathing. Healthy sleep bathes and cleanses the brain, yet many of us fall short of a peaceful slumber. Dr. Cummings relies more on symptoms and current health conditions when snoring and sleep problems are in question. During a dental exam, Dr. Cummings takes note of adult patients having worn and tipped teeth, scalloped tongues, narrow nostrils, or high body mass index. She inquires further about other health issues they may suffer from. Hypertension, diabetes, migraines, acid reflux, and high blood pressure are of particular importance as these comorbidities are often present in patients with snoring and sleep apnea.
Left untreated, sleep disorders, sleep apnea, and chronic snoring can lead to serious health problems. When symptoms and risk factors are present, the Epworth Sleepiness Scale questionnaire is another tool. An at-home sleep test can be used by the patient in their own comfortable surroundings. Results are received from a board certified sleep physician, along with a prescription for an oral sleep appliance when deemed appropriate.
Chronic snoring or waking up gasping for air and/or choking are classic symptoms of obstructive sleep apnea (OSA). This happens when tissue in the back of the throat collapses, blocking the airway and reducing airflow to vital tissues while sleeping. "I make customized oral sleep appliances to support the mandible and hold the position of the tongue and surrounding structures," she says. This maintains a more stable airway, alleviating snoring and struggled breathing.
Child Screenings During Exams
Children are screened during their hygiene exams, interviewing the child and their parents about symptoms related to developmental and dental issues. Dr. Cummings looks for clues including arch size, lip posture, tongue tie, swallow patterns, dark circles under the eyes, large tonsils, and evidence of teeth grinding. Other symptoms may include misdiagnosed ADHD from lack of sleep, bed wetting, thumb sucking, mouth breathing, and picky eating habits (preferring only soft, easy-to-manage foods).
"Years of teeth misalignment will lead to permanent damage," Dr. Cummings says. "I work in conjunction with ENTs, myotherapists, orthodontists, and surgeons to guide proper bone growth and alignment in young children." For better sleep and oral posture in pediatric patients, oral appliances, expanders, and additional growth guidance devices can be used to create more tongue and airway space for nose breathing and for teeth to fit together harmoniously.
Friendly and Welcoming Environment
Dr. Cummings and her team want patients to feel safe and welcome like family. A stress-free atmosphere has been created with furnished amenities patients appreciate. Relaxing heat and massage chairs, blankets, and an overhead TV during treatment are offered. Additionally, Dr. Cummings offers nitrous oxide (laughing gas) for those who are apprehensive about being in the dental chair.
Expertise and Credentials
Erica K. Cummings, DDS, MAGD, D-ABDSM is highly trained in general and cosmetic dentistry and is board certified with the American Board of Dental Sleep Medicine (ABDSM). She's helped many people with health and sleep issues relating to dentistry.
Her dental studies began by earning an undergraduate degree from Texas A&M University, followed by her dental surgery doctorate in 2006 at the University of Texas Dental Branch in Houston. She completed her one-year general residency at St. Luke's Hospital in Bethlehem, Pennsylvania, followed by two years at a cosmetic practice and a pediatric dental practice. These experiences facilitated her methods for treating both children and adults.
After spending years of intense study and hands-on experience in sleep dentistry, she obtained the prestigious Mastership Award from the Academy of General Dentistry (AGD). It is the highest and most respected designation in the AGD. Masters are leaders in dentistry who have made a commitment to uphold the highest professional standards and ideals of the AGD. Dr. Cummings is currently pursuing accreditation with the American Academy of Cosmetic Dentistry (AACD).
Giving back through community service has always been one of Dr. Cummings' passions. Highlights of her dedicated service to others include participating in Give Kids a Smile Day, Dentistry from the Heart, numerous local sponsorships, and traveling to Guatemala to provide dentistry for the indigenous Mayans.
To learn more about how Dr. Cummings could help you and your family through cosmetic and sleep dentistry, please visit their website or call their office for details.
General dentistry

Sleep apnea and snoring

Crowns

Fillings

Dental implant restoration

Full mouth reconstruction

Teeth whitening
---
CONTACT
9955 Woodlands Parkway, Suite B
The Woodlands, Texas 77382