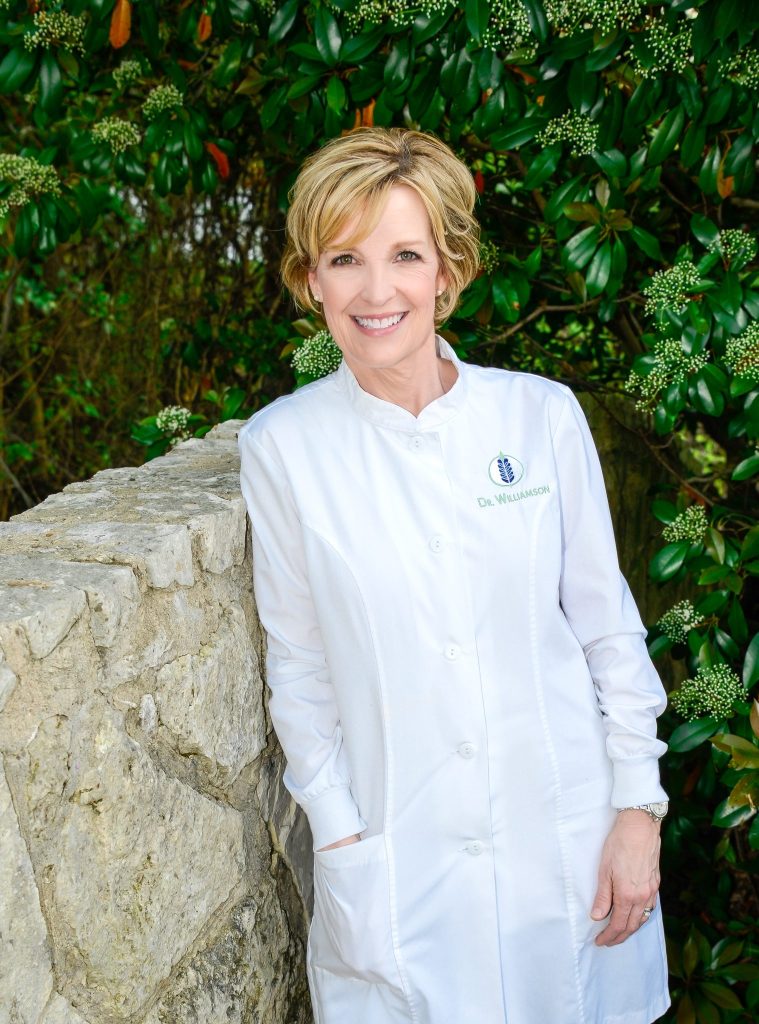 "We had tried whitening his teeth and it helped the overall color, but the white spot was visible. Then I heard about a new procedure where I can infiltrate the tooth with specialized liquids that diminishes the white spots. We were so focused on that one spot that we didn't even realize there was a smaller one on the other tooth."
– KAREN WILLIAMSON, DDS
By
Meredith Knight
---
Dr. Karen Williamson often hears patients ask, "Can anything be done to get rid of this white spot on my tooth?" White spots can appear on teeth due to fluorosis (caused by too much fluoride on the teeth during development) or demineralization. They can also appear after orthodontic treatment, in areas around the brackets that weren't brushed well enough, because part of the minerals of the tooth are now missing. When the light hits the tooth, you see a white spot. Whatever the reason, it can be bothersome when you look in the mirror and all you notice are the white rings or spots.
For most of the 30 years Dr. Williamson has practiced family dentistry, there wasn't much she could do about these pesky white spots. Now, however, she has a wonderful solution in her arsenal. "In the past, the only thing I could do was to whiten the rest of the tooth and bring it closer to the color of the white spot so it wasn't as noticeable," she said. "Porcelain veneers and bonding could serve to cover the entire tooth, including the white spot but required removal of healthy tooth structure. I hesitated to recommend such an invasive treatment, especially since the white spot usually goes further into the tooth than what you see."
One longtime patient of Dr. Williamson was facing that very dilemma and had resigned himself to getting a bonding procedure. "We had tried whitening his teeth and it helped the overall color, but the white spot was visible," Dr. Williamson said. "Then I heard about a new procedure where I can infiltrate the tooth with specialized liquids that diminishes the white spots." Dr. Williamson underwent training for this new technique and obtained the appropriate technology.
The procedure took only 30 minutes and was completely non-invasive and painless. The patient walked out of the office, a half hour later, with his white spot gone. "We were so focused on that one spot that we didn't even realize there was a smaller one on the other tooth," Dr. Williamson said. The patient is so happy with the outcome of this first procedure, he is returning to have the procedure done on the adjacent tooth.
Meet Dr. Williamson
Over the past 30 years, Dr. Williamson has provided general, restorative, and cosmetic dentistry to the families of Rockwall — and beyond — with an emphasis on incorporating the latest, most advanced technology into her practice for safer, more comfortable, and more precise treatment. For Dr. Williamson, that's meant well over 200 hours of continuing education each year. She's even currently working toward her certification in forensic dentistry to help offer closure to families who've lost a loved one through disaster or violence.
Dr. Williamson is a proud Rockwall resident. She obtained her dental degree from Baylor College of Dentistry in 1990 and completed a one-year residency program at the VA Medical Center in Dallas, specializing in general dentistry. She then completed additional training at Children's Hospital Dallas and Denton State School before opening her private general dentistry practice in Rockwall in 1993. Find out more at KarenWilliamsonDDS.com.
---
CONTACT
560 West Ralph Hall Parkway, Suite 104
Rockwall, Texas 75032
(469) 402-0024
KarenWilliamsonDDS.com