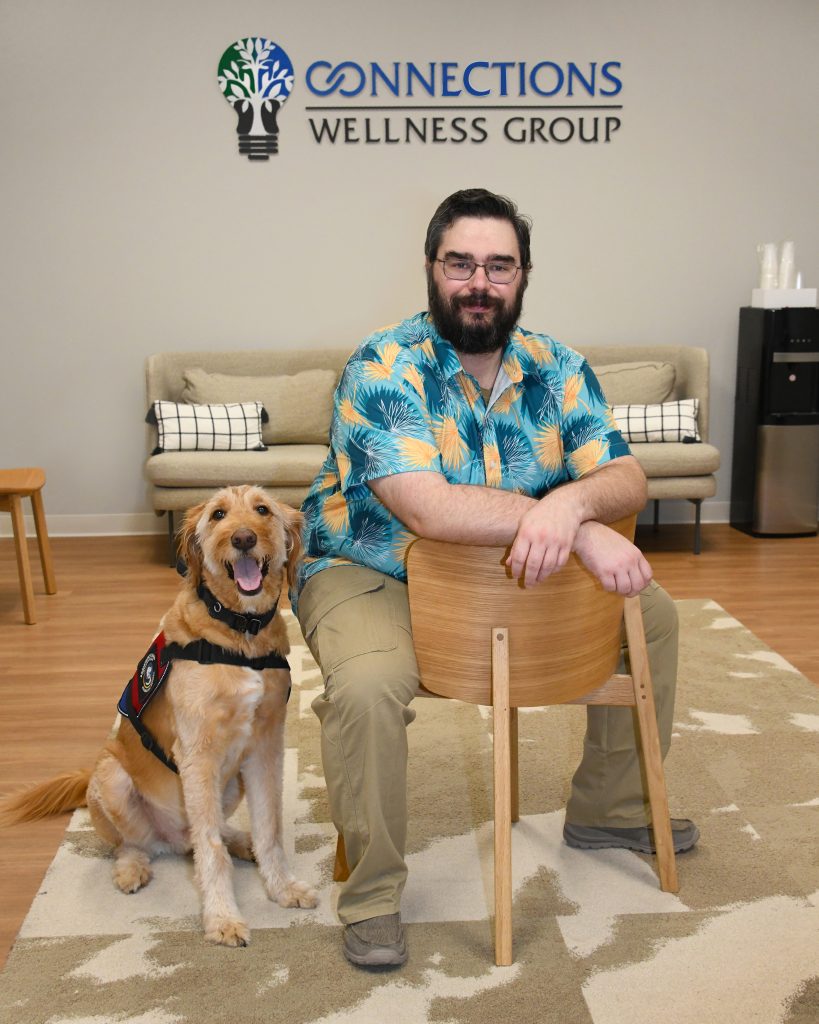 "We're a species designed to rely on one another to survive and thrive. We've acclimated to work with others. Our message to vets and first responders is that we will hear and help you. This is not a road you need to go alone. Please reach out and let us help you."
– Christopher Payne, MSW, LCSW, CPT – Counseling Therapist
By
Annette Brooks
| Photos by
Lake Pointe Photography
---
Our gratitude for our military veterans and first responders is immense. Few of us, however, can truly imagine the toll their jobs take on the psyche, but research data shines a light on the reality. Studies indicate the rate of depression among soldiers is five times higher than among civilians, and PTSD (post-traumatic stress disorder) is 15 times higher. And according to Psychiatric Times, it's estimated that 30% of first responders have developed mental health issues, more than 10% higher than the general population.
With Connections Wellness Group Rockwall's mental health treatment program for veterans and first responders, expert, personalized help is available and nearby. Counseling Therapist Christopher Payne, MSW, LCSW, CPT, specializes in helping veterans and first responders. Deployed to Iraq and Afghanistan for six years while serving in the U.S. Army, he's passionate about providing mental health care to veterans and first responder brothers and sisters. In fact, it was his experiences as a combat medic that inspired him to enter the mental health field.
"Vets and first responders calling for an appointment at Connections Wellness Group in Rockwall ask for me, or they're filtered to me," says Chris. His approach comes from genuine empathy and a deep understanding of why they feel like they do. As he puts it, "I've walked in their shoes. I got into the mental health profession to help people like me." He builds trust and develops a close rapport and meaningful connections with his clients.

Busting Myths, Dispelling Stigmas
It's tempting to think of military personnel and first responders as superhuman or even calloused somehow, but Chris Payne reminds us that police, fire, and vets are all very human, just like us.
"The general population is exposed to things like crime, fire, and death. Vets and first responders have a higher degree of exposure due to their professions, so issues such as PTSD, MDD (major depressive disorder), and GAD (generalized anxiety disorder) are more prevalent." He points out that they also work to cope with being stigmatized. "Law enforcement, for example, may be viewed as cold-hearted when it couldn't be further from the truth. All of this can significantly affect one's mental health and well-being."
Chris also points out a couple of the misconceptions people may have about vets and first responders afflicted with mental health issues.
"It's a myth that people with PTSD are dangerous. This isn't necessarily the case," he explains. Research backs this up, indicating most veterans and others with PTSD have never engaged in violence.
Another myth is that feeling suicidal is selfish. "This is simply untrue, and it stigmatizes people who feel hopelessness, helplessness, pain, and anguish." He implores everyone to become more aware of red flags that appear before an act of suicide, and adds, "Around 97% of people want to talk with someone about their suicidal feelings but hold back for fear of being misunderstood or unheard."
Lastly, Chris says that trying to power through mental health issues on your own is contrary to our basic human traits. "We're a species designed to rely on one another to survive and thrive. We've acclimated to work with others. Our message to vets and first responders is that we will hear and help you. This is not a road you need to go alone. Please reach out and let us help you."

Personalized Care for Vets and First Responders
Chris, who is EMDR-trained, uses a variety of therapeutic approaches to provide customized treatment for vets and first responders. They include but are not limited to CPT (cognitive processing therapy) and EMDR (eye movement desensitization and reprocessing) for PTSD.
EMDR is a psychotherapy that can help you process upsetting memories, thoughts, and feelings related to the trauma. By processing these experiences, you can get relief from PTSD symptoms.
CPT, a specific type of cognitive behavioral therapy for PTSD, teaches you how to evaluate and change the upsetting thoughts you've had since your trauma. By changing your thoughts, you can change how you feel.
Additionally, a program for veterans and first responders developed by Connections Wellness Group, Frontline, is provided through the McKinney location. Available in person and virtually, there's a partial hospitalization program (PHP) and an intensive outpatient program (IOP). The severity of a patient's symptoms will determine the level of care. Call the McKinney office at (469) 617-6166 for more information.
About Award-winning Connections Wellness Group
Connections Wellness Group offers personalized, accessible, cost-effective mental health solutions, serving residents throughout North Texas with 12 convenient locations. Their mission is to connect you to meaningful, life-improving situations which promote positive change for your overall wellness.
The Rockwall office serves both adults and children. Whether you're suffering from depression, anxiety, substance abuse, an eating disorder, self-harm, grief, loss, trauma, or another issue, Connections Wellness Group Rockwall encourages you to schedule a free consultation today.
Innovative, integrated treatment model

Therapy

Psychiatry

Medication management

Youth PHP and IOP (13 to 18)

Adult PHP and TOP (18 and up)

Telehealth mental health services

Accredited private school instruction

In-network with major insurance companies, Tricare
Pathway to Wellness and Recovery
Whether you or someone you love is a veteran or first responder struggling with PTSD, depression, anxiety, or another issue, please call Connections Wellness Group Rockwall at (469) 545-0160 and schedule a complimentary consultation.