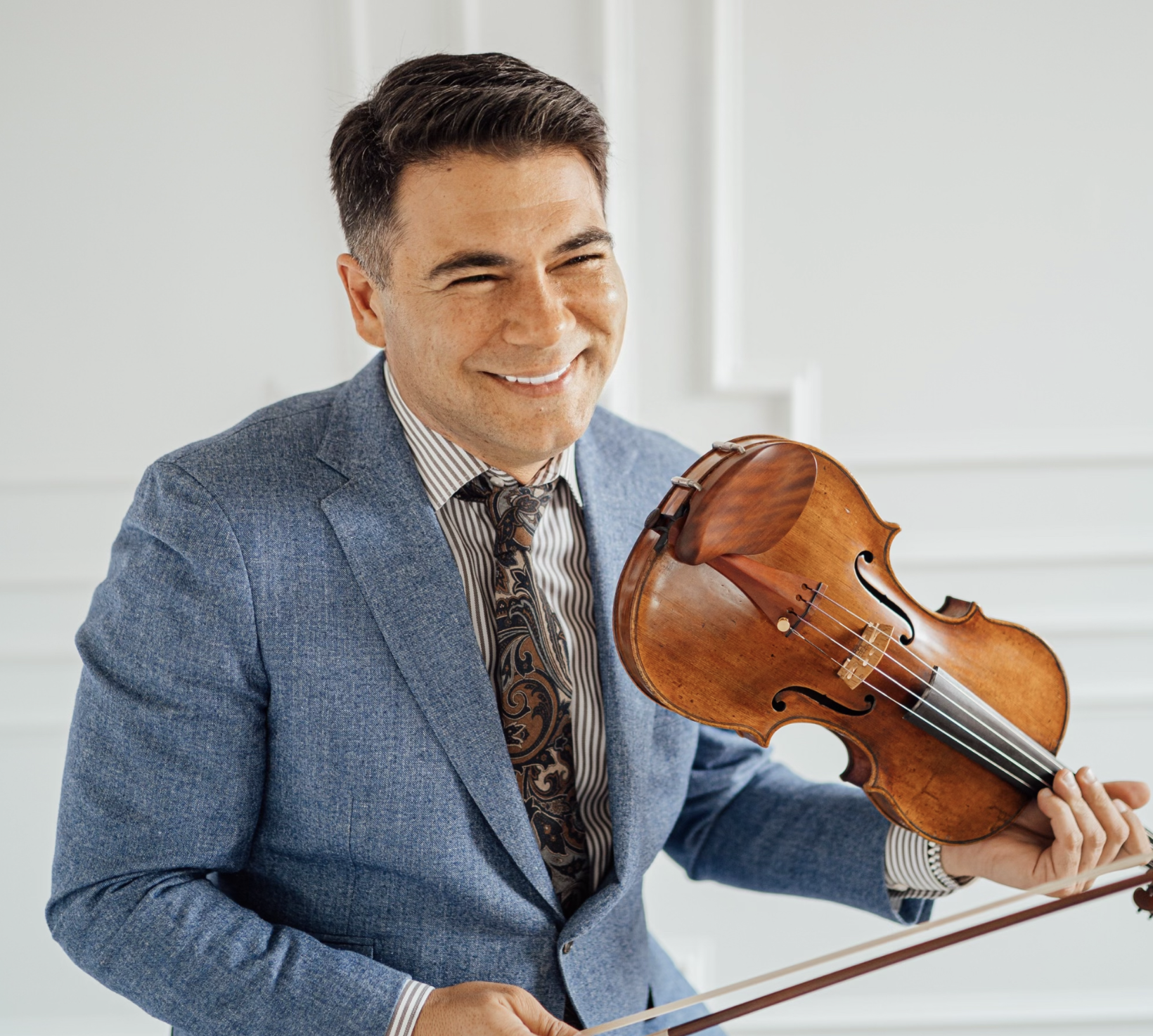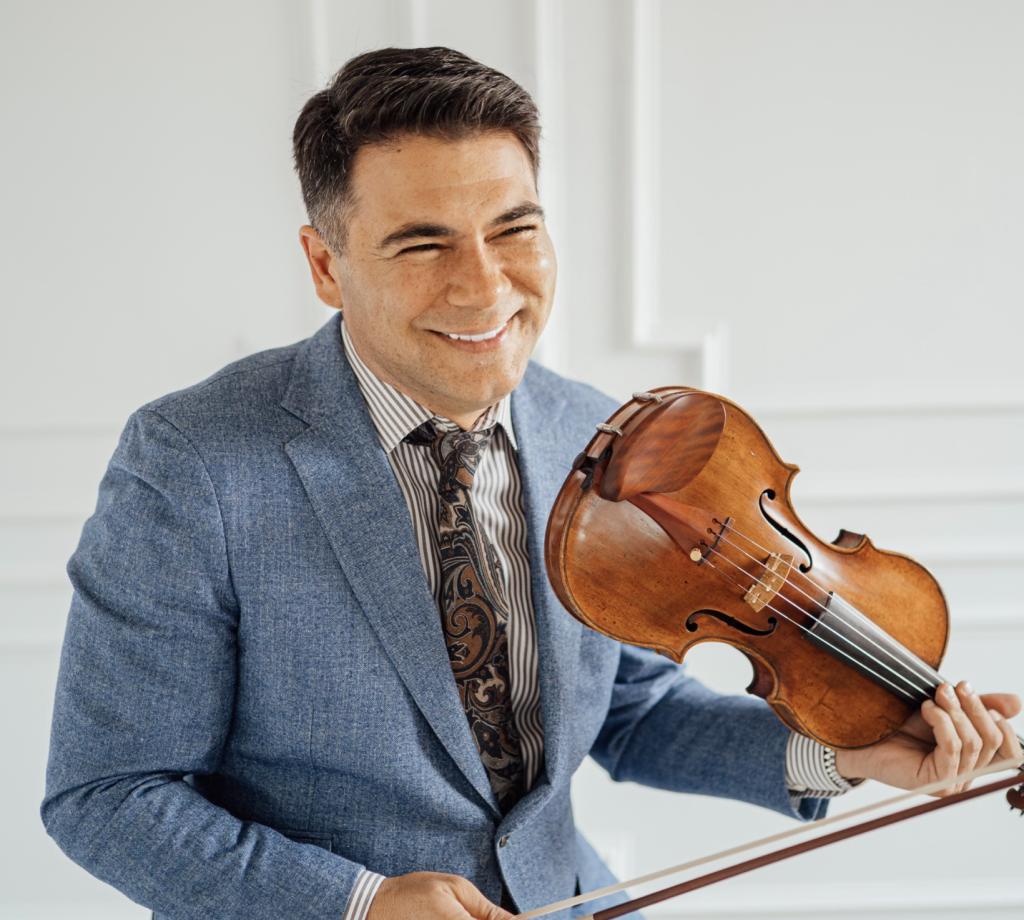 By
Melissa Gautier
---
It was only natural that Zeljko Pavlovic's interest in music began at such a young age. His family's musical history goes back hundreds of years, paving the way for his remarkable journey. His relentless passion for success in spite of life's adversities has propelled him to an unmatched level of achievement. An accomplished concert violinist, author, and founder/owner of Houston's prestigious Vivaldi Music Academy, Zeljko doesn't let a day go by without appreciating his family's rich musical history and the journey that ultimately brought him to Texas.
His love of music and interest in the violin began at the tender age of three in his home country of Bosnia, Sarajevo. By age 15, Zeljko was already a master violinist when he and his family escaped war-scarred Bosnia for the United States years ago. His talent and determination payed off, resulting in performances with top orchestras in the U.S. and abroad. "I realized how powerful music is," he said. "It's an essential part of my everyday life."
Fulfilling His Dream
When searching for music lessons for one of his young sons, Zeljko recognized they were an afterthought at many music stores, located in a small, cramped room at the back. He wanted a fun and entertaining learning experience for his son with quality music education. Unable to find that perfect combination, he set out to create a serious, yet enjoyable environment for children and adult music lessons by opening his own academy in Houston 10 years ago.
Since the beginning, the demand for enrollment was tremendous. "We used to have a two to three years waiting list," he said, eventually alleviating that issue by opening a total of seven Vivaldi locations including Houston, Sugar Land, Bellaire, Memorial, The Heights, and West University. Future plans include opening additional locations in San Antonio, Dallas, Arkansas, and Los Angeles. Construction will be finished in May for the San Antonio and Little Rock, Arkansas, locations.
This year, Vivaldi Music Academy is celebrating their 10th anniversary since opening in 2013. "We are the largest music academy in the United States," Zeljko stated. They offer lessons for cello, drum, flute, clarinet, guitar, piano, viola, violin, and voice, taught by the crème de la crème of teachers who are passionate about making a difference in students' lives.
World-Class Faculty
As the academy grows, it's important to Zeljko that the school maintains the quality teaching they've offered since the beginning. Vivaldi's teachers have diverse backgrounds with education from Julliard, Boston Conservatory, Rice University, and other prominent universities. Vivaldi invests time in thoughtfully pairing each student's personality and learning style to the demeanor and teaching style of the teacher. Teachers encourage and welcome feedback and suggestions when communicating with students' parents.
Some teachers have been happy to relocate from elsewhere in the United States for the opportunity to teach at a Vivaldi Music Academy. All of Vivaldi's teachers are also music performers. Many tour with bands and orchestras, performing everything from rock to classical music. In the fall, students look forward to their teachers performing on stage at faculty concerts.
Programs Offered
At Vivaldi, Zeljko has created a space where kids feel creative and can receive the highest level of music education. Children ages one through four start with the Seasons Program, where they learn musical rhythms and movement to music. They can already read music by age four as a result of Seasons' proprietary curriculum. By age five, students can transition to private lessons.
Impressive Concert Performances
Zeljko is passionate about developing amazing performance opportunities for kids of all ages and skill levels. "Mastering a musical instrument enhances your child's self-esteem and builds confidence for later in life," he said. Students serious about a career in music can eventually reach their goal, but Zeljko also focuses on creating opportunities for children aspiring to other professional fields. "I want them to experience how it feels to be up on a stage in front of an audience."
Although Zeljko has garnered many accolades and awards since opening Vivaldi, his most precious achievement is having the privilege of influencing thousands of young lives through unparalleled musical instruction. Every summer throughout the past ten years, Vivaldi students have provided magical performances to packed houses at Carnegie Hall in New York City and the Royal College of Music in London. Sold-out shows at Vivaldi's church in Venice and the Kennedy Center in Washington, D.C. are proof of the academy's musical excellence and popularity. Opportunities for performances are open to all students.
"I love giving parents the memory of seeing their child perform on stage at Carnegie Hall," Zeljko said. "I still have students and parents tell me what it meant to them." Some students even credit listing their Carnegie Hall performance on their resume as the reason they were accepted into their first choice of colleges.
The Benefits of Music
Zeljko believes music is a crucial element in a child's development, teaching them discipline, positive work ethic, and aiding in the development of capabilities. Studies conducted at the Brain and Creativity Institute at the University of Southern California concluded music instruction can improve regions in the brain responsible for processing information. Music has also been shown to boost and engage brain regions responsible for decision-making, focus, and inhibition of impulses. Positive improvement in cognitive skills including working memory was also found.
Vivaldi's enriching environment provides a creative place for developing and learning the art and discipline of musical study. Zeljko can't imagine a day without music in his life and looks forward to sharing his passion and excitement with future students, their families, and the community. For more information on Vivaldi Music Academy, performance videos, and additional locations, please visit their website.
---
Contact
2115 Lone Star Drive
Sugar Land, Texas 77479
(346) 330-2646
VivaldiMusicAcademy.com