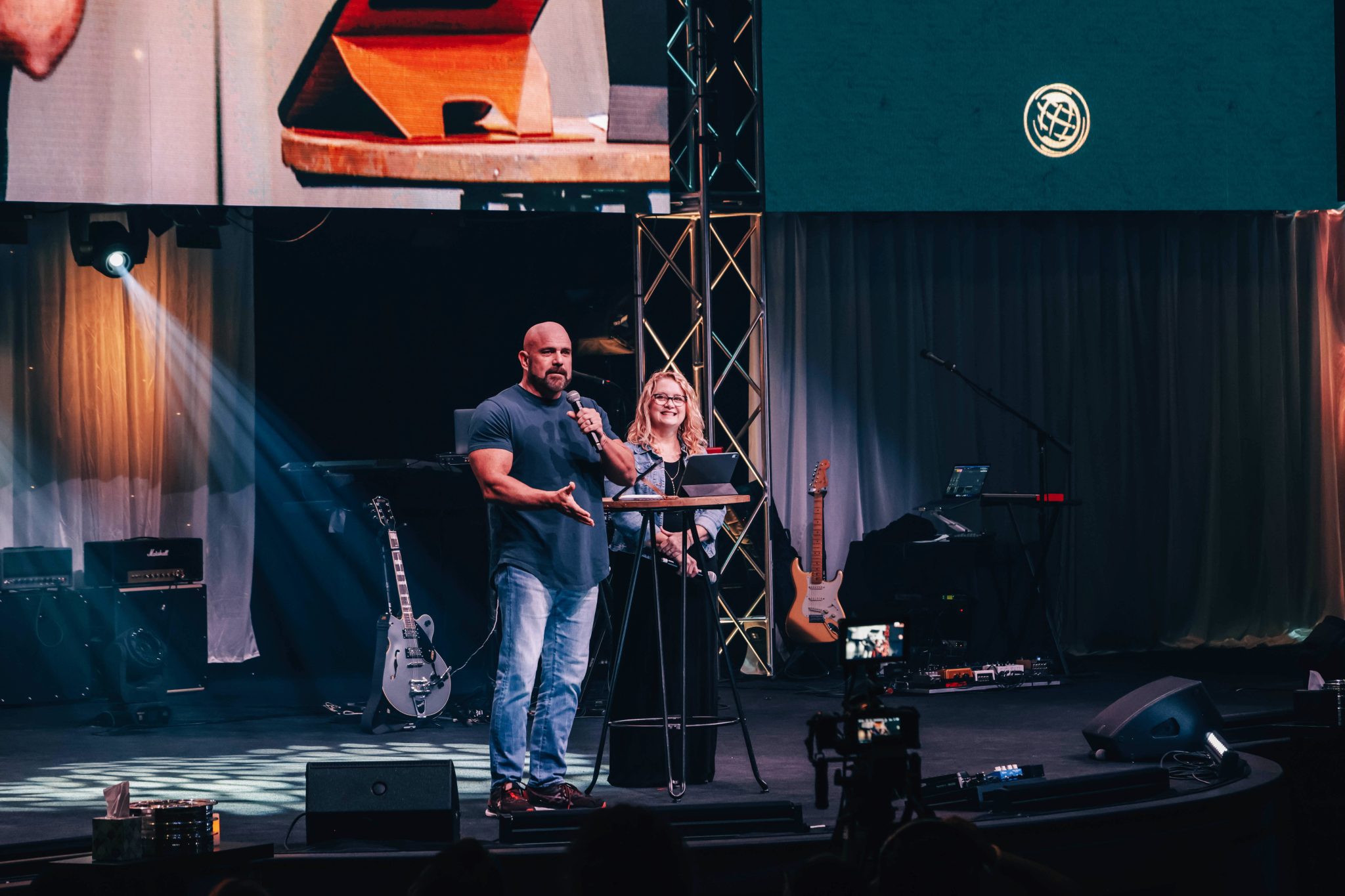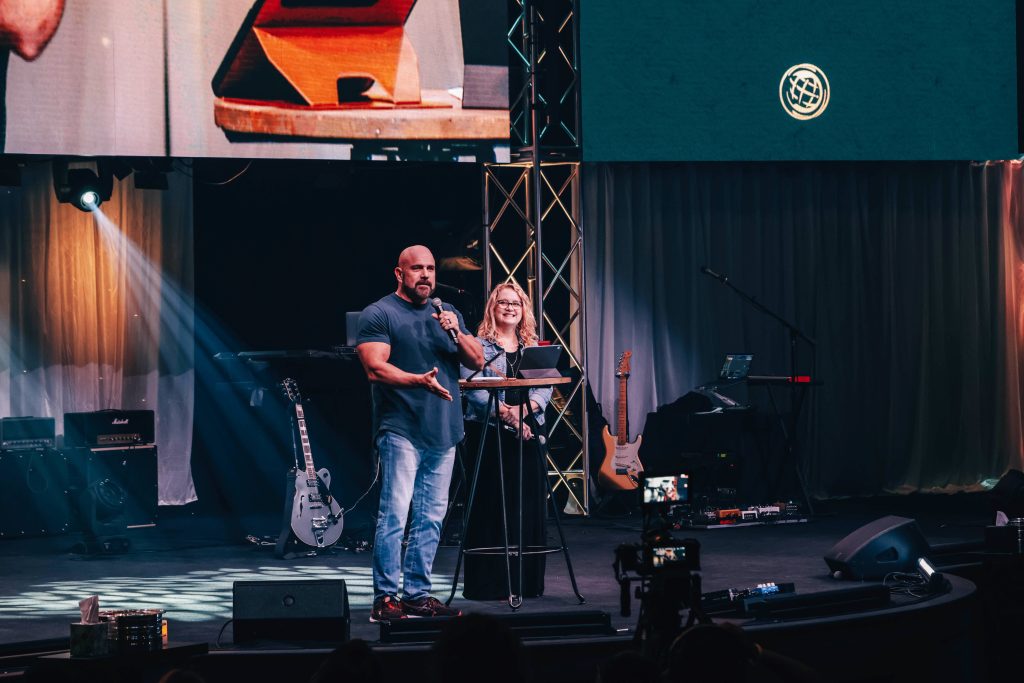 By
Steve Gamel
|
Photos by
Dallas McNeal Photography
---
You're invited to a community-wide Easter celebration at Community of Faith! Driving down the highway, it's hard to miss the building on the corner of Highway 290 and Becker Road – the home of Community of Faith. What today is a vibrant, growing faith community started out as a dream in the hearts and minds of Founding Pastors Mark and Laura Shook in 2003. The Shooks' dream was to establish a church for those who had no church home – a place where everyone would be welcome, a community that set aside the things that divide us and simply loved God, loved people, and served our neighbors. That dream took hold, and what began with Mark and Laura and their three children in the Shooks' living room has become an incredible church family faithfully serving the community for 20 years.
Community of Faith (COF) is special in several key ways. What you notice first is the friendliness and acceptance of the people. No one is turned away. Mark and Laura are the first to admit that we all have issues, but those issues should not prevent us from attending church and getting involved. When you come for services, whether it's a Sunday morning, Wednesday night, or special event, you will be welcomed by smiling church members who are just like you.The atmosphere is relaxed and casual and everyone is encouraged to "come as you are."
COF Member Carol Strong has been a part of the church since 2009. She says the first time she and her family walked in the door they knew they had found their new church home. Carol shares, "Before attending Community of Faith, we had visited another church in our area and not one person spoke to us the entire time we were on their campus. Not one person. The first time we arrived on COF's campus we were greeted genuinely by several people who made us feel very welcomed and valued. We felt like we were a part of the COF family from the moment we stepped on campus. Although COF is a large church, the bonds created through serving locally and internationally, as well as our small group, make COF feel like family."
Another difference at Community of Faith is their focus on serving the community both locally and internationally. Many churches talk about being missional, but Community of Faith has been missional since its inception. The Shooks served as international missionaries to Latin America from 1994 to 2003. When they returned to the U.S. and founded Community of Faith, they intentionally focused on teaching those who attend the church to not only study and understand the Scriptures, but to put those principles into practice in everyday life. COF is partnered with local organizations including our local schools, Mission of Yahweh, The Landing, Tomball Pregnancy Center, Miracle Farm Boys Ranch, Abba's House, and Bread of Life, Inc. among others, providing financial support, prayer support, and volunteer support on a regular basis. Church members are provided regular opportunities to step in and serve alongside the church staff with these organizations.
COF member Gary Smith is a regular volunteer with COF. Says Gary, "It's been my way of serving the Lord and using my spiritual gift. As a lifelong reader and having read to my children's elementary school classes, I found my purpose more than eight years ago, reading books to kindergarten through second grade students at Roberts Road Elementary School, through COF. I have experienced immense joy! I am just so grateful for their smiles and hugs. There is nothing better! Serving will add richness to your life, it will add substance and meaning, and it will stimulate growth in your spiritual journey."
Community of Faith's mission extends around the globe. The guiding principle of the church is found in the Scripture verse Micah 6:8, "He has told you, O man, what is good – and what does the Lord require of you, but to do justice and to love kindness, and to walk humbly with your God?" The church built an orphanage in San Jose, Costa Rica before they built their own building, trusting that God would bless the church as they blessed those less fortunate. Today, the church has ongoing work in 11 countries, including India, Burundi, Philippines, Nicaragua, and Mexico. The church is focused on the rescue and restoration of those trapped in human trafficking, the homeless and hungry in some of the world's most difficult places, and those with no access to healthcare, economic opportunities, or education. They've built a factory producing fortified porridge that feeds 60,000 children daily in Burundi, Africa. They've established a community bank in Burundi, granting hundreds of thousands in small business loans and creating over 200,000 new jobs in the country. They have opened a hospital meeting the needs of the Batwa tribe, the poorest people on the planet, giving them access to doctors, dentists, medicines, childhood vaccines, and providing for maternal and child health. They opened a home for homeless elderly in Nicaragua and a children's center that provides tutoring, English classes, computer literacy classes, as well as hot meals for the children they serve. The people of COF live and love generously.
One of the most significant ways Community of Faith serves the community is through the Community Counseling Center. The counseling center employs four full-time licensed counselors who provide personal counseling, couples counseling, family therapy, substance abuse therapy, trauma therapy, as well as various support groups. Regular seminars and workshops help meet the needs of many in our community. Just last year, the counseling center provided 2,500 hours of counseling to the community as well as many hours of free counseling to their partner organizations. They are empowering individuals, couples, and families to live a life of greater health and deeper meaning.
One Community Counseling Center client recalls, "When I first walked into the counseling center for my appointment, I was literally hanging on by a thread. As I sat in the waiting room, my body slowly began to still as peace seemed to radiate in the space. Meeting with my counselor, Jennifer, I finally began to feel safe. As the sessions progressed, dots began to connect, and I could almost literally feel the layers of pain begin to melt. COF and the Community Counseling Center have been a true lifesaver, and I mean that in the literal sense. I truly thank God for COF!"
Community of Faith has also provided a much-needed service to the community through their Special Needs Program. Cassie Kraus leads the charge as she loves on families who are dealing with these issues. Cassie has a large group of trained volunteers who work alongside her every week to provide love, care, and a safe environment for those with special needs as their family members attend church services. The church also provides regular workshops, counseling, and support for these families.
One of the best nights of the year at Community of Faith is Night to Shine. COF partners with the Tim Tebow Foundation to provide an unforgettable prom night experience, centered on God's love, for people with special needs, ages 14 and older. Just this year over 150 special guests were honored at the prom, and 300 volunteers served to make the night extra special.
Ivy Sherrod has been volunteering in the Special Needs Ministry of COF for seven years. Ivy says, "I've had many people ask me why I do special needs and what made me decide to volunteer there. Truth be told, it's my heart and soul. I get to spend my Sundays teaching them about Jesus and His love, but honestly, they sometimes teach me more than I teach them. They teach me to love unconditionally, laugh fearlessly, and that no obstacle is too hard to overcome. I walk away every Sunday feeling renewed. I feel so blessed to be a part of a church that puts a priority on making sure those who have special needs are loved, cherished, and included."
Another significant difference at Community of Faith is the diversity of the congregation. This is seen throughout the church from those who attend, the volunteers, the worship team, and the staff. Carol Strong affirms, "Our church looks like Heaven. We love the fact that Community of Faith has a multitude of people of every nationality, race, and ethnicity." It is so refreshing to know that no matter your heritage or family background, you will feel like you belong here. Your kids will find leaders and role models who look like them. This is one of the most beautiful and attractive aspects of the church.
Community of Faith will celebrate their 20th anniversary on Sunday, April 23. The community is invited to celebrate with them at either of their two Sunday services (9:30 and 11:30 AM) and attend the carnival celebration afterward.
The community is also invited to celebrate Easter with Community of Faith. There will be a special Good Friday Service on Friday, April 7 at 7 PM, and four Easter services: Saturday, April 8 at 4 and 6 PM and Sunday, April 9 at 9:30 and 11:30 AM. The community
is always invited and welcome at COF.
---
Contact
For more information on the church or the Community Counseling Center, please call (832) 875-2520 or visit COF.church.