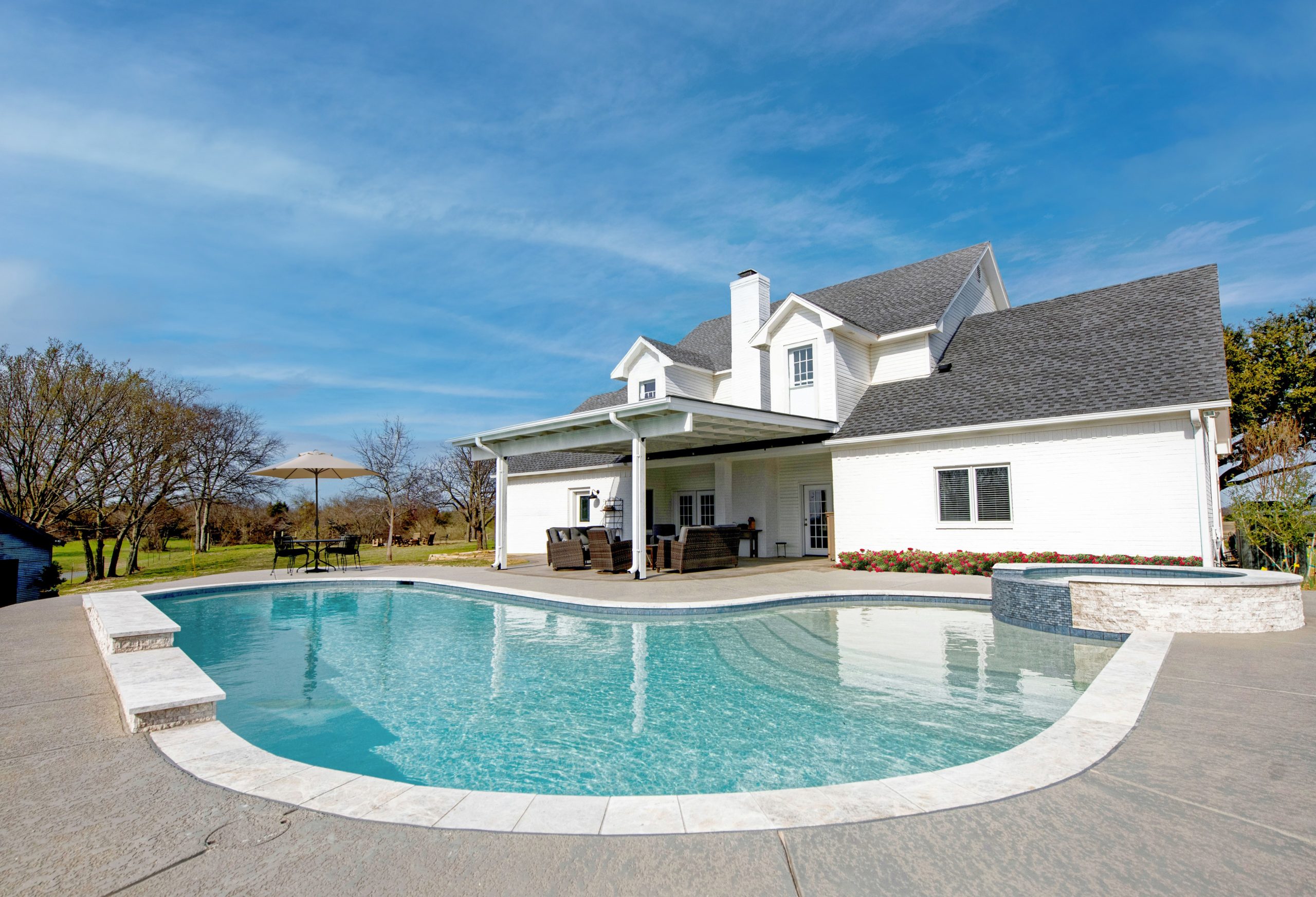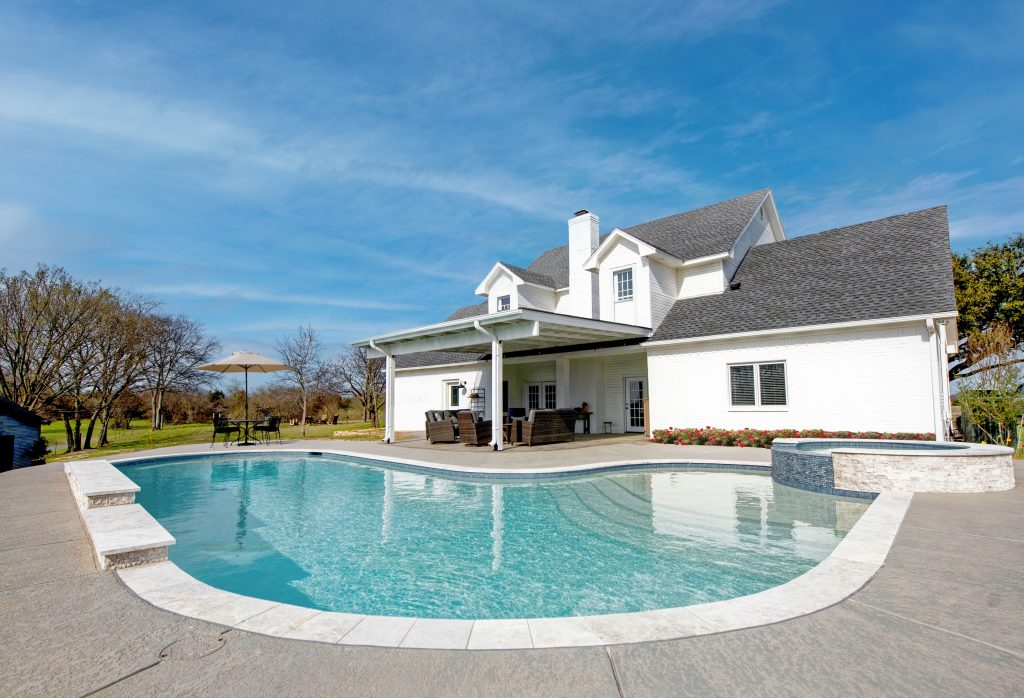 "I can't say enough good things about Canyon Oak Pools! Everything about the pool-building process was enjoyable. The quality, the timeline, the communication were all top-notch. They're a family-run business through and through. You won't get this level of service elsewhere."
Photos by
Dallas McNeal Photography
---
For most families, the largest purchase they'll ever make is their home. For many, the second largest is their backyard pool. Is it worth every penny to have a family oasis right outside your back door? Absolutely! But before you buy that pool, you have to "buy" the company who'll design and build it for you. Who you build with matters. Many of your North Texas neighbors have chosen to build their pool and outdoor living spaces with Canyon Oak Pools. Let us introduce to you to this family-owned and operated custom pool company, the Texas native who started it, and his vision for a better customer experience.
The year was 1995 and just to show you how long ago that was, Larry Parnell was looking for a job — in the newspaper. (Remember those?) The ad that caught his eye was just three lines. "Sell pools. Have fun. Make money." Little did Larry know how that blurb would change the course of his life and the life of many North Texas families.
"I didn't know a thing about pools except they were fun to jump in," Larry said. But for the next 27 years, Larry designed and sold pools for several of the top pool companies in San Antonio, Austin, and Dallas, always chasing quotas and selling hundreds of pools a year. Emphasis at these "big-box" companies was on numbers of pools, rarely on quality of pools. Larry worked his way from sales to construction to general manager and learned that — to paraphrase a popular saying — mo' pools, mo' problems.
"It was stressful," Larry said. "My last year working for the big boys, I sold $16 million and was looking at a $20-million-dollar quota for the next year — and probably a heart attack." Larry couldn't help but think there was a better way. He began to formulate an exit strategy and consider what he wanted his future to look like. He imagined a pool company that put the customer experience first, a company that was small by design, not seeing the customer as a number but as a family who deserves individualized attention, quality craftsmanship, and a five-star experience.
"I told my wife, Susan, 'We're only doing this if we can offer a five-star experience to every customer every time,'" Larry said. "If we're not five-star, we want to know why and we want to make it right." They spent years researching, planning, and learning. "We don't want to be millionaires. We want to make a decent living, offer a good living to our team, and give our customers the best product and the best build experience they can have — from first contact to design to the finished product. Or as we say, 'From start to splash.'"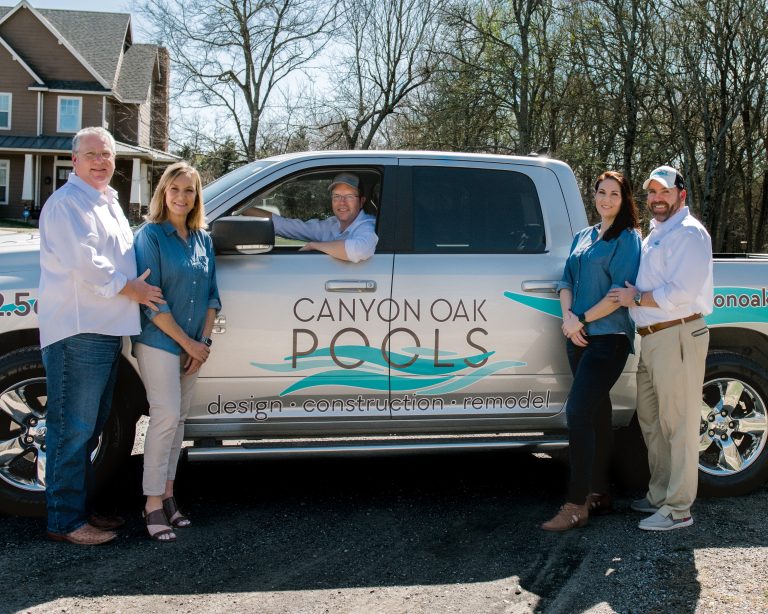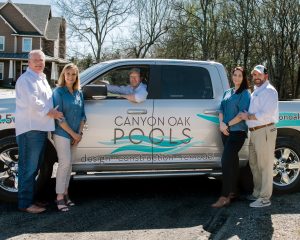 The Parnells soon learned when you treat customers right, they tell their friends and family about it. Canyon Oak Pools began to grow strictly through word of mouth. They'd build a custom pool in a neighborhood and, next thing they knew, they were building one a few doors down. They'd build a pool and outdoor living space for someone and then receive a call from their coworker or friend. Today Canyon Oak Pools is recognized as an elite pool builder with top-notch craftsmanship, offering a wide range of custom pool and outdoor living options. They enjoy an A+ rating with the Better Business Bureau, a five-star rating with Google reviews, and a long line of repeat and referral customers.
Joining Larry at Canyon Oak Pools is his brother-in-law and head of operations, David Maia, his friend and director of sales, Mike Woodfin, and his wife, Susan, who handles the accounting and helps with marketing. "I have 100% confidence in every member of my team," Larry said. "I'm personally onsite for every job, but I also know I have a team with the utmost integrity and attention to detail. We all live in this community, and we love running into our customers knowing we gave them the very best experience we could."
Canyon Oak Pools specializes in designing the perfect pool for each back yard, according to the owners' unique dreams. They begin by walking the space and listening to the customers' vision and ideas. Then they create an interactive 3-D design according to their exact specifications. They guide the customer through selecting tiles, water features, stone, etc. so each custom pool and outdoor space is just that —custom and unique to that family.
The Parnells have deep roots in this community and are intentional about doing good in the place they call home. They're active members of Snow Hill Baptist Church in Farmersville and are annual sponsors of the Blue Ridge Rodeo. Both Susan and Mike's wife, Audrey, sponsor women in recovery, the Parnells' daughter, Katherine, volunteers at the Magdalen House in Dallas, and the whole family supports DFW Rescue Me for abused and neglected animals.
Find out more and schedule a consultation at CanyonOakPools.com.
Let Canyon Oak Pools remodel your ugly-duckling pool and give you a luxurious, new outdoor resort. Find out more at CanyonOakPools.com/remodel
Canyon Oak Pools is happy to service:
McKinney

Blue Ridge

Melissa

Dallas

Celina

Prosper

And all surrounding areas in the DFW Metroplex
---
CONTACT
2150 South Central Expressway, Suite 200
McKinney, Texas 75070
CanyonOakPools.com