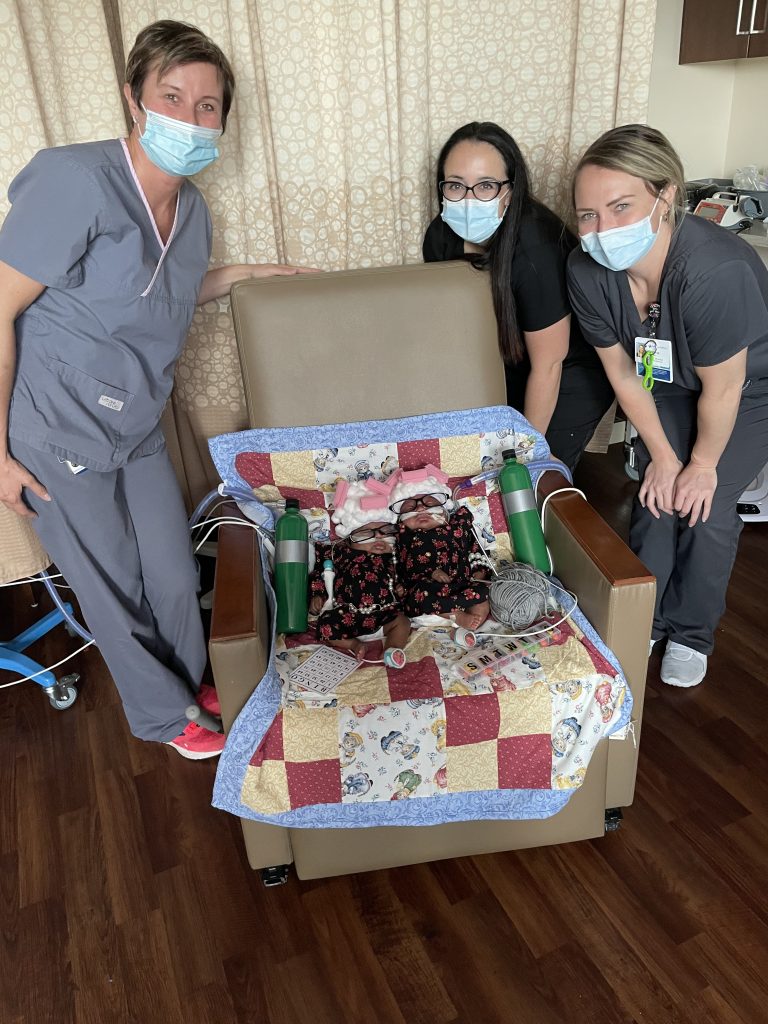 By Annette Brooks
---
Great care is no small thing. First-time parents, April and Dennis, learned how important the hospital you choose is when their twins, Autumn and Abigail, were born at just 24 weeks.
"The pregnancy was going well until I began experiencing pain one evening," April confides. "We went to the Baylor Scott & White – McKinney ER, where they tried to avoid delivering the babies so early, but our girls were determined to enter the world no matter what."
"I had a front-row seat when they were born via Caesarian section and was stunned. Weighing one pound each, they had little hands and fingers, ears, and toes — I witnessed God's miracle," says Dennis.
April and Dennis's Journey with their Twins in the NICU
"The instant our twins were born, the hospital staff sprang into action with lightning speed and focused purpose. It was impressive, and I stayed out of their way," Dennis says.
At that time, the couple realized just how important choosing BSW – McKinney was for their babies. As a state-designated Level III NICU, the hospital can care for very small or sick newborn babies and has a wide variety of staff on-site, including neonatologists, neonatal nurses, and respiratory therapists.
Since the twins' birth, April and Dennis have relied on their strong faith and the NICU team's expertise. "We can't say enough great things about the level of love and care they give our daughters and the comfort they provide to us," April says. "We're there at least once a day, every day. They answer all our questions, address our concerns, comfort us when we get worried, and celebrate the twins' successes with us. We're encouraged to hold the babies as long as we want and get every opportunity to bond with them."
"The NICU team is more than a group of nurses, therapists, and doctors — they're surrogate mothers and fathers. They're family. Our girls are their girls, too," April says.
Dennis adds, "The NICU team is amazingly supportive, and they give us a lot of hugs, which we appreciate." He has been an involved dad since day one. "I get lots of skin-on-skin time with the babies," he shares.
Autumn and Abigail, now weighing seven and eight pounds, recently celebrated 100 days of life dressed up as 100 year-olds by the NICU nurses. "It felt so good to celebrate, have some fun, and play dress-up with the twins," April says.
Care for the Smallest Babies
Medical Director of Neonatal Intensive Care, Arpitha Chiruvolu, MD, and the NICU team are passionate about giving babies the special care they need to grow, develop, and thrive.
"We've created special guidelines and policies for the smallest babies and involve the parents every step of the way," Dr. Chiruvolu explains. "Prematurity isn't a disease. We want babies in our care to have natural experiences with their parents and work with them as a team. We even have books with stories parents can read to the babies, as well as music and songs and lullabies they can sing."
"When we met April and Dennis, we could see the fear on their faces. Offering steady guidance and reassurance, we help alleviate their worries and they become more comfortable and confident," says Dr. Chiruvolu, a board-certified pediatrician who completed a fellowship in neonatal-perinatal medicine. She pauses in thought, then adds, "We learn so much from the babies we care for, including resilience."
Where You Deliver Your Baby Matters
As April and Dennis attest, the hospital where you deliver your baby can make all the difference. Voted Best Hospital in McKinney for 10 consecutive years, Baylor Scott & White – McKinney garnered another Living Magazine Best Of Readers' Choice award in 2022. Taking a holistic approach, the hospital provides compassionate, coordinated care in a healing environment. Parents enjoy a family-centered environment and calm and beautiful setting where they experience the miracle of childbirth.
Labor and Delivery Highlights
Private birthing suites with ensuite bathroom with shower

Sleep area for your support person

Soothing colors and ambient lighting

Flat screen TVs and a work area with wireless Internet

Comfortable Visiting Hours

Family Lounge

24-hour Neonatal Nurse Practitioner

Fetal Surveillance System

Level III Maternal Care Center

Level III NICU

Member of the Texas Ten Step Program

Baby-Friendly Designated Birth Facility by Baby-Friendly USA

Easy Access to Childbirth, Baby Care, and Breastfeeding Classes

Specially Trained Lactation Consultants and Nursing Staff

Parent Education Classes
Trusted, Quality Medical Care Conveniently Close to Home
BSW – McKinney is backed by the breadth, depth, and sophistication of Baylor Scott & White Health, Texas's largest not-for-profit healthcare system. Putting patients first, BSW – McKinney is here for you, close to home, when you need it. Visit BSWHealth.com/McKinney for more information.
Physicians provide clinical services as members of the medical staff at one of Baylor Scott & White Health's subsidiary, community or affiliated medical centers and do not provide clinical services as employees or agents of those medical centers or Baylor Scott & White Health. ©2021 Baylor Scott & White Health.